Philadelphia Eagles Mock Draft: WalterFootball.com's Latest Predictions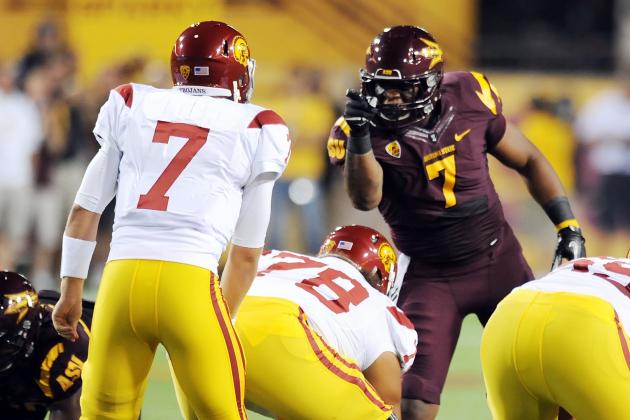 Norm Hall/Getty Images

The NFL draft is coming up in six weeks, and it offers the Philadelphia Eagles their best opportunity to put themselves in strong position in the NFC following a disappointing 2011 season.
Andy Reid was unofficially on the hot seat to close out 2011. He will need to advance the Eagles far in the playoffs in 2012 to secure his position. A good draft will go a long way in helping him to do that, if the Eagles use it to shore up the weaknesses on a team that vastly underachieved for 16 games.
WalterFootball.com recently released its newest mock draft, a five-round projection. Free agency still hasn't started, and where the league's top free agents sign will undoubtedly change the way analysts view the upcoming draft. But here is how WalterFootball.com sees the Eagles' draft as of today.
Begin Slideshow

»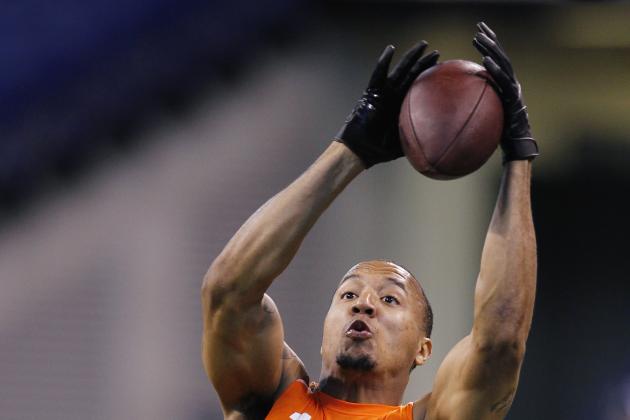 Joe Robbins/Getty Images

WalterFootball.com even admitted that if the Philadelphia Eagles sign DeSean Jackson, this pick will be different. Since the Eagles franchised Jackson for just one more year, I'm not sure whether WalterFootball.com would change its pick or keep it.
Jackson has publicly stated he is thrilled to be given the franchise tag, but I'm not sure I buy that. If the Eagles draft Floyd, Jackson won't be happy about it. Floyd ran a 4.42 40-yard dash at the NFL Scouting Combine, and he's arguably the most complete receiver in this year's draft.
Matt Miller, Bleacher Report's draft columnist, had Floyd going 10th overall to the Buffalo Bills, and I have seen mock drafts with Floyd going seventh to the Jaguars. He may not be around for the Eagles' 15th pick, and now that the team franchised Jackson, he's not the likeliest bet.
I'm still torn on what I think the Eagles will do with their first-round pick. Reid is always open to trading it away, as he did in the 2007 and 2008 drafts, but I doubt he will do that with the Eagles coming off a subpar 8-8 season.
Reid has never picked a linebacker in the first round, and even though that's the glaring weakness for the team, I predict he won't pick a linebacker this year.
Mark Barron of Alabama is the top safety, but he's a stretch at the 15th overall pick. Floyd may be the team's best choice at this pick, although that probably would mean that Jackson walks next offseason.
Side note: Many drafts have the Eagles picking a defensive tackle in the first round. I had the team picking Devon Still in my Eagles mock draft a month ago, but that was before Cullen Jenkins was given his signing bonus. Now that the Eagles are definitely keeping Jenkins, it doesn't make sense to pick a defensive tackle. Mike Patterson is under contract for five more years and Jenkins for four.
I know Derek Landri, Antonio Dixon and Trevor Laws may not be back, but picking a defensive tackle in the first round to have him not start until 2016 doesn't make sense to me. I don't like a first-round pick for a guy just in the rotation. And since the Eagles have to win now or Reid is gone, defensive tackle isn't the way to go.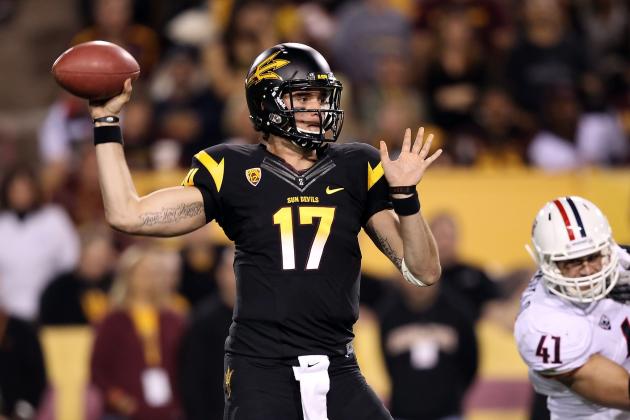 Christian Petersen/Getty Images

Michael Vick signed a six-year, $100 million deal after his stellar 2010 campaign, but we all know he won't play out that deal. Vick is a dangerous passer and runner, but he's also extremely erratic, inconsistent and injury-prone. He's missed time in each of the last two seasons with rib injuries, and he's played in all 16 games in a season just once.
The Eagles fell in love with former Buffalo Bills flop Trent Edwards during the offseason and inked him to a one-year deal, but that doesn't mean the team won't pick a quarterback in the early rounds of the draft.
I think the Eagles will have Edwards compete with Mike Kafka for the second spot on the depth chart. If Kafka wins, Edwards will be cut. If Edwards wins, I don't envision the Eagles cutting Kafka, seeing how much the offensive coaches have praised Kafka over the last two seasons.
By putting Brock Osweiler in the mix, it may make Edwards expendable. He's a journeyman backup who spent most of 2011 out of football. I'm not sure why the Eagles pounced on him as if the Green Bay Packers had let Aaron Rodgers go. If Reid takes Osweiler in the second round, he's clearly hoping he will be his quarterback of the future.
Osweiler officially measured in at 6'6 7/8" and a solid 242 pounds. It's often considered risky for a quarterback to be taller than 6'7", so Osweiler unintentionally may have helped his draft stock by measuring in an eighth-of-an-inch on the short side.
Osweiler has a rocket arm and athleticism, although there are concerns about his ability to evade pass-rushers, simply because of his size.
Reid will love grooming Osweiler. He considers himself a quarterback guru and rightfully so after hitting big with Donovan McNabb and trading away Kevin Kolb and A.J. Feeley for second-round draft picks. In this scenario, Osweiler probably wouldn't see the field at all in 2012 and he wouldn't be expected to start for a few more years.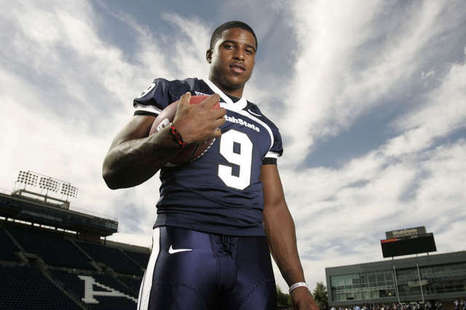 Since he took over as head coach, Andy Reid never has drafted a linebacker in the first round, but he's drafted a slew of unsuccessful linebackers in the second and third round (Barry Gardner, Quinton Caver, Matt McCoy and Bryan Smith). That's pretty clear evidence that he can't recognize a good linebacker in the draft, so that doesn't bode well for Bobby Wagner.
This also won't be met with a warm welcome from the fanbase. Most fans initially clamored for the Eagles to pick Vontaze Burfict with the first-round pick until he turned in a performance in the combine that killed his NFL career. Now most of the fans have jumped on the Luke Kuechly bandwagon, and I'm with them.
If the Eagles sign a veteran in free agency like Stephen Tulloch or Curtis Lofton, then I'm feeling much better about the Wagner pick. Reid took consecutive seventh-round picks in the 2009 and 2010 draft (Moise Fokou and Jamar Chaney) and tried to force them into the starting lineup, much more out of necessity than because of loads of potential from the two.
I'm fine with Brian Rolle returning as a starter, but I don't want to see Fokou and Akeem Jordan anymore, and I think Chaney is best suited as a nickel linebacker. If the Eagles sign a veteran and draft Wagner to start at the other linebacker spot, I'm fine with that.
Wagner had a solid four-year career as a starter at Utah State, and he's said to be a playmaker all over the field with good tackling skills. He has no injury concerns and no off-field issues. I don't envision Wagner turning into a nine-time All-Pro, but it sounds like he should have a productive career as a starter.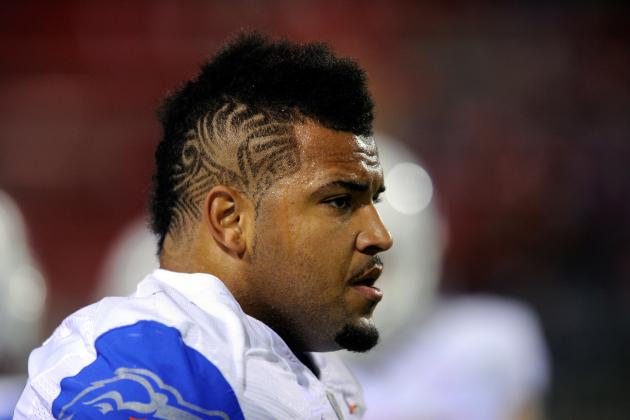 Ethan Miller/Getty Images

I like this pick a lot. With Cullen Jenkins and Mike Patterson returning, the Eagles have a top-10 caliber group of starting defensive tackles, but lack depth. Trevor Laws, Antonio Dixon and Derek Landri are all set to hit free agency. Laws hasn't developed into the player the Eagles were hoping he would when they took him in the second round in the 2008 draft, and I think his time in Philly is done.
Landri needs to be re-signed after a very underrated 2011 campaign that saw Pro Football Focus rate him as the fourth-best defensive tackle in the game. Dixon is a solid backup in the rotation but is coming off a torn triceps, I won't lose sleep if the Eagles let him go.
Billy Winn would add stability to the defensive line, an underrated unit on the Eagles. Winn is extremely versatile. He can play 3-4 defensive end, 4-3 defensive end, 4-3 defensive tackle, and both inside and outside linebacker. Reid has always loved a defense that heavily rotates the linemen, and Winn would be a guy who can line up at multiple positions in that sort of scheme.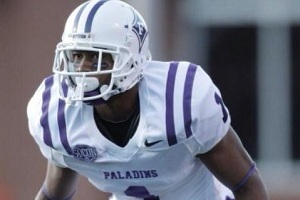 Last year, the Eagles picked a cornerback, Curtis Marsh, in the third round, although that already looks like an awful pick. Marsh, a converted running back, struggled to even see the field as a rookie and doesn't offer much promise for the future.
The Eagles likely will trade Asante Samuel before the start of the 2012 season, meaning Nnamdi Asomugha and Dominique Rodgers-Cromartie will enter '12 as the starters. Asomugha is signed for four more seasons, but DRC is a free agent after next year. If he doesn't produce in his contract year, he's as good as gone.
That means Ryan Steed could be a future starter for the Eagles. The team probably won't be drafting him with the intent to start him, at least definitely not for several seasons, but he will find himself in the mix. Steed has good size, long arms, exceptional instincts and he's a good all-around athlete. He's said to be a solid enough tackler, which would be a rarity for an Eagles corner.
Steed isn't particularly fast and he is raw at the cornerback position. As a fourth-round pick, though, I like the idea of using it on a corner who could develop into a solid nickel player within several years.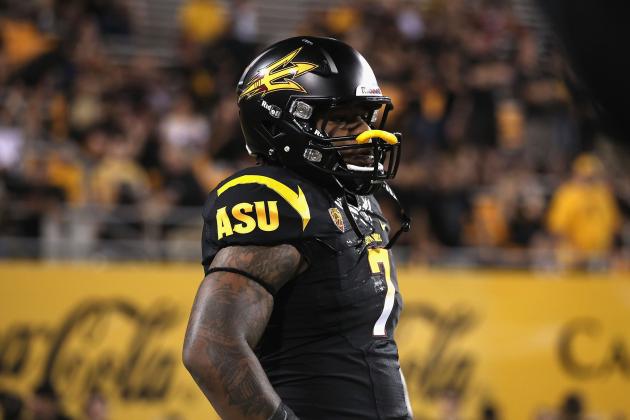 Christian Petersen/Getty Images

Before the season, Vontaze Burfict was projected by some to be a top-five draft pick. After arguably the worst NFL Scouting Combine performance of any college player, Burfict will probably go in the fourth or fifth rounds.
With that in mind, I have no problem with the Eagles taking Burfict in the fourth round. He's out of shape, ridiculously slow, an awful interviewee and has character issues. But he had a stellar college career, culminating with a Sporting News All-American selection in his junior season.
Burfict was the emotional leader of the Arizona State defense, and although he committed more than his fair share of personal foul penalties, he also injected life and heart into the team's defense.
The Eagles have been lacking a leader. If Burfict is around in the fourth round, I would take a chance with him. If he's not good or he turns out to be a cancer in the locker room, tell him to pack his bags. A fourth-round pick isn't the end of the world for a player with a high risk and a high reward.
But if Burfict turns it around and becomes an inspiration to the Eagles' defense as well as a fantastic player, I want him on my team.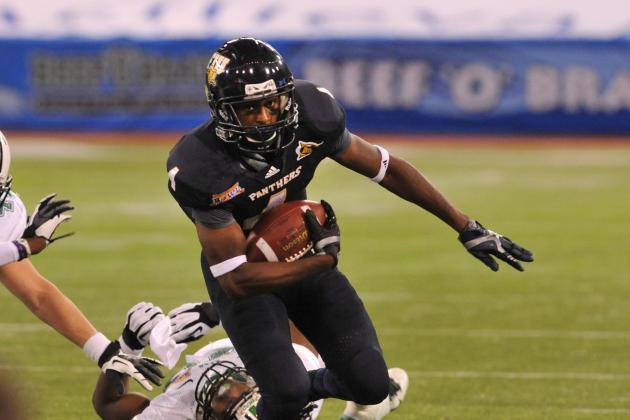 Al Messerschmidt/Getty Images

The Eagles have struggled to find quality return men in recent seasons. Andy Reid has been reluctant to use DeSean Jackson as a punt returner, simply because of how valuable he is as a deep-ball receiver. Jackson also endured by far his worst season as a return man in 2011, failing to score a touchdown and averaging just 6.7 yards per return.
Chad Hall and Dion Lewis were downright mediocre as kick returners, and they lacked any sort of explosiveness. T.Y. Hilton was an electrifying kick returner at Florida International, reportedly running under 4.3 in the 40-yard dash. Hilton won't offer much as a 5'10" wide receiver, and he will have to rely on his sheer speed to get open, but he could be used in the same way Randall Cobb made an impact for the Green Bay Packers in 2011.