5 Potential Opponents for Quinton "Rampage" Jackson's Last UFC Fight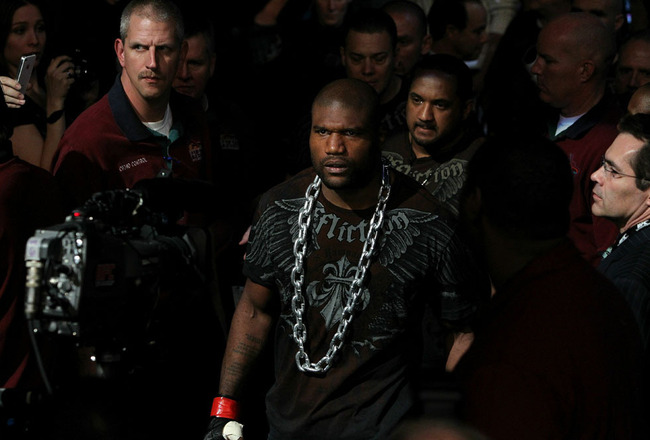 Courtesy of UFC.com

The MMA world was sent into a state of perplexity yesterday as Quinton "Rampage" Jackson announced on his Twitter feed that his next fight would be his last in the UFC.
Now, for anyone who has watched him fight as of late, this doesn't come as a total shock (provided that he is even serious). He was overweight and lethargic against Ryan Bader. Although he was in great shape, he looked rigid and one-dimensional against UFC champion Jon Jones.
His last knockout win came against Wanderlei Silva over three years ago. If Rampage truly is looking to give it only one more shot in the UFC, the question then becomes, "Who should he fight?"
While we all wouldn't mind seeing Rampage and "Shogun" Rua mix it up again, here are a few potential fights that could garner some interest.
Honorable Mention: Darrill Schoonover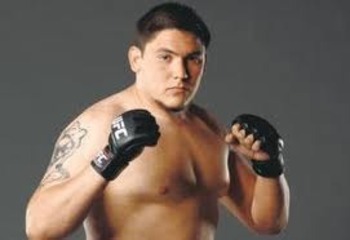 Say what you wish, but The Ultimate Fighter: Heavyweights was one of the funniest seasons of TUF that I have seen. "Rampage" Jackson constantly tormented Darrill Schoonover.
His continual berating, coupled with Rampage referring to Schoonover by a certain "colloquialism" for the word "breasts" (I'm laughing as I type this), brought them very close to throwing blows.
Clearly I'm joking with this one. Is there any chance of this fight happening? Absolutely not. It would be awful—Toney vs. Couture awful.
Regardless, the potential pre-fight banter and remarks by Rampage would be worthy of a Comedy Central one-hour special. Couldn't you even see Rampage coming to the weigh-in wearing a bra?
Antonio Rogerio Nogueira
Courtesy of UFC.com
Rogério Nogueira has the unfortunate issue of not only being in the shadow of his more successful older brother, but they even have practically the same name.
For those who may have forgotten, "Lil' Nog" had a pretty decent run in PRIDE FC himself. He compiled an 8-2 record and notched some key wins against some top-tier opponents including Alistair Overeem (twice), Kazushi Sakuraba and Dan Henderson.
Granted, "UFC: Nogueira vs. Rampage" doesn't have a sexy ring to it, but it could have the makings of a good fight.
The Nogueira brothers are famous for their Brazilian Jiu-Jitsu prowess, yet they are also known for their willingness to stand and trade. Rampage has made it known on several occasions that he hates that fighters constantly look to wrestle him or take him to the ground.
This fight could be an underrated, but potentially exciting display. With "Lil' Nog" coming off of an impressive victory over Tito Ortiz, and Rampage looking to go out with a bang, I think this could be a sleeper Fight of the Year candidate.
Roy Nelson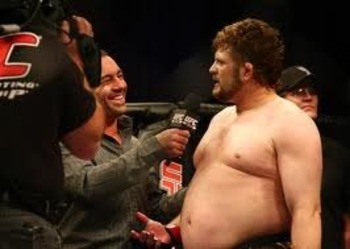 "WHOA…that's a BIIIIIG belly!" —Quinton "Rampage" Jackson
Again, TUF season 10 was absolutely hilarious. Sadly, there were very few decent fighters during that season. The clear runaway was Team Rashad's Roy "Big Country" Nelson.
While Rampage didn't bestow a nickname upon Nelson like he did Darrill Schoonover, he made it a point to bring the world's attention to Nelson's size. There wasn't much friction between these two, plus Nelson fights in the heavyweight division.
Nevertheless, if Nelson decides to drop down to light heavyweight as Dana White has been suggesting, what a fight this could make.
"Big Country" is one of the toughest guys fighting in the UFC. He's had some decent success after winning the TUF season 10 finale, but he has also struggled against the heavyweight division elite.
He went toe-to-toe with Frank Mir, Junior dos Santos and Fabricio Werdum and took their best shots. When the final bell rang, he was still standing. He could pose a serious threat to Rampage given his great punching power.
Nelson has a black belt in Brazilian Jiu-Jitsu, but as he has shown us, he likes to trade punches. Nelson's issue has been his cardio. Rampage's problem is his perceived lack of motivation.
I think these two guys could give us one of the best first rounds a UFC fight has ever seen. However, don't expect much after that.
Forrest Griffin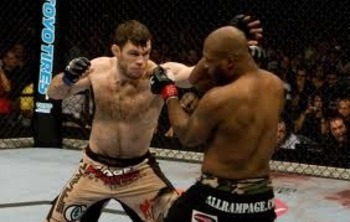 I would be willing to assume that Rampage Jackson has never forgotten this fight against Forrest Griffin, maybe even more so than his fight against Shogun Rua.
Fresh off of a victory over Dan Henderson, Rampage lost what he felt was a controversial decision. Not long after, he ran into some legal trouble involving a hit-and-run accident, which scrapped the potential rematch.
This contest could be a motivator for both fighters. Griffin is coming off of an embarrassing loss to Rua and is in need of a win. He would also look to prove that his last fight with Jackson was no fluke.
Rampage would have the chance to avenge probably his most questionable loss and prove that luck was clearly on Griffin's side.
Griffin has been rumored to face Tito Ortiz later this year, so the odds of this fight taking place are pretty unlikely. It seems that more people would rather Ortiz's last stand come in a Griffin rubber match.
Speaking of Tito Ortiz…
Tito Ortiz
Could you imagine the buildup for this fight? Both guys looking for an explosive finish to their UFC careers. The trash talk, pre-fight press conferences, the weigh-in "stare down"—it would all be too much to handle.
Tito Ortiz has looked mildly rejuvenated lately—he finally looks completely healed from his nagging back injury—but his best days are far behind him.
He notched an impressive win over Ryan Bader and even looked fairly decent in defeats against Rashad Evans and Rogério Nogueira. Tito would most certainly bring the pressure to Rampage Jackson.
On the other hand, Rampage would love nothing but to send a fellow UFC legend into retirement…unconscious.
It's almost dumbfounding that these two legends of the Octagon have never crossed paths. As interesting as this match could be, Ortiz is looking ahead to facing Forrest Griffin, locking up a win and heading off into the Octagon sunset.
Mauricio "Shogun" Rua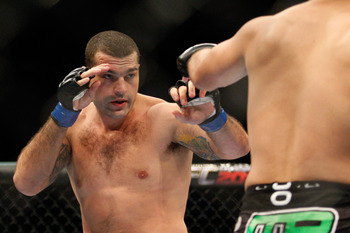 Richard Wolowicz/Getty Images
Rampage has lobbied for this fight for quite a while. Shogun Rua handed Rampage Jackson his worst career lost back in 2005 in the PRIDE organization.
In a recent analysis of the potential matchup, I mentioned that Rampage would need to completely reinvent himself to even have a chance at winning this fight. First things first, we have to hope that he truly is willing to commit to training and preparing for this battle.
Though he asked for this fight, it's now become a "crap shoot" of which Quinton Jackson will actually show up.
Rua, on the other hand, has performed well in his UFC career but has dealt with some serious injury issues. He's no longer the fast-paced, hard-hitting fighter of the PRIDE era, but he's still far from what I would call washed up.
If anything, he would most likely be too much for Rampage to handle at this point in Jackson's career. Most fans know that Rampage wants to get in the ring and throw punches and go for the knockout. Rua is just the fighter to do that with.
His Muay Thai is some of the best in MMA, and he would make no qualms about proving it one more time against Rampage.
Follow Walt J. as he gives his no-holds-barred opinions on the NFL, MMA and other sports topics on his blog, "Live From AREA 49." You can also follow him on Twitter @area49sports.
Keep Reading