Rugby: Top 5 Left Wingers in Super Rugby History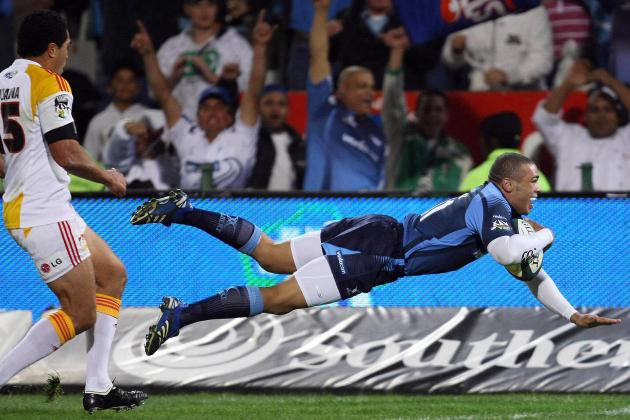 Gallo Images/Getty Images

We continue our series of the greatest ever Super Rugby players by looking at the top-five left wingers.
The skill set required by these men has developed in the same way as it has done for right wingers over the course of Super Rugby history.
In the early years, a running approach was taken to the game, and a winger's ability to finish and create for himself was key, with other factors such as catching and kicking being seen as less important.
But due to the variable rule interpretations over the years, a much more conservative approach was taken by many teams, and the ability of wingers to catch and kick became paramount to success.
While it's easy to say that some of the destroyers in the early years of the competition wouldn't cope with the skill set required to play this game now, it could also be said that if they had to they would have developed those skills if they were playing in this era.
Therefore, it's key to remember that you can only judge a player on his impact during his own era, to an extent at least.
As always, each player is available for selection in just one position and the list only takes into account Super Rugby performances, not international or provincial form.
Begin Slideshow

»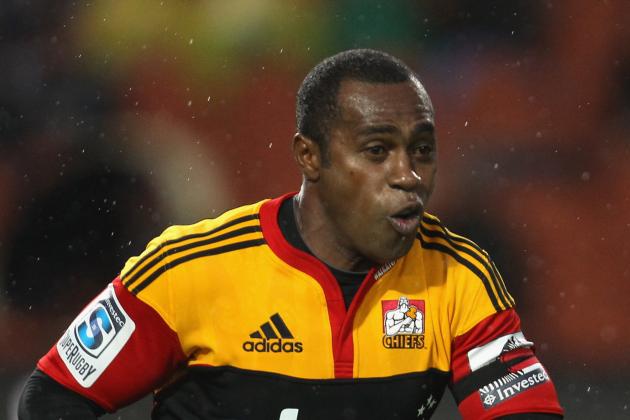 Phil Walter/Getty Images

We start our list off with the Fijian-New Zealander, Sitiveni Sivivatu.
For a time, Super Rugby was the highest level the world got to see him, as he waited to gain New Zealand citizenship to become eligible for the All Blacks.
Possibly the best indicator of his form in this time is that when he finally became available, he was brought straight into the starting lineup ahead of fellow superstars Doug Howlett, Joe Rokocoko and Rico Gear.
He was a fast, elusive player who had the ability to dazzle his opponents in a way few players have been able to. In his younger days, he would consistently provide a threat and was one of the top players around.
As the game became more kick-orientated, his dominance fell away somewhat as he didn't possess the same all-round game as some of the other wingers, while a series of injuries also limited his attacking ability.
But at his best, there have been few more wingers more dangerous than Sivivatu and ensures he finds his way into the elite of Super Rugby.
He debuted for the Chiefs in 2003 and remained there until 2011, playing 68 games and scoring 38 tries.
He was brilliant, one of the most dangerous and exciting players in the history of Super Rugby.
It's hard to believe he only played 14 games in the completion, but the fact that he could make such a lasting impression in such a few amount of games shows just what a great talent he was.
With ball in hand he never seemed to be running hard, seemingly coasting along and it was only the players he left in the dust that really indicated how fast he was travelling and how much faster he may have been able to go.
He was a good stepper, seemed to be able to find gaps and just generally create something from absolutely nothing. In a way, words can't describe Rupeni's ability.
He could be careless and his reliability at times was poor, but let's put that aside and just remember what a truly special player he was.
Rupeni played just three years with the Blues, across which he managed just 14 appearances, but these were enough to cement his place amongst the legends of the competition.
He scored 15 tries in his time there, proving key member of the 2003 championship winning team.
Bryan Habana is quite possibly the most slippery player to step onto a rugby field. Certainly, he has been the most dangerous of the past five years, and he always brought his best form to Super Rugby.
He possesses an ability to snaffle tries from anywhere, creating space in little room and popping up in the backline for inside balls at the right times. But perhaps he is best known for his uncanny ability to read his opponents backline and snatch intercepts.
Although there is more to him than just his attack. He is a very good defender and isn't afraid to take contact, while also chasing kicks hard and putting pressure on the catcher. His work rate is tremendous, something that isn't often seen by such potent attacking threats.
His Super Rugby career began in 2005 with the Bulls, where he played for five years, winning championships in 2007 and 2009.
It was he who scored the winning try in injury time in the 2007 final. He then moved to the Stormers where he remains, having made the final in 2010 with his new team.
He places sixth on the all-time try scoring list with 48, but with a few years left in him, it wouldn't be foolish to expect he could challenge Doug Howlett for the No. 1 spot.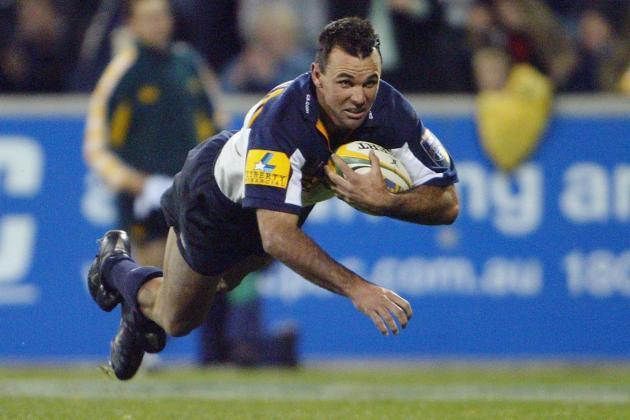 Chris McGrath/Getty Images

One of the most dangerous players in Super Rugby history, Joe Roff walks into our list of the top left wingers in Super Rugby history.
He certainly possessed a habit of finding the line, scoring 57 tries in his 86 games for the Brumbies. This total is third to only Doug Howlett (59) and Caleb Ralph (58).
He was a fast and very elusive player who possessed great instincts for the game, knowing where to be and running good lines.
To go with this, he didn't shy away from the contact and quite often committed to the breakdown when play was on his side of the field. He was also a good kicker of the ball and even kicked at goal on occasion for the Brumbies.
Roff's Super 12 career lasted from 1996-2004, playing all nine years for the Brumbies. In this time, he won two championships, one in 2001 and one in his final game for the franchise in 2004.
There have been few players in the history of rugby that have made an impact as big as the one Lomu made when he burst onto the scene.
He may not have been the most skilful player around, but what he lacked in flair he made up for with sheer destructiveness.
He was one of the biggest players in the world and also one of the fastest, while also possessing strength and incredible balance.
It was this unique combination of physical attributes that made him so difficult to stop.
Indeed, his sheer presence was enough to force many defences to put two or three men on him.
This may have prevented his own dominance, but meant the rest of the team was effectively playing against one or two less men, opening up gaps all over the park.
However, if they didn't take this approach they left him in a one on one situation where he was almost impossible to deal with.
His two championships came in the first two years of Super 12, being a key member in the 1996 team, carrying on the form he displayed in the 1995 Rugby World Cup.
His participation in the 1997 competition was limited by the kidney disease, which he so famously carried for his whole career.
He had one more year at the Blues where they would finish runners-up, losing a thriller to the Crusaders in the final, before moving to the Chiefs for the 1999 season.
He stayed there for just one year and played the next four years with the Hurricanes before being forced into retirement with his kidney disease.