Celtics Nine-Man Rotation Stunts the Growth of the Rookies
March 7, 2012

Elsa/Getty Images
Starters: Rajon Rondo, Ray Allen, Paul Pierce, Brandon Bass, Kevin Garnett.
Bench: Avery Bradley, Keyon Dooling, Mickael Pietrus, Chris Wilcox.
Get used to seeing those names a lot. Speaking to the media after Boston's 115-111 win over the New York Knicks, Celtics head coach Doc Rivers said he has shortened the rotation to nine players for the rest of the season.
With the exception of blowouts or game-by-game circumstances (foul trouble, injuries), Rivers has settled on a Celtics nine to play with for the remainder of the season.
After spending two months staring at one last run or a rebuilding fork in the road, it seems the Celtics will attempt one last championship drive led by the Big Four of Pierce, Garnett, Allen and Rondo.
Absent from the rotation are rookies Greg Stiemsma, E'Twan Moore and JaJuan Johnson. Even though they each played big roles in wins in the first half of the season, they will remain on the bench, with mop-up duties their only responsibility.
This approach will waste opportunities to develop the rookies. They've already shown they can play. They need confidence to become consistent. That's hard to come by when Rivers shows little confidence in them.
Injuries are the only hope for these rookies. Forced into a start against the Washington Wizards, Stiemsma responded with 13 points, seven rebounds, two assists and two blocked shots. Moore came to life in Orlando against the Magic, fueling a 27-point comeback with 16 points, including 4-4 from behind the arc. And against the formidable Chicago Bulls front line, Johnson contributed 12 points, four rebounds and a block. Boston won all three games.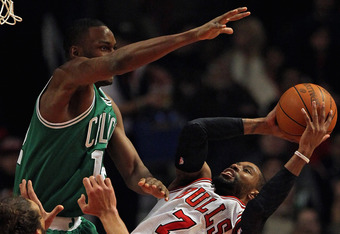 Jonathan Daniel/Getty Images
All three can play now. Rivers doesn't want to cost the team any losses because of rookie mistakes, but he can play them. Rivers can carefully pick and choose when they get minutes without hurting the team.
Not much harm can be done giving them spot minutes in the first half. Just the experience of playing relevant minutes in a contested game is beneficial to them. Additionally, the veterans get a little extra rest and energy for the second half.
If Boston gets up by 15 to 20 points in the first half, that's an opportunity to give closely-monitored playing time to Stiemsma, Johnson or Moore. Point out the mistakes they make during breaks in the action. Give them pointers on what they can do better. Make it a learning experience, so that if Rivers must turn to them in critical moments, the game won't be too big to them.
But with the first four games after the All Star break as the example, that won't happen. Rivers will stick with the veterans as the Celtics are in "win now" mode.
The pursuit is understandable. Boston is playing its best basketball right now. After going 15-17 before the break, the Celtics have won their last five games. They scratched and clawed to wins over Cleveland and Milwaukee. Next, Boston dominated New Jersey, followed by back-to-back overtime wins over the New York Knicks and Houston Rockets.
More importantly, after squashing the latest round of trade rumors, Rondo has been outstanding, leading the way with triple-doubles in two of the last three games while throwing off the opposing point guard with frustrating defense.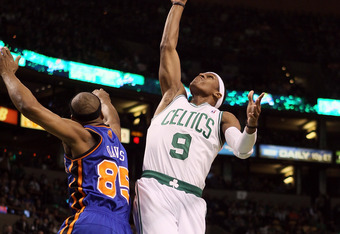 Elsa/Getty Images
Rondo is controlling the pace, getting the offense into its plays quicker. The aggressive Pierce is back, equally mixing drives into the paint with jumpers. Garnett has settled into starting at center, playing in the paint more on offense and rebounding better. And Allen is shooting a career high on three-pointers.
If the bench can become consistent, Boston will climb in the Eastern Conference standings and will be a team no one wants to play in the playoffs.
That's a big if, as production from some reserves has been disappointing. Dooling is shooting 24.4 percent  since February, including 2 percent on three-pointers. Jermaine O'Neal has been inconsistent when available to play. He has been out since February 20 and is considering surgery options on his wrist that could end his season.
Continued poor play shouldn't be rewarded. What's the worst that could happen if the rookies get some the minutes at the expense of Dooling or O'Neal?
Presently constructed, Boston isn't a team that can beat Miami and Chicago in a playoff series. It's like the Celtics have gone all in at the World Series of Poker with $100. They'll win a little, but have no chance at the grand prize.
Changes must be made to make the Celtics a contender without disrupting the chemistry. Obtaining through trades a player or players who would be difference-makers might include giving up a combination of rookies plus a first-round draft pick, maybe two.
It would be worth it if president of basketball operations Danny Ainge can bring in players that can help now and be a part of the rebuilding process with Rondo next season. The alternative would be Boston acquiring veteran rentals for the rest of the year, chipping away at the rebuilding plan.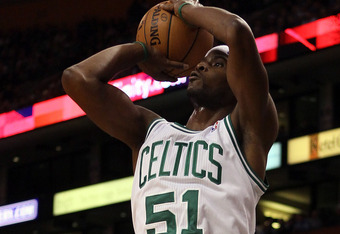 Elsa/Getty Images
Johnson, Moore and Stiemsma probably aren't stars in the making, but they can be developed into solid role players after most of the veterans are cleared off the roster. Developing them doesn't have to wait until next season.
San Antonio head coach Greg Popovich is highly respected by Rivers. That doesn't make Popovich Rivers' mentor. Popovich is playing 10 players at least 20 minutes per game. That includes rookies Tiago Splitter, Gary Neal and Kawhi Leonard. They're combining for 25.9 points and 12.2 rebounds.
That doesn't mean that Boston's rookies would be just as productive if they got the same minutes as the Spurs' trio. But we will never know if they're never put in the game.
On Tuesday night against Houston, Bass was in the locker room for much of the first half. With the rotation compromised, Rivers had to play Stiemsma. He responded with eight points on 4-6 shooting and one rebound in 13 minutes, as the Celtics built a 46-40 halftime lead.
All the rookies need is a chance.
Questions? Comments? Send to talktome@randolphc.com.