The Dallas Mavericks exacted revenge for their loss to the New York Knicks at the height of Linsanity earlier this season with a 95-85 win in Big D. The Knicks made a game of it in the second half but ultimately succumbed to Dirk Nowitzki's shooting and the Mavs' ironclad defense in the fourth quarter.
The decision drops the Knicks to 18-20 and moves the Mavericks to 23-17 on the season.
Tweets of the Night
The Twitter machine was surprisingly quiet with regard to Jeremy Lin tonight. In the absence of any noteworthy Linsanity, the Internet seemed to take a keen interest in Amar'e Stoudemire's on-court exploits, including his age:
Amare Stoudemire, he moves like Jagger. 65 year old Mick Jagger.

— netw3rk (@netw3rk) March 4, 2012
And his penchant for taking (and missing) jump shots:
RT @JPCavan: Stat's heat check needs to end like last week.

— netw3rk (@netw3rk) March 7, 2012
Meanwhile, Frank Isola of the New York Daily News notes that things weren't going so swimmingly between Lamar Odom and Mavs owner Mark Cuban during the game:
Lamar Odom getting into it with Mark Cuban. The owner had the nerve to ask Odom to hustle. Lamar didn't like that

— Frank Isola (@FisolaNYDN) March 7, 2012
Must-See Highlight
Jeremy Lin has been taking his lumps of late, now that coaches have figured out how to defend him and opposing players have taken exception to his sudden stardom. You can add Jason Kidd (and Ian Mahinmi) to the ever-lengthening list of NBA veterans who've taken the time to "welcome" Lin to the league this season, as they did in Dallas on Tuesday night:
Grades for Key Knicks Players
Jeremy Lin: B
For all the heat that Jeremy Lin's taken of late for the "sudden" and "unexpected" slide in his play, the kid actually put together a decent game against Jason Kidd, who, even at 38 years of age, is still no slouch. Linsanity finished the game with 14 points, three rebounds, two steals, seven assists and only two turnovers.
Still, a 4-for-13 shooting performance in a loss doesn't reflect well on Lin, especially with Baron Davis soaking up key minutes for Mike D'Antoni.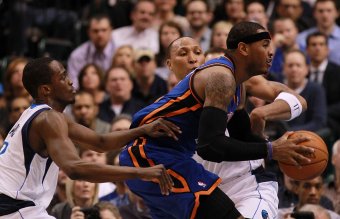 Ronald Martinez/Getty Images
Carmelo Anthony: C-
Anthony was a non-factor for the Knicks on the night. The much-maligned superstar hit just two of his 12 shots for six points against the defending champs. 'Melo gets some credit for contributing to New York's rebounding total with eight boards of his own, and gets something of a pass for getting stuffed by Shawn Marion, whom even Mark Cuban has touted for his shutdown defense this season.
But, for a guy who's supposed to be the primary option on a playoff team, nights like tonight are difficult to justify, no matter how you slice 'em.
Amar'e Stoudemire: B
Like Carmelo, Amar'e put together something of a mixed bag against the Mavs. On the one hand, he chipped in 26 points and played solid defense on Dirk Nowitzki for most of the game (I'm as shocked as you are).
On the other, he managed to pull down only seven rebounds in 32 minutes.
Like I said, a mixed bag for STAT.
Grades for Key Mavericks Players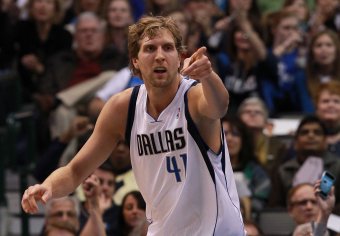 Ronald Martinez/Getty Images
Dirk Nowitzki: B
It wasn't always pretty for Dirk, but it was effective in the end. Nowitzki ended the night with 28 points on 8-for-18 shooting, including a clutch 12-for-12 performance at the free throw line. He was flustered by Stoudemire at times, though he ultimately came up aces when the Mavs needed him most.
Jason Kidd: A-
Who says Jason Kidd's too old to be a factor in the NBA? The aging point guard contributed a season-high 15 points to Dallas' cause, along with four rebounds and six assists. The future Hall-of-Famer also continued his climb up the league's historical hierarchy by pouring in a trio of treys.
Jason Terry: C+
Jason Terry didn't bring his A-game to the arena tonight, though the Mavs didn't exactly need him to in the end. The Jet contributed just nine points on 3-for-8 shooting, but deserves a measure of redemption for pulling down seven rebounds.
Which team is more likely to make a deep playoff run?
Deciding Factor: Defense
Neither team shot particularly well for the game—38.1 percent for the Knicks, 38.8 percent for the Mavs—but it was Dallas' D that ultimately made the difference. The Mavericks limited the Knickerbockers to 18 points in the fourth quarter, including a 3:07 stretch during which New York failed to put the ball in the basket.
Stat of the Night: 14
The number of unanswered points the Mavs scored after the Knicks took the 78-77 lead with just under five minutes to go in the fourth quarter. Dallas' run came to an end on a Stoudemire basket with less than two minutes remaining.
Game MVP: Dirk
The Mavs don't pull away to win this game without Dirk's 11 fourth-quarter points, plain and simple.
What's Next?
The Knicks will continue their four-game road trip against the San Antonio Spurs on Wednesday, while the Mavericks will take their show on the road to play Steve Nash and the Phoenix Suns on Thursday.