MLB Predictions: One Player from Each MLB Team Who Will Disappoint in 2012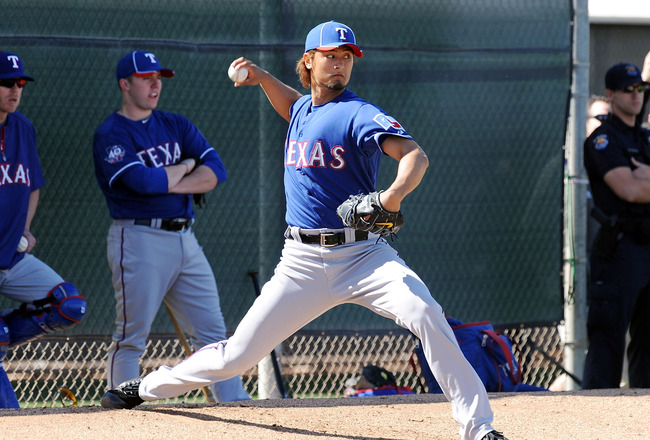 Norm Hall/Getty Images
With the start of spring training comes a time of hope for all 30 teams, as every MLB team has at least some reason for optimism heading into the new season.
However, on the other end of the spectrum, there are more than a few causes for concern for each MLB team, whether it is a player taking a step back after a big year, an injury concern or something else.
So here is a look at the one player on each team who could disappoint in 2012, and why there is a reason to worry entering the new season.
Arizona Diamondbacks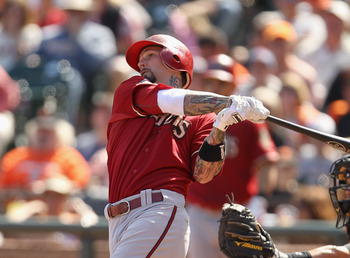 Ezra Shaw/Getty Images
Player: 3B Ryan Roberts
Reason
Roberts entered last season as a career journeyman with just 398 big league at-bats under his belt at the age of 30. He broke out with a .249 BA, 19 HR, 65 RBI, 18 SB season as the Diamondbacks' everyday third baseman.
With no track record of success prior to last season, was it a matter of Roberts having a career year or simply a matter of him seeing enough playing for the first time in his career? I'll go with the former and say that Roberts drops off this season, returning to a utility role when the Diamondbacks search for an upgrade.
Atlanta Braves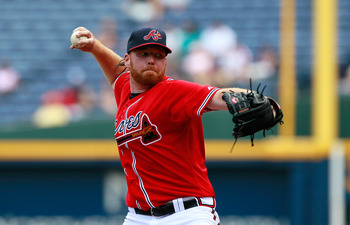 Kevin C. Cox/Getty Images
Player: SP Tommy Hanson
Reason
After a sparkling rookie season and solid sophomore campaign, Hanson was limited to just 22 starts last season before a shoulder injury on August 6th cut his season short.
Aside from having to return from that injury, Hanson got into a car accident on the way to spring training and was diagnosed with a mild concussion. Clearly a tough start to the season.
After watching Justin Morneau and Brian Roberts struggle with concussions, it could become a lingering issue for Hanson.
Baltimore Orioles
Mike Hewitt/Getty Images
Player: SP Wei-Yin Chen
Reason
The Orioles were aggressive on the international market this offseason, signing a pair of starting pitchers in Tsuyoshi Wada and Wei-Yin Chen from Japan.
Wada is the older of the two, but he is coming off of a dominant season in which he went 16-5 with a 1.51 ERA and 168 K's. He should make a smooth transition to the MLB.
Chen, on the other hand, was by no means dominant last season with a line of 8-10, 2.68 ERA and 94 K's. While he has more upside than Wada, he could struggle early.
Boston Red Sox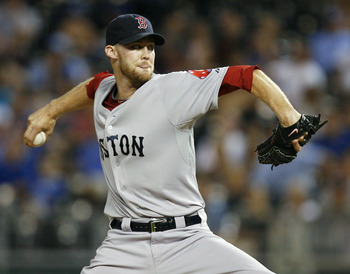 Ed Zurga/Getty Images
Player: SP Daniel Bard
Reason
One of the best setup men in baseball since breaking into the league in 2009, Bard has appeared in 192 games, has a 2.88 ERA and 9.7 K/9 over 197 innings of work.
The team is moving him to the rotation this coming season, and it will be the first time he has started since his first pro season in 2007 when he went 3-7 with a 7.08 ERA over 22 starts. He is clearly not the same pitcher he was then, but he has still only thrown over 25 pitches 23 times in his career and has never faced a team's lineup twice in a game.
It's a whole new ballgame for the hard-throwing right-hander.
Chicago Cubs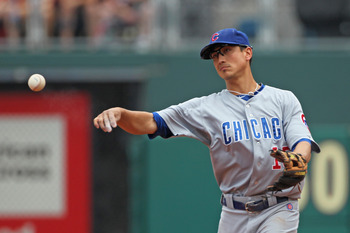 Hunter Martin/Getty Images
Player: 2B Darwin Barney
Reason
A surprise to even make the Cubs' Opening Day roster last season, Barney quickly emerged as the team's everyday second baseman. He put together a solid line (.276 BA, 2 HR, 43 RBI, 66 R) and finished seventh in NL Rookie of the Year voting.
However, a closer look at his numbers shows that he has subpar on-base skills (22 BB in 529 AB, .313 OBP) and zero power (31 extra-base hits). With a .313 BABIP, his average could even drop a bit this season.
At 26, he likely won't get much better, and he'll be a below-average option at second base.
Chicago White Sox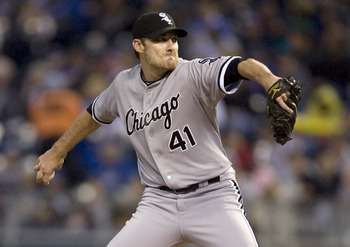 Ed Zurga/Getty Images
Player: SP Philip Humber
Reason
A former first-round pick by the Mets back in 2004, Humber was never able to catch on in New York and endured much of the same struggles in Minnesota after being involved in the Johan Santana trade. The White Sox claimed him off waivers last offseason expecting very little.
He enjoyed a stellar first half last season (8-5, 3.10 ERA, 65 K's) and forced the White Sox to employ a six-man rotation rather than bump him from the rotation as planned.
However, those numbers dipped to 1-4, 5.01 ERA and 51 K's in the second half. Given his track record, it seems safe to say that the first half was likely the fluke of the two.
Cincinnati Reds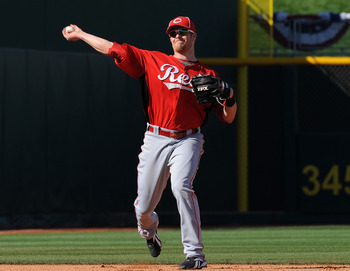 Norm Hall/Getty Images
Player: SS Zack Cozart
Reason
Impressive in a brief stint with the big league team last year (.324 BA, 2 HR, 3 RBI, 37 AB), Cozart will open the season as the unquestioned everyday shortstop and No. 2 hitter for the Reds.
The 26-year-old is older than most prospects, and while he should develop into a big league contributor, his .270/.332/.421 career minor league slash line is far from impressive.
Putting him in the No. 2 spot will only add more pressure. It could be a long rookie season for Cozart.
Cleveland Indians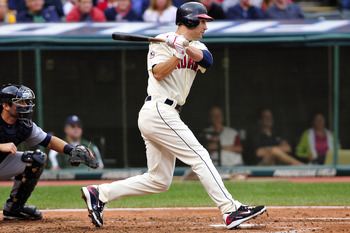 Jason Miller/Getty Images
Player: OF Grady Sizemore
Reason
Really—who else would it be? Sizemore has been nothing but disappointing for the past three seasons as he has managed to stay on the field for a grand total of 210 games and hit .234 BA, 28 HR and 109 RBI over that stretch.
The Indians declined his $9 million option this offseason and brought him back on a one-year, $5 million deal that gave him a chance to earn $9 million with playing-time incentives. However, he is already on the shelf with a back injury that required surgery and will keep him on the shelf for eight to 12 weeks.
It has all the makings of another lost season for the former star.
Colorado Rockies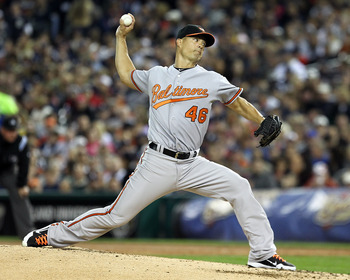 Dave Reginek/Getty Images
Player: SP Jeremy Guthrie
Reason
Acquired from the Baltimore Orioles for pitchers Jason Hammel and Matt Lindstrom, Guthrie will serve as the Rockies ace this coming season. He posted a line of 9-17, 4.33 ERA and 130 K's last season with the Orioles.
Guthrie is a fly-ball pitcher; he gave up 26 home runs last season and has surrendered an average of 27 per year since becoming a full-time starter. He's not getting any better at 33 years old and the move to a hitter's park could mean someone else will need to step up and lead the Rockies rotation.
Detroit Tigers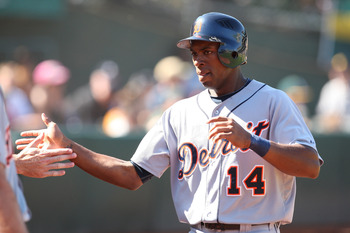 Tony Medina/Getty Images
Player: OF Austin Jackson
Reason
Jackson enjoyed an impressive rookie season in which he hit .293, swiped 27 bases and finished second in AL Rookie of the Year voting. That overshadowed the fact that he struck out a league-high 170 times and had a .399 BABIP.
His luck faded last season, and he was unable to overcome the low contact rate as he hit just .249 with a .317 OBP—poor numbers for a leadoff hitter, to say the least. Now entering his third season, he will need to show some improvement if he hopes to stay atop the lineup.
To this point, there is no reason to think he'll cut down on his whiffs. Expect the Tigers to be aggressive in trying to find a leadoff hitter at the deadline, leaving Jackson to finish the season hitting in the bottom third.
Houston Astros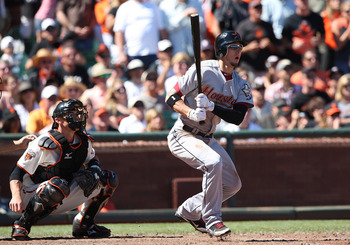 Tony Medina/Getty Images
Player: OF Jordan Schafer
Reason
Acquired from the Atlanta Braves in the Michael Bourn trade last year, Schafer was once a top prospect and had the look of a future star.
Handed the starting center field job out of spring training in 2009, Schafer struggled early hitting just .204 and striking out 63 times in 167 at-bats before the Braves sent him down. He spent all of 2010 in the minors before splitting 2011 between Atlanta and Houston and hitting .242.
He is penciled in as the team's leadoff hitter now, but with poor plate discipline and a low batting average, he could lose that position quickly.
Kansas City Royals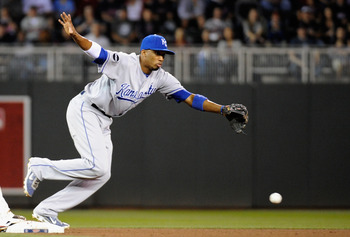 Hannah Foslien/Getty Images
Player: SS Alcides Escobar
Reason
One of the key pieces the Royals got from the Brewers in return for Zack Greinke last offseason, Escobar had a decent first year in Kansas City (.254 BA, 4 HR, 46 RBI, 26 SB) to post a 2.0 WAR.
However, he was a .300 hitter in the minors. While he plays a solid shortstop, there is little question the team would like a little more from him offensively.
They will be patient with him, especially if he continues to show improvement. However, I see him struggling to prove himself offensively and eventually losing his job to Christian Colon a year or so from now.
Los Angeles Angels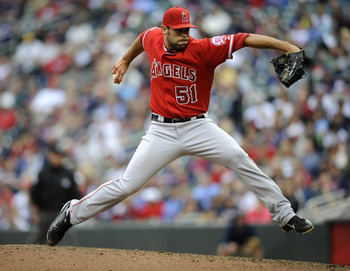 Hannah Foslien/Getty Images
Player: RP Jordan Walden
Reason
Handed the closer's job as a rookie last season with the team lacking a better option, Walden made the All-Star team and saved 32 games for the Angels.
However, he blew 10 saves and had a less-than-dominant 2.98 ERA. He has good stuff, as evidenced by his 10.0 K/9 mark, but he would be better suited in a setup role.
While pitching for the big-spending Angels, his blown saves will be in the spotlight this season.
Los Angeles Dodgers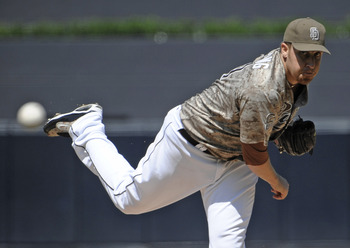 Denis Poroy/Getty Images
Player: SP Aaron Harang
Reason
The ace of the Reds staff who tallied back-to-back 16-win seasons in 2006 and 2007, Harang struggled mightily over the following three seasons as he combined to go 18-38 with a 4.71 ERA.
That left him forced to sign a one-year, $3.8 million contract with the Padres last season. He bounced back (14-7, 3.64 ERA, 124 K's) and earned a two-year, $12 million deal with the Dodgers.
At 34 and moving away from the pitcher-friendly PETCO Park, he could return to his earlier struggles.
Miami Marlins
Marc Serota/Getty Images
Player: SS Jose Reyes
Reason
With the team opening a new stadium, the Marlins set out to make a splash this offseason. They did just that as they added Reyes, Mark Buehrle, Heath Bell, Carlos Zambrano and new manager Ozzie Guillen.
Coming off a fantastic season in which he hit .337 to win the batting title, Reyes signed a massive six-year, $106 million contract. With an injury-prone past and coming off of a career year, the chances he falls short of expectations are high.
Milwaukee Brewers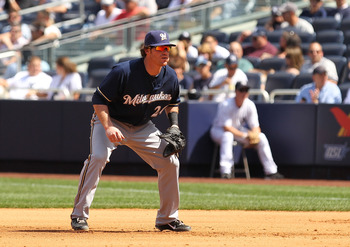 Al Bello/Getty Images
Player: 1B Mat Gamel
Reason
Stepping in for the departed Prince Fielder is no enviable task. While Gamel had a solid season at Triple-A last year (.310 BA, 28 HR, 96 RBI), he has just 171 big league at-bats under his belt.
That is not to say that he can't have a successful first season, but he is 26 years old, in his first full big league season and attempting to replace a superstar. The odds seem to be stacked against him.
Minnesota Twins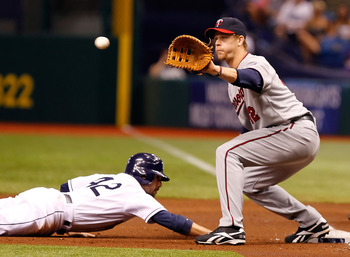 J. Meric/Getty Images
Player: 1B Justin Morneau
Reason
From 2006-2009, Morneau was among the best sluggers in all of baseball as he averaged a line of .292 BA, 30 HR and 118 RBI to anchor the Twins offense.
However, concussions have limited him to 81 and 69 games over the past two seasons, respectively. He will need to prove that he is capable of returning to that form before the Twins can expect that sort of production again.
In the end, I don't think he'll ever fully return to form and the team will need to look elsewhere for run production.
New York Mets
Patrick McDermott/Getty Images
Player: SP Dillon Gee
Reason
After an impressive five-start audition in 2010, Gee put together a solid season last year as a full-time member of the rotation (13-6, 4.43 ERA, 114 K's).
While those numbers look good, a closer look shows a second half (5-3, 5.25 ERA, 54 K's) that could have been a sign of the league getting used to him to the more they faced him. He was never dominant in the minor leagues and is already 26, so expect a step back in 2012.
New York Yankees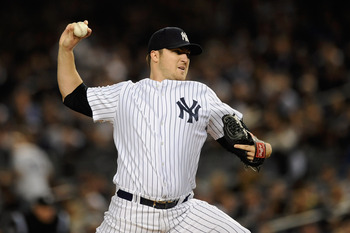 Patrick McDermott/Getty Images
Player: SP Phil Hughes
Reason
Once ranked as the No. 4 prospect by Baseball America, Hughes made his debut as a 21-year-old and was a solid member of the bullpen in 2009 before joining the rotation for the 2010 season.
He went 18-8 with a 4.19 ERA and made the All-Star team in his first year in the rotation, but those numbers fell off big time last year to 5-5 with a 5.79 ERA. Now he'll be on thin ice as the team's No. 5 starter.
If he struggles early, he could be headed back to the bullpen.
Oakland Athletics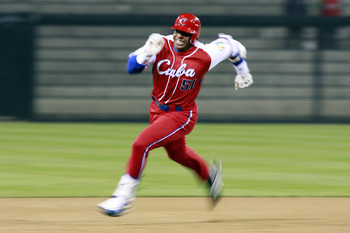 Jeff Bottari/Getty Images
Player: OF Yoenis Cespedes
Reason
The most-hyped international position prospect since Hideki Matsui, Cespedes signed a four-year, $36 million contract after defecting from Cuba and establishing residency in the Dominican. He will open the season starting for the A's in left or center field.
He was dominant last season in Cuba, hitting .333 BA, 33 HR and 99 RBI over 90 games to set the league's home run record. However, the level of play in Cuba is on par with the low-level minor leagues.
While he would benefit from some time in the minors, he is among the highest-paid players on the team and will be in the lineup from day one. That will mean early struggles.
Philadelphia Phillies
Hunter Martin/Getty Images
Player: OF Domonic Brown
Reason
Thought to be the front-runner to win NL Rookie of the Year last season, Brown was injured in spring training and never able to capture the starting left field job.
John Mayberry and Laynce Nix will split time in left to open the season. After Brown's line of just .245/5/19 in 184 at-bats last season, he will need to prove that he is still a top prospect.
Phillies brass no doubt hopes he claims the job at some point this season. If he doesn't, it would be a major disappointment.
Pittsburgh Pirates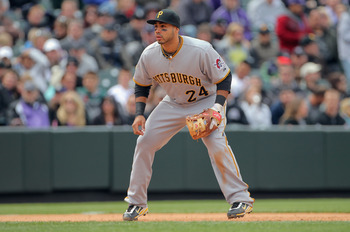 Doug Pensinger/Getty Images
Player: 3B Pedro Alvarez
Reason
The second overall pick in the 2008 draft, Alvarez made his debut in 2010 and hit .256/16/64 over 347 at-bats. He looked to be the team's future cleanup hitter.
However, last season he struggled to a .191/4/19 line and spent time both on the disabled list and in the minors. The team will give him every chance to hold down the job, but they traded for Casey McGehee this offseason as insurance.
If he struggles again, his window to be a starter could be closed, which would be a huge disappointment.
San Diego Padres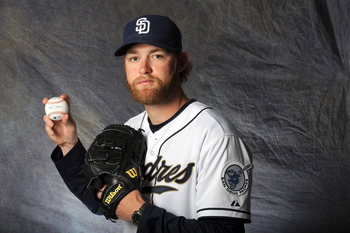 Rich Pilling/Getty Images
Player: RP Andrew Cashner
Reason
Following the acquisition of Yonder Alonso from the Reds in the Mat Latos trade, the Padres made top prospect Anthony Rizzo available and the Cubs jumped at the chance to add a future middle-of-the-order threat.
Now, Rizzo and Andrew Cashner, the man the Cubs traded for him, will forever be linked.
After missing most of last season with injuries, Cashner will need to prove that he is healthy and emerge as a top setup man in order to offset the loss of Rizzo. I see injuries setting in for Cashner again and Rizzo making an impact in Chicago at some point in the second half of 2012.
San Francisco Giants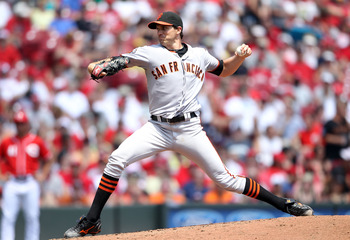 Andy Lyons/Getty Images
Player: SP Barry Zito
Reason
Looking to bolster their lineup and thinned outfield, the Giants dealt starter Jonathan Sanchez to the Royals for Melky Cabrera.
With that move, the team will once again rely on Barry Zito to fill a spot in the starting rotation—with no proven arm to back him up once he inevitably struggles or is injured.
It's hard to call Zito anything but a disappointment. There is no reason to think he won't add to his legacy as the worst free-agent signing of all time.
Seattle Mariners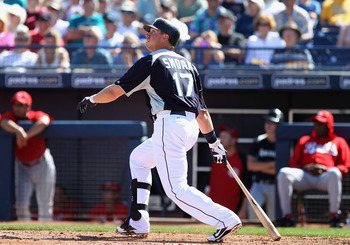 Christian Petersen/Getty Images
Player: 1B Justin Smoak
Reason
Acquired as the key piece in return for Cliff Lee when he was traded to the Rangers, Smoak hit just .234 BA, 15 HR and 55 RBI last season in his first full year with the team. He hit .218 BA, 13 HR and 48 RBI in his rookie season.
While there is no question he has power potential, he will need to take the next step soon and improve his contract rate if he wants to be a legitimate middle-of-the-order threat. To this point, he has shown no sign of taking that step.
St. Louis Cardinals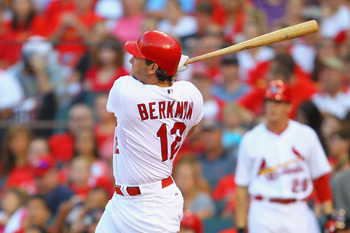 Dilip Vishwanat/Getty Images
Player: 1B Lance Berkman
Reason
After hitting just .248 BA, 14 HR and 58 RBI in 2010, Berkman signed with the Cardinals on a one-year deal last offseason and was among the comeback stories of the season. He hit .301 BA, 31 HR and 94 RBI with St. Louis.
With Albert Pujols gone, he will shift to first base. This will help the team defensively, but at 36 it would not be surprising to see his numbers closer to his 2010 marks than last season's numbers.
He will be counted on to hit cleanup. If he falls off, it will be a major blow to the Cardinals.
Tampa Bay Rays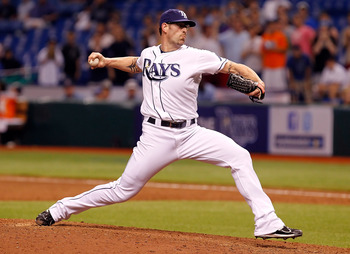 J. Meric/Getty Images
Player: RP Kyle Farnsworth
Reason
After watching the top seven members of their bullpen leave via free agency last offseason, the Rays were forced to piece together a makeshift group of journeymen and unheralded prospects.
Farnsworth wound up in the closer's role, and went a surprising 25-of-31 on save opportunities. While the 36-year-old has become more of a pitcher who pitches to contact than one who tries to throw it past people, his season was still as fluky as anyone's in 2011.
Texas Rangers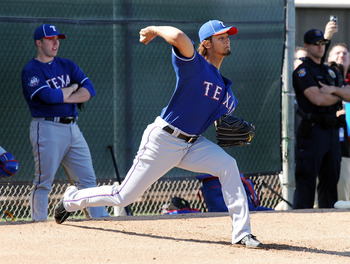 Norm Hall/Getty Images
Player: SP Yu Darvish
Reason
Darvish was signed to a six-year, $60 million contract with a $51.7 million posting fee. The Rangers invested a ton of money in the 25-year-old right-hander.
He dominated for the Nippon-Ham Fighters for five seasons with a 76-28, 1.72 ERA, 1,083 K's line. While he has the upside to be a future staff ace, there could be an adjustment period. After all of the hype surrounding his signing, it will be hard for him to not fall short of expectations in his rookie season.
I expect him to have a better career than Daisuke Matsuzaka, but early on he will leave fans wanting more.
Toronto Blue Jays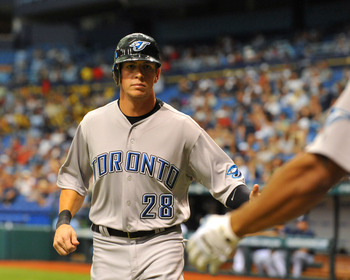 Al Messerschmidt/Getty Images
Player: OF Colby Rasmus
Reason
A top prospect for the Cardinals, Rasmus took over as the Cardinals' starting center fielder in 2009 as a 22-year-old. While he has shown promise, he was also frustratingly inconsistent and clashed with Cardinals management. He was dealt at the deadline to acquire Edwin Jackson.
He was horrible after the trade (.173 BA, 3 HR, 13 RBI). While there is no way he will be that bad this coming season, he will be 25 years old and will need to take that next step forward soon or he'll never be more than an average starting outfielder.
Washington Nationals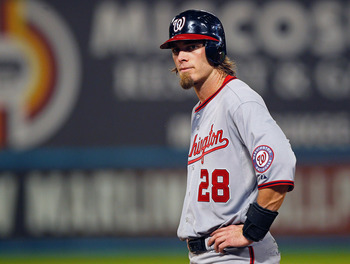 Mike Ehrmann/Getty Images
Player: OF Jayson Werth
Reason
Signed to a seven-year, $126 million contract in the 2011 offseason, Werth hit just .232 BA, 20 HR and 58 RBI last season while earning a whopping $10.5 million. That salary will only climb in the years to come.
The Nationals are a team that is heading in the right direction, but there is no questioning that unless he can at least match his numbers from his final season in Philadelphia (.296 BA, 27 HR, 85 RBI), he will be a disappointment.
At $13 million in 2012, even those numbers may not be enough to make him anything but a frustrating disappointment.
Keep Reading