The 50 Dirtiest Tackles in Soccer History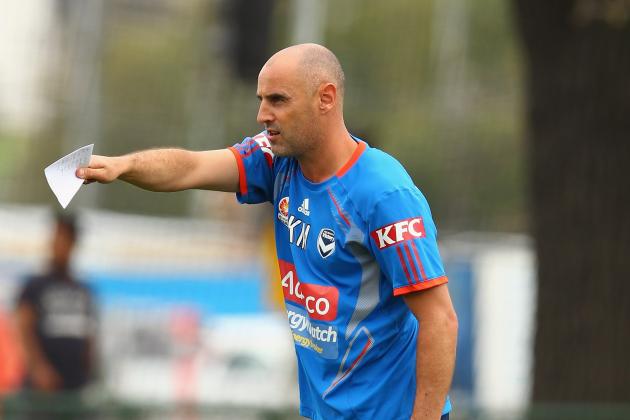 Robert Cianflone/Getty Images

Football players can be foolish and hot-headed at times, and that shows up in some of the dirtiest moments in the sport.
Dirty tackles throughout the years have left players with career-ending injuries or damaged the reputation of said tackler.
The day and age of YouTube provides us with replays of some of these sickening moments. Some tackles don't really result in any injury at all, but the intent or the actions involved merit their inclusion here.
If there are dirty tackles that you feel should be on here, feel free to add your own in the comments.
Here are some of the dirtiest tackles in world football history.
Begin Slideshow

»
Mamadou Diallo should have gotten a red card for this. In those situations, strikers normally pull out of the encounter in some way.
Diallo should have known he wasn't going to get the ball. That fact was certainly obvious on the replay.
Roy Keane got back at Alf-Inge Haaland in the dirtiest of ways. After waiting for his chance, Keane inflicted some major pain on his opponent and showed no remorse about it.
The Norwegian footballer had criticized and apparently taunted Keane after his attempted tackle years earlier, which led to Keane being injured and out for much of the season.
Peter Crouch showed some un-robot-like emotion during and after this tackle on John Obi-Mikel.
He may not have hurt the Chelsea midfielder as badly as some of the others on this list, but there was no need for his actions there.
Howard Webb decided that it was in the best interest of the game for Nigel De Jong to stay on after that incident.
There are late tackles, and there are just plain stupid ones. De Jong's tackle falls into the latter and really should have resulted in a red card. In the end, justice was served, I guess.
The result of this tackle is not what gets it on this list, though that is certainly an indication of how dirty it was.
Brian Mullan went in much too hard here and inflicted serious damage on one of the MLS' most talented players.
The title of this clip is interesting. Hopefully, Neil McDonald had no real intent to hurt John Barnes there, but he obviously intended to bring him down. There really is no way he could have gotten the ball.
Tackles from behind are some of the most dangerous ones in the business, though back then, that was not the case.
The close-up of this video is quite disturbing. Alex Witsel goes into the tackle in a very dangerous manner, and the outcome was very unfortunate.
The commentating was really hard to hear, so the perpetrator in this video is unknown, but the victim apparently has the name Baggio. At least according to the author.
This tackle was dirty to say the least, and maybe the player would've gotten a straight red if it wasn't for his previous yellow card. He probably still should've gotten a straight red.
The player on the red team must have forgotten what sport he was playing for a second. That's about the only explanation for that "tackle."
If Nigel De Jong's kick would've gotten some points in an official karate match, Bruno Cirillo's kick is worthy of a Mortal Kombat move.
It's pretty absurd that he only got a yellow for this.
It's another tackle from behind, this time from Arsenal's resident injury room, DJ Abou Diaby. This was in a friendly, no less.
And hey, Arsenal's winning.
Type Kevin Muscat into YouTube. You will find some great, not really, footage of some horrible tackles similar to this.
Actually, the "Kevin Muscat is a w****r" clip that shows up after this one is probably a good place to start, and stop.
Unfortunately for Neils Kokmeijer, he was subject to the usual bad defending from an attacking player. The result of his encounter was very bad.
Rachid Bouaouzan was subsequently banned by the Dutch FA and suspended by his own team, Sparta Rotterdam, for the rest of the season.
The outcome could have been very different for Joey Barton if he and Dickson Etuhu weren't on a field with 23 other people.
It's just one of many incidents from the hot-headed Englishman. Thankfully, Etuhu wasn't really hurt from that incident.
Benjamin Massing got some help from his teammates, but he finished off the combo with aplomb. It's sort of funny that Massing lost his boot in the process.
Cameroon's strategy for that game seemed to hinge on stopping Claudio Caniggia at all costs. It did the job, though, I guess, as Cameroon won.
Not sure if Jordi Gomez had any dreams of flying, or if he had any fear of wolves, before this, but he may be a bit wary of either now.
Karl Henry is no stranger to some rough challenges, and he did it again there.
Boris Johnson just can't stop when he gets started. The current Mayor of London showed that he may just prefer Rugby or American Football to his country's No. 1 sport.
While he went face-to-face with Dickson Etuhu in that matchup, Joey Barton decided he wanted to sneak up on Xabi Alonso.
The resulting tackle was definitely deserving of a red card, and is one of the dirtiest tackles on this list.
This tackle is definitely a dirty one from Lee Bowyer. There was no real injury, thankfully, but it certainly would have been if the damage was more severe.
To be fair to Stephen Hunt, he quickly acknowledged his wrongdoing. He didn't really show any love for his victim, though.
Challenges like that could lead to broken legs, and maybe, in this case, it was a good thing Hunt's foot was a bit too high.
That is a horrible, horrible tackle. It really is strange what goes on inside a player's head at times. Michael Brown is no stranger to those type of situations, and had a run-in with Ryan Giggs at one point in his career as well.
Partizan Belgrade keeper Ivice Kralj takes his job seriously. Probably a bit too much. This incident must have occurred outside the box for him to use his legs like that. This another example of why keepers are better with their hands rather than their feet.
Unlike his feud with Alf-Inge Haaland, Roy Keane didn't have seem have to any problems with Neil Pointon that people knew about.
It doesn't really take much to fire up the Irishman, though. This tackle was deserving of more than a yellow. Different times.
Ben Thatcher is a thug. There isn't really any way this can be called a tackle in the regular sense of the word.
That incident was investigated by both the police, as well as the FA, and Thatcher was banned.
This is another tackle that should most definitely have resulted in a red card. It was from behind and may have resulted in a serious injury for Steven Pienaar.
Phil Bardsley did apologize, though.
Waitakere's Commins Menapi makes a late and very dangerous tackle against his opponent, Riki van Steeden.
Van Steeden did suffer a serious injury from the tackle, and Menapi was red-carded.
Peter Cavanagh makes no contact with the ball whatsoever with this tackle and really should have gotten a red card.
Considering the situation before the tackle, it really is strange that Cavanagh flings himself into the tackle like that.
The image of Vedran Corluka on crutches and with ice on his ankle after this incident shows just how bad of a tackle this was.
Mathieu Flamini was probably heated from his time in the London derbies between Arsenal and Tottenham. Still, how he puts himself into the tackle should have gotten him a red card.
Unfortunately for Paul Gascoigne, he suffered a serious injury after committing this tackle. Gary Charles had a knock as well, but came out the better of the two.
Gascoigne's challenge was rash and ill-timed. He would have been much better served if he stayed on his feet instead of trying to hack his man down.
John Terry joins the likes of Bruno Cirillo and Nigel De Jong on this list with a really high-footed dirty tackle.
When a player's foot goes that high, with studs showing, that should be a definitive red card. Especially when they make contact like Terry did.
Ryan Shawcross was distraught after this tackle. That much has to be said. Still, this is similar to Paul Gascoigne's tackle in that Shawcross did not have to go after the ball in that manner.
A sliding tackle may even have resulted in less harm, but Shawcross just takes a whack at whatever is in front of him and ends up breaking someone's leg.
As Shane Long tried to pull out of this tackle at the last minute, Alan Hutton continues on full force.
While Hutton did touch the ball first, his studs are showing, and they are high. On another day, he could have injured Long more severely than he did and received a red card in the process.
Gorka Pintado was banned after this challenge, and deservedly so. The commentators make some very good points about the incident, as Robbie Savage was lucky to escape without any serious injury.
Oluyabo Adefemi knows he is in the wrong with his challenge, and his gesture to Hatem Ben Arfa showed there really was no malice.
It was still a dirty tackle from the player, though, and he was lucky to not have injured Ben Arfa.
This isn't the worst Steven Gerrard tackle; that honor belongs to his stamp on Gary Naymsith in 2007. That incident resulted in ban and fine even though he was not booked in the game.
This tackle isn't two-footed, but shows the player acting very rashly during his younger days. He certainly knocked the wind, if not more, out of Kevin Campbell.
Given that one of his nicknames was "The Butcher," Marco Materazzi chopped Zlatan Ibrahimovic down quite strongly here.
Materazzi had no chance at the ball and goes in with the usual studs showing and high-footed rashness that is the norm in these bad tackles.
Thierry Henry did not cause any damage, and he did actually get the ball, but things could have been so much worse in this situation.
The fact that he launched himself into the tackle with his studs showing is a prime example of a dirty tackle.
Eddie McCreadie takes the martial arts aspect of things to a whole new level with his kick on Billy Bremner.
Bremner is normally the one dishing out that kind of medicine, so that must have felt strange to him. The fact that the play went on magnifies the differences between the present and what happened in those times.
Bremner takes it on the chin well.
Really? The assistant referee was right there and nothing happened? Jamie Redknapp, Ruud Gullit and Richard Keys had some fun with the commentary.
I guess it was a funny incident, but also worthy of a red card for the Portuguese defender.
This may have been a case of a mistimed challenge without any malice, but it was oh so dirty.
When you put your foot up that high, even without studs showing, and knock somebody unconscious, it is deserving of a red card.
Chris Mavinga only received a yellow card for the incident, and Mehdi Carcela-Gonzalez required surgery for his face.
Dino Maamria flew over his teammate in order to rake his studs down the back of his opponent's legs. The damage could have been worse, and the punishment should have been.
He did it from behind and in a very dangerous manner, yet only received a yellow.
Nuno Claro wasn't thinking when he decided to do this. He took out a player who had was focused on the ball and defenseless as a result.
The CFR Cluj goalkeeper was suspended for three games after receiving a red card
New Mexico's Elizabeth Lambert was suspended after her display against Brigham Young University in the Mountain West Conference semifinals.
There a are couple challenges in there that are dirty which fit in with this slideshow. The whole clip is pretty bad, though.
If there ever was a dirty tackle, this was it. If there was ever a player that should be sent off and banned, it was this guy.
Why the goalkeeper is launching himself in such a fashion is anyone's guess.
This guy exhibited the best form of all our other karate kick contenders. I'm sure his victim won't appreciate that in the least, though.
The YouTube uploader gives us a name, Hogan, James Hogan in fact, and a team, the Anstey Nomads. They play in the East Midlands Counties Football Leagues, according to Wikepedia.
Hogan produced two horrendous challenges in this clip. The first one is most definitely the worse, as the ball is already gone and the player receives a really rough and late challenge.
This player gets absolutely hammered in the chest when he tries to put pressure on a defender after the defenders poor touch.
There had to be a red card there.
There really is no explanation for what Gobern was trying to do here. Most players try to get up and head the ball in that situation.
Eric Cantona was no stranger to hot-headed actions on the field. This tackle on Michel Der Zakarian is a prime example of Cantona in his younger days.
Cantona actually winds up and then jumps into the tackle. He was suspended for his actions.