Alabama Football: 5 Most Important Tasks for Spring Practice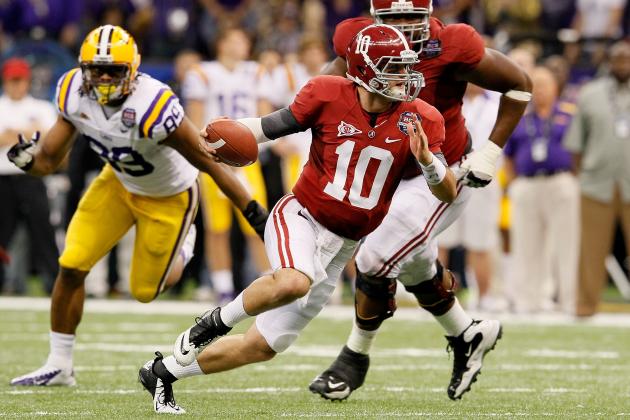 Ronald Martinez/Getty Images

Alabama's spring practice will be in full swing in two weeks, and while position battles are never settled in, the spring is a good place to start. All battles are important, but Alabama has five in particular that stand out.
The incumbent starters will likely retain their roles. They earned those roles on hard work and it is unlikely that they will suddenly become shammers.
Here are the five most important tasks for the Crimson Tide in this year's spring practice.
Begin Slideshow

»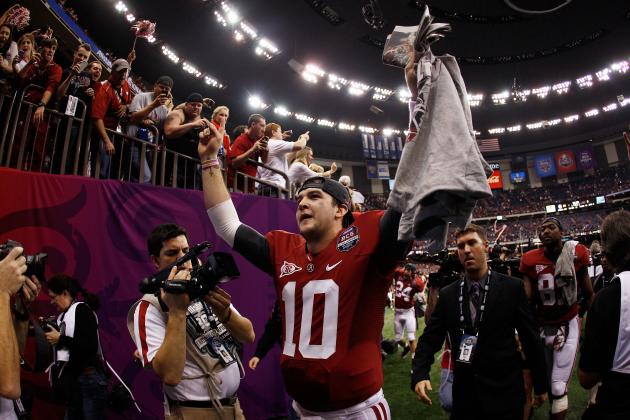 Chris Graythen/Getty Images

The odds of quarterback A.J. McCarron losing his starting role are slim to none.
He led the Tide to another championship and won MVP honors along the way. His mastery of the Alabama offense is second to none as a quarterback.
That being said, Phillip Sims has been in the system for two full years now, albeit with limited playing time and a redshirt year.
Will Sims come out and prove that he is clearly better than McCarron? That is what he must do, as showing that he is equal to or slightly better than McCarron won't be enough to win him the position.
McCarron has two years of eligibility left, but if he starts making a Heisman statement early, especially against Michigan, he may not stick around for both of them.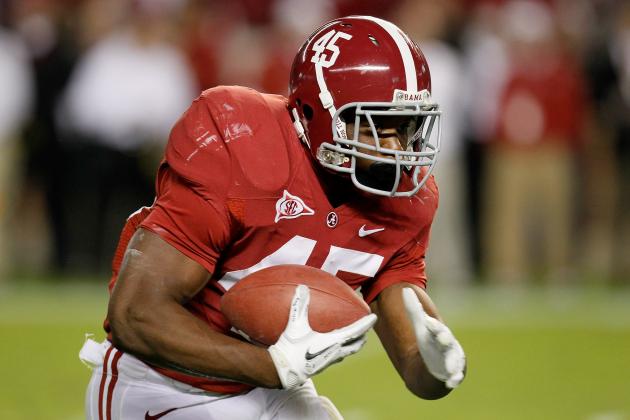 Kevin C. Cox/Getty Images
Jalston Fowler
Alabama's success is directly tied to the success of the team's second-string running back. The No. 2 back must be able to fill in for the starter at a moment's notice with little to no change in the game plan. It must be a completely seamless transition.
Last year they didn't have one, as Eddie Lacy was injured much of the season. The team was fortunate enough to have Trent Richardson, one of the best running backs in NCAA history.
They were lucky, too, that Richardson stayed healthy after getting beat up after 30 carries a game multiple times last season.
Alabama needs that true second-string running back next year, but who will it be?
Jalston Fowler impressed on multiple occasions last year, but Nick Saban didn't allow him a single carry in both games against LSU. He's not fast, has zero lateral movement, and doesn't pass the line of scrimmage unless the hole is directly in front of him. He is a pure downhill runner.
Demetrius Hart has potential, but at 5'8" and 190 lbs. he wont be able to attack between the tackles in the SEC like he did in high school. His role will be more specialized unless he puts on 15 to 20 pounds (though that would diminish his vaunted speed).
Two other prime candidates include Blake Sims, who the coaching staff cannot seem to find a use for despite raving about his qualities, and T.J. Yeldon, who seems to have all the qualities of an every down back.
Yeldon is big, fast and elusive. Yeldon should be the Tide's No. 2 back, and he'll prove it this spring.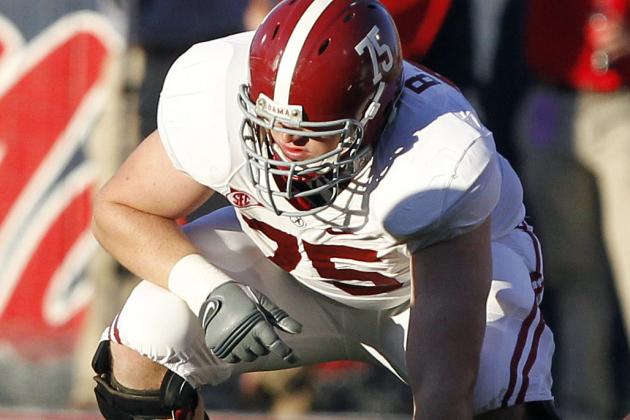 Butch Dill/Getty Images

Nick Saban and the coaches need to find the weakest link on the offensive line. And for a very good reason.
Whatever position is the weakest link is where Outland Trophy winner Barrett Jones will play. They won't find the answer this spring, but it's a good place to start.
If Cyrus Kouandjio is not fully recovered from his knee surgery, then Jones will play left tackle.
If Anthony Steen has not developed enough to play right guard, where he struggled in 2011, then Jones will play right guard.
If the two candidates for the center position—Kellen Williams and Chad Lindsay—are not ready, then Jones will play center.
Spring practice is the best place to start finding the weakest link on the offensive line, and it will likely be the center position.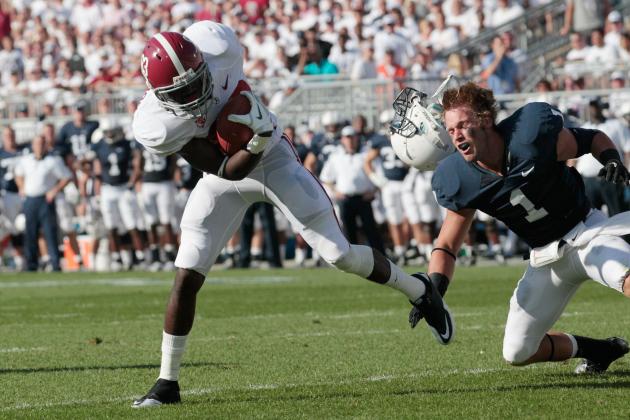 Rob Carr/Getty Images

Alabama needs a go-to receiver, badly.
With the recent news of Duron Carter's suspension from spring practice, the Tide find themselves in a bit of trouble. Carter was supposed to be the next Julio Jones, but that doesn't seem to be happening.
Kevin Norwood (pictured) seems to be the best option for A.J. McCarron. He is fast, strong and tall. There are other promising receivers, but Norwood is one of the most experienced and will be a junior next year.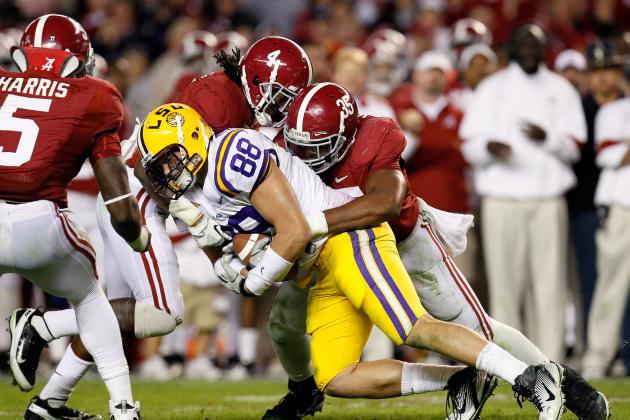 Kevin C. Cox/Getty Images

In 2009, Rolando McClain was the main leader of the defense.
In 2010, Dont'a Hightower was supposed to be the leader, but he struggled at times and no one knew how to fill those shoes. The team lost three games.
In 2011, Hightower was fully healed, quite confident, and was the unquestioned leader of a Tide defense that brought home a national title.
Who will be the leader in 2012? It will have to be another middle linebacker, and senior Nico Johnson seems to have the best grasp on the defense.
Can Johnson step up and become a leader, or will C.J. Mosley have to fill this role?
And what if Mosley isn't quite ready to be that vocal leader?
Coach Saban will start finding the next leader of the defense in spring practice, whether it is Johnson, Mosley, Trey DePriest or someone else.