Big East Tournament 2012: Pittsburgh Making Most of Disappointing Season
March 7, 2012

Jim McIsaac/Getty Images
The 2011-12 college basketball season has been a trying one for the Pittsburgh Panthers, to say the least, though the Big East tournament has provided Jamie Dixon's squad with a golden opportunity to salvage something from the wreckage.
The Panthers came into the campaign ranked 10th and 11th in the AP and the Coaches' Polls, respectively, after losing to Butler in heartbreaking fashion in the Sweet 16 and watching Gilbert Brown, Gary McGhee and Brad Wanamaker depart after graduation.
Still, Pitt returned enough talent—namely, Ashton Gibbs, Nasir Robinson and Dante Taylor—that, combined with the typical dose of toughness, would allow the team to thrive as it has in the face of roster turnover since the days of Ben Howland barking from the bench.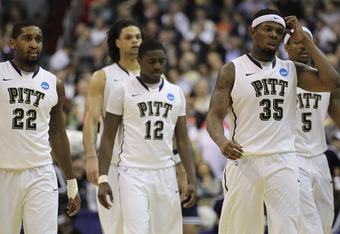 Nick Laham/Getty Images
Or so it seemed, anyway. The Panthers have fallen from the ranks of No. 1 seeds in the Big Dance last year to NIT hopefuls in the present day, thanks to a 5-13 record in conference, a five-game losing streak, an eight-game losing streak and defeats to such hoops "powerhouses" as Long Beach State, Wagner, DePaul, Rutgers, Seton Hall and South Florida (twice).
Not to mention close-shave victories over La Salle and Oklahoma State.
Yet, there's still a sense that Pitt, of all teams, could play the part of Cinderella at Madison Square Garden this week, that the glass slipper might just fit. The Panthers' 73-59 win over lowly St. John's on Wednesday, their second double-digit decision against the Red Storm in the last week, was hardly a thing of beauty, though they did show some signs of life against a talented but inexperienced team. Gibbs and Robinson combined to score 35 points on 12-of-24 shooting while the team as a whole limited St. John's to just 33.3 percent from the floor.
Pitt rode a similar formula of star power and defense to victory over a ranked Georgetown team earlier this season, the very same team it'll meet in Manhattan tomorrow afternoon. That's not to say the Panthers will necessarily halt the Hoyas simply because they have before, but rather that they simply have a blueprint for doing so and that they won't be intimidated in the process.
Not with senior leaders like Gibbs and Robinson, who'd undoubtedly prefer not to leave school with such a sorry stench on their hands. Not after the considerable promise with which they began in the fall.
Not with one last chance to turn things around before their collegiate careers come to a close.