Charting Derrick Rose's Ascent to Becoming the NBA's Most Dominant Point Guard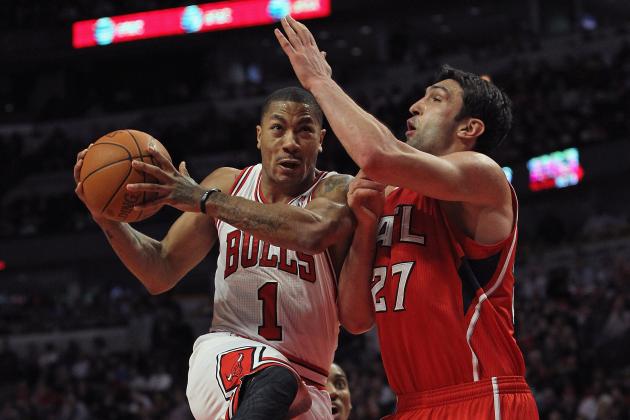 Jonathan Daniel/Getty Images

Derrick Rose is already considered an elite point guard and player in the NBA.
However, many fans and reporters consider other points like Deron Williams, Chris Paul or even Rajon Rondo better than D-Rose, despite him winning last year's MVP Award.
What Rose needs to do is continue developing his game and gain some more accomplishments to be clearly considered the NBA's best point guard.
This list will chart his ascent to becoming the league's premier floor general.
Begin Slideshow

»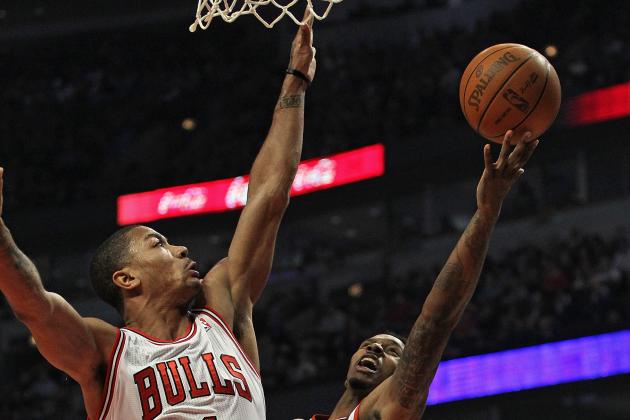 Jonathan Daniel/Getty Images

Derrick Rose is almost an elite defender.
In his first couple of seasons, he wouldn't hustle on every play and was lazy when getting around screens or contesting after a pump fake.
Beginning last year and continuing into this season, Rose has done much better with defensive focus.
He makes sure he contests shots, has fluid rotation in head coach Tom Thibodeau's help-defense system and makes sure he stays in front of his defender.
What Rose has to do is assert the same defensive dominance of Bulls greats Michael Jordan and Scottie Pippen. Both these Hall of Famers were great at playing team defense and could literally shut down their primary defensive assignments.
Besides that, they could successfully guard taller players on switches.
Rose has that ability, but the 23-year-old still needs to develop that instinct.
Jonathan Daniel/Getty Images

One of the biggest knocks against Derrick Rose is that he isn't an efficient passer.
The good news is D-Rose is improving in that regard.
In 2010-11, Rose did average 7.7 assists a game but also produced 3.4 turnovers. That makes for a 2.26/1 assist to turnover ratio.
Turning the clock to this season, Rose has 7.8 assists to 2.8 turnovers, an improved 2.78/1 assist to turnover ratio.
Chris Paul is considered by many to be the best passing point guard in the league, and his assist to turnover ratio is 3.65/1 this year.
Rose isn't too far behind to compete with Paul in this facet of the game.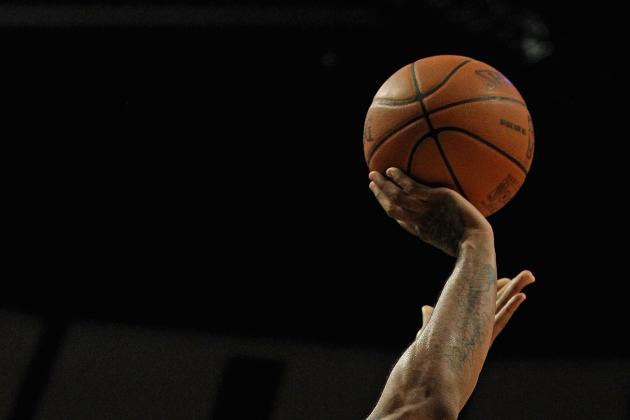 Jonathan Daniel/Getty Images

Derrick Rose came into the NBA as a driver with a poor mid-range and three-point shot. All opposing defenders had to do was clog up the driving lanes to shut him down.
As the years have gone by, Rose has gradually improved his range and effectiveness further from the paint.
Rose has become a fairly reliable shooter, now forcing defenses to guard him on the perimeter. This recent game-winning shot against the Milwaukee Bucks demonstrates how dangerous Rose can be from mid-range.
The encouraging aspect is Rose's shooting efficiency is better than last year. He is averaging 22.7 points to last year's 25.0 points on 17.7 shots a game, two less than his MVP season.
His shooting percentage is also 1.1 percentage points higher at 45.6.
Continual honing of Rose's jump shot will make him almost impossible to guard effectively.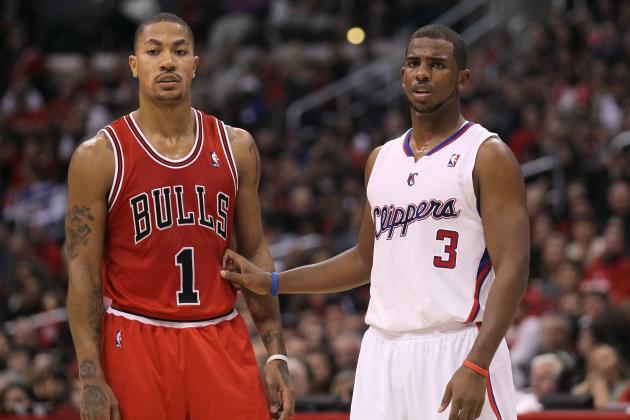 Stephen Dunn/Getty Images

Many feel Deron Williams, Chris Paul and Rajon Rondo are better point guards, but D-Rose has frequently done well against them head-to-head.
Against D-Williams, Rose has done well to neutralize the savvy All-Star. In their match-ups, the reigning MVP's Bulls have won four of six games, with Rose averaging 23.3 points and 5.8 assists while Williams has averaged only 16.7 points and 10.3 assists.
Against CP3, Chicago is a dominant 5-0. Rose has averaged 17.6 points and 8.4 dimes to Paul's 18.4 points and 10 assists.
Rondo actually has had significant success against D-Rose in his career. The Boston Celtics' best player is 10-8 when he goes head-to-head against Rose, including winning a playoff series. The good news is Rose has won the last five contests against Rondo, averaging 21 points and 5.7 assists to his counterpart's 14.3 points and 11.3 assists.
For Rose to be considered an elite point guard, he needs to continually beat elite point guards not only in the win column, but also statistically in head-to-head matchups.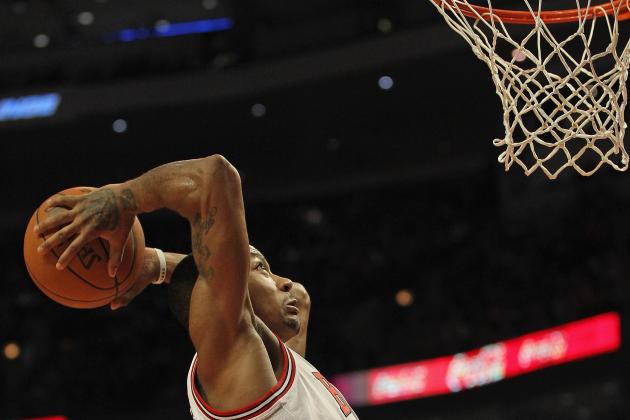 Jonathan Daniel/Getty Images

Derrick Rose was selected to the prestigious All-NBA first team last year.
This year, Rose is facing even stiffer competition. Los Angeles Lakers' Kobe Bryant is having a fantastic season, while Russell Westbrook and Chris Paul are also making strong cases for a first-team selection.
Rose's play has risen of late, but he might have to settle for second-team honors this time around.
Another first-team selection would solidify Rose's claim as the NBA's premier point guard. Deron Williams and Rajon Rondo have never made the first team, while Paul made it once.
The question is not if but when Rose will get another nod as a top-five NBA player.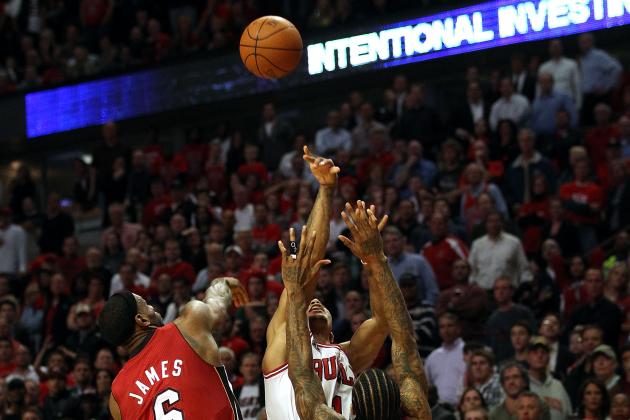 Jonathan Daniel/Getty Images

The Miami Heat have Derrick Rose's number.
Since the Bulls won Game 1 of the Eastern Conference Finals, the Heat have defeated Chicago five times in a row.
Utilizing baseline traps and LeBron James on defensive switches, the Heat were able to hamper D-Rose's driving abilities and decrease his shooting efficiency. The normally reliable Rose shot a miserable 35 percent after Game 1.
For Rose to prove he is a great NBA player, he has to find a way to counter the Heat's stifling defense and lead his Bulls to a playoff series victory.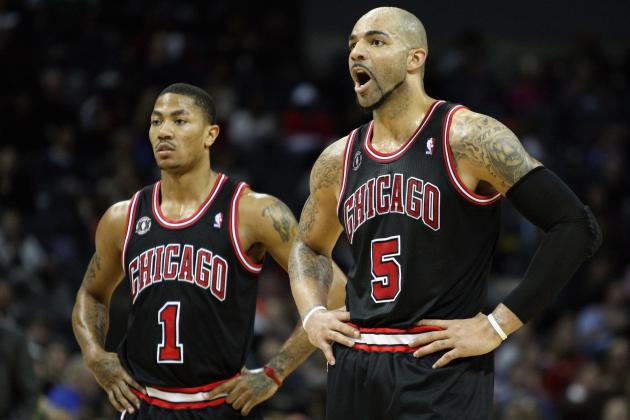 Streeter Lecka/Getty Images

If the Chicago Bulls beat the Heat or ever reach the NBA Finals through a different route, Derrick Rose has to win an NBA championship.
Great point guards like Deron Williams and Chris Paul have yet to win the coveted Larry O'Brien Trophy while Rajon Rondo has obtained it once. However, Rondo had the help of Kevin Garnett, Ray Allen and Paul Pierce before the trio slowed down.
Rose has a well-balanced basketball team around him, but does not have the benefit of a star-studded supporting cast. Luol Deng is a solid forward at both ends of the court, but by no means an elite small forward like Kevin Durant or LeBron James.
Carlos Boozer has been a major disappointment while Richard Hamilton is more fragile than fine china.
If Rose wins a championship without a star accompanying him, his claim as the NBA's premier point guard would be safely secured.
Bob Bajek is a featured columnist for the Chicago Bulls. He is also a freelance reporter and can be followed on Patch.com and Twitter.