College Football: Hardest Hits in History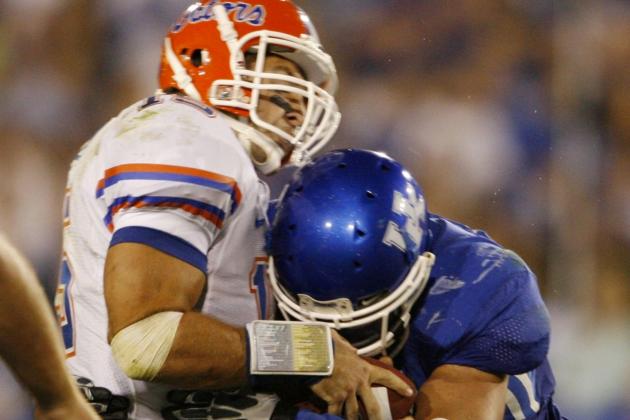 Andy Lyons/Getty Images

Huge hits are some of the most electrifying plays in college football. They provide a spark for the home team and its crowd, drastically changing the energy of the game. Inside are video of 10 of the hardest hits in college football history.
Note: When compiling this list I focused solely on legal hits. If it drew a flag, it isn't on this list. Also, I didn't include any hits from kick or punt returns, since they are much more prevalent and warrant their own list.
Begin Slideshow

»
Tim Tebow gets absolutely clobbered by Taylor Wyndham. It's certainly possible that he is unconscious after the hit.
This video gets downgraded because of the poor angle on the original hit. However, the slow motion angle captures all of Florida State's defender Stanford Samuels crushing Miami's Roscoe Parrish.
The slow motion angle really captures how hard the Middle Tennessee State running back gets hit. He flies at least three yards through the air.
This hit gets downgraded since it occurred in during a lower division game, but it is a monster hit. The running back is left hanging by a terrible pass from his quarterback, and the defender takes advantage.
The safety lines this hit up for at least 10 yards,and explodes through the receiver. He hits him so hard the helmet goes flying at least 10 yards. Impressive.
Florida safety Major Wright puts a monster hit on Oklahoma wide receiver Manny Johnson. Wright absolutely explodes into Johnson and hits him square in the chest.
Jahvid Best gets hit so hard he throws up Gatorade on the field. Now, that's a hard hit. Definitely my favorite hit on this countdown.
The best part about this hit is that it's a block by a quarterback—and not just any quarterback, but Pat White, who is all of 6' 0" and 195 lbs. White de-cleats a linebacker, which is incredible.
Wow. Zack Dumas absolutely destroys that running back. He goes right threw him. The slow motion angle that shows Dumas winding up is incredible.
This is a violent hit. The Michigan safety, Daydrion Taylor, absolutely lays the lumber against Penn State tight end Bob Stephenson. The hit is so hard that it actually ended both players' careers.
This hit is unbelievable. The Texas A&M player absolutely owns the receiver. He hits him with so much force that the receiver looks out cold before he hits the ground.