New York Jets: Will 2012 Finally Be the Year Rex Ryan Is Right?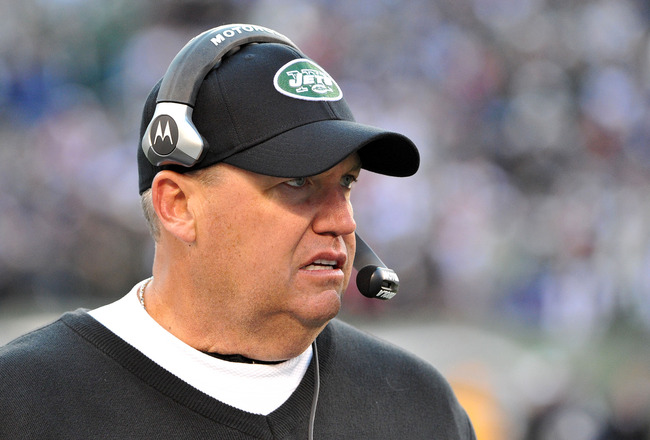 Will Rex's predictions come to pass?
Christopher Pasatieri/Getty Images
It's become a training camp tradition: Rex Ryan will predict that the Jets will win the Super Bowl. But will this be the year it comes true?
It's hard to know for sure. Free agency hasn't even started and teams are just now beginning to put their draft boards together.
A number of factors are in New York's favor there. Here are arguably the five biggest reasons the Jets will be back in the hunt for the Super Bowl.
Fumbles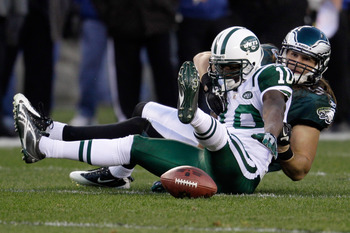 Can the Jets hold on to the ball?
Rob Carr/Getty Images
The Jets simply couldn't hold onto the ball in 2011. They lost 16 fumbles last year, good for second in the league.
On special teams alone, the Jets fumbled the ball an astonishing seven times. What this means is that on seven different occasions the Jets gave their opponent an opportunity to not only steal a possession, but to do it in excellent field position.
Why is this a good thing for New York's 2012 fortunes? Because fumbles, particularly on special teams, tend to regress to the mean. In other words, statistically speaking it is very unlikely that the Jets will fumble that often again.
For example, the Jets were seventh in the league with a +0.5 turnover margin in 2010. In 2009 they were 11th with a margin of +0.2. In 2011 they fell to 19th with a margin of -0.2 (with a particularly bad margin of -.1.0 in the collapse of their final three games).
Considering the core of their roster was largely the same in all three of these years, it implies that the Jets are really an above-average team in the turnover department, but luck led to them falling to the bottom half of the league in 2011.
Expect their turnover margin to regress to the mean in 2012.
Improved Quarterback Play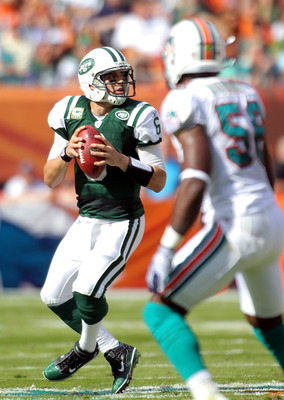 Will Mark Sanchez reach his potential in 2012?
Marc Serota/Getty Images
For the first three years of his career, Mark Sanchez has gone largely unchallenged as the starting quarterback for the Jets.
But now? He's going to have to fight for his job. We don't know who it will be yet, but the Jets will bring in another quarterback to compete with Sanchez.
Why is this helpful? Because competition tends to bring out the best in quarterbacks.
In 2005 Phillip Rivers came to San Diego as a highly-touted first-round draft pick, but he spent his first two seasons sitting behind Drew Brees. Brees was largely ineffective in his first three years as a Charger, but once he had competition he started to turn into the quarterback he is now.
We've seen similar results in San Francisco when Alex Smith was challenged by Colin Kaepernick, and in New England when Tom Brady knew he had to perform in 2001 to keep his job over former superstar Drew Bledsoe.
We've even seen it here. Remember when Eric Mangini came in and gave Patrick Ramsey, Kellen Clemens and Brooks Bollinger a chance to unseat Chad Pennington as the starter? Pennington ended up having his best season as a pro on the way to a wild-card playoff berth.
It's simply human nature. It's harder to perform at the highest level when nobody is pushing you. If Mark Sanchez really is an NFL quarterback, we're going to see it this year.
A Full Draft
The cost of moving up for guys like Darrelle Revis is steep
Rob Carr/Getty Images
The Jets haven't had a full slate of draft picks since 2006. In fact, since that draft they have only selected 23 players.
The methodology behind this is simple. The Jets believe in packaging picks for either established veterans (Antonio Cromartie and Kris Jenkins) or moving up for blue chippers (Mark Sanchez, Darrelle Revis, David Harris and Dustin Keller).
While this has always ensured that the Jets have top-tier talent, it has left them incredibly thin in terms of depth. When somebody inevitably gets hurt the Jets just don't have anyone who can fill in. Remember the stretch in September and October when Nick Mangold was hurt and the Jets simply couldn't move the ball? This is why.
Not only do the Jets have all seven of their own draft picks, but they are expected to receive compensatory picks for some of the free agents they lost after last season (Shaun Ellis, Braylon Edwards, Brad Smith and Drew Coleman). Not all of their picks will pan out, but if most of them are at least up to spot duty, they'll give New York some of the depth they so desperately need.
An Easy Schedule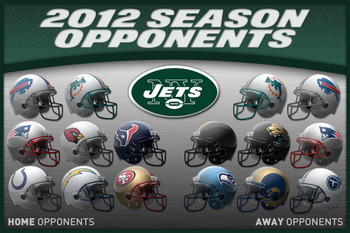 The Jets have one of the easier schedules in the league
The Jets played the league's third-hardest schedule in 2011. Collectively their opponents went 133-123 for a .520 winning percentage. Next year though, the Jets will play a much softer group of opponents.
First we'll look within their division. Buffalo started hot, but ended the season on a 10-game losing streak. Miami ended the season on a 6-3 stretch, but did so largely against below-average competition and will have a new head coach and perhaps a new quarterback going into next season. If the Jets play up to their potential they should be able to sweep the Dolphins and Bills. New England? Well, we can at least pray for a split.
Things look even brighter out of the division. The Jets play the NFC West and AFC South, two of the worst divisions in football. Only two teams out those eight (Houston and San Francisco) are expected to seriously contend for playoff spots next year, and both of them will play the Jets in New York.
Their two merit-based opponents (San Diego and Pittsburgh) would be very tough in normal years, but both seem to be getting older and aren't quite the juggernauts they once were.
The combined record of New York's 2012 opponents was 126-130, but taking a closer look we can expect many of their opponents to regress next year.
San Francisco won largely based off of turnovers, but as previously mentioned, turnovers statistically tend to regress to the mean, so while they were a 13-win team last season, statistically they are expected to drop to the 10-win range.
Tennessee went 9-7 last year, but will likely begin a youth movement by starting second-year pro Jake Locker at quarterback. While Locker has a bright future, it will be tough for him to replicate what Matt Hasselbeck did last year, so expect Tennessee to drop off by a few wins especially with their expected loss of Cortland Finnegan.
Finally, as previously mentioned, both cap and injury issues have caused the Steelers and Chargers to have to make some very tough roster decisions. The Chargers let go of Darren Sproles last offseason and will likely do the same with Vincent Jackson in the next month, and Pittsburgh recently released several veteran contributors including Hines Ward and Aaron Smith. While both teams will be competitive, they will certainly be beatable for the Jets.
While some opponents (mainly Indianapolis and St. Louis) look to improve, neither should reach playoff status next year, meaning the Jets will likely be favored in those matchups.
While the Jets schedule won't be a cakewalk, it is certainly not outside of the realm of possibility that they can win 11 or 12 games next year based on their opponents.
Most of the Team Will Be Back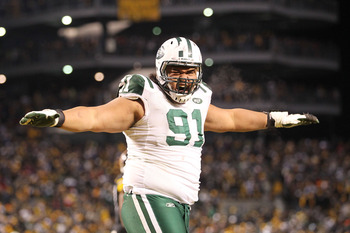 Will Sione Pouha land with the Jets?
Ronald Martinez/Getty Images
Unlike last year, the Jets are not in the position of potentially losing most of their core. Of the significant players whose contracts are set to expire, only Sione Pouha is the type of player that the Jets simply cannot lose.
Luckily for New York, Pouha is 33 and has never played in a Pro Bowl. In other words, he is very unlikely to gain a long-term deal from another team. We don't know when it will happen, but expect the Jets to find a way to retain Pouha.
The effect of this is two fold. First of all, despite the chemistry issues that became apparent last year, this group knows how to play together. Mark Sanchez and Santonio Holmes have their issues, but in 2010 they showed that they can make plays together. With most of the team coming back the Jets don't have to worry about falling any further than their 8-8 mark last season.
What it also does is allow the Jets to focus all of their energy on going after other players. We don't know who the Jets will target, but expect them to make plays for a pass rusher, a safety and perhaps a receiver. There is also the the 230-pound elephant in the room.
The Jets can now focus their attention on a run at...dare I say it...Peyton Manning.
We don't know how much interest the Jets have in Peyton Manning or vice versa, but if the Jets do decide they want him, the fact that Pouha is the only major player they need to bring back is definitely a plus.
Overall the core of not only last year's group, but the entire Rex Ryan era, is set to return next year. With those players combined with whoever they add during the offseason, the Jets are primed to return to contention for the Super Bowl.
Keep Reading

New York Jets: Like this team?