NFL Trade Speculation: Which Stars Would Teams Be Willing to Trade?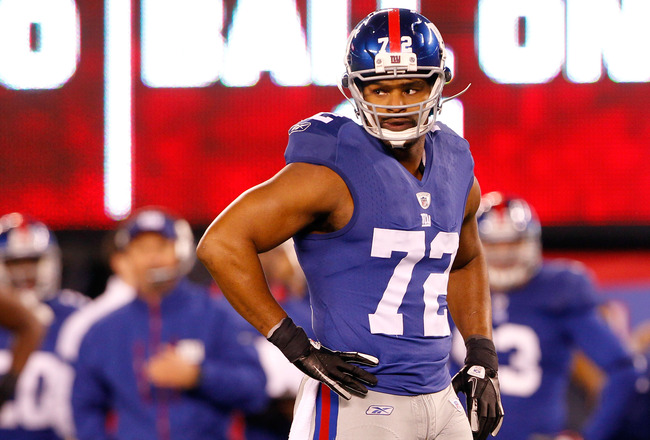 Rich Schultz/Getty Images
The only qualifying criteria for the following NFL trade scenarios are that they involve well-known players, and that they make some sort of personnel sense.
That's it.
For once, we're not relying on access or verified rumors provided by the NFL insider apparatchik.
We're just going with the old outsider hunch that says, "Hey, that might work" and seeing where it takes us.
Because a little freewheeling speculation never hurt, and it's always nice to take the old noggin for a walk on the wild side.
Asante Samuel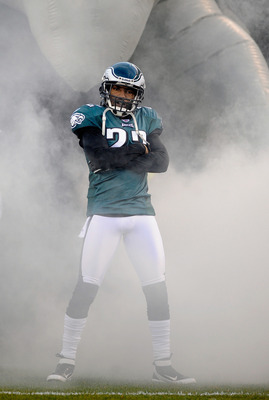 Patrick McDermott/Getty Images
This one's been bubbling for upwards of a year, punctuated by Asante Samuel's recent Twitter poll asking followers where they would like to see him play next year.
Uh…Asante…aren't you still under contract with the Eagles?
Samuel soured on the front office when they bought in fellow corners Nnamdi Asomugha and Dominique Rodgers-Cromartie last season, and an 8-8 season did little to heal the wound.
With the Eagles switching to more press coverage—never Samuel's strength—it seems in the best interest of both parties to part ways.
The only hang-up is Samuel's supersized contract and the fact that Philadelphia has almost no leverage. General managers the league over know Philly wants to dump Samuel, making it difficult to drive a good bargain.
Then there are concerns about Samuel's age (31), schematic limitations (he was never a willing tackler) and fading production (lowest INT total since '05). If a team can look past all that, there's a ball-hawking defensive back to be had.
DeAngelo Williams/Jonathan Stewart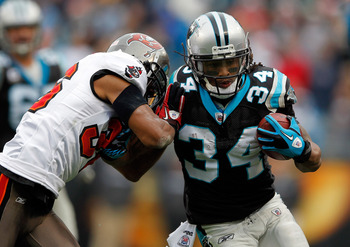 Streeter Lecka/Getty Images
Cam Newton's arm is the future in Carolina. The coaching staff made that much clear when they allowed the rookie to attempt 517 passes last season, the fourth-highest total for a first-year passer.
That means the end of John Fox's ground-and-pound philosophy and a tenuous future for star tailbacks DeAngelo Williams and Jonathan Stewart.
Heading into 2011, each had averaged at least 11.5 attempts per game every season since Stewart's 2008 arrival. Last year they both averaged less than 10, marking the first time in franchise history that no one on the roster averaged double-digit carries.
That's the writing on the wall for one of the league's most successful rushing tandems.
The duo will deliver a $10.8 million cap hit next year, which is a big investment for a team that executes few designed runs.
Stewart has one year remaining on a five-year deal, and the Panthers could get great value for the fifth-year man out of Oregon before he walks in free agency. Or they could try to move Williams and his mega-deal and use the savings to re-sign Stewart.
Either way, it doesn't make much sense to pay two running backs top coin when you're working with the best young quarterback in football.
Lance Briggs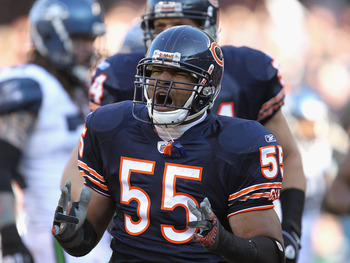 Jonathan Daniel/Getty Images
The bad blood between the Chicago Bears and Lance Briggs began last offseason when the team held firm against his contract demands.
The Pro Bowl linebacker then asked for a trade, which the Bears also refused.
Fast-forward to this offseason and it appears that the enmity endures. Chicago will, and should, entertain the idea of swapping the 31-year-old and his salary for a chance to rebuild the linebacking corps and put its capital toward other uses.
Briggs is still a top-tier player, so the market should be ample. At the top end, he could command a low first-round pick.
Osi Umenyiora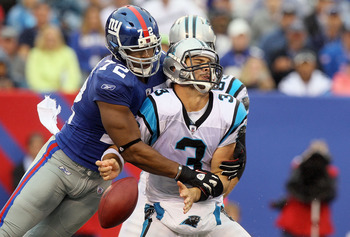 Jim McIsaac/Getty Images
Osi Umenyiora's future with the Giants is so uncertain that Umenyiora has himself acknowledged the possibility of a trade.
The Giants aren't compelled to act, but they might see fit to move the player who raised hell last offseason rather than ride him out to the end of his contract.
When healthy, Umenyiora has been a pass-rushing force. Even through injuries, last year was no exception. Plenty of teams will see nine sacks in nine games and take a gamble on the 30-year-old's health.
New York has such tremendous pass-rushing depth with Jason Pierre-Paul and Justin Tuck (among others) that it would be foolish not to see what Umenyiora might return. Whether that's in the form of players or picks, the Giants will likely be looking for upgrades at linebacker or along the offensive line.
Again, this deal doesn't come with much urgency attached. If Big Blue likes the price, it'll pull the trigger.
Colt McCoy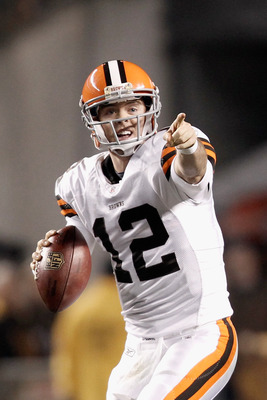 Jared Wickerham/Getty Images
Trading incumbent starting quarterback Colt McCoy only makes sense if the Browns draft Robert Griffin III.
But by all indications they covet Griffin, in which case it makes exceeding sense to trade the Longhorn great.
It's not that carrying McCoy and Griffin on the same roster causes a financial backlog in the same way Andrew Luck and Peyton Manning would, just that it seems a rather inefficient allocation of resources.
Whether or not the Browns draft Griffin, McCoy has value. Through 24 NFL starts he's shown enough promise on a bad team to merit further attention.
At the same time, his value falls if he loses his starting spot.
With Griffin in-house the Browns might as well move McCoy while he's still fresh in the minds of GMs. If they feel they need a more veteran guy to hold the door while Griffin gets ready, management can ink one of the gazillion backup quarterbacks floating around the free-agent market.
DeSean Jackson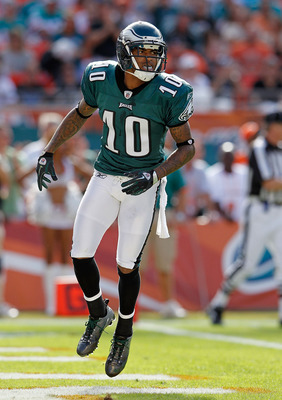 Mike Ehrmann/Getty Images
That the Eagles just franchised DeSean Jackson says little about his future with the team.
In the most optimistic scenario, the tag says that the Eagles want another year to size up the dynamic, troublesome receiver.
A more conspiratorial bent would have the Eagles simply buying more time for a trade.
Whatever your take, it's clear that the Eagles hold an intriguing hand this offseason. In addition to Jackson they have three picks in the first two rounds of the 2012 draft and similarly disgruntled cornerback Asante Samuel.
Any of those assets could factor into a major pre-draft trade, which in turn has people making wild insinuations about Philly's interest in Robert Griffin III.
Perhaps that's a bit outlandish, but it goes to show the range of options at Philadelphia's disposal. All of it is headlined by Jackson, far and away the most talented player the team would consider moving.
Bart Scott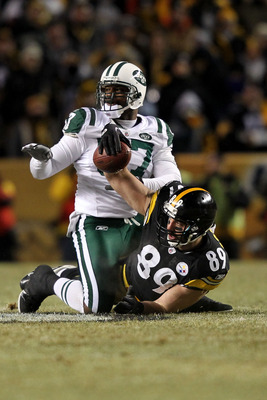 Al Bello/Getty Images
At the present pace, it appears Bart Scott will be the first offseason casualty of the Jets' late-season meltdown.
According to the New York Daily News, Scott has been given permission by the team to seek a trade.
That should come as little surprise given Scott's discontent toward season's end. Disappointed with reduced playing time, Scott looked little like the team leader who issued the famous "Can't Wait" after New York's playoff victory at New England.
That victory was the high point of Rex Ryan's Jet tenure. Now at the low point it seems like one of the handpicked players he brought with him from Baltimore has outlived his usefulness.
In Scott, suitors will see a capable linebacker who could offer solid play in the short term. Whether that potential production outweighs his advanced age (32 by opening day) and unwieldy contract ($4.2 million guaranteed base salary) is for the market to decide.
Matt Cassel
Peter Aiken/Getty Images
In late February, new Chiefs coach Romeo Crennel gave Matt Cassel the world's most halfhearted endorsement.
And I quote (via The Boston Globe): "Until we get another quarterback on the team, Cassel is the guy."
Easy there, Romeo, don't go making promises you can't keep.
All signs point to Cassel serving as a backup next year. Whether he's replaced by Kyle Orton, Peyton Manning or Robert Griffin III remains to be seen—either way, his hold on the top job is tenuous.
Enter a possible trade scenario.
As his contract stands now, Cassel has little appreciable value. I'm assuming he would need to restructure and/or take some sort of pay cut to facilitate a trade, the incentive being that he might have a better chance to start elsewhere.
Mike Wallace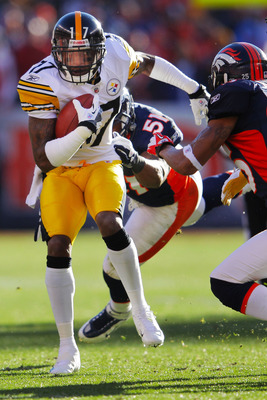 Doug Pensinger/Getty Images
Mike Wallace is a restricted free agent, so this wouldn't be a trade in the traditional sense.
Rather, it would be a team like, say, the Patriots signing Wallace to an offer sheet and surrendering a first-round pick in return.
So in essence it's a trade—a strictly mandated trade, but a trade nonetheless.
At face, it's a swap that makes little sense for the Steelers. A low first-round pick won't likely compensate for losing one of the game's brightest young receivers.
But Pittsburgh has its back against the salary cap and may lack the funds needed to secure Wallace long-term or match a lucrative offer. It's possible no one makes an offer, in which case Wallace signs a one-year tender and becomes an unrestricted free agent next year.
Either way, the Steelers will have a tough time making the dollars work, meaning that they could opt to take the draft pick compensation while it's still available to them.
After spending so much of the offseason rearranging contracts and cutting beloved veterans, losing Wallace would be a bitter pill. But it's less bitter than losing him for nothing next year.
Mark Sanchez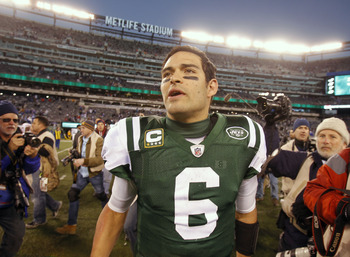 Rich Schultz/Getty Images
Far-fetched as they sound, the rumors connecting Peyton Manning to the Jets will not die.
Why Manning would want to play in his brother's city for a loud-mouthed coach on a team that disintegrated last year is beyond me, but if he does, it leaves Mark Sanchez in an uncomfortable place.
Sanchez has been the starter all three years of his career, and year four is no time for clipboard holding.
Sanchez's youth and playoff success should draw interest, which the Jets might entertain if they feel confident in their direction under Manning.
In other words, if you came for wild speculation, you're welcome.
Keep Reading