Arsenal vs. AC Milan: Post-Match Thoughts as Inept Bench Lets Gunners Down
March 6, 2012

Laurence Griffiths/Getty Images
Robin Van Persie. How could you? You missed from three yards out. Useless!
I jest, of course. Let not a single finger be pointed at our magnificent captain, as Arsenal huffed, puffed and all but blew AC Milan's house down on a marvelous night at the Emirates.
The Gunners went into the game with a depleted squad, as many as seven midfielders being unavailable due to injury. This meant that Alex Oxlade-Chamberlain played as almost a holding midfielder, with Tomas Rosicky further afield, in "the hole" behind Robin Van Persie.
Arsenal had a quite magnificent first half, scoring thrice in the seventh, 26th and 43rd minutes. Laurent Koscielny, outstanding all night, opened the scoring when he rose to meet the Ox's fantastic corner. Tomas Rosicky, who seems to have rediscovered his scoring boots, stroked home the second after a poor Thiago Silva clearance. And RVP smashed home the third from the spot after the Ox was tripped in the area.
The Gunners unfortunately could not add to their tally in the second half with the captain missing their best chance, though in fairness, Abbiati did well to save his delicate dink. The Ox and Theo Walcott then both suffered injuries, and once they were subbed, Arsenal lost a majority of its attacking potency.
Now that I've got the coherent bit out of the way (and trust me, it was difficult), it's time to release some steam. Be prepared for a bit of rambling because I'm upset and it's four a.m. where I live.
The Referee
I know that the commentators were getting on his back for the early yellow cards, but I think he realized his mistake, and I'm willing to let that slide. And I'm rather thrilled that Mark Van Bommel "misses next match," as UEFA earnestly informs us.
What I'm not willing to let go are two things. Firstly, the inconsistency in his decision making. In his apparent reluctance to dish out cards after his initial spree, he allowed many fouls on Arsenal to go unpunished, while at the same time, blowing up every time a Milan player went down.
We saw it with Suarez on Saturday, and it was the same with Ibrahimovic today. A slight touch, and a giant of a man crumbles to the floor in a heap. While Milan did not take direct advantage of these "fouls," what they did was slow down the game, especially in the second half.
I'm not sure what the "duration of ball in play" stats were for the second half, but I can bet you the number was way lower than its first half equivalent. I don't know how you saw it, but the second half seemed to pass by much quicker.
The second issue I have with the referee was the duration of time added on at the end of the game. I can clearly remember injuries to Vermaelen, Mexes, Walcott and Oxlade-Chamberlain. In addition, there were four separate substitutions in the second half. And three yellow cards.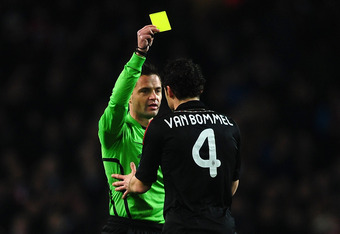 Laurence Griffiths/Getty Images
How all of that added up to just three minutes of added on time, I will never know. I often feel it's petty and immature to insinuate that UEFA and FIFA are out to get England, but when things like this happen, one can't help but feel there is some grand devious master plan.
The Arsenal Squad
Four attacking players in the starting XI. What could be more perfect? How lucky that Wenger's hand has been forced.
Yes and no.
While starting with RVP, The Ox, Theo and Gervinho certainly gave the Arsenal team great thrust in the first half—the depleted squad cost the Gunners dearly.
Oxlade-Chamberlain clearly picked up some kind of a knock in the first five minutes of the second half. He played at a canter thereafter, until he was substituted some 25 minutes later. But Arsene Wenger barely had an option. The only midfielder on the bench was Oguzhan Ozyakup, a player with just two Carling Cup appearances in his entire Arsenal career.
Alex Song has had a tough week. An away trip to Guinea Bissau for an ANC 2013 qualifier last Wednesday. Liverpool at Anfield on Saturday. And finally, Milan at home today. Three big games in six days, in vastly different surroundings.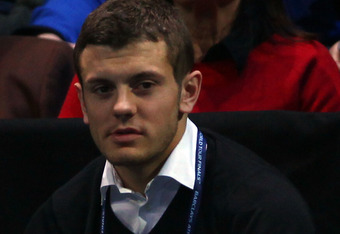 Clive Brunskill/Getty Images
Song played his heart out, but he just didn't have enough in the tank towards the end. Here too, Arsene had no options on the bench.
And when the manager had no option but to throw on two substitutes, the chosen men were Chamakh and Park. Their total ineptitude was a sad sight to see. Neither did anything other than commit fouls and give the ball away.
I thought Arsene missed a trick with the Park substitution. I definitely felt that Carl Jenkinson would have been a better option, playing out wide in Walcott's place. He is a marvelous crosser of the ball, and Chamakh would certainly have enjoyed some aerial service. Park drifted about aimlessly, doing nothing in particular during his brief sojourn.
I hope no one in the press goes out and makes a complete ass of himself by criticizing Arsenal's squad depth. No team, I repeat, no team can cover for seven injuries in one specific area of the squad.
The First Leg
Not much to say here, other than "How the hell did we make this very ordinary Milan team look so damn good in the first leg?"
Sad. Terrible waste of an opportunity.
Looking ahead...
The jury is divided here, from what I can see.
Some people believe that the heartbreak of a narrow defeat will deflate Arsenal for the run-in.
I'm of the opposite school of thought. I believe this was yet another fantastic performance, following on from Spurs and Liverpool. The squad will be galvanized, their belief renewed. And Tomas Rosicky will win player of the month for March. I said it first.
A fantastic tweet from the even more fantastically named Pascal Zidane (Half Zidane, Half Cygan) sums up the recent run of results perfectly, "I think somewhere between 2-0 down to 5-2 up vs Tottenham, Highbury spirit found its way to the grove and its here to stay."
Look out Newcastle.
More significantly, watch out Spurs. Third place will be ours...
You can follow me on Twitter @ratanpostwalla