Arsenal vs. AC Milan: 10 Lessons Learned from the Gunners' Heartbreaking Win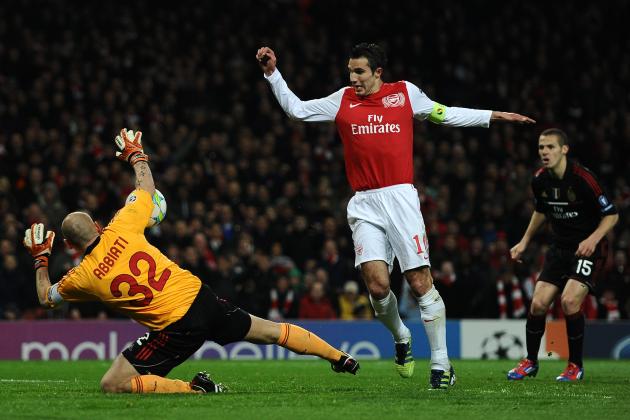 Laurence Griffiths/Getty Images

Huh? How can a 3-0 victory over one of the biggest teams in Europe be heartbreaking?
When it's just one goal short of what you need to stay alive in European competition (until penalties, anyway), it is.
Arsenal started out with a magnificent first half and carried that over into the second half, but they ultimately could not cross the finish line, as sloppiness began to enter their game and fatigue caught up with them.
Nevertheless, Arsenal's players played their hearts out today and deserve to be fully commended for their heroic efforts.
As for AC Milan, all that can be really said is that they were very, very fortunate to avoid losing, and they will have to seriously re-evaluate their team mentality after this game. They played like they were already in the next round and came very close to paying for it.
Let's review the lessons learned from what surely was one of the most memorable games in Champions League history.
Begin Slideshow

»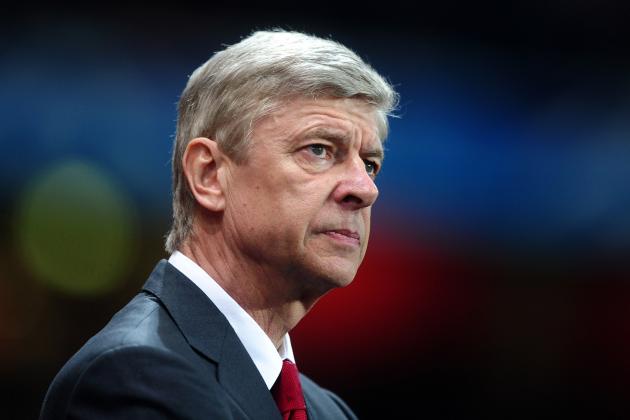 Laurence Griffiths/Getty Images

Prior to the Champions League match at the Emirates, Arsene Wenger indicated that he might be forced to try new tactics against AC Milan due to the unavailability of Mikel Arteta, Abou Diaby, Aaron Ramsey and other players.
He did—and, surprisingly, they worked out well.
The formation didn't change, but Alex Oxlade-Chamberlain was given a start in the center of midfield, and he was superb in his new role. He earned the penalty that led to Arsenal's third goal and was a threat throughout the match until injury forced Wenger to withdraw him.
And though he faded in the second half, Tomas Rosicky was an absolute livewire in the first half, creating numerous scoring opportunities for his teammates, spraying passes across the field and, of course, scoring Arsenal's second goal to really get the Gunners' comeback started.
It may not have yielded the ideal result, but putting AOC in the center of midfield added an extra element of dynamism to Arsenal's midfield that they so badly lacked against AC Milan in Italy.
The question is, is AOC a better central midfielder than a winger? He'll need to audition in the role at least a couple more times before that question can be conclusively answered.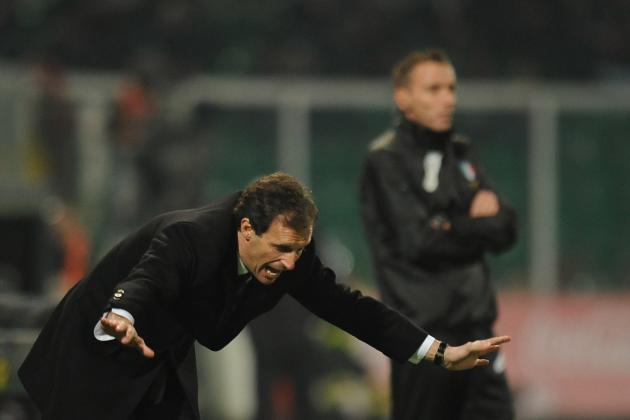 Tullio M. Puglia/Getty Images

AC Milan's players are definitely culpable for the lack of heart and energy they showed throughout the match, but Massimo Allegri must bear some of the blame for sending his players out without a clear game plan.
It certainly did not look like AC Milan's players were remotely interested in securing a win, and it looked like their goal from the start was more to just keep the game tight, low-scoring and possibly nick an away goal to seal the tie if the opportunity presented itself.
But if that was the goal, then why did Allegri go with the tactics and personnel he used for this game?
Why start Djamel Mesbah, who got worked by Arsenal's offense, instead of a more experienced player, such as Gianluca Zambrotta or Luca Antonini?
Neither are ideal starters, but they surely would've known how to keep cool and slow the tempo of a match like this.
Why start Stephen El Shaarawy, a young striker who is always eager to push forward and score, over the likes of Alberto Aquilani, whose experience in controlling the tempo of play would've been huge in a game like this?
Starting Urby Emanuelson over Sulley Muntari in a game like this is also a debatable decision since, once again, logic would dictate that you go with experience if you're trying to simply grind out a decent result.
Allegri is a fine manager, so he will surely learn from his mistakes, but he must bear the blame for this loss, along with his players.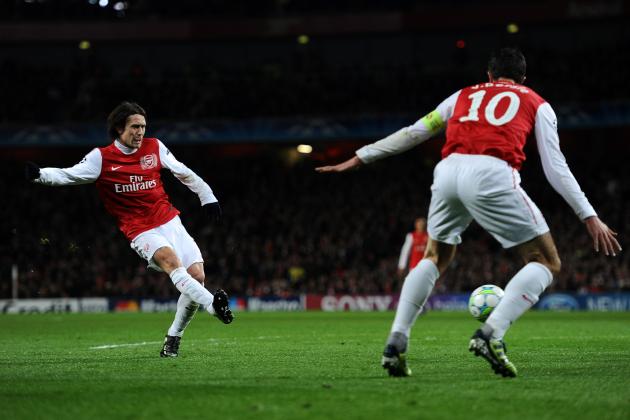 Laurence Griffiths/Getty Images

In the first half, Tomas Rosicky rolled back the years to show us the brilliance of Rosicky circa 2006-08.
Maybe even better, in fact.
Rosicky dominated the midfield. He was the go-to man for Arsenal's offense. The defense would always try to find him and allow him to make a play and pass from there. And, usually, he'd pick out a pretty good pass.
His goal was excellent as well, deceiving the keeper by focusing on placement rather than power and shooting in at a tight angle.
In the second half, Rosicky still performed well, but mistakes soon started to creep into his game, and his age started to catch up with him. With his drop in performance, the team's performance also dropped, and Theo Walcott's and Oxlade-Chamberlain's injuries only worsened this drop.
Nevertheless, Rosicky fought on, fought valiantly and gave his all on the pitch. He is a true Gunner and one who will surely prove vital to Arsenal down the stretch as they work to secure Champions League qualification.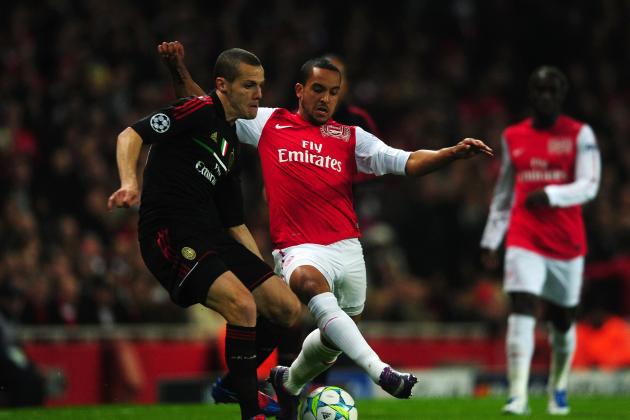 Laurence Griffiths/Getty Images

Imagine if only Arsenal had wingers they could rely on to produce week-in and week-out. Wingers who could actively link up with Robin van Persie and feed him the ball, but also finish and play well enough for him to trust them to score when he is under pressure or heavily marked by the opposition.
Imagine.
From start to finish, Gervinho and Theo Walcott ran up and down the flanks, but in the end, they did little of note.
Rather, Gervinho will be remembered in this game more for his errant passing than any real positive contribution, while Theo Walcott will be remembered for his infuriatingly bad decision-making.
Gervinho had one strike on goal which could've given Arsenal the goal they so badly needed, but he was unable to create the space to take a good hit on goal. Thus, he got a deflection on his shot, which resulted in a save by Christian Abbiati.
Walcott, on the other hand, was definitely the worse of two, wasting opportunity after opportunity to produce something from the right flank.
I've said it a million times, but I'll say it again: When the pressure is on, don't expect Walcott to perform. If his team is leading and in the ascendancy (Arsenal were losing on aggregate), expect Walcott to look world-class.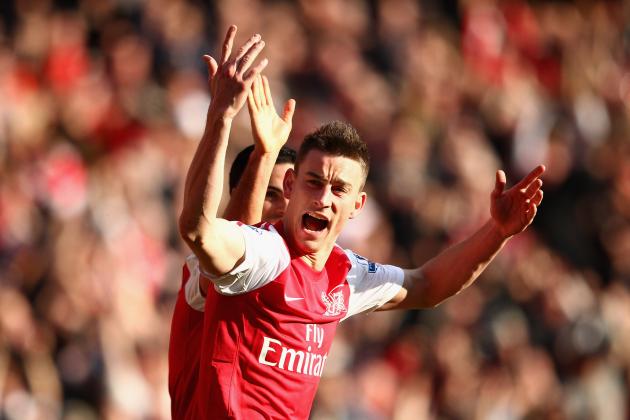 Clive Mason/Getty Images

Speaking of world-class, Koscielny was absolutely at his best today.
He completely neutralized Zlatan Ibrahimovic, who followed up his hat trick at Palermo with one of the poorest games I've ever seen him play, and passed out of the back with amazing precision.
I want to emphasize that second point: I can think of more than two or three centre-backs today who pass the ball with as much quality and precision as Koscielny did today.
Of course, Koscielny does still make mistakes; his poor performance in Milan and his own goal versus Liverpool are there to remind us of that. He needs to improve his consistency.
But, compared to last year, his consistency has definitely been improving, and it is abundantly evident that Koscielny has the talent to become a world-class defender.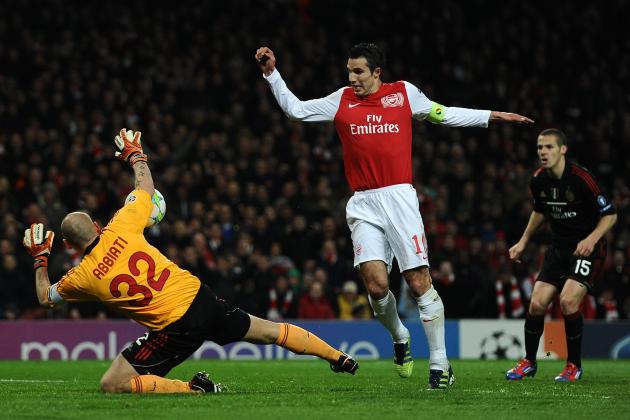 Laurence Griffiths/Getty Images

Without Abbiati, this game would've surely gone into penalties.
Abbiati made save after save to prevent AC Milan from losing their aggregate lead over the Gunners. His double save against Gervinho first, then Robin van Persie from close range was probably the moment of the game—and undeniably the moment that won the tie for AC Milan.
But it wasn't the only key save Abbiati made; he also saved the ball after RVP was through on goal via a through-pass from Alex Oxlade-Chamberlain, and his save on RVP's curling shot early in the game was top-quality as well.
It would be wrong, though, to mention just Abbiati's goalkeeping exploits here. Wojciech Szczesny followed up his excellent performance against Liverpool with some top-quality saves against AC Milan.
His most notable save, of course, was the point-blank save made against Antonio Nocerino. It looked like an easy save since Nocerino misdirected it, but really Szczesny did well to make sure it didn't deflect off his body and stayed within his grasp.
Szczesny made a couple of nervous mistakes in this game, but he too worked hard to keep AC Milan's shots on goal out of his net. His positioning on Stephen El Shaarawy's first-half chance was huge, as it led him to shoot wide on an excellent goal-scoring chance.
Top-quality performance from both keepers.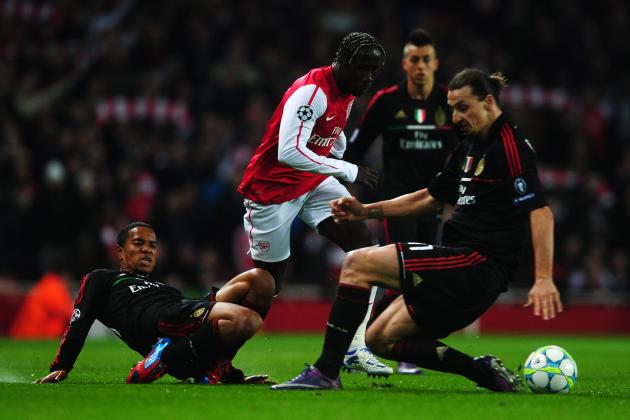 Laurence Griffiths/Getty Images

Well, two of them anyway. Zlatan Ibrahimovic was too busy getting called offside time and again.
Today, we saw the flip side of the "Ibrahimovic effect." When Ibrahimovic is in top form, he makes everyone around him better. We saw this this past weekend, but also to a greater effect against Arsenal in Milan.
But when he's neutralized, those around Ibrahimovic look decidedly more ordinary.
Such was the case with Stephen El Shaarawy and Robinho today.
Neither forward was able to create any scoring opportunities for himself or his teammates, and the one chance that El Shaarawy got was poorly finished with a shot wide of goal when a shot on goal would've been very difficult to stop.
It should be pointed out that once Alberto Aquilani came on for El Shaarawy, AC Milan finally had a second focal point to focus their offense around, and they became a much more dangerous force from then on out.
If Massimo Allegri's goal was simply to control the game and possibly nick a goal, again one must wonder why he started the attack-minded, less-experienced El Shaarawy over the much cooler, composed and experienced Aquilani.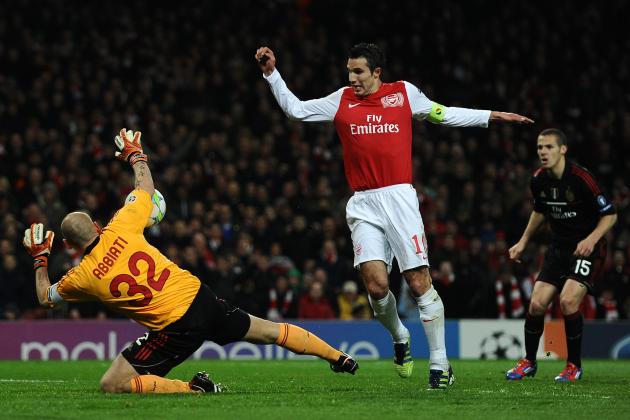 Laurence Griffiths/Getty Images

If only he converted the rebound off Gervinho's deflected shot...
Robin van Persie had a guilt-edged chance to go down in Arsenal and Champions League history, but he simply could not convert it.
He got something behind the ball, but he hit it incorrectly, and that gave Christian Abbiati the chance he needed to make a save and keep AC Milan's aggregate lead intact. He was able to get his arm far enough to make the save, and that was the end of that.
It's unfortunate that RVP wasn't able to finish the chance he had, but many strikers would've failed to even react as quickly to the ball as he did, and many goalkeepers would not have made the save Abbiati managed to make.
RVP still displayed incredible poise to convert the penalty that gave Arsenal a 3-0 lead in the first half and should not feel any guilt for Arsenal's exit. It was a tough chance and he did his best to convert it, but he was outdone by a keeper who stood out as his team's only good starter on the day.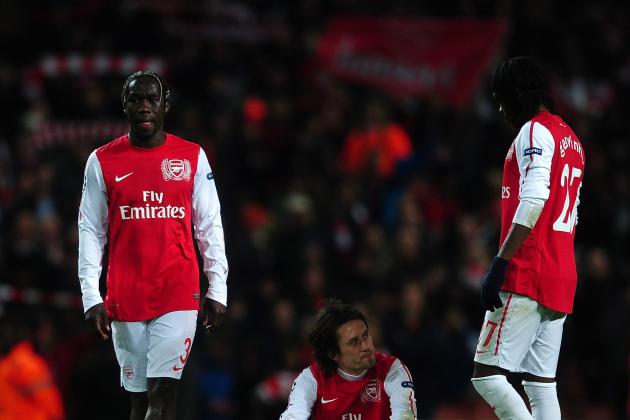 Laurence Griffiths/Getty Images

Before this game, I expected Arsenal to go out and play to earn a solid 1-0 or 2-0 win as a moral victory to push them forward into their upcoming league games.
But that wasn't good enough for Arsenal's players.
The Gunners went out from the start with the intention to overcome their 4-0 deficit, and came within a whisker of doing so on a number of occasions.
Many times this season, Arsenal fans have criticized their players for not "wanting it" enough, for not showing the passion required to advance in the FA Cup, Champions League, etc.
Today, they showed it. If they keep showing the same kind of heart and passion they did today in future performances, I can't see how they won't be comfortably in the Top Four come the end of the season.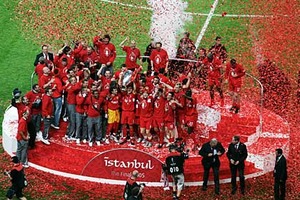 The signs of an Istanbul repeat were all there. In fact, Bleacher Report's David Hendrick made sure to point them out:
So a header for the first, a Czech for the second, and a penalty for the third. then missing a sitter. Milan having Istanbul nightmares?
But alas, it was not to be, as Arsenal failed to become the first team ever in European competition to overturn a 4-0 deficit.
Even though AC Milan got through by the skin of their teeth, the loss must surely worry Massimo Allegri.
Once again, Allegri's side's inconsistency in European competition was a major problem.
Last season, while AC Milan were handling their domestic opposition with ease on their way to the title, they could only take a single point from a modest Ajax side either at home or away. And then, in the Round of 16, AC Milan lost to a Tottenham team many favored them to beat.
This year, consistency has been a problem as well. AC Milan have been able to draw with Barcelona and pummel Arsenal at home, but have drawn with the likes BATE Borisov and Viktoria Plzen away from home in the Champions League.
AC Milan do not yet know who they will be facing the Champions League quarterfinals, but whoever it is is unlikely to allow AC Milan to beat them convincingly enough in one leg to the point that the second leg's result would be insignificant.
If AC Milan wish to go all the way in the Champions League, improving consistency and away form will be key points AC Milan need to work and improve on.