Arsenal's Crazy Season Culminates in Champions League Elimination to AC Milan
March 6, 2012

Laurence Griffiths/Getty Images
This season has been one of the most forgettable seasons in recent years for Arsenal fans. Every time that there appears to be a ray of light for the Gunners, it seems that a big, black thundercloud rumbles in to destroy any happiness that may exist.
Tonight, Arsenal found themselves down by four goals on aggregate to AC Milan going into the second leg of their Champions League round of 16 matchup.
Yet the Gunners made mincemeat of Milan's defense. Laurent Koscielny opened up Arsenal's account on the evening with a well-placed header. Tomas Rosicky then doubled the scoreline midway through the first half on what was an awful piece of defending by Milan.
Right before the half, teenage sensation Alex Oxlade-Chamberlain was able to draw a penalty thanks to another one of his trademark runs. Robin van Persie scored a well-taken penalty to make the score 3-0 in favor of the Gunners.
Yet Arsenal were unable to get that last goal. Despite numerous attacks and some strong attacking play, the Gunners' muskets were locked up by Milan's defense.
The score ended with Arsenal winning 3-0, yet Milan advanced on aggregate 4-3.
This match marks the end of Arsenal's dreams of silverware for the 2011-12 campaign. This match will be remembered by Arsenal fans for months and possibly even years. Arsenal did put on a valorous performance tonight for their fans in a match that perfectly symbolized Arsenal's crazy season.
Going into this season, hopes were high for the Gunners after a solid 2010-11 season and the purchase of Gervinho.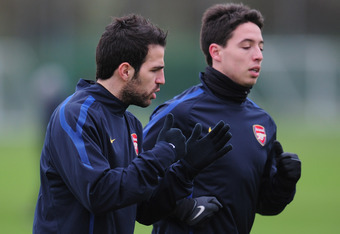 Shaun Botterill/Getty Images
Yet the Gunners lost two of their most important players at the beginning of the season. Both Cesc Fabregas and Samir Nasri saw the end of their respective transfer sagas with Arsenal selling their two midfielders.
Arsenal immediately felt the impact of those transfers at the end of August with a humiliating 8-2 loss to Manchester United at Old Trafford.
To cover up their problems, Arsenal acquired older talent for the first time in ages. Yossi Benayoun and Mikel Arteta were both brought to the Emirates to fix their problems.
Yet in their time of crisis, it was van Persie who stepped up his play. Throughout the remainder of 2011, van Persie scored bunches of important goals to put Arsenal within striking distance of the top four and ended up scoring 35 goals in the calendar year of 2011.
Arsenal got a further boost at the beginning of the year when it was announced that legendary striker Thierry Henry was going to join the Gunners on a six week loan from the New York Red Bulls.
Henry opened his account in what was his first match in a Gunners kit since 2007, scoring a late winner against Leeds United. For Henry, this goal ended what was a tumultuous time for the French striker, while it gave Arsenal hope of winning their first trophy since 2006.
Yet Arsenal managed to lose three straight league matches in January, only staying near the final Champions League berth due to Chelsea's inconsistent play. In Henry's final Premier League match, he scored a winner against Sunderland to put the Gunners into fourth place.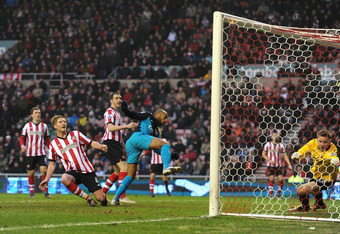 Michael Regan/Getty Images
Henry left Arsenal after the Gunners next match; a 4-0 loss to AC Milan in the Champions League. Arsenal then got eliminated in the FA Cup three nights later against Sunderland.
Arsenal climbed back from the scrapheap with wins over Tottenham Hotspur and Liverpool in the EPL. Arsenal once again gave people hope in the Champions League with their great first half performance, but once again everyone was let down by a disappointing second leg performance.
Now Arsenal will play out the season trying to ensure a spot in next year's Champions League. Arsenal can claim that final spot, but don't be surprised to see another letdown within the next several months.
There has already been speculation that van Persie could move during this summer, a move that would be surprising but considering how much of bad luck Arsenal have been involved in lately, don't be surprised if he does move.
No matter what happens, Arsenal are poised to have an interesting summer that will probably be just as calamitous as this season has been.
Follow me on Twitter @Andrew_Jordan