Ranking Diego Maradona's 10 Greatest Goals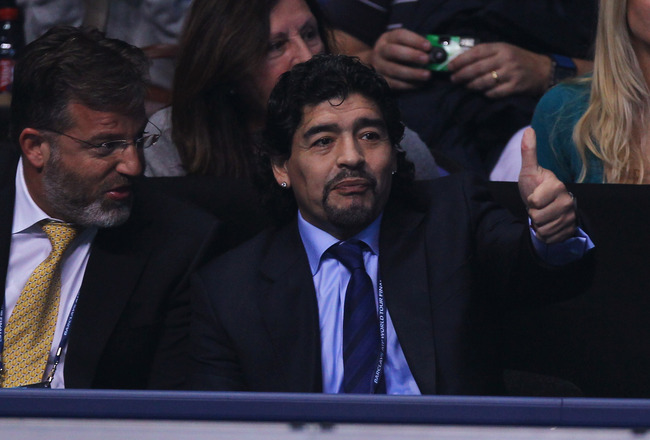 Matthew Lewis/Getty Images
The Argentinean manager who promised to go streaking through downtown Buenos Aires if his team won the World Cup also had something of a flashy playing career.
Diego Maradona, one of the best footballers of all time, scored 34 goals for Argentina and an incredible 258 goals for his club teams.
The problem with making a list like this is that there isn't footage of all 292 of his goals and I didn't get to watch every single one. I would love to do that sometime.
However, from footage available, here are Maradona's 10 best goals.
No. 10: Vs. Red Star Belgrade
Anyone who's ever tried this knows what a feat it is.
No. 9: Vs. A.C. Milan in 1988
No chance for that poor goalkeeper.
No. 8: Vs. River Plate
Sorry the quality isn't the best, but I love this goal.
No. 7: Vs. Juventus
Tough angle, tough distance.
No. 6: Vs. Belgium in 1986 World Cup
Not only great control, but also great change of speed.
No. 5: Vs. Milan in 1987
Another nice bit of work from Maradona when he was with Napoli.
No. 3: Vs. Greece in 1994 World Cup
One of the greatest things about Maradona was how many different kinds of goals he could score.
No. 2: Vs. Verona in 1985
The confidence with which he hits this is unbelievable.
No. 1: Second Goal vs. England in 1986 World Cup
Sure the defending was horrid, but...wow. Goal of the century.
Keep Reading