Lakers Trade Rumors: Why Kobe Bryant Needs a Houston Rocket to Win a Title
March 8, 2012

Christian Petersen/Getty Images
Kobe Bryant and the Los Angeles Lakers will not win a championship with the roster as it's currently constructed.
Bryant, Pau Gasol and Andrew Bynum combined are a very formidable trio in the starting lineup, but the questions surrounding the Lakers can't be ignored forever.
Whether it's the lack of production at point guard, the inconsistent play at small forward or the meager production from the reserves, this team is not built to win a title.
There is one week until the March 15 trade deadline, and general manager Mitch Kupchak needs to make changes.
That gives the front office one final week to make a decision about this team, this year.
Bryant is still playing at an incredibly high level, but he's going to need help. As talented as he is, Bryant is not taking this Lakers team to a championship with the current pieces around him.
There is a lot of dead weight on this roster, and that is a recipe for disaster in a lockout-shortened season.
Luke Walton earns over $5.5 million and doesn't play. Jason Kapono was signed to be a sharpshooter in the second unit before the season began and hasn't lived up to expectations.
Troy Murphy and Josh McRoberts have each shown brief moments where they're capable of contributing, but neither has been what the Lakers have needed behind Gasol and Bynum beneath the basket.
Derek Fisher and Steve Blake haven't been enough at point guard.
Simply put, this is an imperfect Lakers team that needs help if anyone is going to believe that Los Angeles should be taken for real as a legitimate championship contender.
Los Angeles can still be a dangerous team in a seven-game series, but we're talking about winning a championship—not making the playoffs, not advancing to a certain point or even losing in the finals.

This is about winning it all—that is the only thing on Bryant's mind.
"I just want No. 6, man," Bryant said. "I'm not asking for too much, man. Just give me a sixth ring, damn it."
A sixth ring.
It's all about basketball for Bryant—there is nothing else. Ascertaining a sixth championship puts him on Michael Jordan's level, a player who he has been compared to relentlessly throughout the course of his career.
The similarities are there: the turnaround jumper, the mentality to play through pain or sickness and a work ethic that some would describe as psychotic.
It's all Bryant knows. And it's all that matters.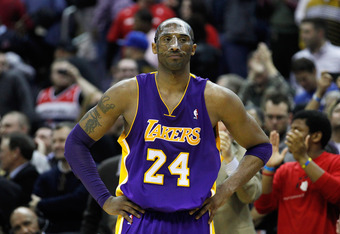 Rob Carr/Getty Images
But what can the Lakers do?
The team has two trade chips with any real value whatsoever: Bynum and Gasol.
At this point, it would be a shock if Bynum is traded. He is Jim Buss' pet project, enjoying a breakout season and very much looking like the second-best center in the NBA behind Dwight Howard.
So that leaves just one man on the chopping block—Pau Gasol.
We're talking about a player who comes with serious accolades: Rookie of the Year, a four-time All-Star and two-time NBA champion.
Rarely would a team be willing to shop a legitimate 7-footer with such skill who has played with great consistency during the course of his career, but this is where the Lakers stand.
Make no mistake about it—Gasol can absolutely be had in the right deal.
When Bryant went on his rant about the front office's indecision when it came to a potential Gasol deal, Kupchak did not throw water on the flames when he released the following statement.
"I have a responsibility to ownership, our fans and the players on this team to actively pursue opportunities to improve the team for this season and seasons to come," Kupchak said. "To say publicly that we would not do this would serve no purpose and put us at a competitive disadvantage."
It was the right answer. As much as it might not sit well with Bryant, fans or even Gasol himself, it was the proper response. This is a team that needs changes.
Kupchak and Gasol met recently to discuss the constant rumors swirling around the big man, and Ramona Shelbourne of ESPN Los Angeles got reaction from Gasol.
"I have an understanding of where things are," Gasol said after the Lakers' shootaround in Detroit on Tuesday, "where they stand and where he stands and where I stand. He [Kupchak] told me to just keep doing what you do, keep playing hard and playing on and from that point on, we'll see."
In other words, Kupchak will continue to explore deals which involve Gasol. Whether he finds one to his liking is a separate issue entirely, but there is no doubt that Kupchak is exhausting every avenue to find a way to improve his current team.
Gasol is the third option on this Lakers team. As someone who stands to make more than $38 million over the next two seasons in that role, that is an awfully hefty price tag.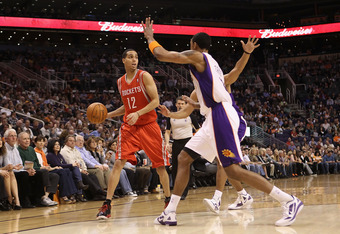 Christian Petersen/Getty Images
The Houston Rockets like Gasol quite a bit. The team had been willing to trade point guard Goran Dragic, volume scorer Kevin Martin and a solid starting power forward in Luis Scola to New Orleans if it meant Gasol could land in Houston.
The three-team trade didn't happen, but that doesn't mean Los Angeles and Houston can't revive talks and revisit a Gasol trade.
Here is the deal: Dragic, Martin and Scola for Gasol.
Perhaps a draft pick or two are involved as well, but that is the deal fairest for both sides.
The Rockets would have an impressive twin-tower pairing of Gasol and Samuel Dalembert with Kyle Lowry running the point.
For the Lakers, Dragic becomes the starter, Scola replaces Gasol and Martin provides the team with an offensive boost in the second unit that the club sorely needs.
Who hangs up the phone first, Daryl Morey or Kupchak?
It's a deal that would certainly intrigue both parties, and one that the Lakers would be wise to explore.