South Carolina Football: 5 Players Who Could Break out in 2013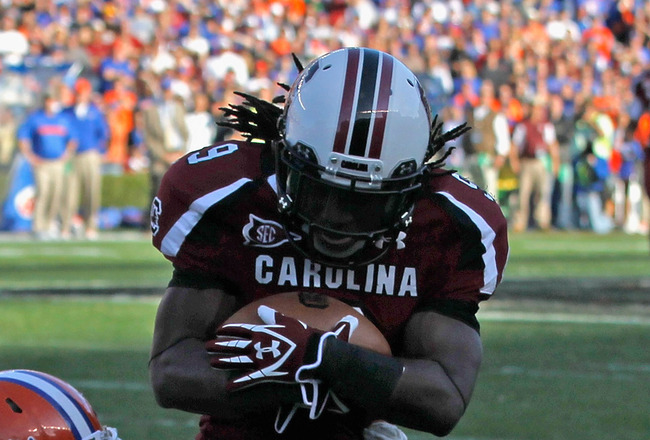 Streeter Lecka/Getty Images
South Carolina isn't lacking in talent. However, there are some hidden gems on the roster that are just waiting to burst onto the scene. All of the players on the team deserve to be on the team and some are ready to prove themselves in a big way.
While these aren't the only candidates for breakout performances, these five guys could grow from contributor to superstar (a la Melvin Ingram) in 2013.
Ace Sanders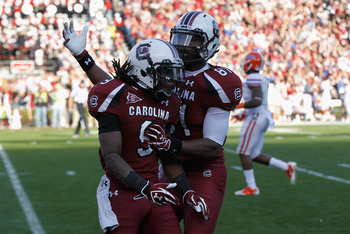 Streeter Lecka/Getty Images
Ace Sanders must be tired of hearing about all the candidates for replacing Alshon Jeffery. Most focus on Jeffery's younger brother Shamier or newcomer Shaq Roland.
Why not Sanders? He's been starting for two years already and has grown into a very good receiver. His numbers aren't superstar numbers because he never had the opportunity. He now has that. He's tough, has great hands and has 4.4 speed.
His only knock may be his size. Don't tell that to Steve Smith or Wes Welker.
Vic Hampton
In terms of pure physical ability, Victor Hampton may be the best corner that the University has had in a while. That's saying a great deal, considering the Gamecocks have produced many NFL corners over the past decade.
What sets Hampton apart is his swagger and athleticism. He plays with a chip on his shoulder. He's fast and has the ability to make big plays. If his head stays on correctly he could become a household name.
Kelcy Quarles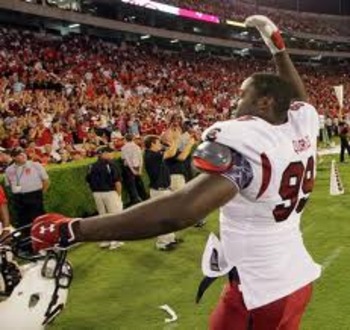 Kelcy Quarles is a fan and coach's favorite. He has a high-end motor and the ability to play defensive end and defensive tackle. He's strong and athletic enough to make even the best offensive linemen shutter at the thought of seeing him coming down the line.
He's a definite favorite for starting at defensive tackle and could have a huge season with offensive linemen having to focus on Jadeveon Clowney and Devin Taylor.
Byron Jerideau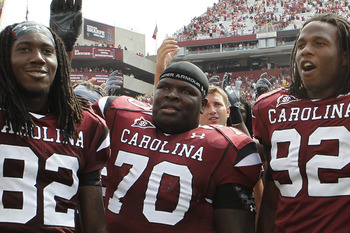 Mike Zarrilli/Getty Images
The strongest player pound for pound on the football team, Byron Jerideau has the chance to prove that his strength can translate onto the football team. He's played well at times, but he's never been the star that he could be.
This could be the year he takes the next step and becomes the dominant force at defensive tackle that his coaches think he could be. He benches somewhere in the range of "Grizzly Bear" and "Full Grown Moose" so he should be able to toss around some tiny offensive linemen.
Damiere Byrd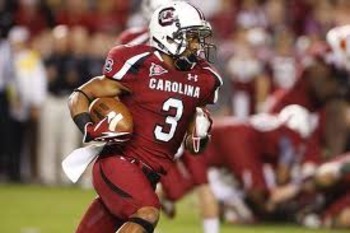 The fastest player on the team, Damiere Byrd had a disappointing rookie campaign. He was suspended for four games at the beginning of the season and just never found his groove.
This year, his 4.24 speed could be put to better use. He may take back kicks and punts. He may also become the deep threat that everyone thought he could be. With a year of offseason work and no suspensions, he should be able to improve on his numbers greatly.
Keep Reading

South Carolina Football: Like this team?