2012 NFL Predictions: Why Redskins, Jets Won't Sign Quarterback in Free Agency
March 7, 2012

Donald Miralle/Getty Images
The Washington Redskins and New York Jets have been tempted with the idea of going after a quarterback via free agency. Peyton Manning and Matt Flynn headline the list of potential candidates.
The Redskins will be one of three teams involved in a bidding war for the St. Louis Rams' No. 2 draft pick this offseason. Whether they win the war or not, Mike Shanahan knows he needs a quarterback for the future or a guy who can help them win now, allowing them more time to find a guy for the future.
New York has a different dilemma. They have a quarterback that's supposed to be their franchise guy for the next decade, however, his performance suffered and his leadership qualities were questioned within the locker room by some anonymous teammates.
What these two teams have in common are the rumors circulating that they'll look to free agency to fix these problems. Well, there are a few problems with those rumors and why they should be taken with a tablespoon full of salt.
Washington certainly would love to have Peyton Manning. Just read what Shanahan had to say this week about his offense and you can see how it's a direct memo to Manning.
Well, I think we were a playoff-caliber offense this year...I've got one goal, and it's to turn this thing around and get it to where it has been: a Super Bowl-winning team...Now we've just gotta make sure we do it and do it the right way, and obviously we'll be winning a lot more football games than we've been winning the last couple years.
Sounds like pretty good advertisement for someone at the end of their career who wants one last shot or for someone trying to get their first starting gig.
The Jets seem to have a different line of thinking with their need. They have been rumored with almost every quarterback between New York and Oakland.
Literally.
Jason Campbell, Peyton Manning and Chad Henne have all been linked to Gang Green this offseason.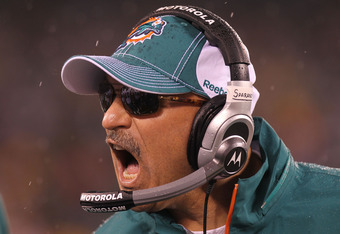 Nick Laham/Getty Images
Campbell has been the most recent rumor, but Henne has been the most frequent one and the one that holds the most validity. This has been mainly due to New York hiring former Miami Dolphins head coach Tony Sparano as their new offensive coordinator this offseason and Henne could slide right into their new offense.
According to ESPNNewYork.com, Chad Henne has been "on the Jets' free-agent radar."
The problem is, there are holes in both of these rumors and scenarios for Washington and New York.
Shanahan wants a franchise guy. He knows the league requires an elite, franchise quarterback more than ever before to win it all. Getting a healthy and motivated Manning would give them that, but his timetable to win would be a short window accompanied by a hefty fee.
Flynn could be a possibility, but it's hard to imagine Shanahan taking Flynn rather than drafting someone in the first round—even though Green Bay didn't tag him. The other problem with this is that if they did wait for Peyton, how long are they willing to allow him to regain his playing strength?
Washington will likely be the favorite to land the No. 2 pick—especially if Cleveland plays hardball with their No. 22 pick and squander a deal.
New York, on the other hand, won't look to the draft to fix their need. Rex Ryan has publicly backed his quarterback on numerous occasions and has claimed that as long as he's head coach, Sanchez will remain behind center.
New York's management may desire taking away space on page six of the New York papers from their crosstown rivals, but landing Manning would not be an easy task.
There's already enough dissension within the locker room and you better believe Manning does not want to walk into a dysfunctional organization.
Then there's the little task of affording Manning, which won't be easy. New York's already right at the cap limit as it currently stands.
The final straw that breaks this free agent's back is that Sanchez's time in New York would be over, which may sound appealing to some sections of the Jets' fanbase. Sanchez had a setback last year, but he did help guide them to two consecutive AFC Conference Championships and all the investment put into him would be lost and forfeited.
The bottom line with both of these teams is that picking up a quarterback in free agency may be an option, but these options would mean their ideal plan couldn't be executed properly.
Shanahan wants to win the bidding war and land his franchise quarterback with the No. 2 pick in this year's draft and Ryan wants Sanchez to take control of his locker room and prove that he has championship credentials.
Landing Peyton Manning or any other free agent quarterback would be considered a failure on behalf of both of these proud organizations.
Justin Sparks is an NFL Featured Columnist for Bleacher Report