NFL Rumors: In Free Agency, Vincent Jackson Will Be Foolishly Overpaid
March 6, 2012

Donald Miralle/Getty Images
Vincent Jackson is a talented wide receiver with intriguing measurables and exciting potential.
Since bursting onto the scene in 2006, he's been one of Philip Rivers' favorite weapons in San Diego and a tantalizing pick for fantasy owners.
He's crossed the 1,000-yard mark in three of the last four seasons while scoring a total of 28 touchdowns over that same time. Behind Antonio Gates, Jackson is easily the most consistent contributor for the Chargers in the last few years.
But that production wasn't enough for the Chargers to exercise the estimated $13.5 million franchise tag for the wide receiver position. And because of it, the suitors will line up for a chance to land Jackson.
Mike Jones of the Washington Post writes:
That leaves Jackson available to be pursued on the unrestricted free agent market by the Washington Redskins and other teams. The free-agent market opens March 13 ... Even so, the Redskins and other receiver-needy teams continue to have plenty of options on the free agent market. Those options include Vincent Jackson, the New Orleans Saints' Marques Colston and the Indianapolis Colts' Pierre Garcon, each of whom seems to fit the Redskins' need for a big-play wide receiver.
Jackson is the most accomplished and polished of that top trio and there is no denying that the Redskins have a major need for a top-flight receiver.
There is still a chance, however, that he returns to San Diego, but his agent plans on letting the market dictate what he'll be had (via Kevin Acee at U-T San Diego):
"We'll let the market determine his value," said Neil Schwartz, Jackson's agent. All the right things are being said and Jackson may yet remain in San Diego. But that likely is contingent on other suitors not wowing arguably the best wideout available in free agency.
And with with teams all over the league, somebody is going to overpay for the 29-year-old wide receiver.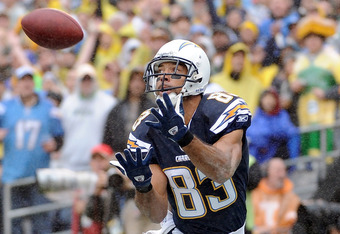 Harry How/Getty Images
With so many receivers on the market the money won't be as high as Jackson will be hoping, but there will certainly be a team or two that pushes things.
There is a reason San Diego relinquished their leverage with Jackson and that is because they don't believe him to be worth that $13.7 million this year.
Somebody will, though, and that will be a mistake.
Jackson was aided heavily by his system in San Diego. Even when Rivers had nobody else to throw to, there were far too many underwhelming performances from him.
For example, the receiver blew up in four games last season. Those four games alone accounted for nearly 50-percent of his yardage and 77-percent of his touchdowns. Four of 16 games is not what you want from a No. 1 receiver. And we cannot forget the fact that San Diego only won one of those four games.
Jackson is hit-or-miss. You don't pay a weapon like him $13.7 million guaranteed and for once A.J. Smith got something right.
It won't matter, though, and Jackson is still going to get his. The question is how much will he give?