Nick Diaz and the 10 Most Unintentionally Funny Lines in MMA History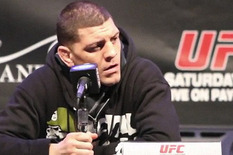 Nick Diaz/ MMAWeekly.com
Throughout his long and storied career, Nick Diaz has left behind many gems that have endeared him to the MMA community.
First, his exciting fighting style makes him a legend, in the sense that no matter what, Diaz will be looking to make every fight a brawl.
Secondly, he is not always the most polished person to put in front of a camera. His tough guy demeanor and "don't give a [expletive]" attitude have created some funny sound bites, though most have been completely unintentional.
Here, we will take a look at both Diaz and a batch of fighters who have created similar moments over the years.
Nick Diaz/ MMAWeekly.com
Begin Slideshow

»
"I'm going to beat you into living death."
The worst part? Shamrock was absolutely, 100 percent serious. Poor guy.
Tito Ortiz reacted the same way any high school could would when they asked their younger brother to spell "icup." Remember that one? Oh, those were the days.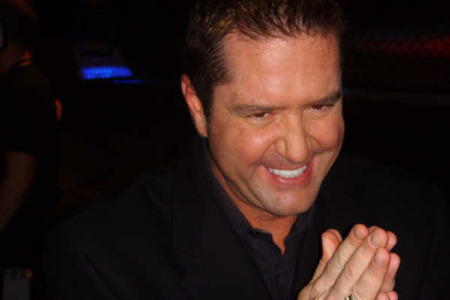 Goldberg/ Prommanow.com
"The Lil' Eagle soars again!"
It's bad enough to maybe botch a few lines here and there, but to totally whiff on a fighter's alias and THEN call him a "Lil Eagle"? That's straight-up criminal.
Jens Pulver and Mike Goldberg have since made amends.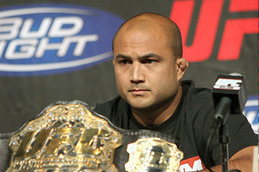 Penn/ MMAWeekly.com
"I only want to be known as the best ever. Is that too much to ask?"
Well, I guess not if you're Napoleon Bonaparte or Genghis Khan.
It's good to see that "The Prodigy" has some mild dreams worth living.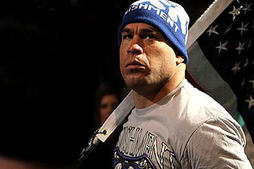 Ortiz/ MMAWeekly.com
"..and while the troops are fighting overseas for our freedom, I'm here in this cage fighting for the freedom of mixed martial arts."
Thanks, Ortiz, for being the ambassador of the sport that no one saw coming.
Not too sure how carrying guns into enemy territory and laying your life on the line for your country can be the same as fighting under a professional sports league.
But hey, whatever makes you sleep at night.
You wanna whaaaa? Where?
Some of Silva's best moments came well before the Brazilian moved to the States. Now, we don't have nearly as many of these mishaps as we used to.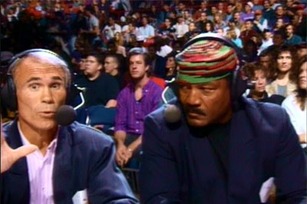 Brown (right)/ Chud.com
"I don't know what kind of technique was used there, but there was a lot of kicking and punching."
Well I can see why you are now out of a job, sir. Isn't that the same guy from Mars Attacks!?
Checking Wikipedia now...yup, that's him. Besides his prestigious football career, a movie with Jack Nicholson is the best thing Jim Brown has ever done.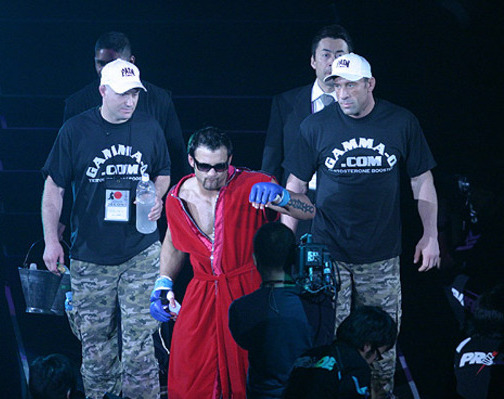 Baroni (center)/ Scott Petersen for MMAWeekly.com
Hey, so..why do you fight, Phil?
"Because I can't sing and dance, and it beats [expletive] workin' every day. Now ask me a question that doesn't sound so [expletive] stupid."
Ah, that's why we love "The New York Badass." You can almost always expect a similar response with pretty much any question you throw at him.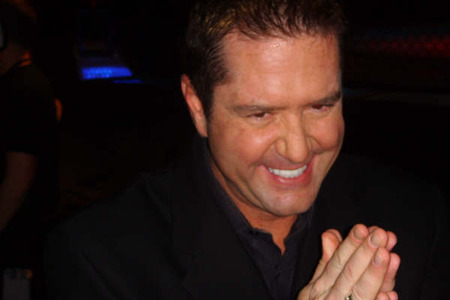 Goldberg/ prommanow.com
He has a couple of these, so I'll be nice and just add in the subtle few. This one, however, cannot go unnoticed.
"He wants to get in close to use that reach advantage."
At this time, Joe Rogan was sighing, rolling his eyes and putting palm to face, all at once.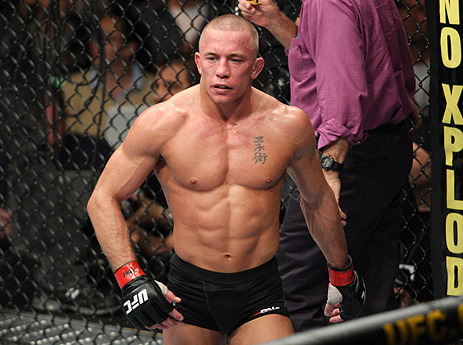 GSP/ Scott Petersen for MMAWeekly.com
"He beat me fair and square. No, I'm sorry. He beat me fairly squarely."
St-Pierre may not be the most eloquent man on the mic, but that's exactly what you DON'T want to say when you're asking the UFC for a rematch with a former foe.
I mean, how can they take you seriously? Fairly squarely?
"I want you to put it on me, I want you to try your best to put it on me! Cuz that's the only way I want it! If you don't give me everything you got, I'm gonna be pissed off!"
The best and most appropriate response? "That's what she said."
Perfect.
"Where I come from, people like that get slapped!"
It's not so much the quote as it was the delivery with which Diaz put it out. He may not be the best speaker when it comes to interviews, but he certainly knows how to make them memorable.
Both Diaz and Evans will share the top spot.