Atlanta Falcons and Safety Thomas DeCoud Agree on Contract
March 6, 2012
Kevin C. Cox/Getty Images
According to Pro Football Talk, The Atlanta Falcons and free safety Thomas DeCoud reached an agreement on a contract.
This move comes only days after the team used the franchise tag to keep cornerback Brent Grimes in a Falcons uniform for at least one more year.
Both moves make sense for the Falcons.
DeCoud was a major force within the secondary last year, recording 86 tackles and pitching in four interceptions, and Grimes was thought to be one of the top free agent corners coming into the market before they locked him down with the franchise tag.
No details of DeCoud's contract have yet been released, but you can bet it includes a big bonus and small cap number for 2012. 
After all, the Falcons still have a long-term contract with 25-year-old middle linebacker Curtis Lofton to try and hammer out. Lofton is also set to become a free agent next week, and the team is doing all it can to keep him on their roster going forward.
According to The Atlanta Journal-Constitution, Falcons general manager Thomas Dimitroff said:
I said this the other day, we would like to have Curtis Lofton back. He's a fine football player. We are in the process of negotiating with Curtis and his representatives. That's been an amicable negotiation and we'll continue to work on it.
For all you Falcons fans, I highly recommend you click on the link above to read the entire interview with Dimitroff. It is full of inside details about what the team is thinking on a number of important issues.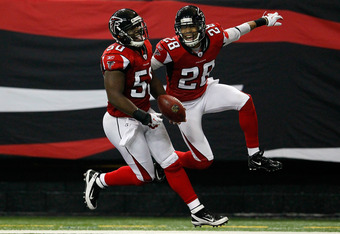 Kevin C. Cox/Getty Images
Signing DeCoud and Grimes is an important step to keeping the team cohesive. Remember, the Falcons don't have as many draft picks due to the incredible leap up the draft board they took last year to snag Julio Jones with the sixth overall pick.
The offseason is just getting started, but the Falcons are well on their way to having a successful one in 2012.
Thanks for reading and stay tuned for more breaking news as the free agency signing period draws near.