Big East Tournament 2012: Teams Needing Deep Runs to Ensure NCAA Spot
March 6, 2012

Elsa/Getty Images
The Big East could have as many as nine teams get into the NCAA Tournament. However, there are some teams that have to win at least one Big East tournament game to make sure they are not playing in the National Invitational Tournament next week.
These teams must win their first game, or else they could kiss their NCAA Tournament chances good-bye. 
Connecticut Huskies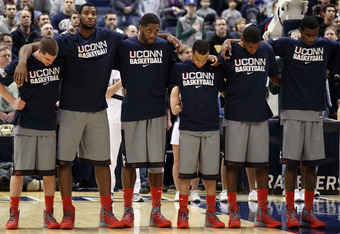 Elsa/Getty Images
The defending NCAA College Basketball Champions are on the cusp of missing the chance to defend their title. However, according to ESPN.com's Joe Lunardi most recent mock bracket he has the Huskies as a No. 10 seed in the tournament.
They open conference tournament play against a DePaul team they man handled back in February 80-54. However, this DePaul team is coming into the Big East tournament after beating a good Seton Hall team in their season finale 86-58. 
If Connecticut is not focused they could fall to DePaul in the first-round, thus killing their chances at making the tournament. 
South Florida Bulls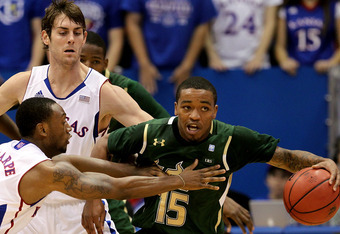 Jamie Squire/Getty Images
According to Lunardi, South Florida is currently in the tournament, but is a 12 seed. The Bulls have a first-round bye in the Big East tournament. However, they will have to win their first game against either Villanova or Rutgers. 
South Florida was able to handle their own against both teams, winning either by a large margin —as they did against Villanova— or by two points —as they did against Rutgers. 
However, the Bulls come into the Big East Tournament after an upsetting defeat at the hands of West Virginia. South Florida played well down the stretch, but one more win will erase any doubt of being left out of the final tournament field.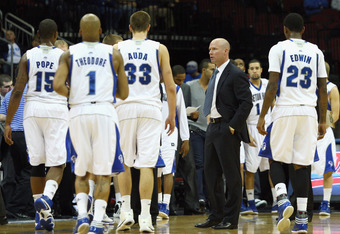 Chris Chambers/Getty Images
Seton Hall Pirates
This team is on the "last four in" section of Lunardi's mock bracket. They have an okay RPI of 56, a record of 19-11, and have wins against: Virginia Commonwealth, West Virginia, Connecticut, and Georgetown.
They did finish the season with eight losses in 12 games, though.
They have to win their opening round game against Providence. Seton Hall beat Providence in their only meeting back in January 66-57, yet Providence comes into the Big East Tournament wining two of their last three games, including a 72-70 win over Connecticut.
If Seton Hall cannot beat Providence, their tournament chances will go down the drain.
These three teams must make a deep run in their conference tournament. If they do not, it could very well eliminate their chances at playing for a National Championship.