Wanderlei Silva and the 12 Most Over-Exposed Fighters in MMA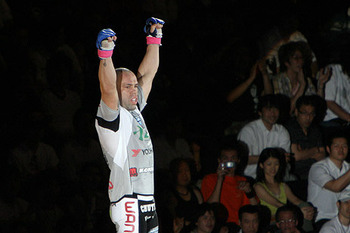 Wanderlei Silva/ Scott Petersen for MMAWeekly.com
Once regarded as the baddest man at 205 pounds, Wanderlei Silva, though still dangerous, has been exposed time and time again.
The chin that once proved as detrimental as his fists has failed "The Axe Murderer" as of late, who is often times either the victim or victor via knockout.
Here we will take a look at fighters, who over the years, have exposed some serious flaws of their own, which have recently been exploited by their respective opponents.
Keith Jardine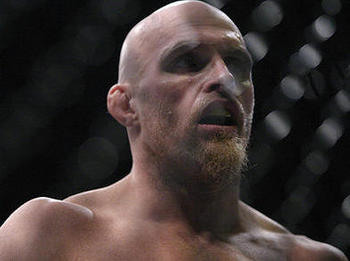 Jardine/ Jeff Cain for MMAWeekly.com
Once regarded as a top contender in the UFC, Jardine has slowly descended to the bottom of the heap of the mixed martial arts world.
After dropping a close decision to Quinton Jackson, Jardine was victimized by heavy-hitters Thiago Silva and Ryan Bader, both of whom knocked out the Greg Jackson fighter before the final bell.
Since then, Jardine has moved down to 185 pounds, though his initial endeavor ended similarly to his past endeavors, as Strikeforce champ Luke Rockhold ended Jardine's night very quickly with a bevy of strikes in the first.
Rich Franklin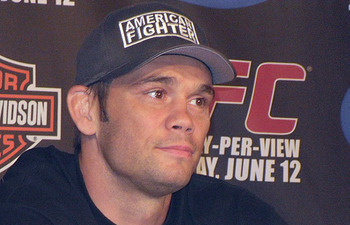 Franklin/ Ken Pishna for MMAWeekly.com
He's not good enough for middleweight and apparently, Rich Franklin is quickly wearing out his welcome at 205.
The former UFC champ has been on a slump ever since he lost his title to Anderson Silva in 2006. Since then, Franklin has gone 6-4 in his last 10 bouts, with two of the bouts ending decisively by some form of knockout.
Now, at 38 years old, there isn't much left for Franklin as he is now in the twilight of his career.
The Diaz Brothers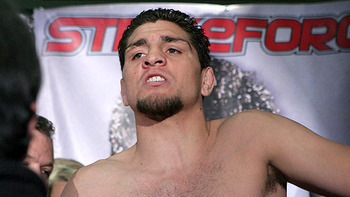 Diaz/ Ken Pishna for MMAWeekly.com
Hear me out first before you freak out.
Both Nick and Nate Diaz are regarded as two of the best fighters in their respective weight classes, but they have always had one deficiency in their overall repertoire: their wrestling.
The Diaz boys have supplemented their inability to defend a good takedown by having cultivated a dangerous submission game for their opponents, though the best of the best have been able to nullify their jiu-jitsu savvy skills in order to grind out decision wins.
Wanderlei Silva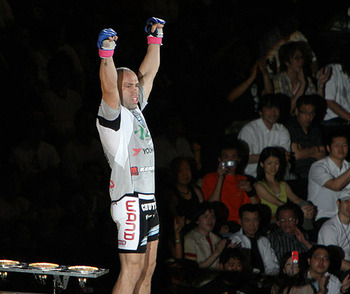 Silva/ Scott Petersen for MMAWeekly.com
It's do-or-die every time Silva steps inside the Octagon.
I'm sure by now even the Brazilian knows and has accepted the fact that each time he enters the cage, he will either get the knockout or be knocked out in the process.
Decisive losses in the Octagon to Quinton Jackson and Chris Leben have been supplemented by exciting knockouts of Keith Jardine and Cung Le.
Quinton Jackson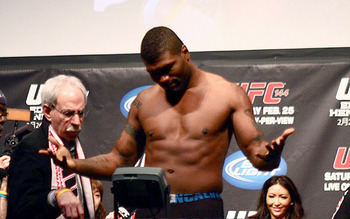 Jackson/ Laron Zaugg for MMAWeekly.com
Former champion Quinton Jackson can't be considered a one-trick pony, but everybody knows what the Memphis native is coming in with when he steps into the cage.
When Jackson is on par, he has some great wrestling skills to call upon, and all the while has some of the heaviest hands in the light heavyweight class.
However, against better grapplers who are more well-conditioned, Jackson will always be exposed time and time again.
Shinya Aoki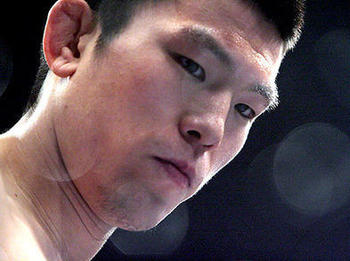 Aoki/ Jeff Cain for MMAWeekly.com
Over the years, Aoki has relied on his submission acumen in order to best some of the world's best fighters on the planet.
The ability to boot-scoot clear across the ring in seconds is arguably one of his greatest assets, but it's his innate ability to lull his opponents into his game that has made Aoki a one-trick pony.
However, he's very good at that one trick.
Josh Koscheck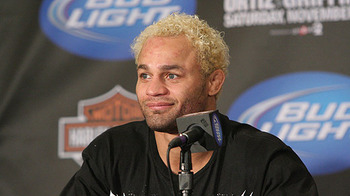 Koscheck/ Ken Pishna for MMAWeekly.com
It's always the right hand of doom that proves to be the difference-maker come fight time for Koscheck.
However, the TUF vet has shown that his obvious approach has proved detrimental, especially in his bout with Georges St-Pierre, who broke Koscheck's orbital with a well-timed jab.
Georges St-Pierre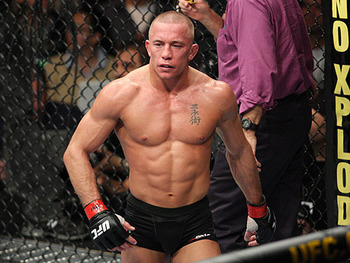 St-Pierre/ Scott Petersen for MMAWeekly.com
St-Pierre is predictable in the sense that he opts to take his opponents out of their comfort zones.
Against a wrestler, the Canadian will look to out-grapple his opponents while against a jiu-jitsu whiz, a la Jake Shields, "Rush" will keep the fight standing and look for the knockout.
His attacks are well-versed and varied, but his approach is the same each time he steps into the cage.
Forrest Griffin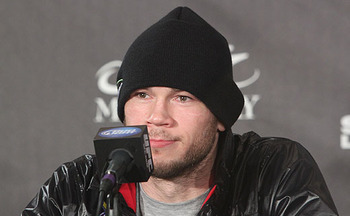 Griffin/ MMAWeekly.com
Having lost three of his last five bouts, Griffin has shown that his once iron-chin is now a facade.
In those aforementioned losses, Griffin has been knocked out by the likes of Anderson Silva, Rashad Evans and Mauricio Rua—three men who are known to be some of the best strikers in the sport who can pack a wallop.
As Griffin continues to trudge along in his career, and especially at 205 pounds, he will eventually run into the same problem unless he finds away to not take so much damage early on in his bouts as he has grown accustomed to.
Eddie Alvarez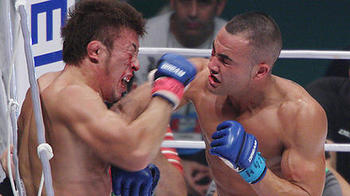 Alvarez (right)/ MMAWeekly.com
Alvarez's rugged, rough-and-tough style of fighting has proven to be both aesthetically pleasing and especially dangerous for both him and his opponents.
Often times, Alvarez wades in with his punches, which if they land will send his opponents crashing to the mat.
Against Michael Chandler in his most recent trip to the Bellator cage, Alvarez was countered several times with the right hand of the Xtreme Couture product, who rocked and dropped "The Assassin" over and over again.
Eating a punch to deliver a punch has proven costly to many fighters in the past, and if Alvarez continues this approach, his career in the sport can be short-lived.
Melvin Guillard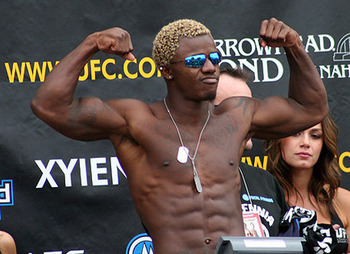 Guillard/ MMAWeekly.com
As talented and powerful as anyone in the world today, Melvin Guillard still leaves something to be desired.
The heavy hitter has suffered 10 losses throughout his career, nine of which have come by way of submission. In fact, in his last two bouts, Guillard suffered back-to-back losses at the hands of Joe Lauzon and Jim Miller, both of whom were able to stop "The Young Assassin" via rear-naked choke in the first round.
Keep Reading