Comprehensive Ways to Fix MMA Judging Once and for All
Use your ← → (arrow) keys to browse more stories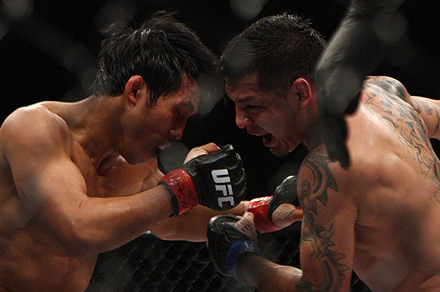 Nam Phan (left) with Leonard Garcia/ Scott Petersen for MMAWeekly.com
The sport of mixed martial arts is dictated by a few things.
The fighter, the referee and the judges.
More often than not, fighters look to finish their bouts in order to alleviate the pressures that exist in taking a chance and allowing the fight to enter the hands of the judges, who, in the past, have shown deficiencies in effectively scoring certain bouts.
Fights like Nam Phan vs. Leonard Garcia, Michihiro Omigawa vs. Darren Elkins and Joe Warren vs. Marcos Galvao are just a few among the many botched decisions that have occurred as of late. There have been numerous others guided by the misguided.
Ironically enough, judges are seated cageside in order to prevent such travesties from happening, looking to effectively score fights based on striking, grappling, aggression and cage/ring control.
We have seen new faces grace the judging circuit, with commissions taking the right approach in bringing in well-versed veterans of the sport.
Guys like Bill Mahood and Ricardo Almeida, two veterans of the UFC, have been recent additions to the scene of judges, but they only help remedy a small portion of what is an even bigger problem.
It's almost become like a secret society of sorts, where certain officials have received immunity, allowing them time and time again to flop decisions.
UFC commentator Joe Rogan said it best: "There's a few very good judges surrounded by a bunch of incompetent morons that know absolutely nothing about the sport."
Executive director Keith Kizer of the Nevada State Athletic Commission, who bears some responsibility since he oversaw judges turn in controversial decisions during his tenure, has made mention that simply cleaning house is something he will not consider, or rather is something that is unwarranted.
Dissension among your flank of flunkees will eventually occur, as the need for better judging criteria will need to come into play sooner rather than later.
It seems as if everybody interprets the sport in their own way, with judges hailing from different backgrounds of martial arts, some from boxing and others from karate, jiu jitsu, etc.
Ex-MMA fighters may be the best and the most suitable solution, but it may take more egregiously atrocious decisions down the line before we see an immediate change to take place.
At the very least, throw your judges in a gym and get them acclimated with the grappling aspect of MMA. Just because a wrestler is on top doesn't mean he's the one that makes an effort to finish the fight.
Isn't that the most important aspect of the sport?