Chicago Bulls Should Seek Trade after Richard Hamilton Injury
March 6, 2012

Jonathan Daniel/Getty Images
The Chicago Bulls lost their X-Factor again Monday night.
Richard Hamilton had already missed 24 of the team's 39 contests this season with lingering leg injuries. Chicago acquired Hamilton in the offseason in an effort to match the Miami Heat's scoring output.
Just 90 seconds into the Bulls' much talked about battle with the Indiana Pacers, Hamilton ran into a Roy Hibbert screen and came up clutching at his right shoulder. Defending Paul George on the wing a few seconds later, George swung the ball past, catching Hamilton's shoulder again and the veteran guard was off to the locker room.
With Hamilton injured and Bogans gone, the Bulls are worse than they are last year from a lineup perspective.
Ronnie Brewer is a capable player, a defensive specialist whose offensive game has improved. When Hamilton was playing and Brewer was coming off the bench, his play inspired the vaunted Chicago "bench mob."
When Hamilton went out, Brewer moved into the starting shooting guard position and his play fell off a cliff. He simply isn't a starting-level player. His energy is much better suited to playing off the bench.
With that in mind and a glut of big men on the Chicago roster, a trade for a replacement could be made if the Bulls wanted it.
There are players out there who can at least replace Hamilton's offensive role, but the Bulls acquired Hamilton for his respectable defense and masses of experience, something the other candidates lack.
O.J. Mayo for C.J. Watson, Omer Asik and future pick

O.J. Mayo was touted as perhaps the best fit for Chicago's offensive needs. This trade proposal likely took a hit when Memphis Grizzlies leader Zach Randolph suffered a serious injury early in the season. Mayo's production made him crucial to the team keeping their head above the water. Now that Randolph is close to a return, the shooting guard could be back on the trading block — for the right price.
The Bulls would probably give up a future pick as part of any trade. C.J. Watson would go to play Mayo's position, even though Watson is more of a combo guard.
Whether the Bulls want to give up Taj Gibson or Omer Asik is a mighty debate, but given Boozer's substandard defense, you would want to keep Gibson, a defensive specialist, for when defense becomes a priority.
The issue with giving up Asik is that you are asking Joakim Noah to stay healthy the rest of the season, a big request for a man who has had an injury-filled past 12 months.
All of this would be for a rental given that Mayo's contract is up at the end of the season and the Bulls have a lot of salary sunk into a small number of players.
Anthony Morrow for C.J. Watson and future pick

This trade really depends on Dwight Howard (like just about everyone in the league). If Dwight announces he's staying put, the New Jersey Nets are in trouble with Deron Williams as good as gone. In this case, the Nets will need to rebuild (again, I know) and the best way to do that is with draft picks.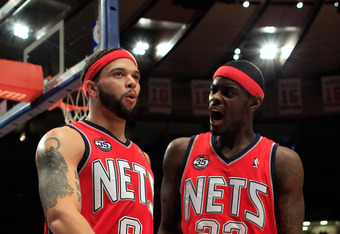 Chris Trotman/Getty Images
Morrow is a great offensive player, one who could fit into the Bulls' system. Watson would have to go in order to make the salaries work out, but the real key here is draft picks. The Nets will want to stack them up as trade bait for better players.
As mentioned above, Dwight Howard's choice of team makes or breaks this particular trade. If he chooses to go to New Jersey, there is no way this happens.
Ray Allen for Watson and pick(s)

The Boston Celtics must rebuild. It's their choice whether they choose to start the process now or in the summer.
Both Kevin Garnett and Ray Allen's contracts expire this summer, so the Celtics could choose to see how much this group has left in the tank and let their salaries come off in the offseason, or try to get some value back in the form of draft picks.
Much like O.J Mayo, this is another rental deal as Allen would probably want to either leave or retire at season's end. Not to mention that his sick daughter is in a Boston hospital, a group who Allen has grown very close to and would likely not want to leave behind. 
Nick Young for Watson and pick

The Washington Wizards may be facing a second rebuild in three years. Incredible.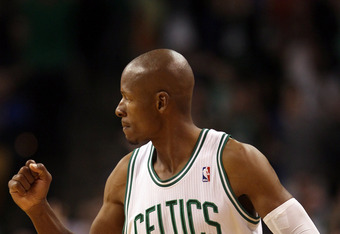 Elsa/Getty Images
This would be the riskiest of all trades. Would anyone else even get a shot with Nick Young on the floor?
The big upside here is that the Bulls would (could?) only make this trade if they are almost certain that Tom Thibodeau and his staff can turn Nick Young into a great player, or at least drag him out of his black-hole of a shooting phase. 
Shannon Brown

Brown hasn't fit in well in Phoenix ever since he arrived from Los Angeles. This is unlikely to happen given the Suns current predicament with Steve Nash and his will-he won't-he stay situation. Nash deserves a shot at a title; Phoenix will not be the place that happens. Nash, however, will probably not leave until the summer, meaning the Suns will want to keep as many trade-worthy assets until they know what their future Hall-of-Fame point guard wants to do with his remaining years.
Conclusion
This is going to be a tough nine days for Chicago, but you can bet that Gar Forman and John Paxson have been on the phones non-stop over the past week or so sounding out any potential upgrades to an already great unit.

It all comes down to whether the Bulls have the guts to pull the trigger on a trade and potentially disrupt a team brimming with confidence this late in the season.