How to Get Your MMA Fix During the Long Break Between UFC Fights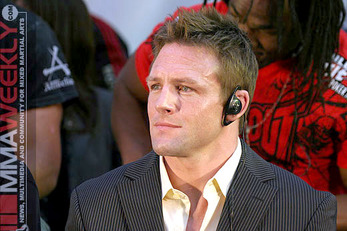 Joe Warren/ MMAWeekly.com
Until April 14, the UFC will not have any events.
With the upcoming seasons of The Ultimate Fighter, with one season airing live in the States and another setting up shop in Brazil, the UFC will have their hands full.
Now, budding promotions will have the opportunity to help fill the void that the UFC will leave behind for well over a month.
Here is how you should be looking to satisfy your hungry MMA appetite.
Begin Slideshow

»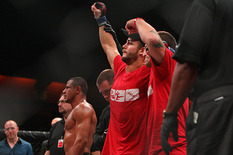 Curran/ Sherdog.com
Bellator is bringing a highly anticipated featherweight affair this Friday, as champion Joe Warren looks to defend his title against surging star Pat Curran.
Curran, a two-time tournament champion, punched his ticket for his shot at the belt when he knocked out former Sengoku champ Marlon Sandro with a vicious head kick last summer.
Now, the Olympic hopeful in Warren will look to bounce back from his own decisive loss to Alexis Vila when he meets Curran.
Will Warren successfully defend his title or will Curran continue his rise and become the new 145-pound champion?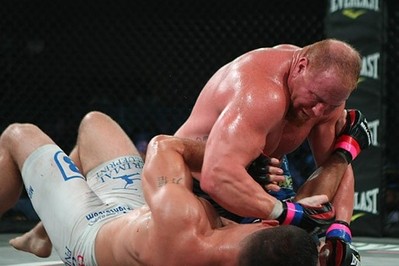 Prindle (top)/ Sherdog.com
Thank goodness for Bellator.
The organization will be hosting a bunch of shows coming up, and on March 16, Bellator will pit two heavyweight sluggers in the cage against each other as Eric Prindle looks to exact revenge against Thiago Santos.
Their initial outing ended in controversy, as Prindle was unable to continue after suffering a vicious low blow handed down by Santos.
The winner will earn the tournament title, $100k in tourney earnings and a shot at champion Cole Konrad.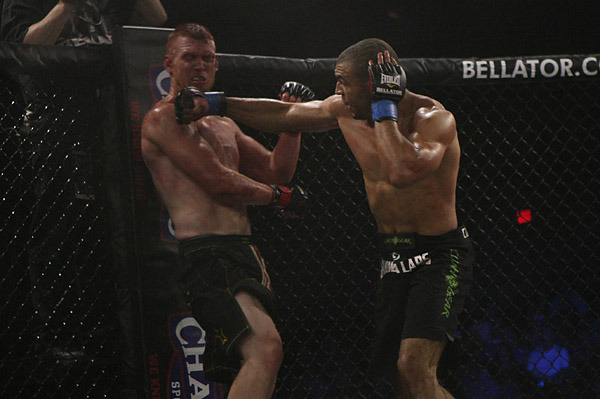 Amoussou (right)/ Keith Mills for Sherdog.com
Bellator's welterweight tournament kicks off March 30 as Dream and Strikeforce veteran Karl Amoussou takes on New Yorker Chris Lozano in the main event of the evening.
Both men are regarded as two heavy-hitters who are consistently aggressive, which should spell fireworks.
Also on the card for the upcoming welterweight tournament, former tourney finalist Bryan Baker will be making his welterweight debut as he takes on Carlos Pereira and UFC vet in Ben Saunders meets with Raul Amaya.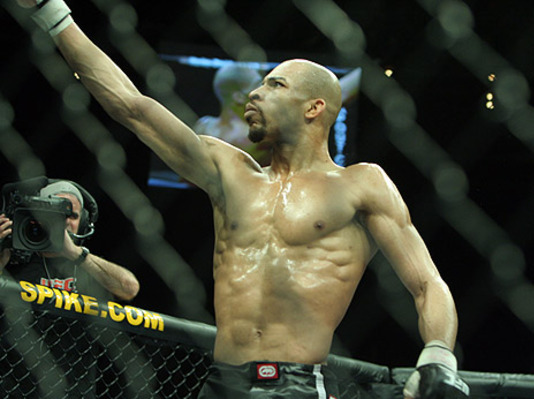 Corey Hill/ Scott Petersen for MMAWeekly.com
A lightweight tilt featuring Bellator veteran Eric Reynolds against the resurgent Luciano dos Santos will take place on April 13 live on HdNet.
However, all eyes will likely be on the co-main event, as UFC veteran Corey Hill looks to tangle with fellow TUF star Charles Blanchard, where the two will meet in a welterweight collision.
Also on the card, the rough and tough Felice Herrig will be taking on Patricia Vidonic in a special female attraction.
Cruz (left) with Faber/ Scott Petersen for MMAWeekly.com
Don't forget, even though the UFC won't be pumping out any big events till this April, you can still get some Octagon action.
This Friday, the UFC will debut its first The Ultimate Fighter to ever grace the FX network.
The initial episode will feature 16 fights over the course of two-and-a-half hours as all entrants look to solidify their spots in the house.
Get used to fighting Fridays, because it's going to be happening every week over the course of the next three months.