North Carolina Basketball: 6 Keys to Tar Heels Winning the 2012 ACC Tournament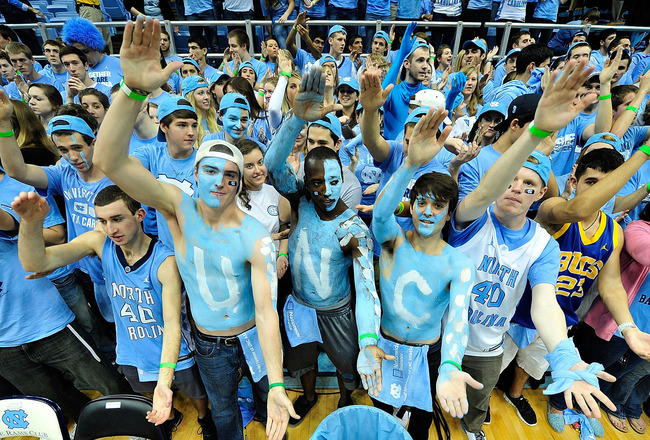 Grant Halverson/Getty Images
For North Carolina to come out of Cameron Indoor Stadium with an 88-70 win over the Duke Blue Devils in the final game of the season, that's big. Perhaps not even as big as the fact it was win-or-bust for the 2012 ACC regular season championship.
Let's not get ahead of ourselves, though. This is the ACC Tournament.
Even if Carolina meets Duke again in the title game, it's no sure bet. We don't have to turn the page back very far to see how similar this ending was just one year ago. In 2011, the same teams played for the regular season title. The Tar Heels came out with an 81-67 win and another title belt—they really should give out belts, by the way.
They followed that up with two close-calls against Miami and Clemson and a miserable 75-58 loss in the ACC Championship—to Duke.
Do you see where I'm going here?
Just because Carolina left their mark on Tobacco Road doesn't mean they won't be pushing daisies in the Jackets' nest. The tournament isn't in friendly Greensboro, NC, this year. It's taking place at Philips Arena in Atlanta, Ga. Fortunately, UNC wouldn't have to face Georgia Tech until a potential championship game.
It was a rough road for the Heels last year, and I don't see it getting easier. There are four teams that I see as legitimate threats to UNC's title hopes in Duke, Florida State, Miami and Virginia. The good news is, three of them are in the other bracket. The bad news is, any of the other seven teams could still beat them on any given day. This is the way of the ACC Tournament.
Defending the Arc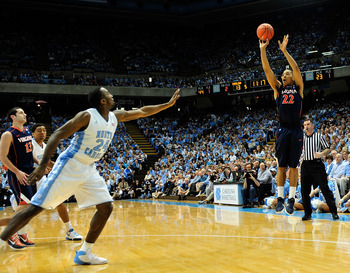 Grant Halverson/Getty Images
When a team can neither defend or shoot the three-ball, it tends to pose a serious problem. I was actually surprised to see—according to The Sports Network—the Tar Heels are fifth in the ACC at defending the arc. But they allow 32 percent of those shots to drop, and that isn't exactly great either.
In losses to Duke, Florida State and UNLV, the Tar Heels defense allowed them room to shoot a combined 41 percent from three-point range. In Carolina's win over Duke, the Blue Devils shot 29 percent from the arc. Admittedly, some of that can be chalked up to poor shooting, and the Heels still have a ways to go.
In that last game, everyone did a stellar job getting around screens and cramping the shooter's space. Kendall Marshall can't play too close because there is no Strickland to back him up if he gets in foul trouble. Stillman White is fundamentally sound, but he's just a little too—well—let's just say he's no Steve Nash and leave it at that.
The Tar Heels absolutely have to do a better job of defending the perimeter in the ACC Tournament. NC State is the best three-point shooting team in Carolina's bracket, knocking them down at a 36 percent clip.
Duke, Virginia Tech and Miami are the top three in the ACC in three-point shooting, but they will be battling it out in the lower bracket. I can almost guarantee the winner from that bracket will be one of the better three-point shooting teams. Those teams are making an average of 7.68 three-pointers per game, while the teams in Carolina's bracket average 5.62 per game.
3-Point Shooting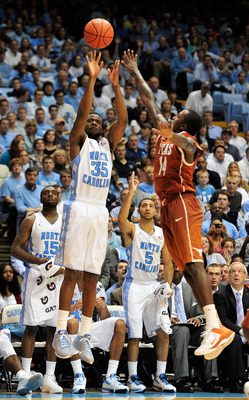 Grant Halverson/Getty Images
While defending the arc is an issue, it's a quicker and more likely fix than knocking them down. North Carolina is fifth in the ACC in three-point percentage, at 35 percent. They are also 11th in the ACC in three-pointers made, with 146. Duke is the leader and has buried nearly 100 more threes this season—ouch.
Aside from the walk-ons, only five Tar Heels have made three-pointers this season. Couple that with everyone in the world knowing Reggie Bullock and Harrison Barnes are the only legitimate threats behind the arc, and you have some trouble brewing.
It has gotten better, though.
Reggie Bullock was hardly a factor through most of Carolina's ACC play. He hit a big slump, and I wasn't sure he would ever dig his way out. In the last six games, Bullock has made nearly 42 percent of his three-point attempts.
Kendall Marshall isn't a big threat behind the arc, but he has been more willing to shoot them over the last couple weeks. Since he went 4-of-5 from that range in the last NC State game, teams are actually defending his shot—they pretty much just let him shoot away before. Even if he doesn't make them, the threat opens holes in the defense.
Barnes is the most legitimate weapon the Tar Heels have from three-point range. He's shooting nearly 40 percent from there.
There's a little bad news, though. Barnes is 1-of-10 in his last three games. However, I don't expect this trend to continue. He is the type of player that can shoot himself out of a slump. Just give Barnes the rock and let him "do what he do."
If UNC gets behind and has to make a comeback, this part of their game can be detrimental to their title hopes.
Free-Throw Shooting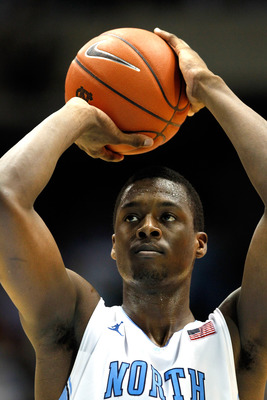 Streeter Lecka/Getty Images
The charity stripe hasn't been very giving to the Tar Heels of North Carolina. They are 11th in the conference, only making 67 percent of their free throws as a team. Carolina spends a lot of time on the line, and they desperately need to make their free throws fall—especially if they are missing out on the three-ball.
There is a light at the end of the tunnel, folks. In the last five games, North Carolina has shot 78 percent from the foul line and 81 percent in the last two. I don't know what flipped that switch, but I'm glad to see the improvement.
John Henson has been notorious for poor free-throw shooting, but he has improved over the last eight games, shooting 72 percent from the stripe. I can live with that from the big man. Henson has a nice stroke, so this may not just be a fluke—one can at least hope.
Tyler Zeller, Reggie Bullock and P.J. Hairston are the only Tar Heels shooting above 80 percent from the foul line on the season. It's important 'Z stays around that mark, as nobody on the team goes to the line more than him.
Barnes is right behind Zeller in attempts and needs to improve upon his 73 percent on the season. It doesn't make much sense when the best shooter on the team can't knock down a free throw.
Bench Scoring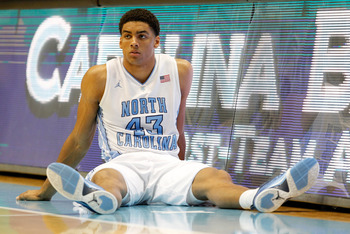 Streeter Lecka/Getty Images
There hasn't been much scoring coming from the Carolina pine. It's rare the bench even breaks into double-digits. The Tar Heels just aren't a deep team—especially after the loss of Dexter Strickland. It's up to James Michael McAdoo and P.J. Hairston to pick up the slack.
Roy Williams was counting on Hairston to knock down some threes off the bench, but it just hasn't happened. He's had a few good games throughout the season, but in his last 10 games, he is 2-of-22 from the three-point line.
It isn't just three-pointers, though. On the season, he is only shooting 31 percent from the floor.
I believe the biggest key to the bench is James Michael McAdoo. McAdoo was a hyped prospect coming out of high school, but he hasn't done a whole lot to impress at the college level. With his lack of experience, he has a tendency to make poor decisions and seems to get blocked at least once per game. The kid is an athlete, though, and showed a lot of potential in the final game of the season.
If McAdoo can stay active—as he was against Duke—and jam home some momentum-inducing put-backs, it will go a long way in making this team better. He needs to be the Taj Gibson of Carolina and provide a huge spark off the bench with his energy and athleticism.
Kendall Marshall Must Stay Aggressive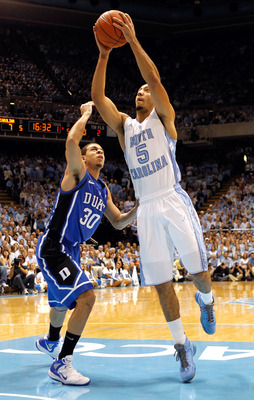 Streeter Lecka/Getty Images
Over the last few weeks, I have pretty much beaten this topic to death. For Carolina to succeed, Kendall Marshall must be aggressive and get in the paint on the regular. More than in any other game this season, he did that against Duke. Look where it got UNC.
Roy Williams basketball is an inside-out game, but you can't just feed the post all night long. That's how Zeller and Henson get double and triple-teamed. Marshall has to get in the lane and draw defenders.
Marshall doesn't overwhelm defenders with his speed, but he has a pretty quick first step and can get by defenders regularly. Now that defenders have to worry about him shooting the three, they actually have to press him a little bit, and that makes it easier for him to get by.
We saw what happens when he can get in the paint on Saturday night at Cameron Indoor Stadium. If he draws defenders, he can wrap a pass around to someone on the inside or kick it out on the wing. If they don't draw in, he does a good job laying it up in traffic or drawing contact. Aggression is key for Marshall and the Heels—and that's why I have beaten the subject to no end.
Keep Up the Pace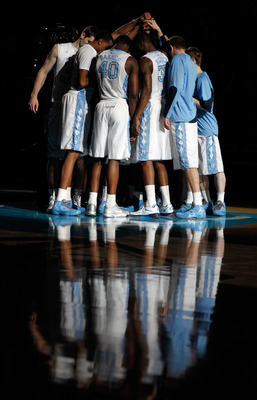 Streeter Lecka/Getty Images
We saw what happened in UNC's first meeting against Duke, and I was having flashbacks late in the second meeting. I understand the strategy of slowing things down to milk the clock, but the Tar Heels just do not play well in a slowed-up halfcourt. When they kept the ball less than 20 seconds, they did pretty well in the halfcourt. When they kept it longer, there was no activity and rarely got off a good shot.
I also noticed that the best aspect of Carolina's game disappeared. The Tar Heels would put up a shot after milking the clock and then run back on defense—nobody stayed to rebound. Again, I also understand that strategy, but you just can't take away the most dominant part of your game in the final minutes for the sake of time.
Sure, the team may be able to get back on defense faster. How many teams can run on Carolina, though? Duke hadn't managed to run the whole game, while Carolina was actually trying to rebound. So why stop rebounding? That's just giving your opponent an extra shot.
And what's more, if the ball hits the rim, the clock resets and UNC is free to do more milking—if they get the rebound.
I'm begging you, Roy, please don't do this! Keep up the pace and just bury teams like it's 2009. More NASCAR, less dairy farm!
For the most part, North Carolina seems to be ironing out their wrinkles as they close in on tourney play. Hopefully, they can build off what they did against Duke and continue to dominate. If they come in with big heads like last year, it could be a short road to their couches.
Keep Reading

UNC Basketball: Like this team?