NBA Rumors: Indiana Pacers Need Chris Kaman's Versatility to Make Playoff Run
March 6, 2012

Jonathan Daniel/Getty Images
The Indiana Pacers are one of the better teams in the Eastern Conference, but they are still a piece short from having a team capable of making a deep playoff run. If they can grab New Orleans Hornets center Chris Kaman at the trade deadline, he will give them an added depth they will need once the playoffs start. 
According to the Pacers notebook on the Indystar.com, the Pacers have $14.5 million in cap space heading into the deadline and are interested in Kaman.
The 35-year-old Foster had surgery on his back, which limited him to only 16 games, during the 2009-10 season. He returned and played in 56 games last season, but this season has been frustrating for Foster.

He's only played in 11 games, none in second game of back-to-backs, this season.

Lou Amundson will continue to be Roy Hibbert's backup at center, but the team's front office is looking at acquiring another big man considering they have $14.5 million in salary cap space and only 13 players under contract.

New Orleans center Chris Kaman is on the Pacers' radar.
The Pacers need Kaman on their roster. He's currently third on the Hornets in scoring averaging 12.2 points per game, first in rebounds averaging eight per game and second in blocks averaging 1.8 per game. 
It looks like backup center Jeff Foster will struggle to get back into the lineup this year. He's still struggling with that back injury that has limited him to only 11 games. Plus, at 35 years-old, his age makes him even more unlikely to maintain a consistent, healthy role on the team.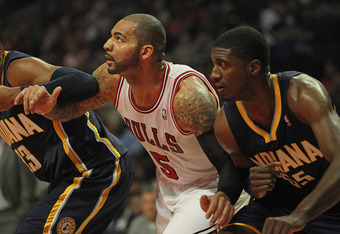 Jonathan Daniel/Getty Images
Roy Hibbert is only in his fourth season with the Pacers; however, he is in the midst of a career high in minutes. The season is shortened, with the span between days off for Hibbert to rest fewer compared to other seasons. 
For the Pacers to make a deep run in the playoffs, they will have to start to decrease Hibbert's minutes to keep him healthy. Adding someone like Kaman will give the team a chance to let Hibbert rest, while not seeing the level of play on the court drop because he isn't in the game. 
The Pacers will make the playoffs, but to move deeper than just the first round, they will need Kaman on their roster.