Philadelphia Eagles: 7 Bold Predictions for Michael Vick's 2012 Season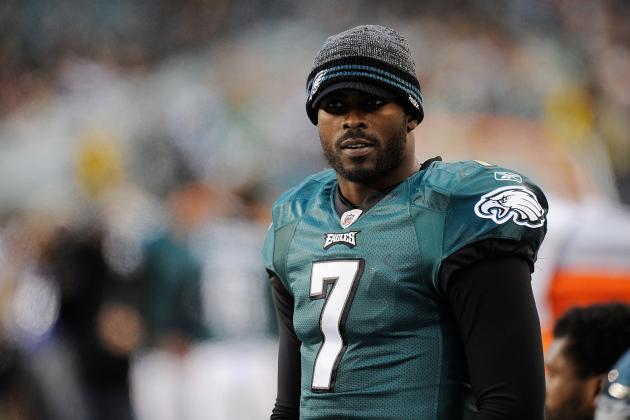 Patrick McDermott/Getty Images

What is Eagles quarterback Michael Vick going to do in 2012?
How will he handle the pressure from the passionate Philadelphia fans?
It is gut-check time for Michael Vick. Quite frankly, it's gut-check time for the Eagles organization because if the Eagles do not live up to expectations, changes could be made.
Vick has the luxury and the burden of signing a $100 million contract before last season. He didn't live up to the money in 2011. He played in 13 games, including being knocked out of the one against the Atlanta Falcons, which means another season goes by without Vick playing a full regular season.
The coach that took a chance on him out of prison, Andy Reid,is facing his contract being up in 2013, meaning that if the Eagles don't fulfill the expectations of the owner and the fans, 2012 could be his last season as they would likely not want to bring back a lame duck coach.
No Reid could mean no job for Vick. So what will Vick do in 2012?
Begin Slideshow

»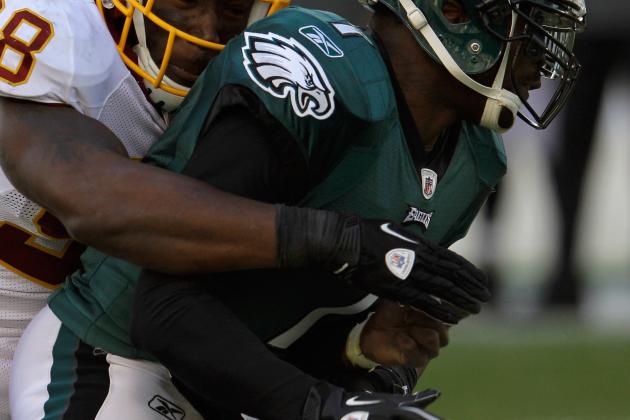 Rob Carr/Getty Images

This will be music to Eagles fans' ears. Yes, I feel Vick will play in all 16 games for the first time since 2006, his last season with the Atlanta Falcons.
The common perception is that it is a fact of football that he will not make it. That's what makes me believe that he will.
I believe he has had enough of missing, and he saw what it did to a talented team in the Eagles—it hurt them.
His offensive line improved during the last four games of the season so they can keep him upright.
So we know that Vick will be on the field for all 16 regular season games, but what will do while he's on the field?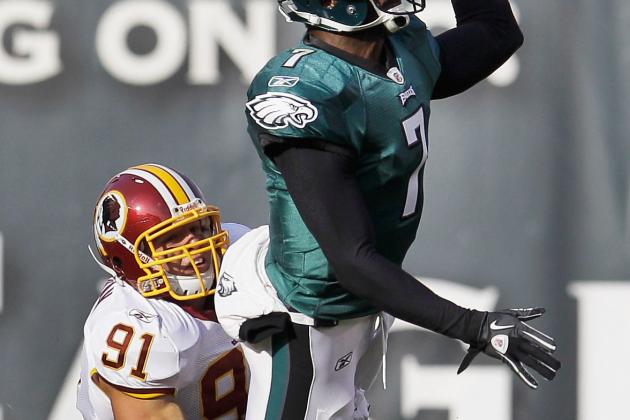 Rob Carr/Getty Images

Vick will have to do this if he is even thinking about playing in all 16 games in 2012.
Vick has even admitted in the past that he is not very fond of sliding and came to terms that he has to after getting hurt again last season.
He's not the biggest guy in the world at barely 6' tall and is listed at 215 pounds, and that's probably generous.
Eagles fans don't care how he does it as long as it happens. If he has to go to spring training with the Phillies to learn, then so be it.
If he wants to not only play in 16 games this season, but also extend his career, he has to avoid big hits when he breaks out of the pocket.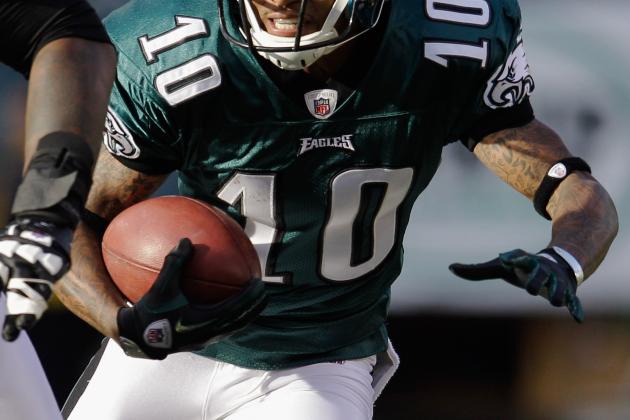 Rob Carr/Getty Images

This, of course, hinges on whether DeSean Jackson remains an Eagle in 2012.
If he does, expect him and Vick to get back on the same page, similar to where they were in 2010.
I believe that Jackson will have a renewed focus despite being hit with the franchise tag.
If the Eagles have a healthy Vick and focused Jackson, it could spell trouble for defenses on their schedule in 2012.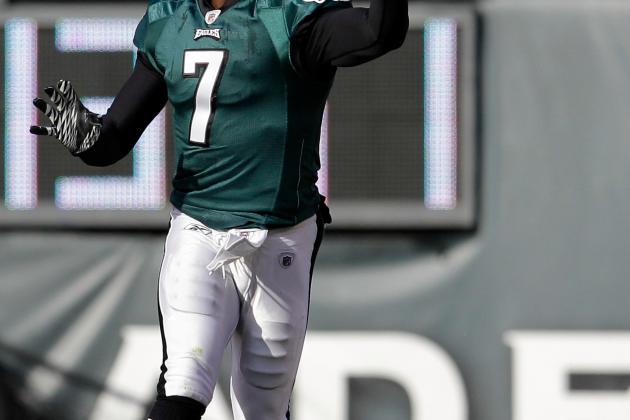 Rob Carr/Getty Images

It's crazy to think that this will be a bold prediction in today's NFL, but with Vick it is.
His career-high for touchdowns is 21, and that came in 2010. In 2011, he threw only 18.
The longer Vick stays, the more chances he gets to throw 25 touchdowns. It's that simple.
Plus, in today's NFL, 25 touchdowns are a bit of a norm. It used to be almost like a benchmark for quarterbacks, but now 25 touchdowns may not even get you into the Pro Bowl.
With most quarterbacks throwing 30 nowadays, 25 shouldn't be too much to ask for by the Philadelphia fans, but stranger things have happened to the Eagles.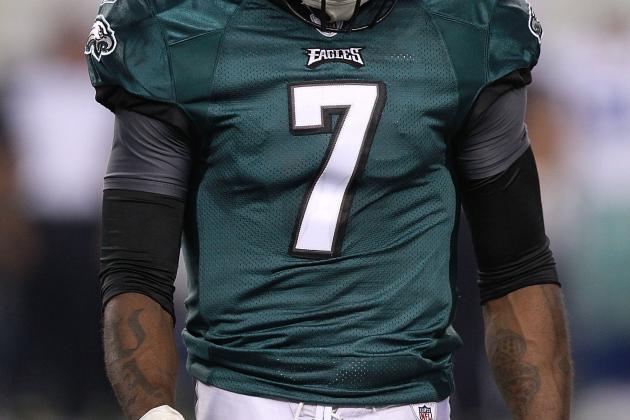 Ronald Martinez/Getty Images

Vick was never known as a quarterback that turned the ball over a ton, but he did his fair share in 2011.
In 2011, he threw career-high 14 interceptions in only 13 games. That's an average of at least one interception every game.
He threw at least one interception in all but two games he played in and threw four against the Buffalo Bills in Week 5.
Obviously, the less he turns it over, the better chance the Eagles have to win.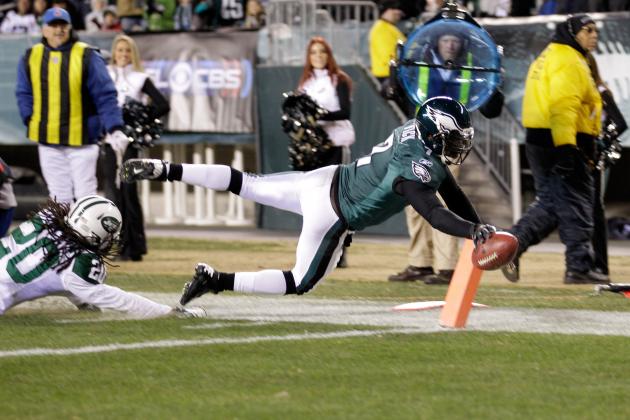 Rob Carr/Getty Images

I realize I spent this entire time saying that Vick has to stay healthy and slide, but that doesn't mean he shouldn't run when the time calls.
I don't know why the Eagles didn't do more of this last season, but having Vick run some bootlegs down inside the red zone will help him reach this plateau.
The bootlegs could make up for the lack of a big red zone passing threat the Eagles currently lack.
Ten rushing touchdowns isn't as ridiculous a number as it sounds. Cam Newton had more than 10 last season. Vick's career-high was nine in 2010.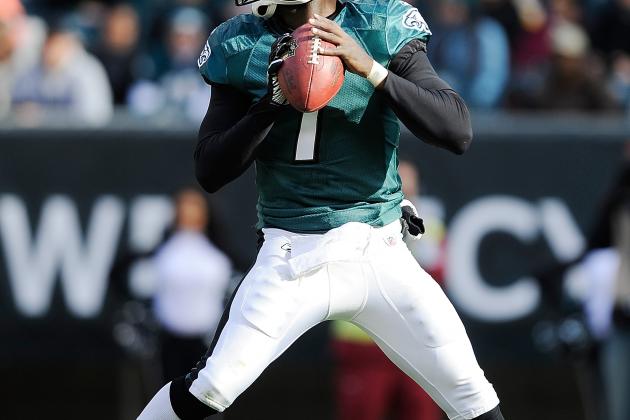 Patrick McDermott/Getty Images

This may not sound all that bold for other quarterbacks, but for Vick it is.
Completing more than 60 percent of his passes is something that Vick has only done once in his career. To no surprise it was 2010.
Most winning teams have quarterbacks that complete nearly 70 percent of their passes, which keeps them out of 3rd-and-long situations.
Vick improved his accuracy in 2010, but took a step back in 2011.
If he can get above 60 percent and stay there at a consistent rate, the Eagles could be headed back to the playoffs in 2012.