20 UFC Questions That Will Be Answered by the Summer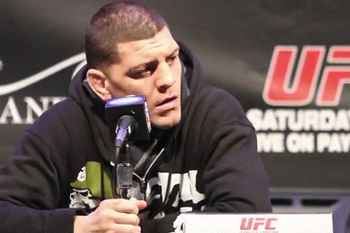 Nick Diaz/ MMAWeekly.com
The UFC, the premier platform for everything mixed martial arts, has seen its success double in 2011, breaking records and setting up new platforms all around the world.
Under their regime, the organization has been able to assemble some of the world's best fighters under one roof, taking in fighters from rivaling promotions as well as creating some in-house talent over the years.
Now, this summer, the UFC will look to continue their impressive stretch of exciting battles where many questions will now have some answers.
Nick Diaz/ MMAWeekly.com
Will Edgar Move to 145?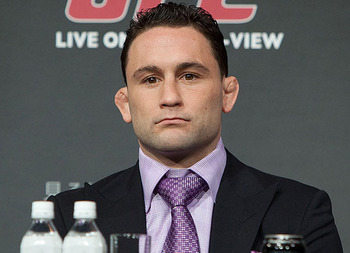 Edgar/ MMAWeekly.com
UFC President Dana White has been vehement about his feeling about former champion Frankie Edgar. A relatively small lightweight, White has suggested time and time again that Edgar should make the move to some more comfortable surroundings at 145-pounds. Will Edgar comply?
Edgar vs. Henderson II?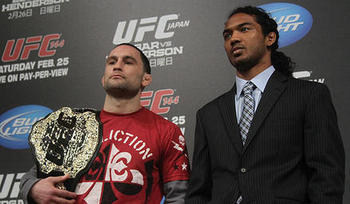 Edgar (left) with Henderson/ Scott Petersen for MMAWeekly.com
After a controversial decision was handed down at the Saitama Super Arena a few weeks ago, the lightweight division has been in disarray.
Undoubtedly, Edgar deserves a rematch with the newly minted champion Benson Henderson, but will he get it?
Is Pettis Next Up?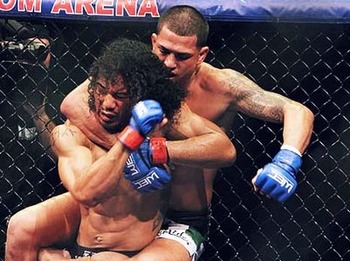 Pettis (right) back mounting Henderson/ Scott Petersen for MMAWeekly.com
The same night Henderson dethroned Edgar for the belt, a familiar foe in Anthony Pettis was equally, if not more, impressive.
"Showtime" used a headkick to end the night of the always-tough Joe Lauzon, recording the "Knockout of the Night" in the process.
There have been some rumblings that Pettis could be next up to bat for a shot at the UFC title, but will he actually get it?
Will Silva Remain Undefeated?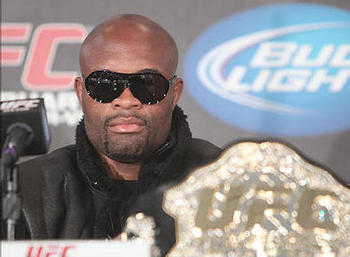 Silva/ Ken Pishna for MMAWeekly.com
Anderson Silva, the long reigning pound-for-pound best in the sport, will be taking on arguably his toughest rival as he meets with Chael Sonnen in a highly anticipated rematch.
Wrestlers have always given Silva trouble and Sonnen gave Silva cause for concern in their initial endeavor, albeit losing via submission in the waning moments of the fight.
Will Silva go 15-0 this summer or finally put an "L" on his pristine UFC record?
Will Sonnen Exact Revenge?
In one of the most talked about rematches in UFC history, Sonnen will finally have his chance to exact revenge when he takes on bitter rival Anderson Silva.
Will Sonnen perform up to par with their last outing, save for the late submission rally?
Will Alistair Overeem Become the New Champ?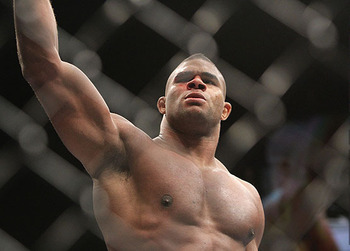 Alistair Overeem/ Scott Petersen for MMAWeekly.com
Former K-1 World Grand Prix champion Alistair Overeem made an emphatic UFC debut, TKO'ing former champion Brock Lesnar in the first round of their December tilt.
Now, Overeem is next in line for a shot at the heavyweight title, to which Brazilian banger Junior dos Santos currently holds.
Can Overeem best Dos Santos, who has been undefeated so far in the UFC.
Will Sonnen Survive in Brazil?
Silva vs. Sonnen II is currently rumored to take place in Brazil, most likely on a big stage where many fans will look to stockpile a prestigious venue.
Needless to say, some of Sonnen's more disparaging comments over the last couple of years against Silva, the Nogueira brothers and Brazilians in general may not rub some of the countryman the right way.
Can Faber Take the Belt?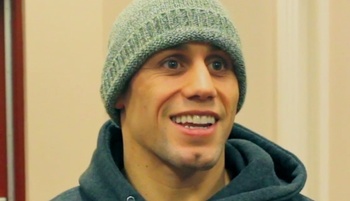 Faber/ Erik Fontanez for MMAWeekly.com
Former featherweight kingpin Urijah Faber will have plenty of time to become more acquainted with bantamweight champion Dominick Cruz, as the two will serve as coaches for the upcoming season of The Ultimate Fighter.
Both Cruz and Faber have split wins between each other, with "The Dominator" edging the Team Alpha Male star in their last outing in a rousing "Fight of the Year" candidate last July.
Can Faber turn the tides and defeat Cruz, who is currently riding a 10-fight, four-year unbeaten streak.
Will Maia Go to 170?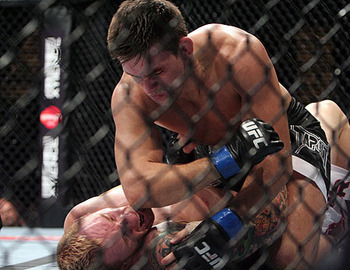 Maia (top)/ MMAWeekly.com
In his last few outings as a middleweight, Demian Maia has looked only a shell of a man he used to be.
The submission whiz dynamo has looked sluggish and lethargic in some of his last few bouts, particularly his most recent fight against the surging Chris Weidman, who served as a late replacement for Michael Bisping at UFC on FOX 2.
Maia has discussed the move to welterweight in the past and it may serve as proper motivation for the Brazilian to get back on track.
Will Lesnar Return?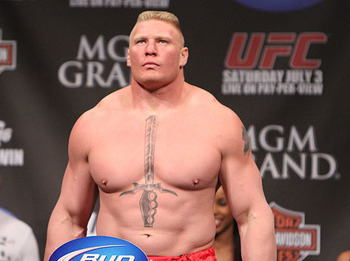 Lesnar/ Scott Petersen for MMAWeekly.com
Hey, we've seen crazier things have happened.
Former UFC heavyweight champion Brock Lesnar exited the sport on the heels of two decisive losses to Cain Velasquez and Alistair Overeem.
Will Lesnar make a return to the sport in the near future? Obviously, the UFC benefits from having the ex-WWE star around, but does Lesnar need the UFC as much as they need him?
Is Hioki Next Up?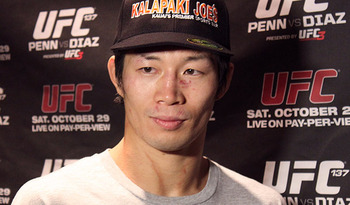 Hioki/ Ken Pishna for MMAWeekly.com
As far as challengers are concerned, there just aren't that many left for featherweight champion Jose Aldo.
Save for a blockbuster battle with Edgar, should he drop to 145-pounds, who else is left?
Well, here we have a Japanese star who has finally showcased his skills in Hatsu Hioki.
After a lackluster performance against George Roop in his UFC debut, Hioki was able to show the kind of grappling acumen he possesses, by grinding out an impressive decision win against the wily Bart Palaszewski.
Regarded as the second-best at featherweight, will Hioki be up next for Aldo?
Is Akiyama Done in the UFC?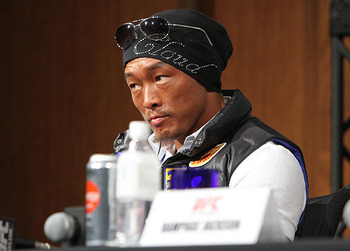 Akiyama/ Scott Petersen for MMAWeekly.com
Former K-1 Heroes champion Yoshihiro Akiyama was looking to breathe some new life into his UFC career by dropping down to the welterweight class.
After going 1-3 as a middleweight, Akiyama looked crisp and fresh in his outing against former Strikeforce champ Jake Shields, though the grappling acumen of the Californian took over in the waning moments of the fight, cinching Shields the contentious decision win.
Now having lost four straight, does Akiyama deserve another second chance in the UFC?
Poirier vs. Jung Next for Aldo?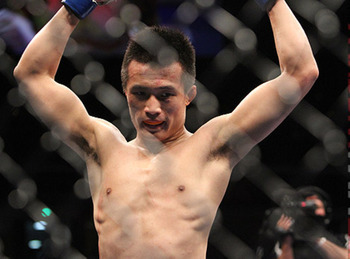 Jung/ MMAWeekly.com
A featherweight tilt pitting two of the UFC's fast rising contenders will come to a head later this year, as Dustin Poirier takes on fan favorite Chan Sung Jung.
Both men have looked impressive as of late, but will a win solidify their standings in the title mix, warranting the winner a shot against champion Jose Aldo?
Condit vs. GSP?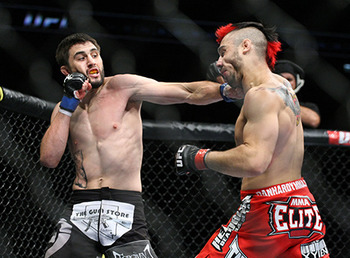 Condit (left)/ Lee Whitehead for MMAWeekly.com
Pending on champion Georges St-Pierre's mending injury, Carlos Condit will have to make some tough choices pretty soon.
Will the interim champ wait for St-Pierre's anticipated return in order to unify the titles, or will he look to defend the crown against a budding contender in the division?
Only time will tell.
Can Hardy Mount a Comeback?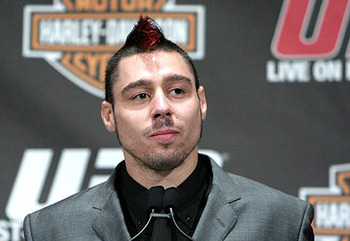 Hardy/ Jeff Cain for MMAWeekly.com
Not too many people can survive a three-fight skid in the UFC, let alone a four-fight slide.
However, Dan Hardy has proven to be part cat, as the Brit has been able to survive the less-than-stellar run and will have a chance to mount a comeback when he takes on heavy-hitter Duane Ludwig later this year.
Can Hardy bounce back?
Will Diaz Be Spared?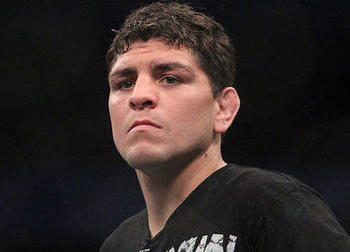 Diaz/ Ken Pishna for MMAWeekly.com
After losing a controversial decision to Carlos Condit this past February, Nick Diaz had tested positive for THC metabolites in a post-fight drug screening.
Currently, Diaz is serving a temporary suspension before he takes the stand before the Nevada State Athletic Commission where he will be handed down the final verdict.
Since the bout with Condit, Diaz has hired an attorney that specializes in cases involving marijuana and granted the fact that the Stockton native has a medicinal license in California, can he be spared before the commission?
Will Rampage Retire?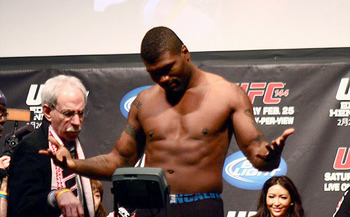 Jackson/ Laron Zaugg for MMAWeekly.com
Following his most recent loss against Ryan Bader, many have speculated that Quinton Jackson could be done with the MMA game altogether.
Well, according to Jackson, those sentiments might have some truth behind it.
He may not be done with the fight game in general, but it sure looks like Jackson isn't too happy with the UFC and looks to complete his contract and leave.
What a surprise.
Shogun vs. Rampage II?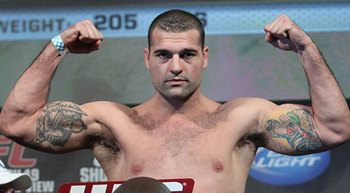 Shogun/ Ken Pishna for MMAWeekly.com
Should Jackson look to exit the UFC relatively soon, will we finally get to see a Mauricio Rua rematch in the near future?
The fight looked like it could have been the perfect fit for the organization's initial return to Japan at UFC 144, though the UFC opted to pit Jackson against the aforementioned Ryan Bader.
Before Jackson calls it quits, will we get to see Shogun vs. Rampage II?
Tito vs. Griffin III? Final Fight for Both?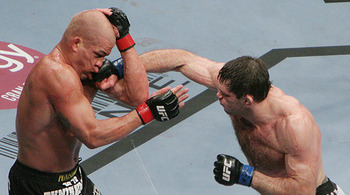 Ortiz (left) with Griffin/ Ken Pishna for MMAWeekly.com
We've heard rumbling as of late that the fight is looking to be materialized but nothing has been solidified as of yet.
Both Forrest Griffin and Tito Ortiz, former UFC light heavyweight champions, have had a cordial rivalry brewing since 2006 where "The Huntington Beach Bad Boy" edged Griffin with a controversial split-decision win.
Griffin responded in kind, taking home a split-decision of his own in their inevitable rematch in November of 2009.
With both men having contemplated retirement as of late, can this be their final endeavor?
Will Silva Retire?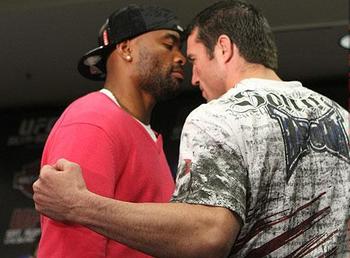 Silva (left) with Sonnen/ Scott Petersen for MMAWeekly.com
Outside of his rematch with Sonnen, what's left for Anderson Silva to accomplish at 185-pounds?
The middleweight great has failed to lose inside the Octagon and refuses to move up to the light heavyweight division.
Open and honest, Silva has discussed his own age in great detail, insinuating that at 36 years old, his recovery time and mounting injuries have proven detrimental to his career.
Could this be the last we see Silva come this summer?
Keep Reading