NBA Trade Rumors: Under-the-Radar Rumors That Will Surprise NBA Fans
March 6, 2012

Harry How/Getty Images
Pau Gasol, Rajon Rondo and Dwight Howard are the most notable names being thrown around in NBA trade rumors before the March 15 deadline, but there is a strong chance that not a single one of the three stars gets moved.
There are several players on the block who aren't drawing the same attention, but a lesser move can be one that makes or breaks a team on the brink of postseason contention.
Let's take a look at some of the smaller items around the league and how they could impact the larger landscape.
Jamal Crawford linked to Minnesota Timberwolves
When Crawford signed a two-year, $10 million deal with the Portland Trail Blazers in the offseason, many were left wondering exactly what type of role he would have.
Despite overtures from LaMarcus Aldridge to get Crawford to join the fold, his addition hasn't exactly worked out as expected, and Portland's hot start hasn't translated to sustained success.
With the overwhelming belief that Crawford will opt out of his contract after the season (the second year is a player option) in order to retest the market, it makes a lot of sense that the Blazers would begin to shop him in the hopes of garnering future assets.
The Timberwolves made a push to sign the veteran shooting guard before the season began, and the team is now once again looking to acquire him prior to the deadline.
With a gaping hole at shooting guard, Crawford would really fit nicely as a shooter who is capable of stretching the floor. He'd have the opportunity to flourish alongside Ricky Rubio and Kevin Love.
Oklahoma City thinking about making a trade?
This Thunder team isn't one that needs much tinkering before the postseason push.
Based around the production of Kevin Durant, Russell Westbrook, James Harden and Serge Ibaka, general manager Sam Presti has done a phenomenal job of building a strong core.
However, if Thabo Sefolosha's foot injury is worse than initially believed, Oklahoma City could be in the market for a "defensive-minded" guard in the similar mold of Sefolosha.
For teams that need size, a player like Cole Aldrich, who is seldom used by Scott Brooks, could draw significant interest considering he's signed through the 2012-13 season.
Golden State Warriors like Joe Johnson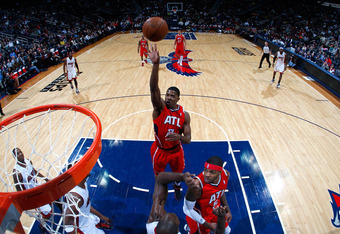 Kevin C. Cox/Getty Images
How or why any team would trade for Johnson and his unbelievably awful contract is beyond logical comprehension, but the Golden State front office has surprised us all before.
The Warriors "think" Johnson could be obtained in a trade, but it's difficult to understand the logic behind the potential move.
Johnson has a ludicrous amount of money left on his current deal and is slated to make more than $20 million per season from 2013-16.
With harsher luxury tax penalties for those teams that exceed the soft salary cap under the new collective bargaining agreement, acquiring Johnson would leave the Warriors with very little long-term financial flexibility.
With Andris Biedrins' bad deal already on the books and David Lee on a whopper of a deal as well, Johnson just doesn't make sense for Golden State.
J.J. Hickson available
Hickson has been an afterthought in the Sacramento rotation this season after the Kings picked him up in exchange for Omri Casspi before the lockout. It's not a surprise to learn that he is available.
ESPN's Marc Stein reports that Hickson is being shopped "hard," but with his underwhelming performance this season paired with the fact that he'll be a restricted free agent at season's end, there may not be strong interest in the power forward around the league.
Still just 23 years old, Hickson has impressive athleticism and would really benefit from a change of scenery that results in him receiving consistent playing time.
Hickson averaged 16.9 points and 10.8 rebounds in 26 games after the All-Star break during the 2010-11 season. That talent hasn't just evaporated into thin air.
Trevor Ariza, Jarrett Jack could be on the move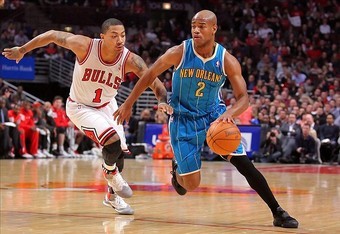 It's not a secret that any veteran in New Orleans could be had for the right price, but the league-operated Hornets continue to place a premium price tag on their players.
Both Jack and Ariza "could be had," but it's highly unlikely any team would be willing to give up an unprotected first-round pick while not sending back any salary in a deal.
Ariza will earn nearly $15 million from 2012-2014, and while Jack's 2012-13 salary of under $6 million is not a huge burden to an interested team, the Hornets would be wise to retain him through the deadline and attempt to garner more for his services in the offseason.
There just aren't many teams looking to meet the lofty requests for either player.
Bulls listening on C.J. Watson 
Watson has been incredibly impressive when stepping into a starting role for Derrick Rose this season.
In eight games in the starting five, Watson has averaged 13.6 points, 4.9 assists and 1.5 steals.
While those numbers might not be eye-popping to some, Watson has looked very capable of facilitating the offense and could appeal to several teams looking to add a point guard.
Chicago will reportedly listen to offers on Watson, which makes some sense depending on the potential return from another club.
With a team option for just $3.7 million in 2012-13, it's easy to see why he'd elicit interest from other teams around the league.