The Big East Should Not Have 10 Teams in the 2012 NCAA Tourney
March 6, 2012

Elsa/Getty Images
Jerry Palm is his name; bracketology is his game.
Palm, of CBS Sports, has already predicted the entire field for the 2012 NCAA Tournament. However, he will make revisions as Championship Week progresses.
But, as of today, he has 10 teams from the Big East making it into the Tournament.
The top seven teams in the regular season conference standings—Syracuse, Marquette, Notre Dame, Georgetown, Cincinnati, South Florida, Louisville—deserve to be selected.
The three teams that should right now be left out of this year's Big Dance are the next three—West Virginia, Seton Hall and UConn.
Sure, it messes with my basketball brain to think that UConn would not be in this year's tournament.
They would be the seventh team in NCAA history to win the championship one year, but not qualify the next. The others are:
Kentucky (1979)
Michigan State (1980)
Louisville (1987)
Kansas (1989)
Florida (2008)
North Carolina (2010)
On top of that, the Huskies have made 17 NCAA Tournament appearances under Jim Calhoun, including 3 NCAA Championships (1999, 2004, 2011).
Out of the last nineteen years, Bob Huggins' teams at Cincinnati, K-State and West Virginia have made it to the NCAA Tournament 18 times.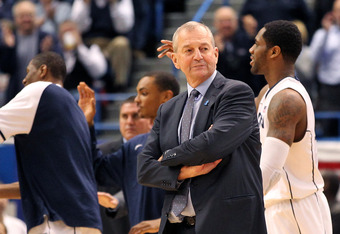 Jim Rogash/Getty Images
What I have to keep telling myself is that these schools' and these coaches' long-term success should not be the primary reason they get selected in 2011-12.
Last year, the Big East had 11 (count 'em, 11!) teams in the NCAA Tournament.
Marquette was the No. 11 team in the conference standings. The Golden Eagles finished the regular season with a 18-13 record, going 9-9 in league play.
In the last ten games of their conference slate, Buzz Williams' squad went 5-5.
That's not great, but at least MU was playing .500 ball in both conference play for the year and over their last 10 games of the regular season.
West Virginia, Seton Hall and UConn all have something in common—each of them were, at one point of the 2011-12 season, putting together a solid post-season resume.
On Jan. 21, West Virginia was riding high with a 15-5 record (5-2 in conference play). Since then, the Mountaineers are 4-7.
Seton Hall, on Jan. 10, was an impressive 15-2 (4-1 in conference play). Since then, the Pirates are 4-9.
The Huskies entered 2012 with a 12-2 record and were ranked No. 8 in the ESPN/USA Today Coaches Poll having won their first two league games. Since then, UConn has gone 6-10. They have only won back-to-back games once during this substandard stretch.
All three of the teams in question have the opportunity to redeem themselves by having great runs in the Big East Tournament, which starts today.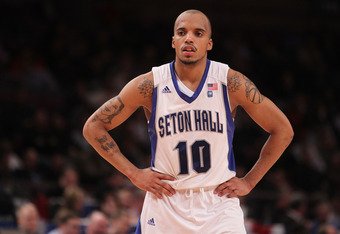 Nick Laham/Getty Images
UConn opens the action at Madison Square Garden against last-place DePaul at noon.
If they win, then they will face West Virginia in the second round.
So, one of these two teams is not going to get improve their current situation very much.
Seton Hall opens against Providence, and then the winner goes up against Louisville.
Any of these three teams that gets deep in the Big East tournament can win their way in to being selected on Sunday.
But, none of these three teams should be given a free pass into the Big Dance yet.