Rajon Rondo Trade Rumors: What Expert's Are Saying About Future with Celtics
March 6, 2012

Is Rajon Rondo's long-term future in Boston with the Celtics?
With trade rumors swirling vigorously around him since before the 2011-12 regular season began, Rondo has been the popular subject of discussion as the March 15 trade deadline creeps closer.
Some are convinced that Rondo won't be moved this season, while others believe there is a strong chance he's dealt by general manager Danny Ainge within the next 10 days.
So what's the real deal?
ESPN's Chris Broussard reports that Rondo is being shopped "aggressively," citing a problematic relationship with coach Doc Rivers as a motivating factor.
"Boston is aggressively shopping Rondo, according to sources," Broussard writes. "The Celtics find Rondo's personality to be too high-maintenance and his clashes with coach Doc Rivers continue."
However, if the Celtics are shopping Rondo, it comes without the knowledge of Rivers. Via Jackie MacMullan of ESPN Boston:
"My relationship with Rajon is as strong as it has ever been," (Rivers) said. "Our communication has never been better. I want him here. I can say with almost 100 percent certainty he will be here with us when the season ends. I'm tired of this stuff. It's not fair."
Ainge also provided a fairly emphatic stance on Rondo's future with the team: "He's our best player, he's the most important part of our future. There's no way we're actively trying to trade Rondo. That makes no sense, no logical sense."
Obviously Ainge won't reveal his true plans in a quote to the media about how he intends to go about constructing the Celtics roster, but he's right in saying that Rondo is their best player.
At just 26 years old and playing under an unbelievably valuable contract, Rondo has evolved into an incredible point guard and a legitimate player to build around going forward.
Despite all of the denial coming from both Rivers and Ainge, the belief that Rondo is on the block and could be dealt continues to persist.
Mark Murphy of the Boston Herald has sources who aren't buying the support for Rondo coming from the front office.
"There are irreconcilable differences between him and the team, and it's been that way for a couple of years," the source said, citing Rondo's well-documented stubborn streak. "His value around the league has taken a hit. He's not exactly the Chamber of Commerce's man of the year."
The term "irreconcilable differences" is an incredibly strong one to use.
There were some rumblings that Rondo was unhappy last season when the Celtics dealt away his good friend Kendrick Perkins to Oklahoma City. There is very clearly a split opinion as to where the team stands with Rondo.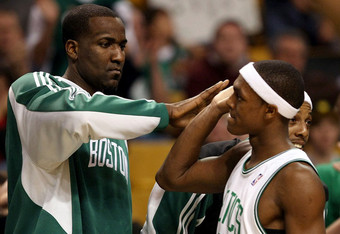 Teammate Kevin Garnett believes the trade rumors are motivating Rondo.
"The trade talks really is a good motivating factor for him," Garnett said. "If you know Rondo, he's an I'll-show-you type of person."
Rondo has started the month of March in unbelievable fashion. Averaging a gaudy 16 points, 9.5 rebounds, 16.5 assists and 3.0 steals per game, the point guard is showing everybody why he's such a sought-after commodity.
While nobody can be 100 percent sure where Rondo will be once the trade deadline comes to pass, almost everybody is asking the same question.
Why would Ainge want to trade a player this good who has already accomplished so much during his brief career?
Rondo is a special talent, and it's about time the Celtics started treating him as an asset to the team rather than a potential trade chip at the negotiating table.