NFL Draft 2012: 8 WRs the San Francisco 49ers Should Be Excited About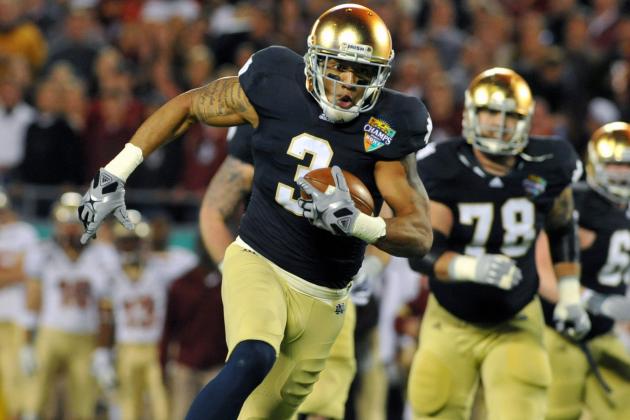 Al Messerschmidt/Getty Images

The San Francisco 49ers need to hunt for a No. 1 wide receiver in the 2012 NFL Draft. This became apparent after Alex Smith only completed one pass to a receiver (Michael Crabtree) in the NFC Championship game.
With Crabtree, Vernon Davis and Kyle Williams as his top targets, Smith was able to have his most productive season since entering the league in 2005.
If the 49ers are able to re-sign Josh Morgan (San Francisco's leader in receptions before suffering a season ending injury Week 5), the offense will have adequate depth at the receiver position.
Still, they are missing a true No. 1 target.
The 49ers should be excited for the NFL Draft. Each round presents the opportunity to find the player they have lacked since losing Terrell Owens: an intimidating wide receiver defenders hate playing against.
This slide show will highlight eight wide receivers who can take the 49ers' offense to the next level.
Begin Slideshow

»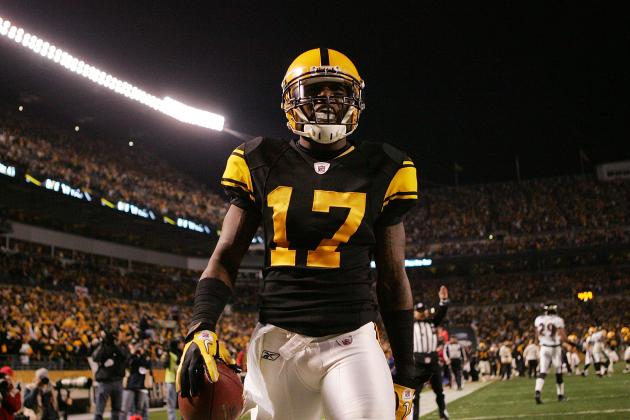 Jared Wickerham/Getty Images
Mike Wallace #17
In the last week, DeSean Jackson, Dwayne Bowe, Wes Welker and Steve Johnson all made deals to return to their respective clubs. That leaves Vincent Jackson, Mike Wallace and Marques Colston as the remaining elite free agent receivers.
While all these players would be an instant upgrade, they will come at a steep price. For this reason, the 49ers will search for their future star in the draft.
How San Francisco goes about getting that player depends on the future of their own free agent wide receivers.
Josh Morgan, Ted Ginn Jr. and Brett Swain are all hoping for renewed contracts this offseason.
Morgan is a reliable receiver but lacks a wow factor. Both he and the 49ers have said that they would like to reach a deal. His loss would not be devastating, but it would leave a serious hole in the roster.
Ginn is nothing more than a return specialist. Whether or not he is re-signed depends on how much money he demands. As long as he stays reasonable he'll be back.
Swain is a special-teamer who was picked up following Morgan's injury. He is a low-priority free agent.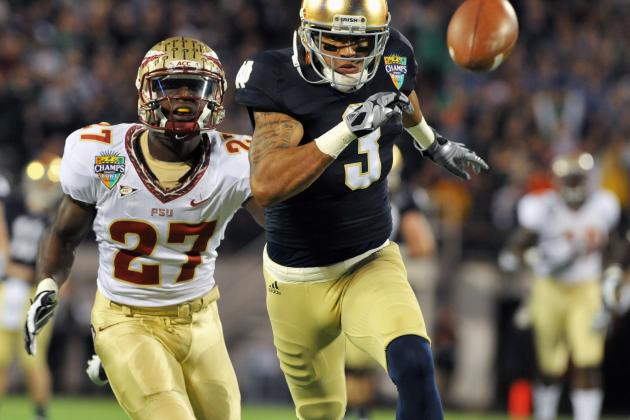 Al Messerschmidt/Getty Images
Michael Floyd #3
The 49ers will probably not be able to draft Michael Floyd with the 30th overall pick in the first round. However, he is an elite player that fills a big enough need to warrant a trade.
If San Francisco feels comfortable with the rest of their team headed into the draft, they could decide to trade up to get Floyd; whether that means losing picks or players.
At 6'3" and 220 pounds Floyd plays like Terrell Owens. He is big, fast, has good hands and is exceptional running after the catch. He wins more jump balls than not and will give Alex Smith the target he needs to continue his development.
Of all the wide receiver prospects in this year's draft, Floyd is the best fit for the 49ers' offense. If Harbaugh can get his hands on the guy, 2012 is Super Bowl-or-bust.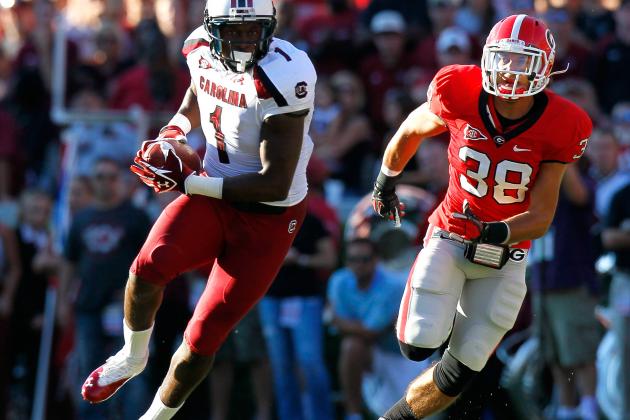 Kevin C. Cox/Getty Images
Alshon Jeffery #1
Alshon Jeffery is everything Jim Harbaugh wants in a receiver. At 6'3" and (a lighter than expected) 216 pounds, he will be a starter from day one.
Alex Smith will benefit from having a large, sure-handed target that can win jump balls.
Jeffery does not have the same deep speed and explosiveness as Michael Floyd, but his wide shoulders make it hard for defenders to get between him and the ball without committing a penalty.
Jeffery did not run any drills at the NFL Combine so his draft stock depends on his Pro Day performance. If he runs above a 4.55 second 40-yard dash, he should be available with the 30th pick in the first round.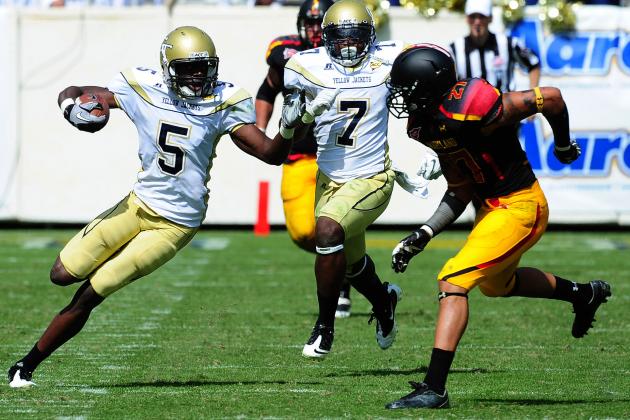 Scott Cunningham/Getty Images
Stephen Hill #5
If only Al Davis was alive to see this guy.
After running a 4.36 second 40-yard dash, Stephen Hill earned himself first round consideration.
He was essentially an unknown prospect prior to the draft. Of course playing in Georgia Tech's run-heavy offense did not help.
Despite catching only 28 passes last season, Hill scored five touchdowns and maintained an incredible 29.3 yards per catch.
Nothing is really certain about Hill other than the fact that he has a load of potential. However, because he is unproven, teams will not know if they are getting the next Randy Moss or Malcolm Floyd.
The 49ers will have an interesting decision to make if he is still on the board in the first round. Hill is only 20-years old and is still two or three seasons away from maxing out his potential.
He is not the polished receiver the 49ers want to bring in, but his physical gifts cannot be overlooked.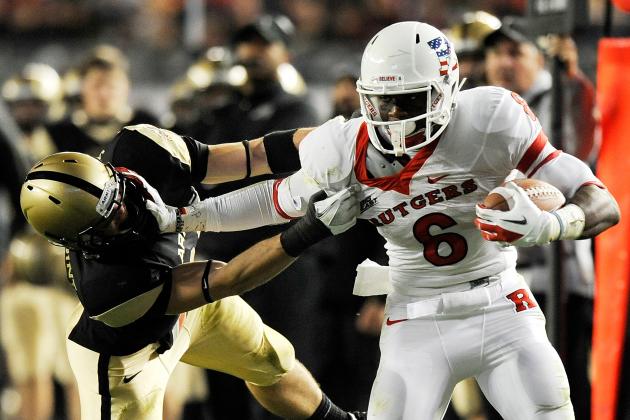 Patrick McDermott/Getty Images
Mohamed Sanu #6
Mohamed Sanu will likely fall into the middle of the second round after he was unable to stand out at the NFL Combine.
At 6'2" and 211 pounds he has a solid frame but lacks the speed to be a deep threat. He is best running intermediate routes where he uses his momentum to cruise up field after securing the ball.
Jim Harbaugh will like Sanu because he is always looking to make a play, with or without the ball. Even if Frank Gore was safely en route to the end zone, Sanu would be sprinting by his side trying to pick off the remaining defenders.
If San Francisco does not draft a wide receiver in the first round and is unable to re-sign Josh Morgan, they should look to trade up into the first half of the second round to get Sanu. He will never be an All-Star, but his hustle will make him a fan favorite and a steady contributor.
Brian Quick is a 6'4," 220 pound ex-basketball player that gained 3,418 yards and scored 31 touchdowns in three collegiate seasons.
Put the small school stigma aside and you have a prospect with who looks like the next Brandon Marshall.
Quick is not a burner but he can get down field once he builds speed. His strong limbs make him a powerful receiver who can be a huge asset blocking down field.
He is also better than credited at gaining yards after the catch. Quick is not elusive, but he makes defenders miss with a peculiar long-legged juke move that seems to freeze defenders.
All of this combined with his ability to win jump balls over smaller corners makes him a sexy pick for San Francisco.
His talents fulfill the 49ers' receiving needs, but considering where he played college, he may not be able to contribute as immediately and effectively as Alshon Jeffery or Michael Floyd.
Still, with a late second round ranking, he is the best value pick out of any receiver on the board. Should San Francisco pass on a wide receiver in the first round, Quick would be an ideal selection in the second round.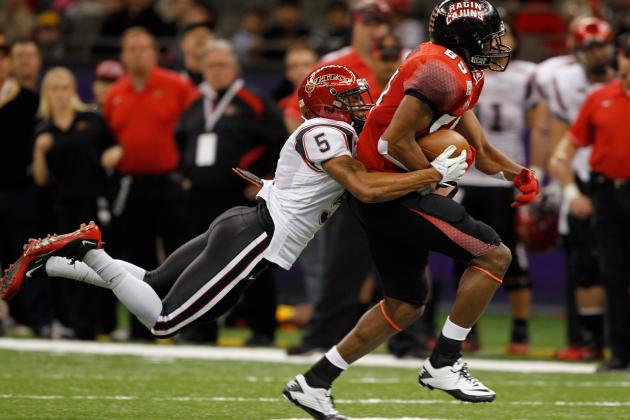 Chris Graythen/Getty Images
Ladarius Green, #89
Technically Ladarius Green is a tight end, but at 6'6" and 238 pounds this guy looks more like a wide out. In any case, he is the big receiving target San Francisco lacks.
Green is another small school prospect who is too raw to be selected in the first two rounds. Regardless, his lengthy build gives him the potential to be an uncoverable target like the New Orleans Saints' Jimmy Graham.
Green has the speed to go deep, the size to win jump balls and enough dazzle to turn seemingly ordinary plays into memorable ones.
His impressive measurables combined with a 4.53 second 40-yard dash time at the NFL Combine makes him a valuable third-round pick.
If his name is lost among the bevy of more polished pass catchers, he could be a steal for the 49ers at the end of the third round.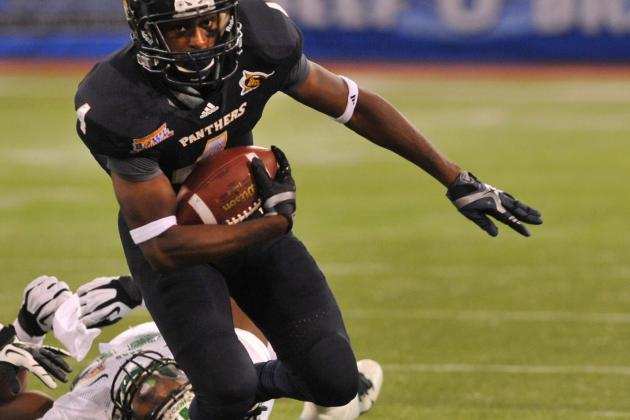 Al Messerschmidt/Getty Images
T.Y. Hilton #4
T.Y. Hilton makes up for his undersized body (5'10," 183 pounds) with the same gutsiness seen in Steve Smith and DeSean Jackson.
He is not as talented a receiver as the before mentioned pros, but he has a lot of upside for someone with a late fourth round ranking.
Hilton excelled in college due to his elite acceleration which enabled him to elude defenders in tight spaces. This combined with his speed and fearlessness when catching the ball over the middle allowed him to have a highly productive four year collegiate career.
As long as Hilton does not become timid running among bigger NFL players, he has a bright future. If not, his role will be limited on offense and he will be used primarily as a return specialist (something he excelled at in college).
Regardless of San Francisco's wide receiver situation, they should target Hilton in the fourth round. He has better hands than Ted Ginn Jr. and can take over as the kick returner.
On offense he could initially be used as a Darren Sproles-like scat back. This way he would not have to worry about getting bumped off his routes by defensive backs and can focus on what he does best: taking short passes to the end zone after zig-zagging through the defense.
Stephen Dunn/Getty Images
Gerell Robinson #8
Gerell Robinson is a larger, more physical version of Jason Avant who could be a steal in the fourth or fifth round.
At 6'3" and 227 pounds, Robinson is best described as steady. He does not have the speed to beat defenders deep or gain many yards after the catch, but he is a sure-handed target that can be a reliable third down receiver.
Robinson is best when running deep crossing routes. He shows no fear when catching passes in traffic and always uses his hands to secure the ball. If he can learn to run the ball with tenacity, he'll be able to shake off smaller corners with ease.
At this point it is unknown whether or not the 49ers will need a receiver in the fourth or fifth round.
However, Robinson is a great value pick up who will develop into a solid No. 2 receiver when given the playing time.