New England Patriots 2012 Mock Draft: What Experts Around the Web Are Saying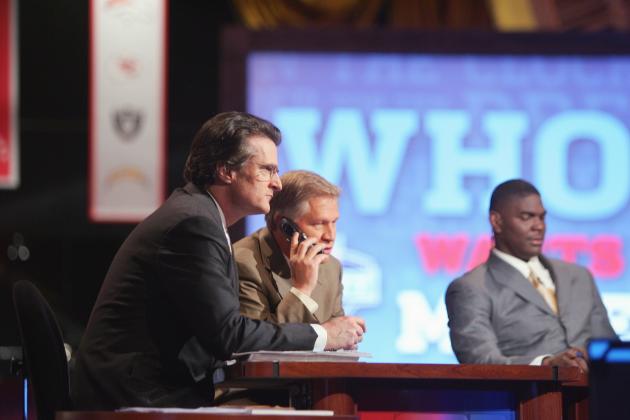 Chris McGrath/Getty Images

Defense, defense, and more defense.
The NFL mock draft season is in full swing, and if there's one thing that everybody agrees on—from media outlets to blog and fan sites—it's that the New England Patriots need plenty of help on the defensive side of the ball.
Beyond that, good luck finding consensus on the names that should be taken with the Patriots' two first-round picks, slotted at 27th and 31st overall.
Going around the Web, a secondary/front-seven combination appears to be a popular choice. Having conceded the second-most passing yards in NFL history in 2011, cornerbacks, safeties and pass-rushers are expected to feature on Bill Belichick's shopping list, but when has Bill ever bowed to public opinion?
With most mocks focusing on the first round, let's take a look at what the experts are predicting for the Patriots on the first night of action at Radio City Music Hall on April 26.
Follow Nick on Twitter @nickbutterworth
Begin Slideshow

»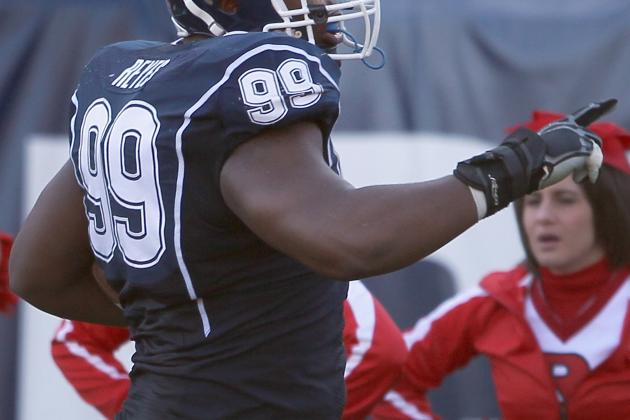 Elsa/Getty Images
Reyes: First- or third-round talent?
27th Pick: Kendall Reyes, DT, Connecticut
Mel's take
Reyes is really strong and will get offensive linemen up off their feet as he pushes them into the backfield. He's not going to shed blocks as a brilliant pass-rusher would, but Reyes can develop into the guy who makes everybody else a better pass-rusher because he demands so much blocking help.
My take
Mel Kiper is one of the most recognizable and trusted names in the business, but his most recent mock drafts have contained a few eyebrow-raisers.
Kiper has Reyes on the rise in his first round—he previously slotted Reyes to the Patriots at No. 31—but many other analysts see him as a mid-round talent.
Bleacher Report's Matt Miller has Reyes as the eighth-best defensive tackle on his big board, and his 73rd player overall. That view is shared by FF Toolbox. Sideline Scouting don't even have Reyes in their top 100.
His measurables make him a candidate for the defensive end spot in the Patriots' base 3-4 front, but Belichick is unlikely to use his top draft pick on a developmental prospect. He likes his first-round players to come with more guarantees.
31st Pick: Janoris Jenkins, CB, North Alabama
Mel's take
There's no question that Jenkins comes with baggage, but without it you're talking about a player in the conversation 20 spots higher on the board. If you like you're locker room and feel like you can keep him on track, this is the kind of guy you take a risk on at a big need position.
My take
An interesting proposal, but not one I see the Patriots having any appetite for. Jenkins' talent has never been in question, but his character issues will raise a big red flag on Bill Belichick and director of player development Nick Caserio's radars.
He interviewed candidly at the combine, but I don't think his face-to-face time with NFL scouts will have affected his draft stock dramatically.
Jenkin's background is well-documented—three arrests, four children with three different women, and getting himself kicked off the Florida Gators program—and experience tells us that many players like him have struggled to change.
Aqib Talib and Pacman Jones immediately spring to mind as pro comparisons. Time will tell if that judgement is harsh, but I don't envisage the Patriots taking such a risk with one of their first-round picks.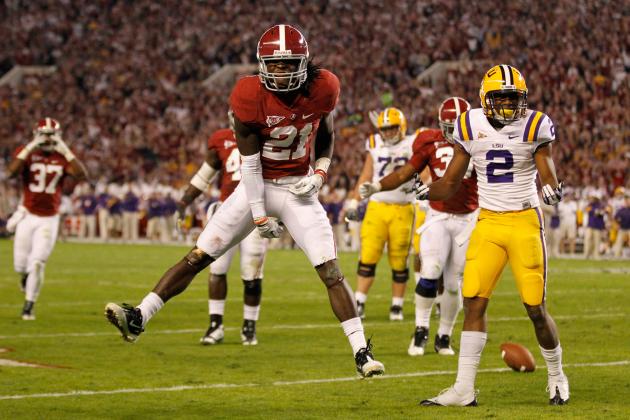 Streeter Lecka/Getty Images
Will Dre Kirkpatrick fall as far as the 31st pick?
27th Pick: Vinny Curry, DE, Marshall
Matt's take
Vinny Curry has played defensive end at Marshall, but has the quickness and loose hips to make an easy move to outside linebacker in the Patriots' hybrid scheme.
My take
The Patriots have shied away from using first-round picks on college 4-3 ends in the past, but making assumptions on New England's draft strategy is futile—Belichick hadn't selected a guard before 2005, when he took Logan Mankins 32nd overall.
Curry was a three-year starter for Marshall and racked up the numbers in his senior year—11 sacks, 22 tackles for a loss, three blocked kicks and six forced fumbles.
Although he didn't face elite talent at offensive tackle week in and week out, he has the size and speed to make the transition to a stand-up pass-rusher.
Curry could make an immediate impact on special teams, while substituting in on passing downs early in his Patriots career.
31st Pick: Dre Kirkpatrick, CB, Alabama
Matt's take
I've been on a rant many times this offseason about the fact that Dre Kirkpatrick is horribly overrated at cornerback. He lacks the speed, the physicality and the technique to be an elite cornerback. At free safety, though, Kirkpatrick could be a star.
My take
I like Matt's thinking here, but I'd be surprised if one of the 26 teams sitting above New England in the draft don't buy his skill set at cornerback.
That said, if he is available at No. 31, the Patriots would be hard-pressed to leave him on the board. A free safety with sound tackling technique to compliment the hard-hitting Patrick Chung would be an ideal fit.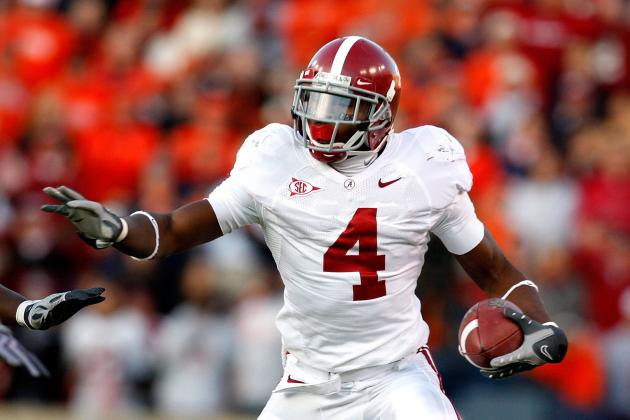 Kevin C. Cox/Getty Images
Will injury harm Mark Barron's draft stock?
27th Pick: Mark Barron, S, Alabama
31st Pick: Whitney Mercilus, DE, Illinois
My take
Andy Hart has yet to compile a first-round mock draft for patriots.com, but on the radio show PFW in Progress, Hart has been vocal in his support for a Barron/Mercilus combination in the first round.
Mark Barron is the top-rated safety of this year's class, and fills an obvious need at safety. Sergio Brown and James Ihedigbo are clearly not the long-term solution, but is Barron?
The four-year starter for the Crimson Tide is an experienced, hard-hitting safety who excels in the box in run defense. His pass-coverage skills are above average, but not elite, and given the Patriots' problems through the air on third downs last season, I have my doubts as to whether he fits the bill in the first round.
Mercilus offers much more intrigue at No. 31, having led the country with 16 sacks in 2011.
At 6'4" and 265 lbs, he could slot in immediately as a 3-4 outside linebacker, or in the more familiar 4-3 defensive end role. The Patriots will need to be comfortable that he offers position flexibility if they are to take the plunge at the end of the first round.
The obvious knock on his resume is that he is a one-year wonder. Understanding why he failed to break out in 2009 or 2010 will be key to his draft stock next month.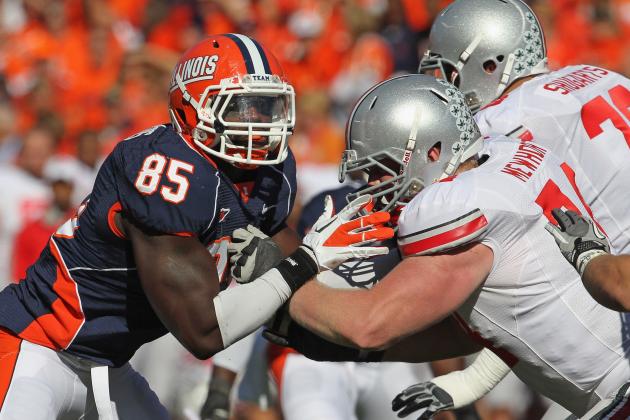 Jonathan Daniel/Getty Images
Whitney Mercilus is a popular mock choice for the Patriots.
27th Pick: Stephon Gilmore, CB, South Carolina
Wes' take
Getting a tall, physical defensive back who displays a natural feel in zone and can go get the football makes some sense for the Patriots at the back end of round one.
My take
Cornerback was not considered a need after Devin McCourty's strong rookie year in 2010, but the former Rutgers standout had a dreadful second season in the pro ranks. With no help from Ras-I Dowling—who landed on injured reserve after just two games—depth at the position is highly uncertain.
Gilmore makes plenty of sense at No. 27, but will he still be on the board? Matt Miller has him ranked as the second-best corner in the draft and 17th overall prospect.
His technique needs refinement, as does his experience in zone coverage systems, but his play touched greatness at times during his college career. Gilmore would be an instant four-down player in New England—value that will appeal to Belichick during the evaluation process.
31st Pick: Whitney Mercilus, DE, Illinois
Wes' take
Age is creeping up on the Patriots at the defensive end position and Mercilus has worked out well all postseason and is a versatile 43 DE or 34 OLB prospect.
My take
See previous slide. The Mercilus bandwagon is gathering pace, and drafting the most productive college pass-rusher from 2011 would be a crowd-pleasing move.
However, there has been a perceived need at outside linebacker since Mike Vrabel's departure in 2008, and only once has Belichick addressed the issue via the draft, with second-round pick Jermaine Cunningham in 2010.
Will the aversion to drafting top-rated pass-rushers change this year? I have my doubts.
Wes went with a front-seven/secondary combination in his previous mock draft too, selecting defensive tackle Fletcher Cox (Mississippi State) and Mark Barron.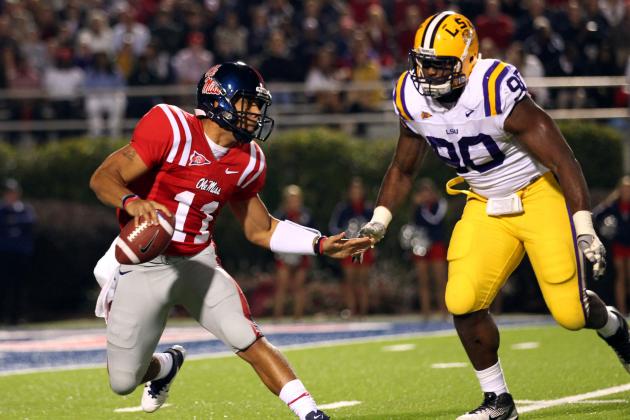 Joe Murphy/Getty Images
Brockers has prototypical size, but will he be off the board at 27?
27th Pick: Michael Brockers, DT, LSU
Bucky's take
The LSU standout has the size, length and athleticism to fit into any defense, and that versatility could be maximized in the Patriots' scheme.
My take
Brockers had a relatively poor combine, but don't let that fool you. Scouts still place importance on game film over workouts in shorts in the evaluation process.
When you turn on the tape, Brockers' raw strength shines through, and he will consistently attract double-teams in three- or four-man fronts in the NFL.
He is still a top-10 talent and I'd be surprised if he falls as far as No .27. If he does, this is a no-brainer selection for the Patriots. Brockers has the raw ability and fundamentals to be the heir to Richard Seymour's throne in Foxborough.
31st Pick: Mark Barron, S, Alabama
Bucky's take
After experimenting with wide receivers and numerous castoffs in the deep middle, Bill Belichick will seriously consider adding a talented playmaker at safety. Barron has been groomed for the position by Nick Saban, a Belichick protégé, leading to a smooth transition to the pro game.
My take
Barron missed the combine as he continues his recovery from double-hernia surgery, but given the lack of depth at safety, it shouldn't hurt his draft stock too much.
I still have my concerns over his range and athletic ability in pass coverage, and a taller cornerback later in the draft—such as Montana's Trumaine Johnson—could fill the pressing need at free safety for a lower price.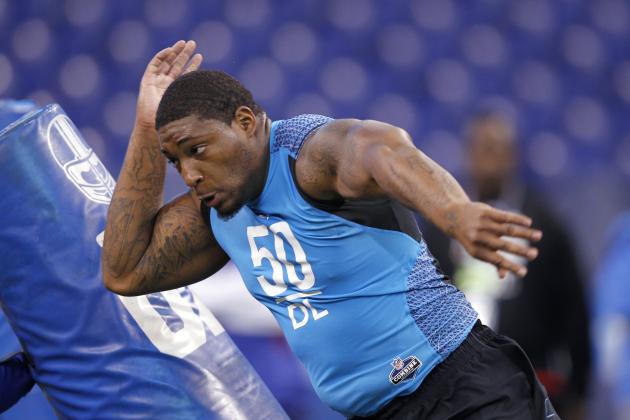 Joe Robbins/Getty Images
Devon Still could be available at the end of the first round.
27th Pick: Devon Still, DT, Penn State
Albert's take
The Patriots could use an explosive pass rusher or impact defensive back here, but there isn't one to fit their defense. So Still fortifies their front.
My take
Still would anchor the defensive front regardless of scheme, and while he's not an elite rusher or pocket-collapser, he is a stout presence in run defense.
I have my doubts as to whether Still will be a factor in third-down passing situations, which would limit his value if the Patriots evaluate him as a base-defense player.
31st Pick: Peter Konz, C, Wisconsin
Albert's take
Dan Koppen's a free agent, as is his backup, and while Konz lacks the position-versatility New England craves, he brings buckets of nastiness.
My take
Center is far from being the Patriots' biggest need, but this sort of left-field thinking is typical of Belichick selections over the years.
With Dan Koppen injured last season and hitting free agency along with Dan Connolly, the Patriots will need to bring back at least one of the two linemen if Konz is picked up elsewhere.
The Wisconsin product is an elite prospect, using all his 315-pound frame to full effect. He clogs up blitz channels and handles defensive tackles with authority, and has the size to kick out to guard in pinch situations.
I'd be disappointed if the Patriots prioritized the center position over defensive help, but the argument for Konz from an objective evaluation perspective is strong.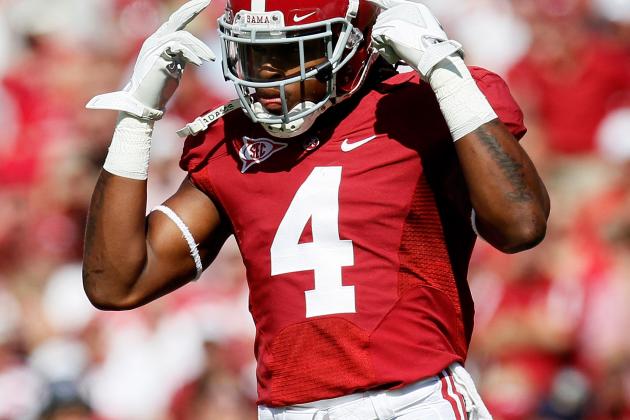 Kevin C. Cox/Getty Images
Is Mark Barron a good fit next to Patrick Chung?
27th Pick: Michael Brockers, DT, LSU
WalterFootball.com's take
Here's one of many front-seven upgrades the Patriots will need to make. With Albert Haynesworth gone, they need to address the front line. Michael Brockers, who disappointed at the Combine after a shocking weigh-in, is the best player available at this juncture.
My take
See previous slide. Brocker's chances of being drafted before No. 27 are high, but he would represent extremely good value should he slide.
31st Pick: Mark Barron, S, Alabama
WalterFootball.com's take
"It's conceivable that he could drop to No. 31 because he hasn't been able to work out in the wake of double hernia surgery. However, New England would be crazy not to take him off the board."
My take
Barron is the best safety in the draft, with Notre Dame's Harrison Smith a distant second.
Bill Belichick rarely makes selections based on need alone and won't be panicked into reaching for Barron if they consider him a second-round prospect. Matt Miller has him rated as the 36th-best player overall.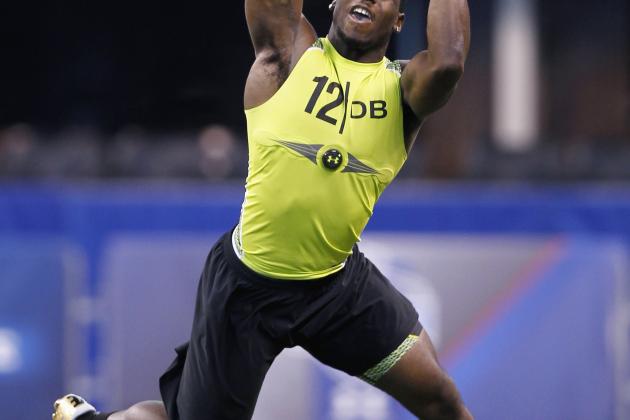 Joe Robbins/Getty Images
Is Alfonzo Dennard a reach in the first round?
27th Pick: Whitney Mercilus, DE, Illinois
Steve's take
Last season's NCAA sack leader could give the Patriots a desired pass rusher with loads of potential to wreak havoc.
My take
With Baltimore on the clock with the 29th selection in the first round, Mercilus may not be around when the Patriots select again with the 31st, so making a play for an elite pass-rusher here makes sense.
31st Pick: Alfonzo Dennard, CB, Nebraska
Steve's take
The Patriots need more depth in the secondary, especially in nickel and dime packages, and Dennard could be an immediate contributor.
My take
Matt Miller has Dennard rated as his eighth-best cornerback, and a second-round pick on talent alone. He is not considered an elite prospect, and there are question marks over his tackling technique.
Jamell Fleming of Oklahoma could be available at No. 31 and offers more intrigue with his ball-hawking ability. His instincts are second to none and can play zone or man coverage with equal ease.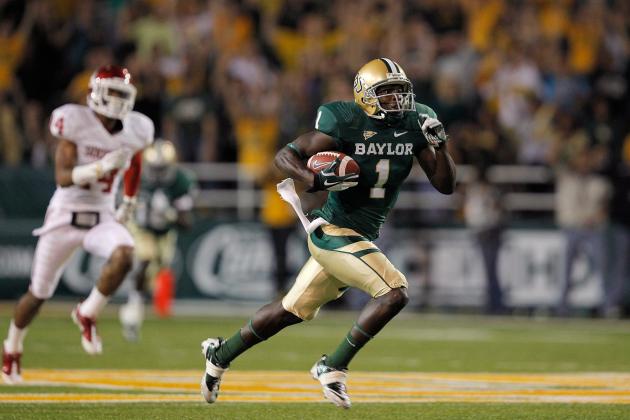 Sarah Glenn/Getty Images
Will a poor combine 40 time see Kendall Wright slip down draft boards?
27th Pick: Kendall Wright, WR, Baylor
Peter's take
Wright's stock took a hit by showing up a bit slower and heavier than expected. If he's still on the board at 27, this is a steal.

Most often compared to DeSean Jackson for his big-play ability, I've been hot on Wright since I saw him toe the sideline for 30 yards on a touchdown run against Kansas State. He's a lightning bolt that possesses good hands and great route-running ability.
My take
The only wideout slotted to the Patriots across the 10 mock drafts here, Wright still intrigues based on his game tape from Baylor. If teams are influenced by his combine 40 time, he could fall into the Patriots' lap.
With Wes Welker's services guaranteed for at least another season, Wright would serve as the team's fourth catching option next year behind Gronkowski, Welker and Hernandez.
The Patriots could use an injection of youth at the position, but question marks will remain over his ability to run a full route tree from a complex playbook until he is given the chance to do so.
31st Pick: Zach Brown, LB, North Carolina
Peter's take
Brown was a track star and a state champion wrestler in high school and the top defensive performer on a loaded UNC defense last season. He had 105 tackles, 5.5 sacks, three interceptions and 13.5 tackles for a loss last year.

Brown says he is open to playing any linebacker spot in a 4-3 or 3-4 scheme at the next level, but I think he fits best as an edge rusher.
My take
Schrager paints the picture of a versatile player who will suit the Patriots regardless of scheme, but I just don't see it. At 6'1" and 244 pounds, he lacks the physical presence to project as an edge-setter in the base 3-4.
He could line up alongside Jerod Mayo and Brandon Spikes in the WILL position in a 4-3, replacing Gary Guyton, but it remains to be seen how much the Patriots utilize four-man fronts next season.
Brown's speed is difficult to ignore—he ran a 4.50-second time in the 40-yard dash at the combine—but the 31st pick for a situational rusher might be a little too rich for Belichick's tastes.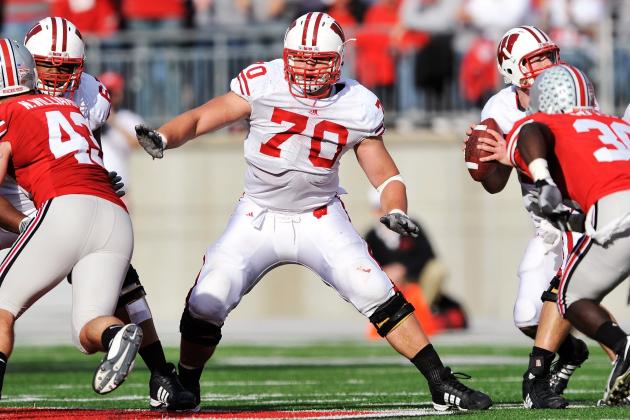 Jamie Sabau/Getty Images
Kevin Zeitler has the position flexibility to intrigue the Patriots.
27th Pick: Fletcher Cox, DL, Mississippi State
James' take
Cox is pretty raw, but has a lot of potential. Cox needs to keep his pad level lower and learn to use leverage to his advantage if he wants to succeed as a 3-4 DE. He certainly has the body and athleticism to do it.
My take
Cox is a consensus top-20 talent, so there appears to be little chance of securing him at No. 27. He is an impressive athlete and a big upgrade over the 3-4 ends on the current roster, but don't get your hopes up.
31st Pick: Kevin Zeitler, OG/C, Wisconsin
James' take
One of the better run-blockers in the draft, Zeitler's game is a tough one to find a lot of problems with. He could improve certain aspects of his pass blocking, especially getting set quicker following the snap.
My take
The need at guard will be influenced by the availability of Brian Waters next season. If the Patriots can tempt him back for another season, they could look to roster depth in the mid-rounds to bolster their stable of linemen.
Matt Miller has Zeitler ranked as a second-round talent, with a lack of elite athleticism the biggest knock on his draft status. He is a solid, strong blocker, but is that enough of a return from the 31st overall pick?