2012 NHL Free Agents: 1 Player from Each Team Who Will Stay and 1 Who Will Go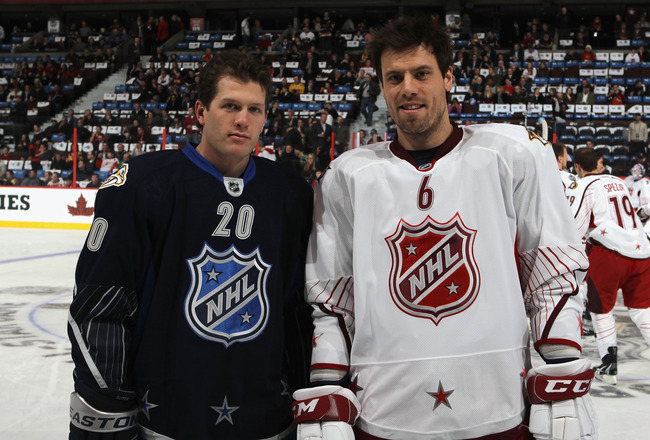 Bruce Bennett/Getty Images
Teams are sprinting towards the end of the regular season, some with postseason aspirations and others with tee times already booked for mid-April.
But there are agents (and some players) that are keeping an eye on the coming free-agent market. With news that Mikhail Grabovski signed a five-year deal in Toronto on Tuesday, the bar is starting to get set for a deep free-agent class with some superstars ready to get paid.
Here's a look at some of the decisions all 30 teams will have to make this summer, and predictions regarding one player who stays and one who leaves each team.
Anaheim Ducks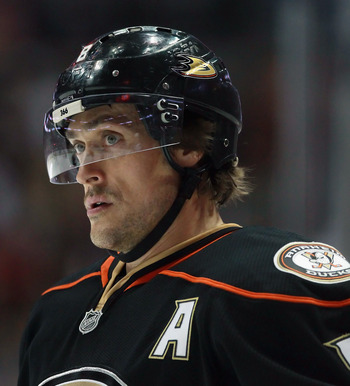 Jeff Gross/Getty Images
Staying: Jason Blake
Going: Teemu Selanne
There's a good chance that Selanne will be back, and if he is, it will be with the Ducks. But the Ducks are at a crossroads, and it might better serve the organization long term to put Selanne's $4 million to work on a younger player.
On the flip side, Blake has been fantastic in Anaheim this year and should get another few years from the Ducks.
Boston Bruins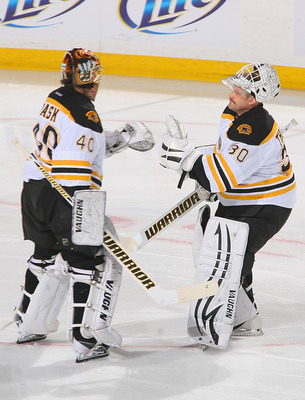 Rick Stewart/Getty Images
Staying: Tuukka Rask
Going: Joe Corvo
The easy choice for a free agent leaving Boston would have been Brian Rolston, but it's likely that Corvo's time in Boston ends when their 2011-12 season comes to a close as well. He's been a solid player for the Bruins, but they'll likely look elsewhere.
Between the pipes, though, Rask is the heir apparent to Tim Thomas and will likely be compensated as such this summer as a restricted free agent.
Buffalo Sabres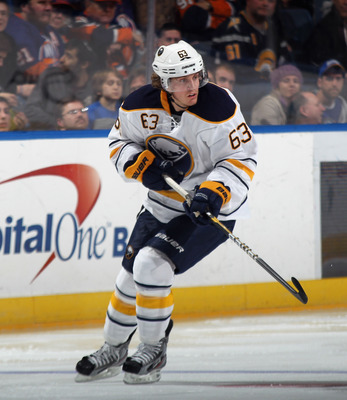 Bruce Bennett/Getty Images
Staying: Tyler Ennis

Going: Brad Boyes
It's safe to say that Boyes might be the target of the most non-Leino angst in Buffalo this season, and the sabres can't wait to free up his $4 million cap hit.
On the other end of the spectrum, Ennis is coming off his entry-level contract and could be re-signed for a few years at a smaller dollar amount while the Sabres continue developing him.
Calgary Flames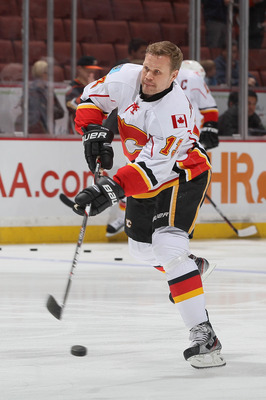 Jeff Gross/Getty Images
Staying: Olli Jokinen

Going: Cory Sarich
The Flames will have a number of issues to address this summer, whether they make the postseason or not. Sarich, and his $3.6 million cap hit, should certainly be replaced by a younger, more effective player.
However, Jokinen has quietly been great for the Flames this year and will likely be brought back for a few more years.
Carolina Hurricanes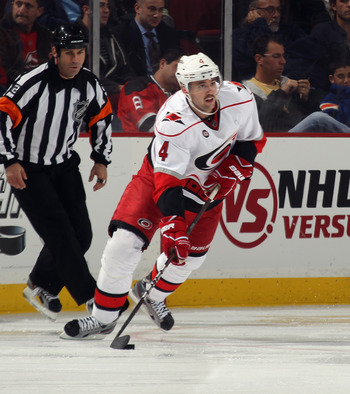 Bruce Bennett/Getty Images
Staying: Jamie McBain

Going: Bryan Allen
The Canes could (should) have moved Allen at the deadline but didn't and will likely look to acquire a late-round pick for his negotiating rights before July 1.
However, McBain is a good, young defenseman who is restricted this summer, and if the Canes are going to continue paying Tim Gleason, he should get paid as well.
Chicago Blackhawks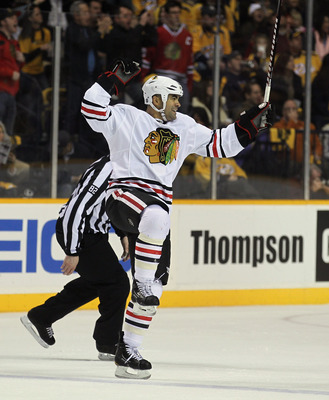 Bruce Bennett/Getty Images
Staying: Jamal Mayers

Going: Andrew Brunette
Brunette has never fit into the Hawks' lineup this season; he's too slow to keep up with most of the Hawks' young forwards and is most effective on the power play.
On the other end of the spectrum, Mayers has been the perfect gritty fourth-line center that the Hawks have needed, and he should get another run in Chicago next season.
Colorado Avalanche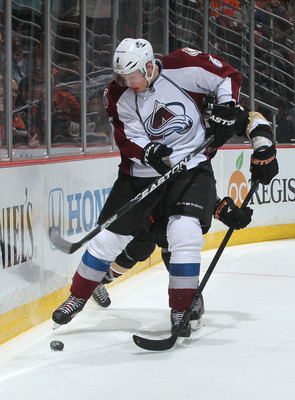 Victor Decolongon/Getty Images
Staying: Erik Johnson

Going: David Jones
This is going to be a tough summer for the Avs, who might be the most active team around the Draft. They have eight restricted free agents to deal with, including Erik Johnson, Matt Duchene, Peter Mueller and Jamie McGinn. There is no way the Avs let Johnson go.
However, considering the money they're going to spend on their restricted free agents, the odds of unrestricted players like David Jones and Shane O'Brien coming back are slim to none.
Columbus Blue Jackets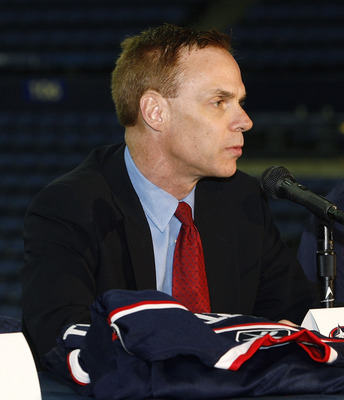 John Grieshop/Getty Images
Staying: TBD

Going: Scott Howson
The only thing we can confidently say about the coming summer in Columbus is that the odds of Scott Howson staying in the role of general manager are almost zero.
He's done very little to build a winner (much less a mediocre team), and ownership probably won't let him hang around to use a lot of picks and make the ultimate decision on Rick Nash's future.
Dallas Stars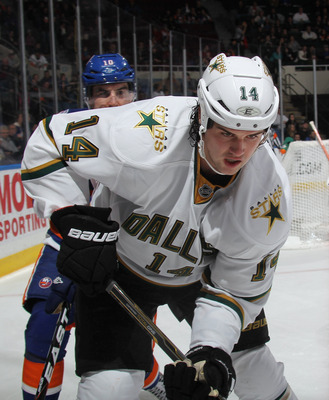 Bruce Bennett/Getty Images
Staying: Jamie Benn

Going: Sheldon Souray
Souray has been a pleasant surprise for the Stars and will undoubtedly parlay his one-year deal in Dallas into a better contract somewhere else this summer.
And that's fine with the powers that be in Dallas because the only concern they have this summer is making sure Benn is in Dallas for a long time.
Detroit Red Wings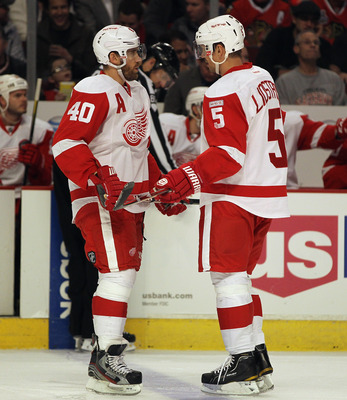 Jonathan Daniel/Getty Images
Staying: Nicklas Lidstrom

Going: Tomas Holmstrom
Both of these players might be deciding between retirement and Detroit this summer. Holmstrom's production has disappeared this year, and he would be 40 in the middle of next season. He might hang up his skates.
However, because they're hosting the Winter Classic next year, it's safe to say that the Wings' captain will be back for one more year and possibly one more Norris Trophy.
Edmonton Oilers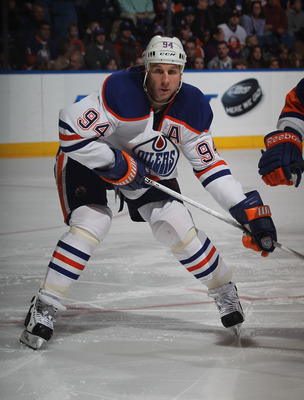 Bruce Bennett/Getty Images
Staying: Sam Gagner

Going: Ryan Smyth
Smyth isn't fitting into the young Oilers lineup any better, as this season progresses, and his money will probably be spent elsewhere this summer.
However, Gagner went from being a hot name in trade rumors to being the hottest scorer on the Oilers' roster. He's young, versatile and clearly can score in bunches, which is why they'll re-sign the restricted free agent this summer.
Florida Panthers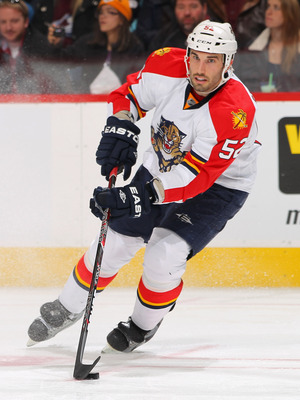 Doug Pensinger/Getty Images
Staying: Jason Garrison

Going: Mikael Samuelsson
The situation in Florida is pretty simple. They traded David Booth to Vancouver to add some size for a playoff run, but the odds of them bringing back Samuelsson are slim at best; they'll invest his cap space in Kris Versteeg.
The one unrestricted free agent Dale Tallon will pay on his roster this summer will be defenseman Jason Garrison, who has played really well with Brian Campbell and has shown a big shot from the point.
Los Angeles Kings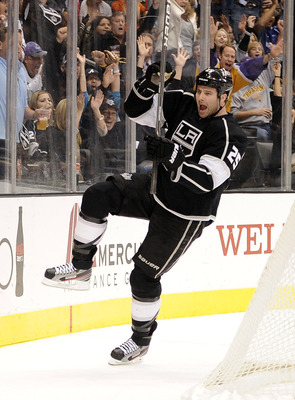 Harry How/Getty Images
Staying: TBD

Going: Dustin Penner
Penner will take his pancakes and get out of Los Angeles as soon as the Kings' season is over. He has been one of the bigger disappointments in the NHL over the last couple of seasons, and there's no way the Kings bring him back.
However, unless they spend money to bring back Jarrett Stoll, there might not be a free agent on the Kings' roster that they bring back next season.
Minnesota Wild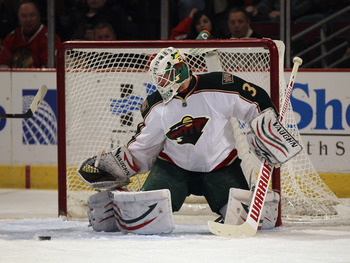 Jonathan Daniel/Getty Images
Staying: Justin Falk

Going: Josh Harding
The Wild have their number one goalie, and this summer's market for goalies should be hot enough that they can get maximum value for Harding at the Draft.
Falk has been a nice young player on the blue line, and as a restricted free agent, he will likely get a multi-year deal.
Montreal Canadiens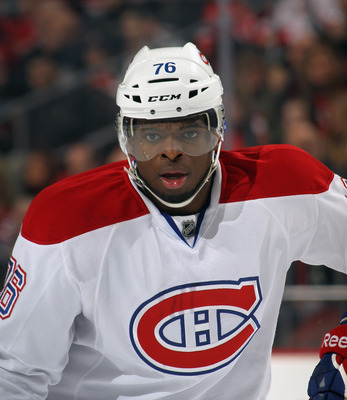 Bruce Bennett/Getty Images
Staying: PK Subban

Going: Chris Campoli
The Habs have a number of restricted free agents to work with this summer, including Subban and Carey Price. One has to think they'll lock up both Subban and Price this summer and that those two will be their priority.
However, bringing back an injury-plagued Campoli doesn't appear to be in the long-term plans in Montreal. Perhaps the biggest question is who will be the general manager pulling the strings for the Canadiens this summer.
Nashville Predators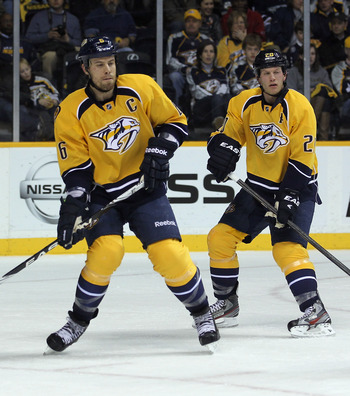 Bruce Bennett/Getty Images
Staying: Shea Weber

Going: Hal Gill
Because he's restricted and the captain, it's easiest to see Weber staying in Nashville.
There are some teams that could have a lot of cap space (specifically Detroit) that might throw a king's ransom at Ryan Suter as an unrestricted free agent, so it's hard to commit to him still being on the Preds next season.
One player that almost certainly won't be back, however, is Gill. He was brought in as a rental, as the Preds are going for broke this year.
New Jersey Devils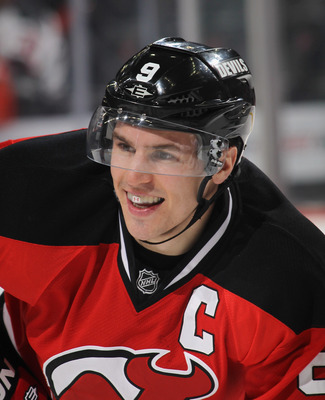 Bruce Bennett/Getty Images
Staying: Johan Hedberg

Going: Zach Parise
The Devils will have to make a few tough decisions this summer. Hall of Fame netminder Martin Brodeur will be an unrestricted free agent as will backup goalie Johan Hedberg. But the money man will be Zach Parise.
Based on the five-year, $27.5 million deal Toronto gave Mikhail Grabovski on Tuesday and the commitment the Devils have already made to Ilya Kovalchuk, Parise could easily test the open market and look at a deal with a cap number north of $7 million.
With $42 million committed to 13 skaters heading into next year, it's hard to see how the Devils can give 30 percent of their available cap space to one player and fill at least seven more slots.
New York Islanders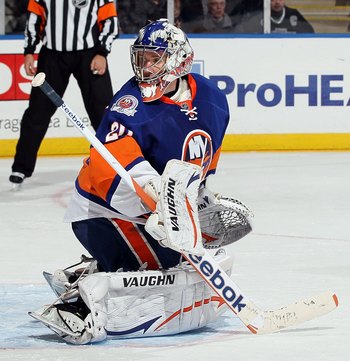 Jim McIsaac/Getty Images
Staying: PA Parenteau

Going: Evgeni Nabokov
The only way Nabokov sticks with the Islanders is if the new CBA includes an amnesty clause (getting Rick DiPietro off their books) and if Nabokov is chained to his locker. The Isles also have to make a call on Al Montoya this summer as well.
PA Parenteau wants to stay, and he should be locked up before the team starts scheduling tee times in mid-April.
New York Rangers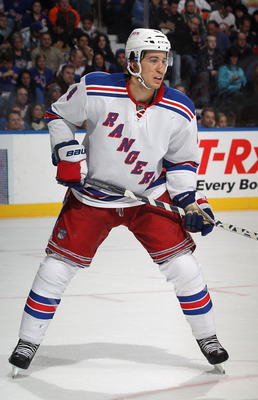 Bruce Bennett/Getty Images
Staying: Michael Del Zotto

Going: Martin Biron
Backup goalies aren't a dime a dozen, but Biron can be replaced pretty easily on the same roster as Henrik Lundqvist.
However, the Rangers would have a hard time replacing Del Zotto on their blue line.
As a restricted free agent, they'll need to take care of him to keep him around for the next few years. The Rangers have a nice young group of defensemen playing well together right now and should keep their core together.
Ottawa Senators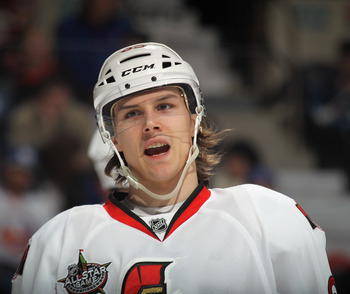 Bruce Bennett/Getty Images
Staying: Erik Karlsson

Going: Zenon Konopka
As a restricted free agent, Karlsson might be looking at the biggest contract on any blue line this summer. He's running away with the scoring lead among NHL defensemen, was (rightfully) voted an All-Star Game starter and is young enough that the Sens need to lock him up long term.
However, the penalty minute king Konopka is a light scoring enforcer who can be easily replaced.
Philadelphia Flyers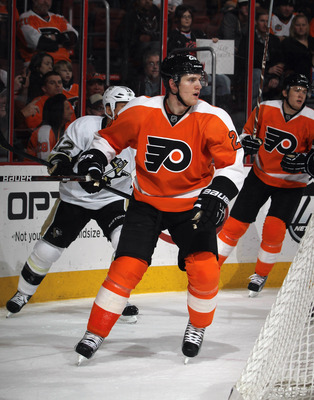 Bruce Bennett/Getty Images
Staying: Jakub Voracek

Going: Matt Carle
With the contracts already signed in Philadelphia, Carle was looking like the odd man out even before they traded for a couple of veteran defensemen at the deadline. Now the Flyers will have their choice between Nicklas Grossman, Pavel Kubina and Carle as unrestricted free agents this summer.
Sticking around, though, will probably be Voracek, who was the central player involved in the deal that sent Jeff Carter to Columbus last summer. He's good, young and will be affordable—three things the Flyers need right now.
Phoenix Coyotes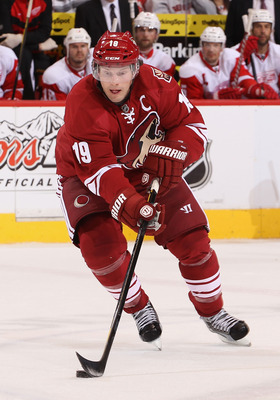 Christian Petersen/Getty Images
Staying: TBD

Going: The entire franchise
Will Shane Doan and Ray Whitney stay on with the Coyotes next year?
Well, that depends.
Will the "Coyotes" still be the "Coyotes" next year? Or will we have a Whalers/Nordiques redux? Until they have ownership in place and a firm commitment on a future home, it's impossible to say who they can/will keep in free agency.
Pittsburgh Penguins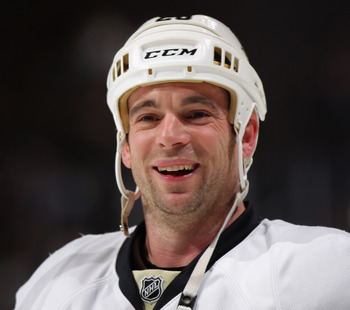 Doug Pensinger/Getty Images
Staying: Eric Tangradi

Going: Steve Sullivan
Sullivan was a nice rental this year, but the jets just aren't there any more for the aging veteran. There are a number of older players that will be unrestricted free agents in Pittsburgh this summer, and it's hard to see any of them coming back.
But youngster Tangradi, who will be a restricted free agent this summer, would be an affordable, talented player to fill a role somewhere on the NHL roster.
San Jose Sharks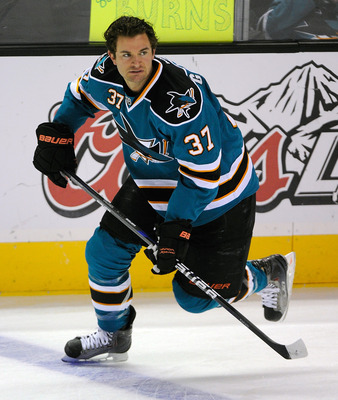 Thearon W. Henderson/Getty Images
Staying; TJ Galiardi

Going: Doug Wilson
After making a few dramatic moves to jump-start his veteran roster last summer, San Jose general manager Doug Wilson could be looking at a pink slip if the Sharks slide out of the playoffs.
But one of the players he added to his team before the deadline, Galiardi, should get a new deal with the Sharks. He's a young, affordable player with some skill that could help that team long term if they lock him up.
St. Louis Blues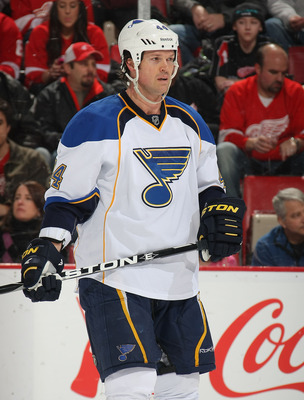 Dave Sandford/Getty Images
Staying: TJ Oshie

Going: Jason Arnott
Arnott and Jamie Langenbrunner were brought in as veterans to help a young roster mature, and they've been successful. But neither is needed after this season, and it's doubtful that either will be back in St. Louis next year.
But Oshie is one of the young guns the Blues will look to sign for the next few years this summer. There's a good young core in St. Louis that is already challenging the Red Wings for the Central Division crown this year and could have a long playoff run in them.
Tampa Bay Lightning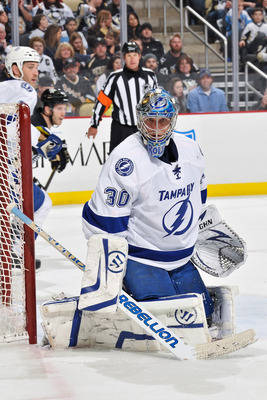 Jamie Sabau/Getty Images
Staying: Keith Aulie

Going: Dwayne Roloson
Roloson will not be back in Tampa next year. If you need a reason why, look at his numbers.
However, Steve Yzerman quietly added a nice young defenseman in Aulie at the deadline. He's a restricted free agent this summer, and the Bolts will likely look to keep him around for a few years.
Toronto Maple Leafs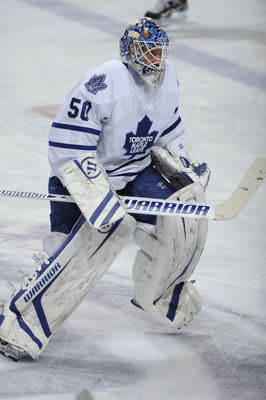 Dale MacMillan/Getty Images
Staying: Matt Frattin
Going: Jonas Gustavsson
Frattin has been a nice call-up this year and should be an affordable restricted free agent for Brian Burke to keep in Toronto.
The tricky decision will be between the pipes. Burke praised Gustavsson after the deadline, but clearly the Leafs need to get better at the goalie position. As a free agent this summer, it would appear that Gustavsson will be the odd man out.
Vancouver Canucks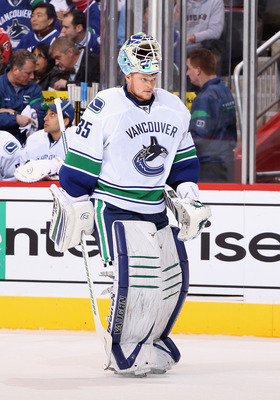 Christian Petersen/Getty Images
Staying: Eddie Lack

Going: Cory Schneider
In Vancouver this summer, it's going to come down to a numbers game. They already have over $55 million committed to 17 players on their NHL roster next year, and odds are that someone will make Schneider an offer the Canucks can't afford to match.
Which is why they'll sign restricted free agent netminder Lack, who's a 24-year-old playing for the Canucks AHL affiliate in Chicago and putting up strong numbers (.925 save percentage).
Whether they trade Schneider's negotiating rights or someone signs him to an offer sheet, the Canucks will likely take the picks for him and promote the kid from the Wolves.
Washington Capitals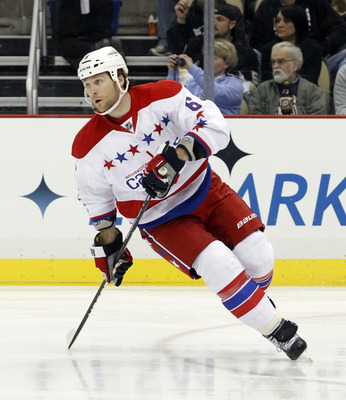 Justin K. Aller/Getty Images
Staying: Jon Carlson

Going: Dennis Wideman
Carlson is the future on the blue line in Washington, and will be the only easy decision for Washington this summer.
Looking for a new deal will be Wideman, Mike Green, Alex Semin and Tomas Vokoun. There is a legitimate chance that all four of those guys are gone next year, opening up a lot of cap space for the Caps to play with this summer.
Winnipeg Jets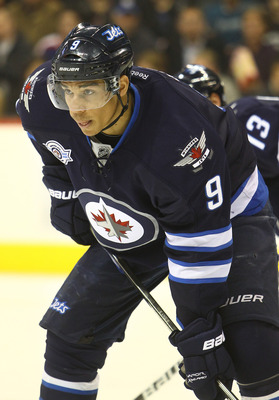 Tom Szczerbowski/Getty Images
Staying: Evander Kane

Going: Chris Mason
Mason has been a nice goalie for the organization, but Ondrej Pavelec is the future between the pipes in Winnipeg and he'll get a new deal.
Up front, Kane is a big, physical forward who is still young enough to grow into his game with a fun young roster. They'll look to lock him up soon.
Keep Reading