2012 NFL Draft: 10 Players the Baltimore Ravens Could Take to Replace Ray Lewis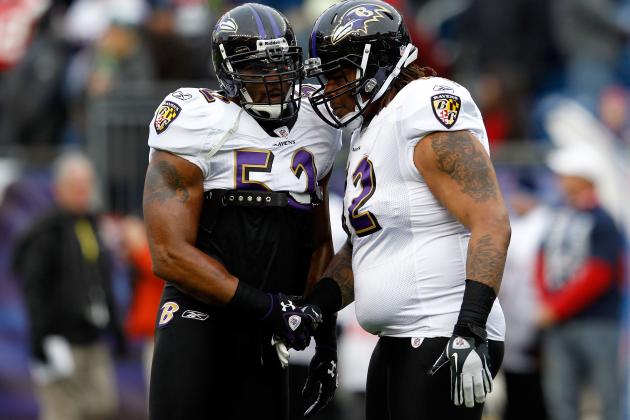 Rob Carr/Getty Images

Although Ray Lewis is returning for his 17th season with the Baltimore Ravens, even the most optimistic fan has to know that the end is near. Being in the NFL for 17 seasons is an insanely long time, especially for an inside linebacker who gets beat up nearly every game. Yet, Lewis just keeps playing at a high level, defying all critics who said he would slow down.
As far as his career has come, it's going to end soon, possibly even after this season. Therefore, it makes sense for the Ravens to look to draft his eventual successor in this draft.
Let's take a look at some of the players in this year's draft that could become Lewis' eventual successor.
Begin Slideshow

»
As the linebacker prospects begin to take shape, Dont'a Hightower has emerged as the second best linebacker in this year's draft class. The only linebacker who will likely go before Hightower is Luke Kuechly, who is expected to be off the board earlier in the first round thanks to his remarkable football smarts.
Yet Hightower is very good in his own right, and he may even be the best selection for the Ravens. Hightower has a very solid skill set that includes an ability to rush the passer from the outside and stop the run. He also has good leadership experience as he captained Alabama's championship-winning defense this past season.
In addition, Hightower has talked about how he idolizes the Ravens' defense. His comments included lots of admiration for Ray Lewis and Terrell Suggs. In light of the recent plummeting of Vontaze Burfict's draft status, Hightower is now the likely favorite for the Ravens to draft at No. 29.
As stated before, Luke Kuechly will likely be off the board before the Ravens draft. But the Ravens could decide to trade up and pick up the top linebacker prospect in the draft. It's an unlikely move although it could turn out being a great one.
Kuechly had some of the best tackle production in all of college football, getting over 150 tackles during all three of his years at Boston College. In 2011, he had his best season with 191 tackles. From 2009-2011, he had a 33-game double-digit tackle streak, which was the longest of that time period.
His production and football intelligence have helped Kuechly to move up the draft board. Although he's not exceptionally athletic, he put up great numbers at the combine and got a grade of 91. Kuechly would be a great addition to the Ravens, even though they may have to give up a lot to get him.
A few weeks ago, Vontaze Burfict seemed like he could be the ideal successor to Ray Lewis. This was before his performance at the NFL combine where he completely bombed. Burfict had the worst broad jump among linebackers and tied for next-to-last at his position in the vertical jump.
Burfict also ran a 5.09 40-yard dash, which was slower then 36 of the 48 defensive linemen at the combine. Burfict didn't even try the bench-press test or the shuttle runs, likely his only good decision during the entire combine. Once viewed as a top-10 pick, Burfict has basically descended out of the first round and could easily fall down as far as the fourth round.
Even his interviews went awfully. Burfict was sure to throw ASU coaches under the bus, blaming them for his subpar 2011 season. The consensus is that Burfict is completely out of control, and now there are likely few NFL teams that will consider drafting him.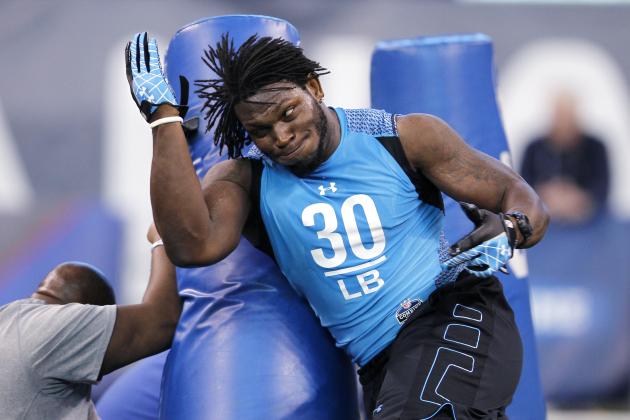 Joe Robbins/Getty Images

Dont'a Hightower is the Alabama linebacker that gets most of the attention, however, there is another high-ranking linebacker on the same team. This is Courtney Upshaw—a player who is mostly known as being a high-ranked pass rushing outside linebacker. However, he could possibly switch to middle linebacker and become one of the surprise candidates to replace Ray Lewis.
Upshaw is mostly known for being an elite pass rusher. His explosive ability to disrupt the pass would certainly serve the Ravens well.
Like Hightower, Upshaw is also expected to go in the first round. He also could has some leadership tendencies having played four seasons with Alabama and also having won two national championships with them.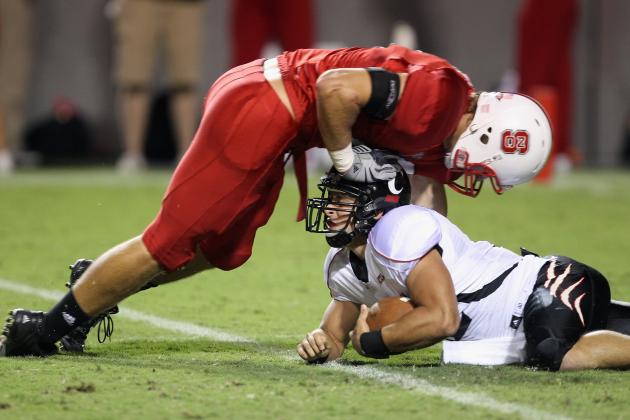 Streeter Lecka/Getty Images

The 2012 NFL draft is pretty loaded when it comes to top linebacker prospects. Therefore, it's likely the Ravens will choose from among the top linebackers like Dont'a Hightower and Luke Kuechly. However, if they choose a linebacker in the later rounds, someone like Audie Cole could be a good pickup.
Cole is a former outside linebacker who moved to inside linebacker last season for his senior year at North Carolina State. He adjusted well, starting every game and getting 107 tackles on the season. Cole's instincts and prototypical size make him a natural for the inside linebacker position.
Since he played outside linebacker, one of Cole's strengths is pass coverage. Even if he didn't start in 2012, he could potentially get on the field and cover for Ray Lewis in passing situations.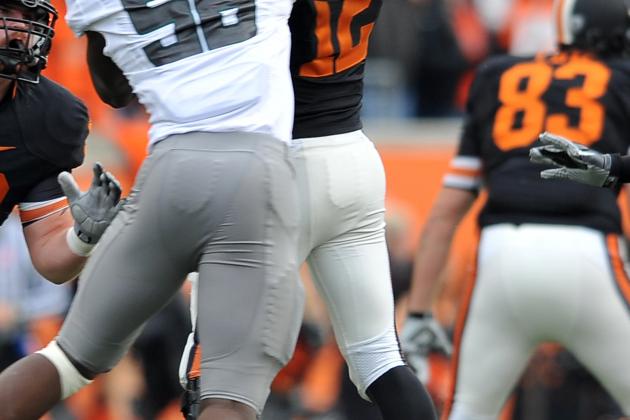 Steve Dykes/Getty Images

Josh Kaddu from Oregon has been a full-time starter for two seasons. He's a gifted athlete with a lot of raw ability and explosive quickness.
The main knock against Kaddu is the fact that he's lean and doesn't have enough bulk on his frame. Yet he still put up decent combine numbers, jumping a 34 inch vertical leap and benching 225 pounds 20 times.
Overall, Kaddu finished with a respectable overall rating of 51.5. He will likely go among the top-10-17 linebackers in the draft.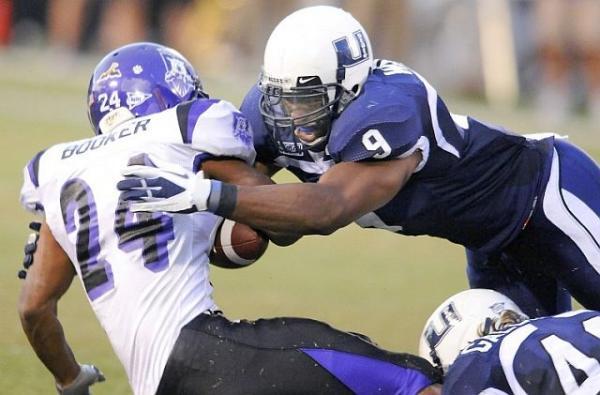 Utah State's Bobby Wagner missed out on the NFL combine as he was suffering from an pneumonia. It was evidently a serious illness as he was reportedly hospitalized in Arizona.
Although it's a shame that he missed the combine, Wagner's draft status should still be fine. He was one of the stars of the Senior Bowl where he was named MVP. Wagner finished the game with seven tackles and one interception in the North's 23-13 win.
Some of Wagner's assets include his speed, his tackling and his ability to play in coverage. In 2011, Wagner was named an All-WAC performer for the third straight season after he racked up 147 tackles, two sacks and four interceptions.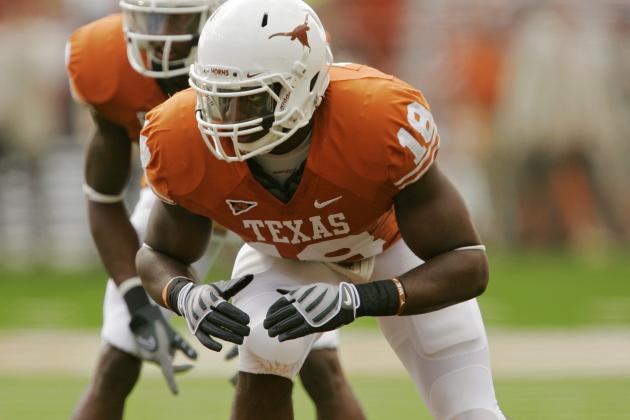 Brian Bahr/Getty Images

Emmanuel Acho played in 48 games, including 26 starts during his four seasons as a Texas Longhorn. At 6'2" and 245 pounds, he's clearly got the right size to be a linebacker in the NFL.
Acho is looking to be the second representative from his family in the NFL. His older brother San Acho was a rookie for the Arizona Cardinals last season.
Acho had a decent combine, although he suffered an injury. He suffered what looked to be a right quadriceps injury while he was running his 40-yard dash. Hopefully his health will be back in time for him to be healthy for offseason workouts.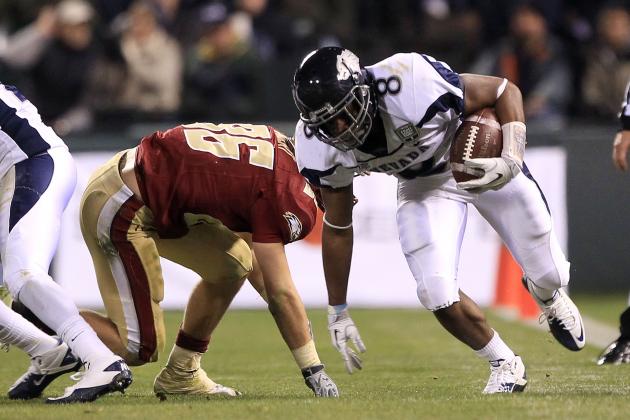 Ezra Shaw/Getty Images

An inner linebacker from Nevada, James Michael-Johnson is projected to be picked up in the fourth round. Many draft experts have him ranked fifth among the inside linebackers, showing that there is indeed a drop-off from this year's top linebackers.
Michael-Johnson has some valuable skills, such as prototypical frame and bulk for the inside linebacker position. He's also very durable—having not missed any time due to injury during his four seasons at Nevada. During the last two seasons, Michael-Johnson brought solid leadership as a team captain.
There are several reasons he's projected to go late, one of them being a tendency to give up on plays when he's far away. He would definitely be a backup for the Ravens, but hopefully one that could learn and eventually become a starter.
Jonathan Ferrey/Getty Images

Don't let the above picture fool you. California inside linebacker Mychal Kendricks typically makes the tackle and does not let the other player get away. Now Kendricks is getting some more attention thanks to his great showing at the combine.
He was dominant in most events, running a 4.41 40-yard dash that was the fastest among all linebackers. He was also first in the vertical jump and in the broad jump where he finished in first by a dominant three inches. His only non-dominant event was the bench press, but he still had a respectable 24 reps there.
Prior to the combine, Kendricks was projected to go in the second round. It certainly wouldn't be a surprise to see him climb up the draft boards, especially given the attention that the combine gets.