Jason Varitek Retirement: Ranking All 19 Captains in Boston Red Sox History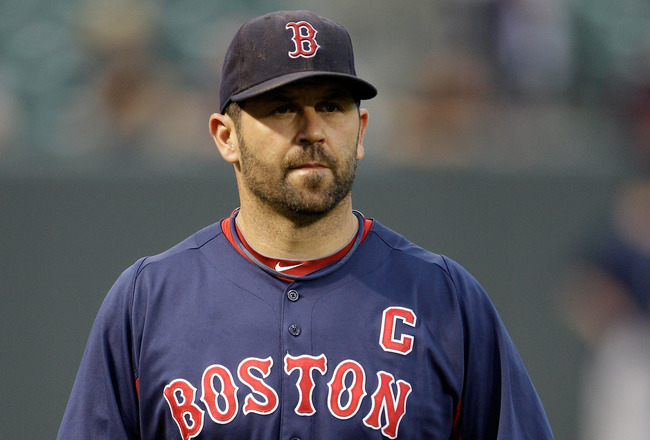 How does Tek stack up against the other 18 captains in Red Sox history?
Rob Carr/Getty Images
Now that the tears have subsided and the deluge of tributes has slowed, we can ask the question: Where does Jason Varitek rank all-time among Boston Red Sox captains?
Nineteen men have worn the "C" for the Red Sox franchise (some were Boston Americans), beginning in 1901 and stretching all the way to 2011. They have played all manner of positions (including a couple player-managers) and have had seasons wildly varying in quality.
What must be factored in when considering these players is the era in which they played. Many of them played in the deadball era, where offense was pitiful and the pitchers dominated. Big numbers from that era would translate much differently now.
We must also acknowledge that 15 of the 19 captains played before racial integration. There were many great players from abroad as well as the Negro Leagues that we will never know about, simply due to MLB's early exclusionary policies.
It is difficult, then, to compare across eras when we know that many of these players did not face the best competition in the world. While it is not fair to punish the players themselves for this, this list will nevertheless reflect the fact that the playing field was not level.
It is also important to remember that the playing conditions were vastly different between eras. While Varitek only knew the luxury of five-star hotels and chartered airplanes, the earlier players stayed in far cheaper locations and were riding trains across the country.
Though these various factors make a comparison difficult, we can nevertheless take a look at how these players compared to their peers in order to determine where they fit in the scheme of the greatest Red Sox captains.
19. Deacon McGuire (1908)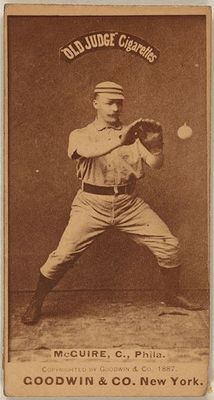 What can we say about Deacon McGuire's 1908 season?
McGuire was inserted into the lineup to get an at-bat for one purpose only: to keep his streak of seasons played alive (he finished with 26).
Though this act appears rather selfish, McGuire had the blessing of the manager. It did help, though, that he was also the manager at the time.
Perhaps sensing that this arrangement wasn't working, McGuire was fired towards the end of the season.
18. Mike Menosky (1923, One Game)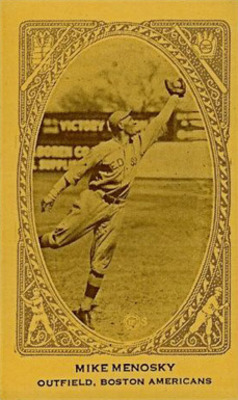 Mike Menosky was a solid player over the course of his nine-year career, putting up impressive numbers several times. However, "Leapin Mike" only made one solitary appearance as Red Sox captain.
While the reasons for Menosky's single game as captain are unclear (other than he was serving as a stand-in for regular captain George Burns), it is safe to assume that he likely did not put up the excellent numbers he had earlier in his career.
17. Dick Hoblitzell (1918)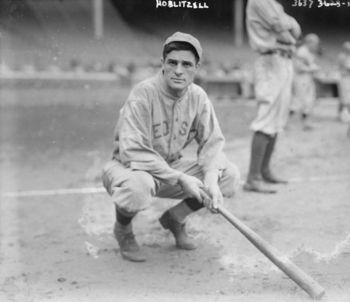 Dick Hoblitzell played in only 25 games as the Sox captain in 1918, and the results weren't good. He hit .159, did not hit any homers and knocked in just four runs.
He is not last on this list, though, for two reasons: First, he was drafted into the Army to serve during World War I and didn't have a chance to redeem himself at the plate. Secondly, the Sox won the World Series, their last for 86 years.
16. Harry Lord (1910)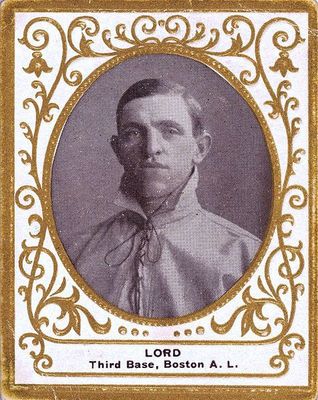 Harry Lord was known for one thing: pure, unadulterated speed. He swiped 30 or more bases four times, a total unheard of in his era. Splitting his season between the Red Sox and White Sox in 1910, Lord stole 34 bags to go with 121 hits.
He was traded by the Sox mid-season after an injury, and he would make them regret it the following season. Lord posted career bests in hits, batting average, steals and RBI and provided a harbinger of many poor personnel decisions to come out of Boston.
15. Bob Unglaub (1907)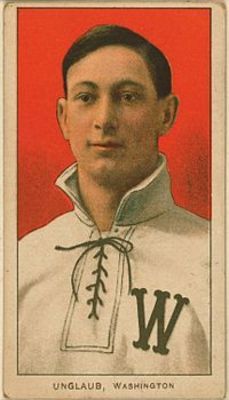 Bob Unglaub had been a part-time player until he became player-manager of the 1907 Boston Americans. Though this may have seemed a bit despotic on the surface, Unglaub quickly put his critics to rest.
He drove in 62 runs for the Americans, leading the team. Unfortunately, this effort alone would not be enough for him to keep his job; Unglaub was replaced by Deacon McGuire in a season that saw the Americans try out four different managers en route to a 59-90, seventh-place finish.
14. Everett Scott (1921)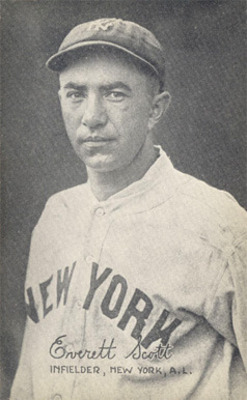 The svelte Everett Scott (he weighed only 148 pounds) put together a solid effort in his one season as Red Sox captain. The slick-fielding shortstop led the American League in fielding percentage and was second on the Sox in at-bats.
Scott is best known for his durability. His 1,307 consecutive games played between 1916 and 1925 is the third longest streak in MLB history, behind only Lou Gehrig and Cal Ripken, Jr.
13. Doc Gessler (1909)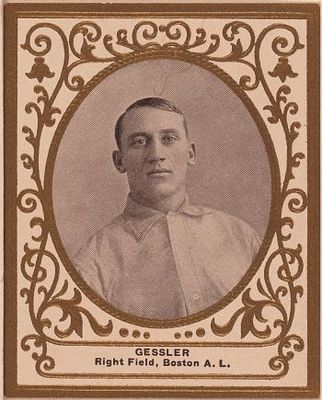 Though he went homerless in the 1909 campaign, Doc Gessler had a fine start for the Red Sox. He hit .290 and drove in 46 runs but was surprisingly traded in September to the Washington Senators.
Gessler earned the nickname "Doc" because he was, in fact, a physician. He attended Johns Hopkins Medical School prior to playing professional baseball, resuming his medical career after retiring in 1911.
12. Chick Stahl (1906)
In his final season, Stahl took over as captain for the Boston Americans and put in a solid season of work at the plate (.286-4-51) given his age (33). It was, alas, not a good season for the Red Sox; they finished 49-105, one of the worst winning percentages in franchise history.
It was not all bad for Stahl, though. In addition to leading the team in most offensive categories, he was made player-manager and guided the team to a 14-26 record to close out the season. Unfortunately, the 1906 season would be Stahl's last; he committed suicide during spring training in 1907.
11. Del Pratt (1922)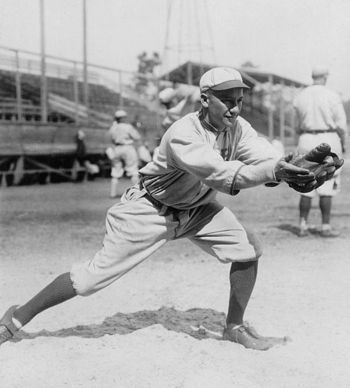 Though Del Pratt's offense (.301-6-86) paced the Red Sox in 1922, the rest of his teammates struggled to follow suit. The team struggled and finished 61-92, dead last in the American League and 33 games out of first place.
Interestingly, Pratt's career had already ended once before he even played for the Red Sox. After being traded to Boston from the Yankees in 1920, Pratt instead decided to retire and become the head baseball coach for the University of Michigan.
Prior to the 1921 season, the Sox convinced Pratt to un-retire and he immediately came back and produced for the Sox and their feeble offense.
10. George Burns (1923)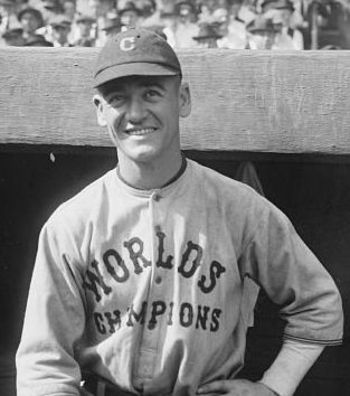 Not to be confused with the popular radio comedian, George Burns was also a strong offensive player for the post-Babe Ruth Red Sox. His .328-7-82 in 1923 placed him amongst the league leaders in each category.
His final season in Boston, though, would ultimately end in disappointment. The Red Sox finished a horrific 61-91 under Burns' stewardship, and he departed for Cleveland the following season.
9. Jake Stahl (1910)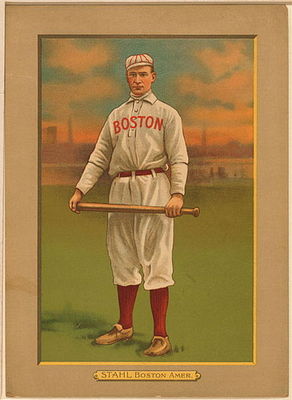 Jake Stahl had a multitude of individual and team accomplishments in his time as Red Sox captain. His 10 home runs in 1910 led the American League, and when paired with 77 RBI it becomes apparent that Stahl was an offensive force in the American League.
Though the Sox were not as successful is Stahl's season as captain (81-72 record), they did go on to win the World Series with him as player-manager in 1912.
8. Jack Barry (1915-1917)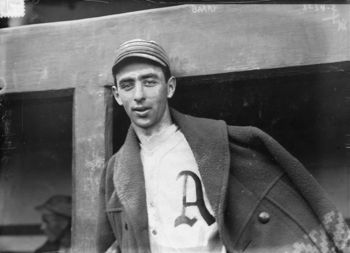 Jack Barry has the distinction, perhaps, of being the most highly regarded player on this list in terms of leadership. After two sub-par offensive seasons even by Deadball Era standards, Barry was named player-manager during the 1917 season.
Despite his obvious qualifications as a leader, it is hard to ignore Barry's brutal stats: .203-0-20 in 1916 and .214-2-30 in 1917, his two full seasons with the Red Sox.
7. Heinie Wagner (1911-1914)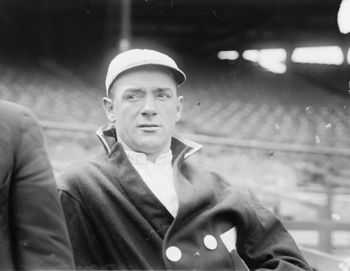 Charles F. Wagner, better known as "Heinie," had two stints as Red Sox captain. After an injury-shortened 1911 campaign, Wagner came back strong in 1912. He put up a .274-2-68 for the world champion Red Sox, leading them on and off the field.
Wagner was, if anything else, a winner. Along with Harry Hooper, he was the only member of the Red Sox to play on all four championship teams in the 1910s (1912, 1915, 1916 and 1918).
6. Harry Hooper (1919, 1920)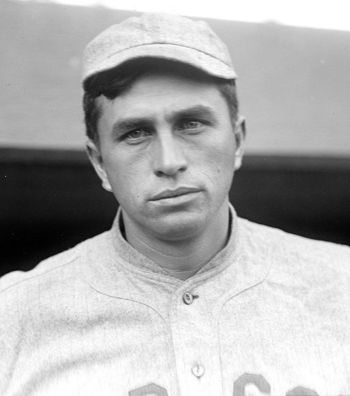 Harry Hooper struggled in his first season as captain but really hit his stride in year two. The alliterative Hall of Famer hit .312, knocked seven home runs, drove in 56 and added 16 steals for good measure.
Hooper's teams struggled, though, after selling a certain lefty to the New York Yankees in 1918. In his two years as captain, Hooper's teams went 138-152, beginning a championship drought that would last 86 years.
5. Jimmy Collins (1901-1905)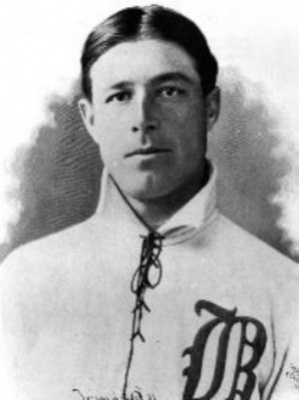 As captain of the Boston Beaneaters, Jimmy Collins was a very productive player at the plate and in the field. Though his power numbers (between three and six home runs per season) are miniscule by modern standards, he was constantly among the league leaders in that category.
What puts Collins this high on the list is his defense. He was the first third baseman ever to field a bunt; before, the shortstop would come over to handle all bunts down the third base line. It was primarily for this reason that in 1945, Collins was elected to the Hall of Fame.
4. Jimmie Foxx (1940-1942)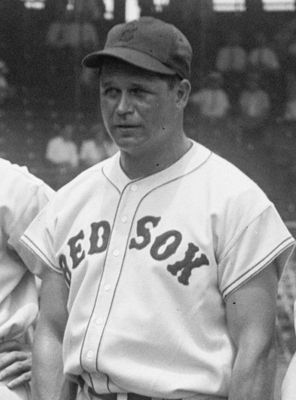 With a nickname like "Beast," Jimmie Foxx was quite obviously a fearsome hitter, particularly in 1938 where he posted an astounding .349-50-175. His 534 career home runs put him at 17th all-time.
However, the Hall of Famer's years as Sox captain were less notable. On the downside of his career at age 32, Foxx hit 60 total home runs in his two-plus years as captain.
He struggled to hit for average as well, bottoming out at .270 (well below his .325 career number) before being traded 30 games into the 1942 season.
3. Jim Rice (1985-1989)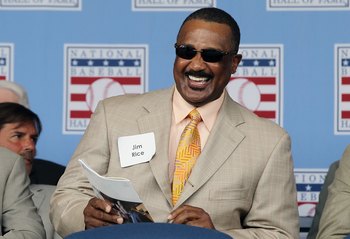 Jim McIsaac/Getty Images
Jim Rice played 15 full Major League seasons, all for the Red Sox, and in those he became an MVP, an eight-time All-Star and part of two teams that were within a game of winning the World Series in both 1975 and 1986.
He finished third on this list, though, for a similar reason to Foxx: his statistics as captain. In his five seasons at the helm, Rice averaged .286-16-75; these numbers are not terrible but are a bit pedestrian for someone expected to produce in the middle of the lineup.
Despite being a Hall of Famer and having better numbers, Rice's end-of-career tailspin places him behind the next person on our list...
2. Jason Varitek (2005-2011)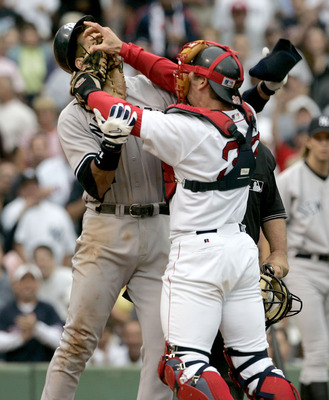 Jim Rogash/Getty Images
Over the last week, enough ink has been spilled about Jason Varitek to fill several dozen books. To further belabor the point about his value to his teammates and his franchise as a whole would be a wasteful exercise.
Instead, we can justify his spot on this list above several Hall of Famers for one simple reason: championships.
Varitek did something none of the modern-era Red Sox on this list were able to do, and that is win a World Series (although only once as the "official" captain). By virtue of being an integral part of the team that vanquished the "curse," Varitek cemented his legacy as one of the greatest Sox captains of all time.
1. Carl Yastrzemski (1966, 1969-1983)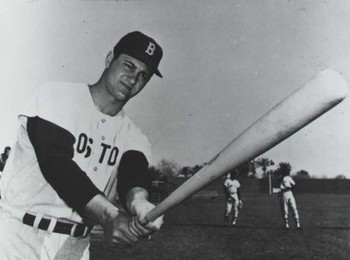 Carl Yastrzemski tops this list for a number of reasons, both baseball and non-baseball related.
The baseball reasons are pretty clear. Yaz played an astounding 23 seasons, and until he hit 40 years old never played in fewer than 133 games (including all 162 in 1969). He is the last man to win the Triple Crown, doing so with a .326-44-121 in 1967.
An 18-time All-Star (including his final season at age 43), Yastrzemski was a favorite son of Boston as well. His gruff exterior and penchant for Marlboro Reds in the dugout endeared him to Red Sox fans, who still hold him amongst the most legendary Boston athletes.
Keep Reading

Boston Red Sox: Like this team?