Philadelphia Flyers: Ranking the 10 Most Important Flyers Come Playoff Time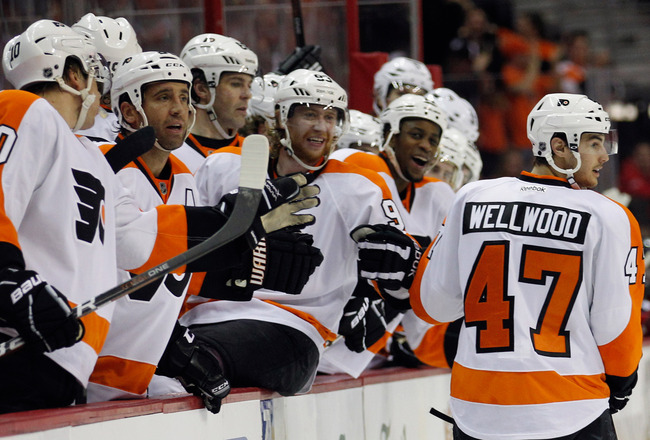 Rob Carr/Getty Images
The Philadelphia Flyers find themselves nestled in fifth place of the Eastern Conference. Their playoff hopes are very much alive and a chance at a trip to the finals is within their grasp.
In order for the Flyers to achieve success in the postseason, certain players will have to step up and deliver. Right now their highest-paid player hasn't scored a goal in almost two full months.
Others have exceeded expectations and taken a larger role on the team. When the Stanley Cup playoffs start, all components will need to come together.
As the regular season ends and the playoffs start, these 10 players will factor accordingly.
Danny Briere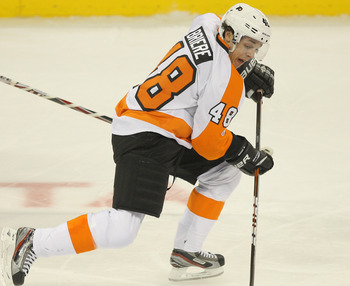 Tom Szczerbowski/Getty Images
For all the complaining I hear and read about Bryzgalov's contract, this guy has easily flew under the radar.
Danny Briere is the highest-paid player on the team and hasn't scored a goal in almost two months.
Yes, he always showed up for the playoffs. However, it seems rather unlikely this year that he can just flip a switch.
Furthermore, if he is going to be the highest-paid player he needs to do more than just show up for two months out of the year.
He's a defensive liability and rather unimpressive on the faceoff. If he fails to show up in this year's playoffs, then the finger-pointers need to start looking in his direction.
Jakub Voracek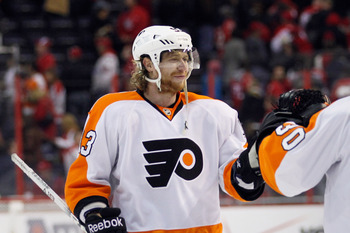 Rob Carr/Getty Images
Jakub Voracek hasn't quite lived up to his expectations this season either. However, his puck handling and ability to play on the penalty kill are nothing to scoff at.
The Flyers would like more point production but Voracek's skill set will play a pivotal role come playoff time.
Max Talbot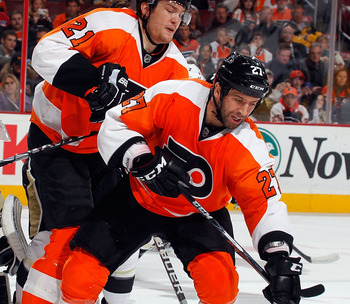 Paul Bereswill/Getty Images
A great offseason pickup, Max Talbot has been crucial to the Flyers' winning ways this year.
Come playoff time, he should continue to be the guy he has been here and the player he was with Pittsburgh.
Talbot anchors the Flyers penalty kill and is a visible leader on the ice. If he can continue providing the secondary scoring-punch he has given all season, then he can make the Flyers a legitimate contender.
Sean Couturier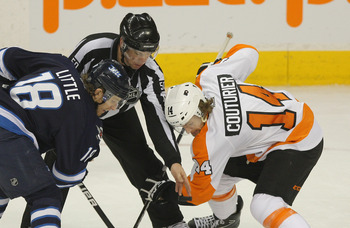 Tom Szczerbowski/Getty Images
It's hard to believe this 19-year-old kid is shouldering any significant responsibility for an NHL team, but Sean Couturier is doing just that.
He centers the Flyers' fourth line and can jump up into any of the other three at anytime. Couturier needs to improve his 46 percent face-off percentage but otherwise is key player.
He also posts an impressive plus-16 considering he is called upon to check opposing scoring lines. That is something the Flyers need for him to continue doing.
Matt Carle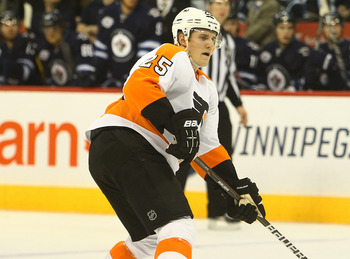 Tom Szczerbowski/Getty Images
Matt Carle is a player that shockingly finds himself at the head of misguided fans' criticism. The only thing he really does wrong is make a turnover from time to time.
However, Carle is the second-leading defenseman in points and blocks more shots than anyone on the team.
His puck moving ability is second only to Kimmo Timonen and with Timonen now injured, Carle is needed even more.
Niklas Grossman
Tom Szczerbowski/Getty Images
Grossman is one of two trades that came over before the deadline. Since then he has shown an ability to provide a physical presence down low in the Flyers zone.
Opposing forwards don't have as much space with Grossman on the ice and find life less pleasant in the Flyer zone.
A player like Grossman can make all the difference at anytime.
Pavel Kubina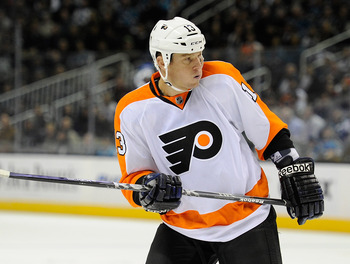 Thearon W. Henderson/Getty Images
Kubina is the other addition added before the deadline. When watching his bone-crushing checks and blistering shot from the point, one can see why he was added.
Kubina's big shot hasn't done much since he arrived but he did thread a nice pass to Eric Wellwood against Washington for a tip-in goal.
Kubina is extremely important to the Flyers' playoff hopes.
Scott Hartnell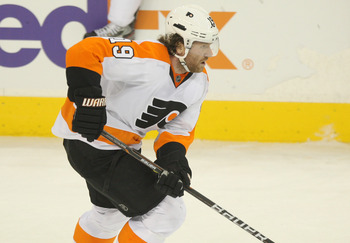 Tom Szczerbowski/Getty Images
Scott Hartnell is a player that started his season in the doghouse. However, he has turned it around in a big way.
Hartnell could easily be the single most important player this season. He fights, hits, back-checks and scores.
His face-off percentage could improve but otherwise Hartnell has shown to come through in a pinch all season and in playoffs past.
Ilya Bryzgalov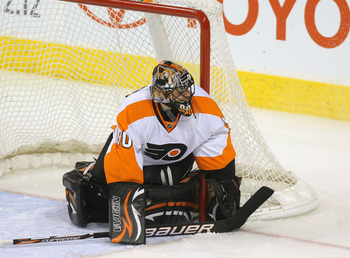 Tom Szczerbowski/Getty Images
After a rocky midseason, Ilya Bryzgalov has appeared to found his game. The Flyers paid him a handsome contract and he will be very important going forward.
If Bryzgalov can continue playing the way he has, then the Flyers will go far.
Claude Giroux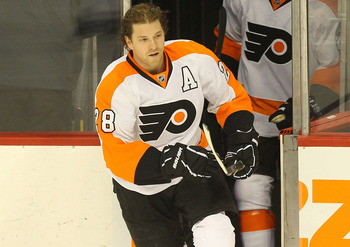 Tom Szczerbowski/Getty Images
Claude Giroux made it feasible for Paul Holmgren to turn the roster upside down last summer. With increased ice-time and more responsibility, Giroux has shown why.
There isn't much else that needs to be said but the Flyers only go as far as Giroux and his line-mates take them.
Keep Reading

Philadelphia Flyers: Like this team?