7 Best College Football Coaching Tirades in Recent Memory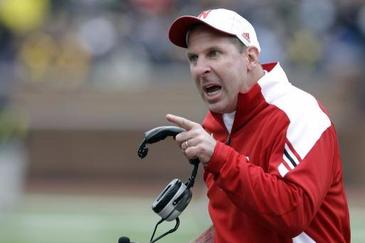 There are simply some rants that rise above the rest and stick in the annals of college football greatness.
Bo Pelini and Brian Kelly contributed to their legacy with some pretty solid sideline tirades at their players in 2011 and so are included in this list as "honorable mention."
However, this list is about the guys that took their media platform—be it television, press conference or radio—and let their true feelings be heard.
In some cases, it's much scarier than others, but all of them will live on as legends of the college football universe.
For the record, the only reason Mike Leach did not make this list ranting about "fat little girlfriends..." is because he was far too calm at the time.
Begin Slideshow

»
Bo Pelini is not known for his calm demeanor on the football field.
Back in 2010, during a 9-6 loss to Texas A&M, Bo let quarterback Taylor Martinez know he was not happy.
This video is not kid-friendly, at least not if they can lip-read.
Brian Kelly really blew his stack during Notre Dame's loss to USF to begin the season.
Of course, even the calmest coach in the history of the game will turn into a raging lunatic after five turnovers.
This one sneaks in even though it was on the field and we don't know exactly what Jedi Saban was telling his apparently erstwhile quarterback.
What we do know is that the Tide were winning by roughly three touchdowns when this exchange took place.
Way to keep that level of intensity up, Mr. Saban.
Urban Meyer came across as a pretty calm, even-tempered fella during his time working in the television industry.
Back during 2010 spring practice, the starting quarterback for the Gators was quarterback Tim Tebow.
Meyer took issue with the Orland Sentinel's Jeremy Fowler quoting receiver Deonte Thompson calling John Brantley a "real quarterback" as opposed to Tebow.
This confrontation took place following this interview, and Meyer made it very clear that he was unhappy with Fowler's use of his player's words.
No word yet on whether Tebow or Brantley are actually "real quarterbacks."
So in the main video, Clemson head coach Dabo Swinney voiced his opinion of the snap count in last season's game against Auburn.
Now check out this video.
I guess somebody was excited about snapping Auburn's 17-game win streak.
I guess there is nothing wrong with getting excited over a win.
Too bad the Tigers had to face West Virginia in the Orange Bowl.
Football is a rough-and-tumble sport that takes dedication and perseverance.
Dan Hawkins makes that very clear in this rant.
As he explains, very calmly, just prior to blowing a gasket, he received an anonymous letter from a parent complaining about "the boys" only getting two weeks off before summer conditioning begins.
Right around :46 it gets incredibly entertaining.
This is one thing that Hawkins actually got right.
For the juicy stuff, skip ahead to 1:00.
New head coach of the Indiana Hoosiers, Kevin Wilson, was upset by the hosts of this local radio station talking down about his new team.
He took issue with their statements, responded, then let them know he had other things to do.
Talk about making it short and sweet.
I know, I know, this has been beat to death, but it still deserves a place near the top of the list of greatest rants in recent memory.
Oklahoma State head coach Mike Gundy was upset about some criticism of his quarterback, and let this tirade go at the press.
He has since emerged as one of the best coaches in the Big 12, leading the Cowboys to their first BCS win in 2012 and a Big 12 title.
It takes quite an effort to upset Mike Gundy out of the top spot on this list.
Coastal Carolina coach, David Bennett came up with the rant to end all rants.
Upset with his team's level of play, he made it very clear how he thought they ought to be performing.
This is the stuff of ranting legend.