St. Louis Rams Mock Draft: Taking a Look at DraftTek's Latest 7-Round Mock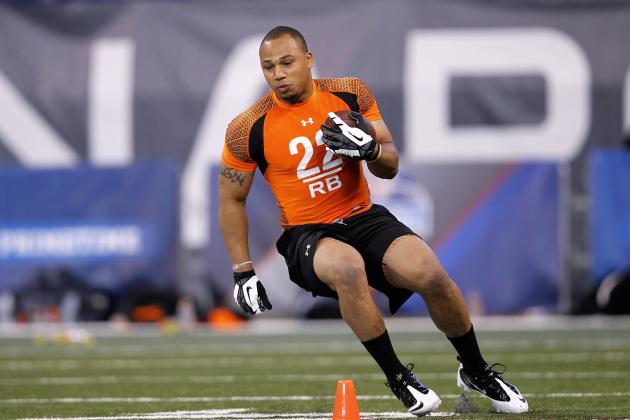 Joe Robbins/Getty Images

On Friday, we took a look at Matt Miller's latest mock draft and reviewed each selection that he made for the St. Louis Rams.
This time around, however, we're going to critique a mock draft that's outside of Bleacher Report—we'll look at DraftTek.
DraftTek keeps an updated mock draft every year that includes all seven rounds, which is why it's among the most popular mock sites on the web.
Just like last time, there will be a grade for each of their picks, as well as an alternative selection.
Begin Slideshow

»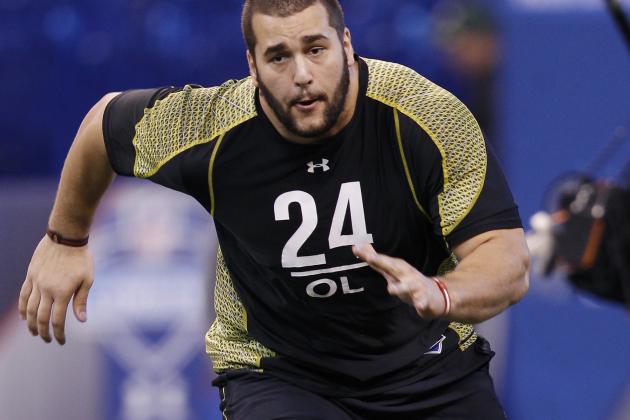 Joe Robbins/Getty Images

To keep things less complicated, DraftTek avoided any trade-down predictions, even though it's practically guaranteed that the Rams will auction off their No. 2 overall pick to the highest bidder.
With that in mind, Matt Kalil is arguably the best player available and would instantly solidify an offensive line that surrendered 55 sacks last season.
Wide receiver Justin Blackmon would be another option, but questions regarding his speed and height (6'1") make him a bit of a reach at No. 2 overall. He'd be a far more attractive option at No. 4 or No. 6 overall, if the Rams can trade down to either of those spots.
The only alternative to Kalil who's seemingly worthy of the No. 2 pick is LSU cornerback Morris Claiborne. Unless, of course, the Rams select quarterback Robert Griffin III at this spot just to hold him "hostage."
Grade: A
Gerwel's Alternative: Morris Claiborne, CB (LSU)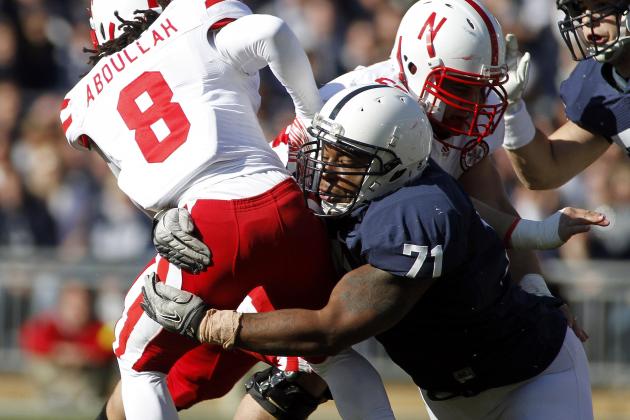 Justin K. Aller/Getty Images

There's no doubt that the Rams need reinforcements at defensive tackle after producing the second-worst run defense in the NFL last season.
Starters Fred Robbins (34) and Justin Bannan (32) are both well over 30 years old and were largely ineffective in 2011, which only elevates the Rams' desperation at the position.
If they do go with a defensive tackle in Round 2, then Davon Still is a more than solid option who has actually been regarded as a first-round pick in some mock drafts.
One concern is Still's injury rap sheet, which includes his torn ACL and MCL from 2007, his broken ankle in 2008, as well as a toe injury that kept him out of the Senior Bowl.
Also, if the Rams take Matt Kalil in the first round, then it wouldn't be wise to select another lineman in Round 2. Sure, they need help up front, but they also desperately need playmakers at skill positions on both sides of the ball.
Grade: B+
Gerwel's Alternative: Stephen Hill, WR (Georgia Tech)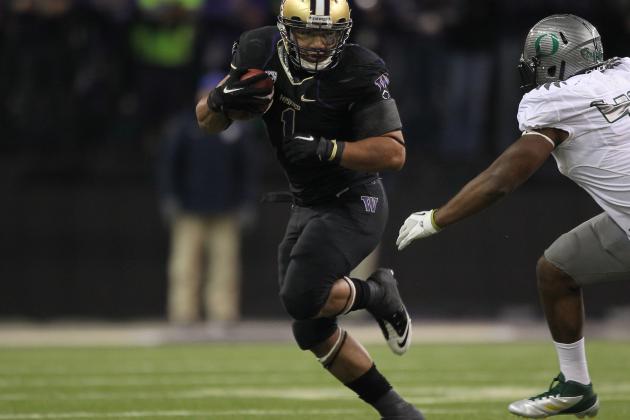 Otto Greule Jr/Getty Images

Running back Chris Polk has been the star of the Washington Huskies' backfield in recent years, which has resulted in 4,016 rushing yards and 30 total touchdowns over the last three seasons.
But despite putting together his third-consecutive 1,000-yard season in 2011, there's still a slim chance that he will slip out of the first two rounds and remain available for the Rams' No. 66 overall pick.
At 5'11" and 215 pounds, Polk does not have the dominate size required to run over defenders. And while he has speed, he's not a true burner who's capable of breaking free for a long gain, as is evident from the 4.57-second 40-yard dash he ran at the combine.
Either way, he's a well-rounded back who'll immediately be capable of carrying the ball 10 to 15 times a game, which makes this a solid pick by DraftTek.
Grade: A-
Gerwel's Alternative: Jerel Worthy, DT (Michigan State)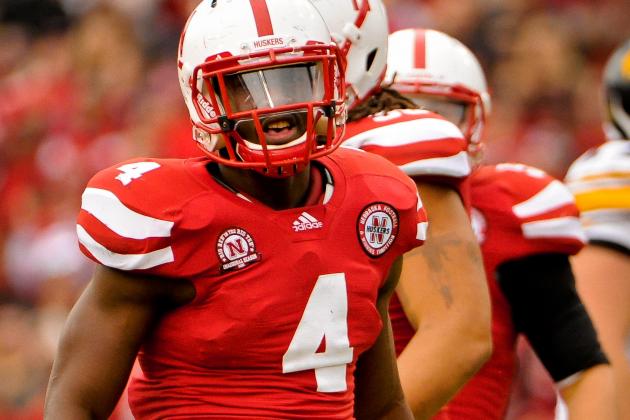 Eric Francis/Getty Images

Ironically, Matt Miller had the Rams selecting outside linebacker Lavonte David near the top of the third round, while DraftTek also has the Rams picking David, except at the top of the fourth round.
It just goes to show you that draft predictions are basically a shot in the dark.
While David may have been a bit of a reach in the third round, at least according to the last article, he would likely provide much more value as a fourth-round pick.
Outside linebackers have a lesser role in a 4-3 defense, which is why it's hard to justify drafting an average outside linebacker prospect in any round higher than the fourth.
Grade: C+
Gerwel's Alternative: Lucas Nix, G (Pittsburgh)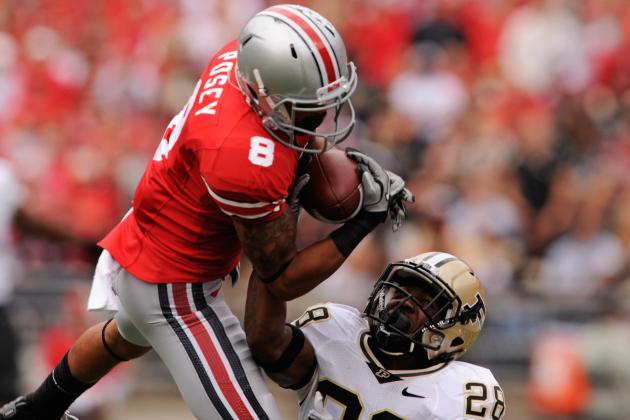 Jamie Sabau/Getty Images

DeVier Posey had two solid seasons for Ohio State in 2009 and 2010, which ended in 1,676 yards and 15 touchdowns combined between both seasons.
However, Posey was basically nonexistent his senior year after being suspended for 10 games due to NCAA violations.
Regardless, at 6'2" and 211 pounds, Posey possesses an attractive frame for a receiver to go along with a solid 4.50-second 40-yard dash, which makes him quite the bargain in the sixth-round.
Unfortunately, the first offensive weapon DraftTek selected for the Rams was running back Chris Polk in Round 3, but Polk will be nothing more than a backup. So waiting until Round 6 to finally draft another weapon is probably too little, too late.
The Rams scored only 12.1 points per game in 2011. Drafting a backup running back in Round 3 and a sixth-round receiver will likely do little to fix that.
While Posey is good value in the sixth round, the Rams need to strike early in finding a playmaker on offense.
Grade: B+
Gerwel's Alternative: Brian Quick, WR (Appalachian State)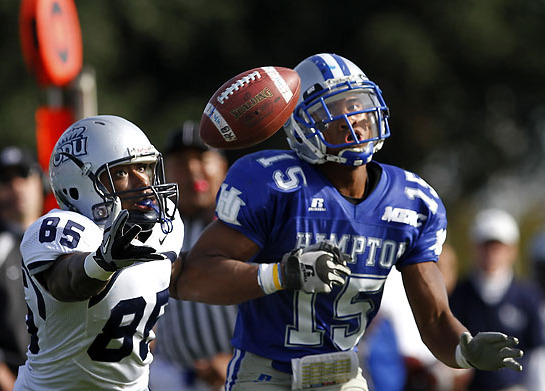 Micah Pellerin played at a no-name school (Hampton), but the cornerback showed off solid size (6'0", 194 pounds) and speed (4.47-second 40-yard dash) at the NFL Scouting Combine.
According to his combine profile, Pellerin is capable of using his speed as an advantage but struggles with physicality and shedding blocks.
Cornerbacks are always smart picks in the final round because they can frequently make rosters as special teams players on kickoff and punt coverage, which provides value to the team while they're being groomed.
Additionally, it's difficult to find a complaint with a seventh-round pick simply because the expectations are so low.
Grade: B+
Gerwel's Alternative: None.
Joe Robbins/Getty Images

DraftTek's Picks
Round 1 (2): Matt Kalil, T (USC)
Round 2 (33): Devon Still, DT (Penn State)
Round 3 (66): Chris Polk, RB (Washington)
Round 4 (96): Lavonte David, OLB (Nebraska)
Round 6 (160): DeVier Posey, WR (Ohio State)
Round 7 (192): Micah Pellerin, CB (Hampton)
Steven Gerwel's Picks
Round 1 (2): Morris Claiborne, CB (LSU)
Round 2 (33): Stephen Hill, WR (Georgia Tech)
Round 3 (66): Jerel Worthy, DT (Michigan State)
Round 4 (96): Lucas Nix, G (Pittsburgh)
Round 6 (160): Brian Quick, WR (Appalachian State)
Round 7 (192) Micah Pellerin, CB (Hampton)