COULDA, WOULDA, SHOULDA: Big East Tournament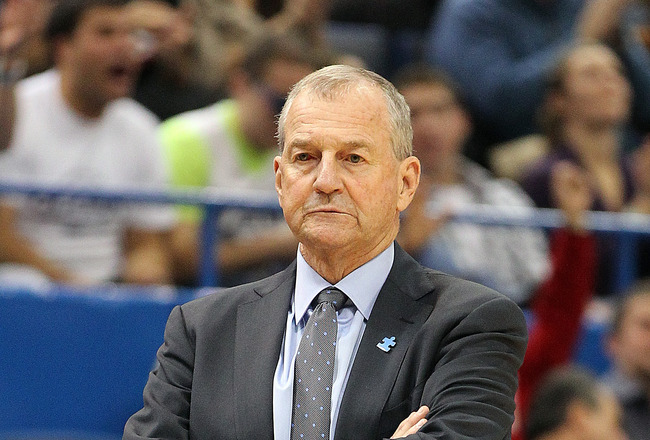 Will UConn be there in the end?
Jim Rogash/Getty Images
As the regular season comes to an end, we enter the always fun and exciting conference tournaments. It's a chance for those programs who are on the bubble to put together a run for a bid to March Madness.
Hey Louisville, can you string together a few big time performances like expected when we had ranked as high as No. 4?
How about Marquette making some noise? Nobody saw this coming. You are carrying two players in Jae Crowder and Darius Johnson-Odom who are possible Big East Players of the Year candidates—can you find a way to knock down the guys you need to?
What about West Virgina and Coach Huggins? And will Jim Calhoun get his Huskies to have a rally cry for UConn basketball?
Lets take a look at the three teams from the Big East that have a shot to win their conference tournament in a segment I like to call, "Coulda, Woulda, Shoulda."
GOLDEN EAGLES COULD FLY HIGH…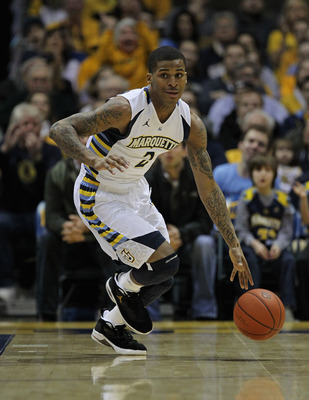 Jonathan Daniel/Getty Images
I like Marquette because they play hard and do it right.
The Eagles have won 13 of their last 15 games and have rolled through the Big East like baker making bread. They were able to win five out of six games playing without Davante Gardner, who is their third-leading scorer and top rebounder.
This team is getting ready to make the long haul into March. Jae Crowder and Darius Johnson-Odom, who are possible Big East Players of the Year candidates and first team Big East guys, will have to shoulder the load—but I think they can handle it.
The Golden Eagles could shock some people and win this tournament because they have depth. This is a team that has seven guys who average at least five points a game. Coach Buzz Williams isn't afraid to use them either—those seven guys all play at least 17 minutes a game. Now, of course we are leaving off Crowder and Johnson-Odom, who do a lot for this squad. You could argue that they make up one of the top backcourts in the nation.
When I think Big East Tournaments, I think big time games by a big time player. I look at Kemba Walker last year. I can't forget Johnny Flynn and Eric Devendorf in that six-overtime game against UConn. So why not the duo of Crowder and Johnson-Odom, or at least one of them, to turn up the heat.
So what's the hold up? Well, sure they are playing great in Big East play, but they couldn't beat Syracuse, Notre Dame or Georgetown. Those are the other 3 top teams in the league. But that all changed over the weekend, when the Eagles took down Georgetown with ease.
That win was what they needed to show me—and I'm sure other fans—that they can knock down the big boys in the Big East.
INJURIES HALT WHAT WOULD HAVE BEEN….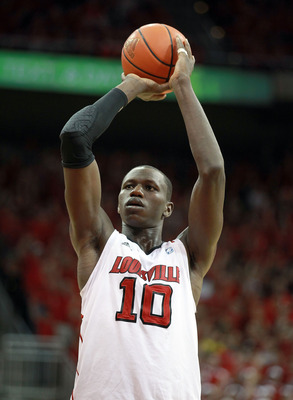 Andy Lyons/Getty Images
Louisville's shot at winning this tournament is slim.
To lose Mike Marra and Rakeem Buckles put a damper on this team. If you happen to watch a lot of Cards games, you might see the same thing that I see—the inconsistent spread of offense.
For instance, look at the Pitt win over last weekend. It was a victory, but they only got points out of five guys. Now, that's not a knock on the Cards ability to score the ball—they are sixth in the conference in points per game. What it's a knock at is consistency. They need to show they can get more out of guys.
I really think that Chane Behanan is a guy who needs to see the ball a lot more in his hands. I understand he is a freshman and might be hesitant to do as much as he should, but they have to get it into his head that he is a big part of this team.
Kyle Kuric, who it feels like has been on the Cards roster for 10 years, will have to play a major role in this tournament if Louisville expects to make any sort of run. As a senior, he knows its time as any senior who has rode the roller coaster he has.
For as much as I would like to see the Cards make a run at this title, I just think they will have to play well beyond what they have shown so far. They can't have the breakdowns like they recently had against Cincinnati and South Florida.
I'm not totally counting Louisville out because they have a coach on the sideline who will fight for his team to win, and this team does show a lot of heart at times. I wouldn't be surprised if they made a magical run, but I also wouldn't be shocked if an early exit happens.
Coming off these two last games to South Florida and Syracuse, Louisville has me upside down.
SYRACUSE SHOULD ADD A TROPHY TO THE CASE…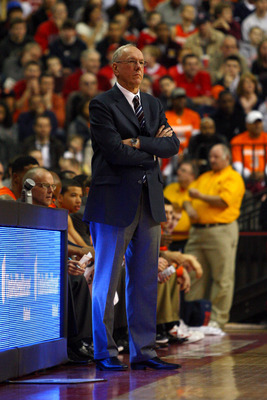 Chris Chambers/Getty Images
Why should they win? Well, to many, they're just as good as Kentucky or on that level. They extremely well rounded and have a ton of depth. They can run with the ball when the chance is there or they can slow it down and run a half court offense that has had a ton of success.
If Coach Boeheim can push for his guys to run that high ball screen and motion, they will be very hard to defend in the tournament.
Syracuse has a ton of weapons as well. They are a veteran team that has a ton of experience, which will come in handy for the tourney.
Still, I have noticed that Syracuse is just getting by in some of these wins. It's almost as if they are escaping the "Loss Monster." They just got by UConn, South Florida had them on the brinks and Louisville gave them all they could handle, so it's been a close ride for this team.
Can someone finally close the door on the Orangemen?
My prediction: Marquette will win the Big East Tournament.
Keep Reading