Arsenal FC: 5 Things Learned from Their Champions League Campaign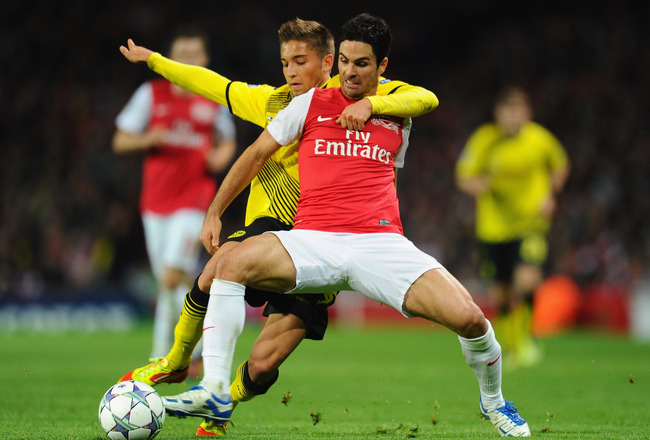 Mike Hewitt/Getty Images
Three wins, two draws, and a lose. Total of 11 points.
4-0 away. 3-0 at home.
Sound familiar?
These are the results Arsenal experienced throughout their Champions League campaign this season, before their unfortunate exit yesterday night.
The North London club and its fans may feel a sense of "so close!" as they became only one goal off a historical and record-breaking comeback at the Emirates against Scudetto holders AC Milan. The nervous feeling was the same feeling the fans felt against Udinese. It was a feeling of hope of making it to the next, yet despair at the possibility of exiting.
As they try to make it to the top four of the English Premier League this season for Champions League football next season, Arsenal will be looking to learn from this campaign and hopefully take it to heart.
Here are some of things that could be taken from the campaign:
The Need to Be in the CL Once Again Next Year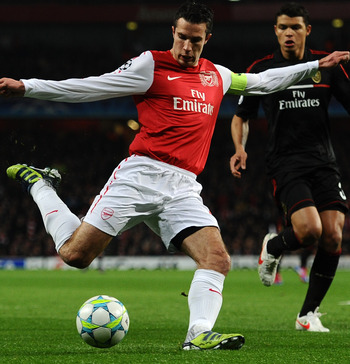 Laurence Griffiths/Getty Images
While this may have already been a necessity for most fans, this time around, they were reminded of the importance.
It's goes beyond the financial assistance gained through European football on the highest level. It even goes beyond reputation, which would be deeply wounded if Arsenal dropped from the Champions League after so many years.
There is a hunger for this kind of football, for the excitement that domestic competitions don't always offer. Playing foreign clubs can often be even less predictable because it's harder to compare two teams from two different leagues and how they will measure up against each other.
(I'm not discrediting domestic leagues, they are also very exciting!).
Without this football, it would feel as though there was a huge, gaping hole in Arsenal's season. The intensity adds to the enjoyment of the season as a whole.
Need for Improvement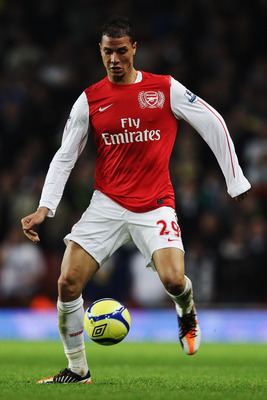 Clive Mason/Getty Images
Yes, Arsenal went off with a bang and they did win their group stage, but there is still room for improvement.
A downfall that was majorly highlighted against AC Milan was Arsenal's lake of depth.
When Walcott and Oxlade-Chamberlain were taken off, the only players to replace them were Marouane Chamakh and Ju Young Park. In truth, the mixture of tiredness and the difference between the first couple of players and the second was one of the reasons Arsenal weren't able to score that last goal that would sent them to extra-time.
Not suggesting the blame be on these two players, but rather the lack of difference-makers on the bench. It's true that there are a number of injured players currently out that may have come in handy, such as Mikel Arteta, Aaron Ramsey and Yossi Benayoun, and this cannot be forgotten.
Despite injuries, Arsenal were so close and something should be taken from that and that something is what I just mentioned.
Don't Understimate the Opponent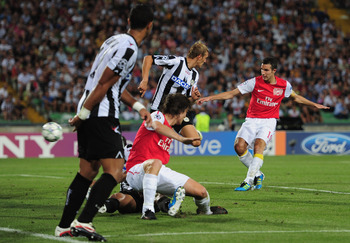 Jamie McDonald/Getty Images
A good thing to know for any competition and its important restated in this season of the Champions League.
When Arsenal drew Udinese, and even before when examining the possible opponents, many fans underestimated their chances at defeating the Gunners.
Must have been a cold wake-up call when Arsenal strode off the pitch in Udine after Antonio di Natale evened up the aggregate in the second-leg of the tie. Udinese and Serie A fans alike felt a new hope, "maybe Undine can make it!"
This was the point Arsenal realized they needed to step it up. They did and made it all the way to the knockout round.
Again, in the group stages, people commented on how easy a group Arsenal ended up with. But was it as easy a group as they say? Yes, Arsenal finished first, but not with maximum possible points and even a scare that they'd end up in second.
Essentially, not underestimating who the Arsenal is playing will get them farther.
The Ability of Szczesny and Oxlade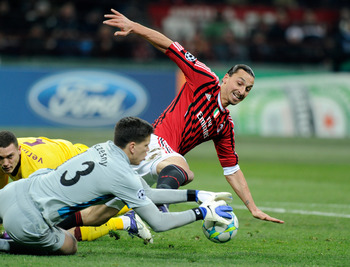 Claudio Villa/Getty Images
Yes, it's a cliche. How many times have you heard about Oxlade-Chamberlain's talent. How he should be included in the line-up week in, week out. How he shouldn't be.
Here it is again. Playing in both the away and home legs against AC Milan and Olympiakos, he scored once and assisted once. He may not have been the best against Olympiakos, when Arsenal travelled to Piraeus, or in Italy during his 24 minutes against AC Milan, but not many were.
You may say that's an excuse, and maybe it is. But, we've seen Ox's potential and talent on Wednesday against the Italians giants and at the Emirates against Olympiakos when he scored. I'm not suggesting he play every game because he is still young and learning, but the competition added proof to show that all the potential he has is going to something.
The Polish goalkeeper has played seven times for the Gunners this campaign and only participated in two draw and one lose. Of those poor results, he let in Ivan Perisic's fabulous equalizer against BVB Dortmund and four against AC Milan. But his fabulous performance against Udinese, Milan the second time around, and other teams in the group stage should not be forgotten.
Some fans may still see him as too young, which he is, and feel that he may go on a spiral downward. His performances speak for themselves. he has put in a major stake for his position and it doesn't look like he'll be replaced anytime soon.
It's Not as Bad as We Say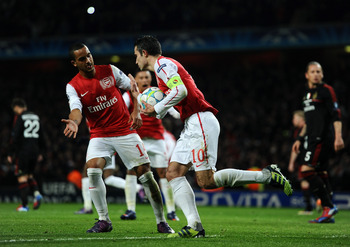 Laurence Griffiths/Getty Images
"Arsenal are collapsing."
"Arsenal are a disaster."
"They'll never survive."
"They won't even make it to the Champions League next season."
We've all heard these, it's nothing new. Most of them have probably entered our minds already. But is it really as bad as we say?
Arsenal were in a group with the Bundesliga champions, the champions of the Greek Superleague by a long shoot, and one of France's best, most well-known clubs. They, fourth place in England, made it out of their group doing what both Man City and Man United could do in their own groups.
Then they came up to the Scudetto champions, one of the best clubs currently in Europe. they failed miserably in their first try, but the second time around, at home in London, they came very close to a comeback that would have seen them progress.
So, with this in mind, is it as bad as we say?
Keep Reading

Arsenal: Like this team?