Miami Heat Rumors: Rasheed Wallace Would Add Nothing to South Beach
March 6, 2012

Christian Petersen/Getty Images
Rasheed Wallace doesn't have the skill set to add anything that the Miami Heat need. That apparently hasn't stopped the Heat from showing enough interest to work out the NBA's all-time technical foul leader.
The Heat could use some big bodies up front. After starters Chris Bosh and Joel Anthony, the Heat have few options. Udonis Haslem has provided some good minutes off the bench, but he is wearing down as the season goes on. 
After that, they are left to patch it together with Dexter Pittman, Juwan Howard and Eddy Curry. This is not an effective trio. 
That reality, combined with the fact that there are few options for frontcourt upgrades, has likely led to this development. 
Mike Ryan, producer of the Dan LeBatard Show, tweeted the following news:
Rasheed Wallace worked out for the Miami Heat this week.

— Mike Ryan (@MikeRyan790) March 3, 2012
This news is a mild shock given that a report by A. Sherrod Blakely of NECN.com was recently circulated that Wallace was about to sign with the Los Angeles Lakers. Obviously, that transaction has not gone through as predicted. 
Why Wallace is a Bad Fit for Heat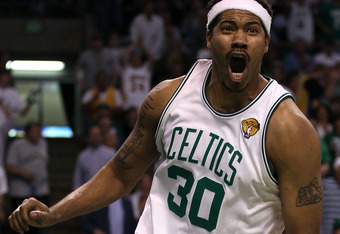 Elsa/Getty Images
Ideally the Heat would add a big man with a post game, defense and rebounding. The only thing they could hope to get with Wallace is the defense, and that is extremely unlikely. 
Wallace's defense has declined with his age. If he showed up in shape, he would likely still be able to provide stretches of solid defense against some players, but that is a best-case scenario. 
He is not going to rebound because he is never under the basket. His last season, he averaged just 4.1 rebounds per game. 
Wallace also is not going to bring anything to the post. He hovers around the three-point line on offense, and the Heat have enough perimeter players that they don't need their big man hanging around on the outside. 
Wallace is only going to disrupt this offense. The Heat are better off without him.