Tuukka Rask Injury: How Will the Goaltender's Absence Affect the Boston Bruins?
March 6, 2012

Marianne Helm/Getty Images
Boston Bruins backup goaltender Tuukka Rask will be out 4-6 weeks with a lower abdomen strain/groin strain, according to the team.
If there's some good news here, it's that the injury is not to his knee or labrum.
However, Rask's injury will affect the Bruins in several ways. Let's dissect what Rask's injury means for Boston.
UPDATE: Monday, March 5 at 8:14 p.m. ET
According to Boston.com, the Bruins have signed goaltender Marty Turco:
 

"Turco must clear waivers by noon on Wednesday. If Turco clears, he will report to Boston to back up Tim Thomas amid Tuukka Rask's absence.

"If Turco joins the Bruins, he would not be eligible to play in the postseason."
Boston must ride Tim Thomas—again.
Elsa/Getty Images
Tim Thomas must shoulder the burden of playing just about every game from now through the team's playoff run with Rask injured for the remainder of the regular season.
At 37 years old, that's not an ideal situation for Thomas. Rask has the talent of a No. 1 goaltender, which has allowed the Bruins to rest Thomas without decreasing their chances of winning games consistently.
Now Thomas must take over the full workload in net, and it will be interesting to see how he handles it. After playing deep into June last season while the Bruins went on their Stanley Cup championship run, Thomas came into this season with the least amount of rest he's ever had in a summer.
One of the goals for Bruins head coach Claude Julien this season was playing Rask more than last year. Rask deserves more time since he's good enough to carry the team as the No. 1 goalie, and he also needed more games to further develop his skills.
And, of course, allowing Thomas to take a break every now and then doesn't hurt either.
Rask was needed for the regular season, not the playoffs. When he returns in April, it's quite unlikely he sees the ice again since the Bruins will be defending their title in the postseason.
The only way Rask sees time in the playoffs is if Thomas gets lit up in a game or gets hurt—both of which are unlikely.
The Bruins' defense must improve.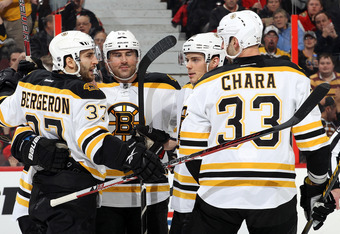 Jana Chytilova/Freestyle Photo/Getty Images
The Bruins' defense has been average, at best, in many of the team's games after the All-Star break in late January.
Captain Zdeno Chara has not played like an elite defenseman in recent weeks and has been uncharacteristically turning pucks over. Joe Corvo hasn't made the impact on the powerplay that the team thought he would, and he's been a liability defensively on too many occasions.
Those two players must start playing better before the playoffs begin, or the Bruins are going to be in serious trouble.
The Bruins also have had trouble getting pucks out of their own end and starting the rush toward the offensive zone. These are all issues the team didn't have in the playoffs last year or for most of this season.
Unless the team plays better defensively, then the Bruins' run of mediocrity isn't going to end anytime soon.
Follow Nicholas Goss on Twitter for NHL news and analysis.
Goss is a Boston Bruins Featured Columnist for Bleacher Report and was the organization's on-site reporter for the 2011 Stanley Cup Finals in Boston.