Lakers Rumors: Would Raymond Felton Work in Los Angeles?
March 6, 2012

Harry How/Getty Images
Coming off of yesterday's impressive victory over the Miami Heat, the Los Angeles Lakers currently sit fourth in the Western Conference with a 23-14 record.  Despite their current standing, the Lakers are widely rumored to be active in the trade market as they seek to improve the team for another deep playoff run in 2012.
Although the Lakers have been mentioned as a potential destination for superstar center Dwight Howard, the Lakers' main focus appears to be upgrading the point guard platoon of Derek Fisher and Steve Blake.  One name that has been increasingly mentioned as a potential target for the Lakers is Portland Trail Blazers' point guard Raymond Felton.
Before exploring the possibility of acquiring Raymond Felton, let's take a look at why the Lakers are in the market for a point guard. 
Starting point guard Derek Fisher has started each of the Lakers 37 games this season and has done little to warrant a continued presence in the starting lineup.  Fisher's PER (player efficiency rating) of 8.5 is one of the worst in the league for a starting point guard.
Playing 25.3 minutes a game, Fisher is averaging 5.5 points per game and 3.4 assists.  Making matters worse for the Lakers is the fact that Fisher is having one of the worst shooting years of his career—Fisher is shooting 38.3 percent from the field and 28.6 percent from behind the three-point line.
Backup point guard Steve Blake plays a similar amount of time compared to Fisher, 24.9 minutes per game, and has proven this season to be only a slight improvement to Fisher.  After a poor debut as a Laker in the 2010-11 season, Blake has been better this season, but not by much.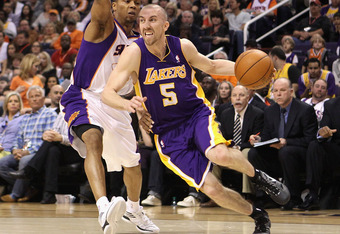 Christian Petersen/Getty Images
Similar to Fisher's struggles, Blake is having a poor shooting year, Blake is only shooting 38.5 percent from the field and 33.7 percent from three-point range.  If Blake qualified as a starting point guard his PER of 9.44 would also rank among the worst for a starting point guard in the NBA.
Simply put—the Lakers point guard duo hasn't been getting it done this season.  For the Lakers to truly contend for an NBA title this season they will need increased production from the point guard position. 
As previously mentioned, a potential trade target for the Lakers is Raymond Felton who has also struggled mightily this season.
After coming over to the Blazers in an offseason trade, Felton was given the starting point guard spot and led the Blazers to a quick start including a home victory over the Lakers.  Since then it's been a disaster for Felton as he was recently demoted from the starting point guard spot and is on pace to have the worst year of his career.  Felton's average of 9.7 PPG is almost four below his career average, and he is having the worst shooting year from the field, 36.8 percent, and from long range, 28.6 percent.
Despite his struggles, Felton has still proven to be more effective, 10.45 PER, than either of the Lakers' point guards.  In addition, it's hard to believe that Felton can be any worse than he has been to start this season—his track record prior to this season indicates that he was at least an above average starting point guard.
Even with Felton playing the worst basketball of his career he would still represent an upgrade over the Lakers' current point guards. A change of scenery, like a trade to the Lakers, could revitalize Felton and lead to statistics more in line with his career averages. 
Ezra Shaw/Getty Images
Making Felton more attractive is that he is currently in the last year of his contract. This means if the Lakers acquired Felton they could let him play out the rest of this season, and then let him walk if they aren't happy with his performance. 
Due to the poor play of Felton this season, the Blazers have made Felton available and aren't likely to ask for too much in return for Felton. A package of Felton and reserve power forward Craig Smith for Steve Blake and Josh McRoberts makes sense for both sides.
For the Lakers, the obvious attraction is the potential for an upgrade at point guard in Felton. Worst case, Felton continues to struggle and the Lakers pursue other options in the offseason.  As previously mentioned, even if Felton didn't improve as a Laker he would still be a slight upgrade over both Blake and Fisher. 
To make the salaries work on both sides the Lakers would also receive Craig Smith who has been surprisingly effective, 14.5 PER, when given playing time.
Considering that Blake has previous experience with head coach Nate McMillan and the Blazers, a Felton for Blake exchange could also be an upgrade for the Blazers. 
Basically, Felton represents a low-risk, medium-return opportunity for the Lakers—if it doesn't work out, Felton is still likely to be better than what the Lakers currently have and is only under contract for the rest of this season.  In the best-case scenario, Felton proves to be a significant upgrade at point guard and helps the Lakers on a deep playoff run in future months.
The potential acquisition of Felton wouldn't be the sexiest move for the Lakers, but it would represent an opportunity to upgrade the point guard position. In addition, it would preserve roster flexibility so the Lakers could potentially pursue bigger names like Dwight Howard.