The 7 Most Worthless Players in the NHL This Season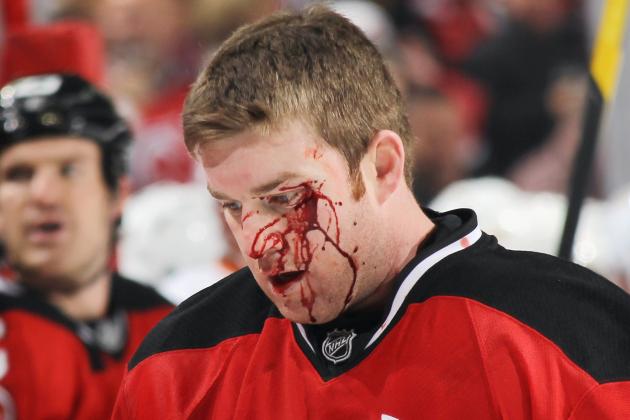 Bruce Bennett/Getty Images

The National Hockey League is a showcase of flashy goals, jaw-dropping passes and fancy puck-handling. For many, those highlight-worthy skills are just a few facets of their superstar profile.
But for these seven gritty players, those things are a little harder to come by.
Their stat lines are filled to the brim with goose eggs, at least until the plus/minus rating and penalty minutes categories appear.
Their ice time rarely breaks double digits—although sometimes we wonder why they're getting any time at all.
Their salary typically wavers around the minimum-wage mark, although in the NHL, that's a pretty nice half-million bucks per year. On most nights, the national minimum wage looks like it would be more fitting.
So yes, indeed, every single one of these seemingly-worthless brutes have still managed to hold a roster spot in the world's best hockey league. For that, they can be commended.
However, over the next five minutes, let us all forget the surely valiant and hard-fought path they each took to get to where they are now and have just a little good-natured fun at their expense.
Here's a little peek at the seven most worthless players in the NHL today.
Begin Slideshow

»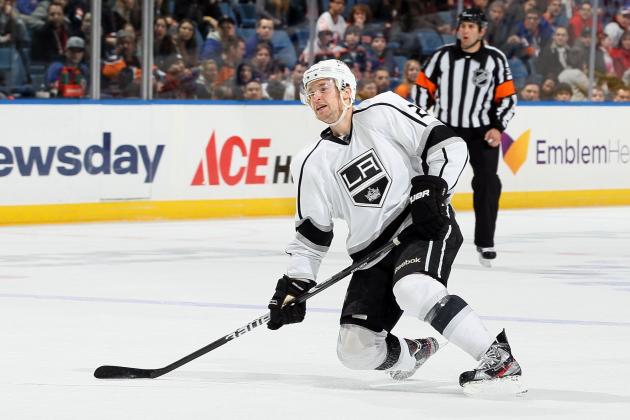 Jim McIsaac/Getty Images

Los Angeles Kings center Trevor Lewis has never quite reached expectations after being drafted 17th overall in 2006...to say the least.
And while his two goals and one assist in 55 games played isn't the worst you'll see on this list—although it's certainly still a pitiful total—Lewis boasts arguably the most worthless all-around set of statistics.
The 25-year-old Salt Lake City native has, in addition to those three points, a sub-par minus-four rating, a 41.7 faceoff winning percentage and (worst of all) an utterly horrendous 2.5 shooting percentage, the second-worst mark among all 280 forwards playing in the league today.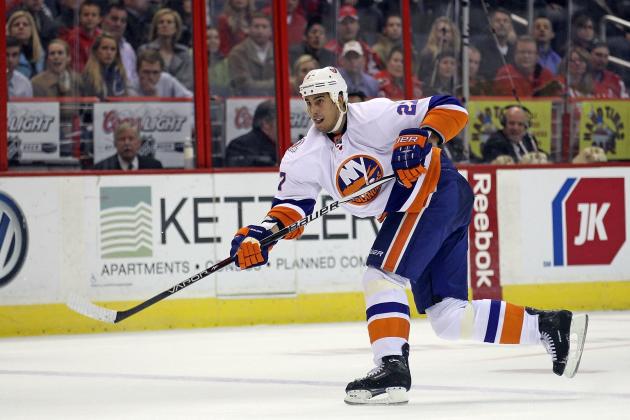 Bruce Bennett/Getty Images

Unlike the aforementioned Trevor Lewis, Milan Jurcina never really experienced the feeling of expectations. Since being drafted in the eighth round of the 2001 NHL draft, he's been a success story just to make it this far.
Nevertheless, Jurcina, now a defenseman for the New York Islanders, certainly won't knock anybody's socks off. His two goals and eight points on the year are not outstanding in the least, nor is his woeful 1.9 shooting percentage.
Jurcina makes this countdown primarily because of one infamous title, though: He has the worst plus/minus rating in the NHL. By a lot.
The 28-year-old's minus-28 mark is the worst in the league by a whopping five points (over fellow Isles teammate Mark Streit and Lightning blueliner Brett Clark, both at minus-23). And, playing for a team as defensively weak as New York, don't expect that number to improve anytime soon.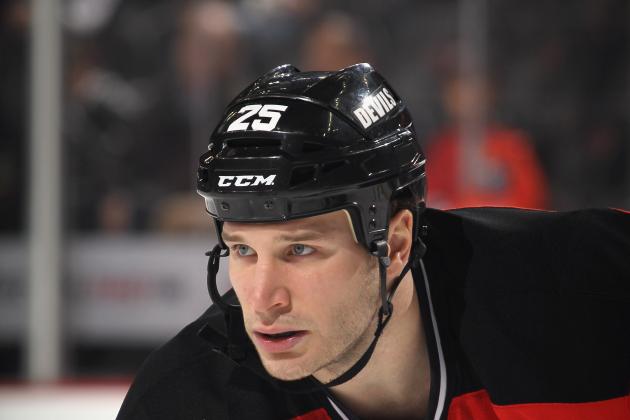 Bruce Bennett/Getty Images

New Jersey Devils winger Cam Janssen has quickly compiled a career of mediocrity.
He's never played more than 56 games in a single season—despite almost seven years of NHL experience.
He's never scored more than a single goal in any of those seasons—in fact, he's never scored more than seven goals in any season, junior hockey included.
He's never finished a campaign with a positive plus/minus rating, either—this season being no different, as Janssen stands by a minus-eight rating (and a grand total of one point) in 43 appearances.
But he has compiled 2.43 penalty minutes per game over 303 games of experience. For some strange reason, that seems to be the statistic that has kept Janssen under contract for all this time.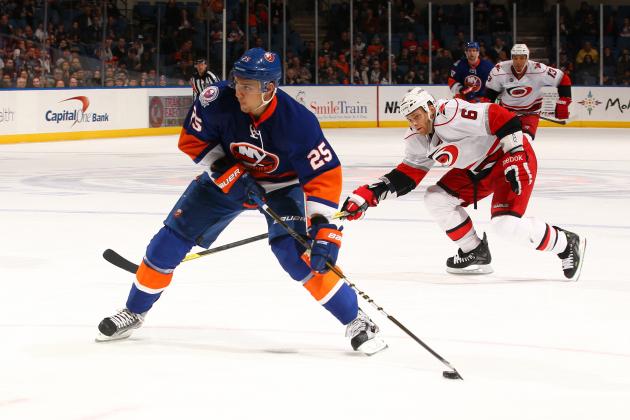 Al Bello/Getty Images

Oh, how Nino Niederreiter has fallen.
After being picked by the New York Islanders fifth overall in the super-stacked 2010 draft, the Swiss prospect scored one goal and one assist in nine games for the Isles in '10-'11 before returning to the WHL.
That's why, when this year came around, hopes were as high as ever for the sizeable speedster. Unfortunately, though, those positive feelings were short lived.
Niederreiter scored in only his fifth appearance of the year, but has 36 consecutive games since that point without registering a mere point. His minus-18 rating is also scraping near the bottom of the barrel.
Islanders fans probably never even considered the possibility of the reality they now face, but there's little doubt now that Niederreiter has truly collapsed into the ranks of the worst players in hockey.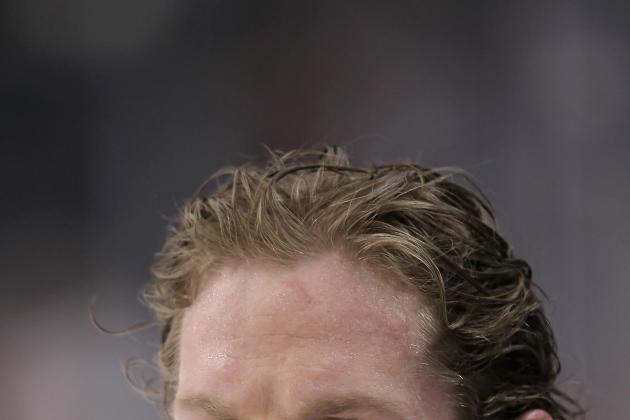 Jeff Gross/Getty Images

Calgary Flames' veteran enforcer Tim Jackman may be well loved for his rough-and-tumble fights, but the 37-year-old really doesn't do much in any other regard.
Jackman has scored a goal and six helpers this year—not much to talk about, but still better than the others on this compilation.
Conversely, his shoot-first offensive strategy has become a turnover-first strategy this year, with 98.9 percent (92 of 93) of his shots failing to find the back of the net. Combine that with a depressing minus-19 rating, and Jackman is simply hurting the on-the-bubble Flames more than he's helping.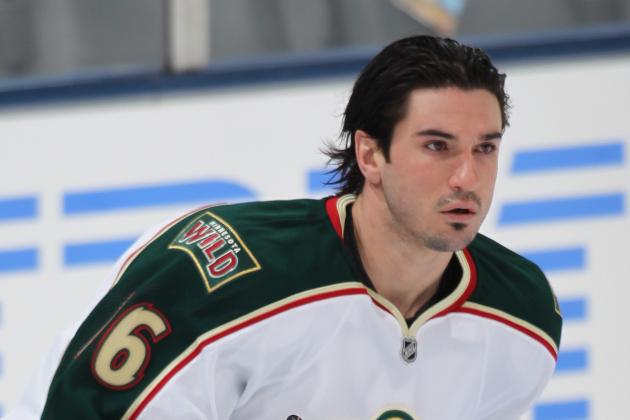 Claus Andersen/Getty Images

Brad Staubitz was picked up off waivers by the Montreal Canadiens last week, but he was hardly worth a mention on the trade deadline news feed.
Staubitz's zero-clogged stat line—including no goals, no assists and no points—may look horrible for a man who's already played 46 games this season, but it's really just another average campaign for this 27-year-old.
In fact, he's never scored more than four goals and five assists in a season, and his 18 points (and 456 penalty minutes) in 199 career games is about the worst ratio you'll ever see. Add to that his minus-12 career rating and Staubitz's 24 PIM in his first three games with the Habs begins to look like the high point of his hockey career.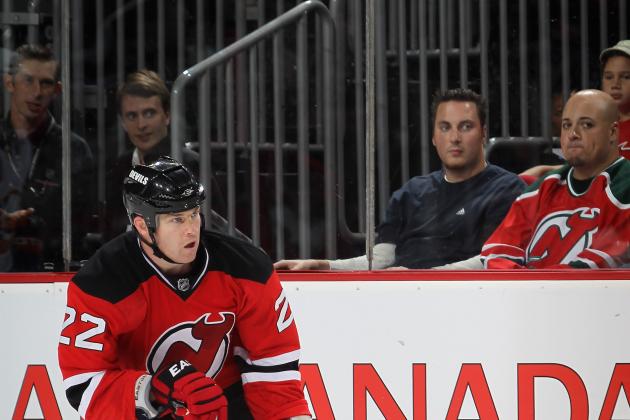 Bruce Bennett/Getty Images

Many of the other players we've discussed lack much meat on the resume, but few—actually, none—can top Eric Boulton's 11-year career of practical worthlessness.
Just a casual glance at his lifelong statistics basically covers all that he's ever done. In 589 appearances with the Sabres, Thrashers and Devils, Boulton has tallied merely 27 goals, with no more than six of those ever coming in the same season. As for assists, his career total of 46 won't drop any jaws, either.
Moreover, the '11-'12 campaign has brought little change: zero goals, zero assists and a minus-12 rating.
Boulton can at least stand out in one category, however: penalty minutes. He's already spent the equivalent of two waking days in the sin bin, with 1,238 PIM to his name.
So if you're a believer that dropping the fisticuffs every three minutes can actually help his team, Boulton might be worthy of a shift or two per night.
For any other purpose, though, he'd definitely be better off on the "healthy scratch" list.