Fantasy Baseball 2012: 14 Players to Avoid in Your Draft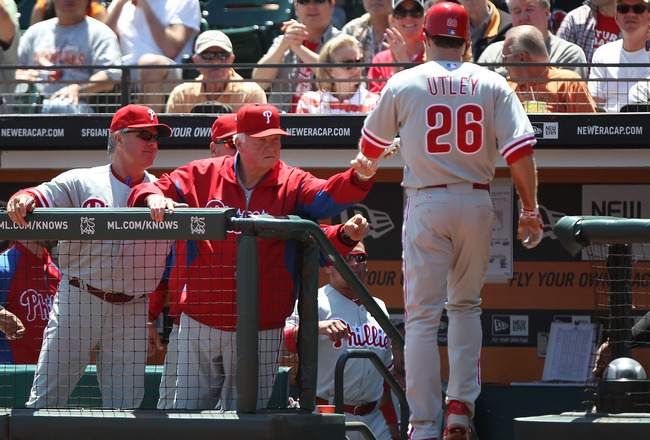 Jed Jacobsohn/Getty Images
Over the last couple of months, I've been writing fantasy-baseball articles about who you should draft.
But the one thing that's yet to be discussed is who you shouldn't draft.
In some capacity or another, most fantasy managers know the group of players that are trusty draft picks. But even within that group are pitfalls that can make or break a fantasy season.
Here's a list of players that you should watch out for come draft day.
Catcher: Joe Mauer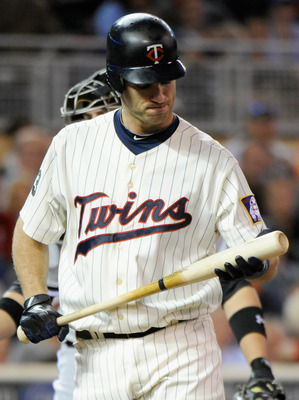 Hannah Foslien/Getty Images
2011 Stats: .287/.360/.368, 38 R, 3 HR, 30 RBI, 0 SB
Mauer struggled mightily in 2011, posting an average well below his norm and having an absolute blackout with his power.
Of course he deserves a look, but he should in no way be considered a high-end option.
First Base: Justin Morneau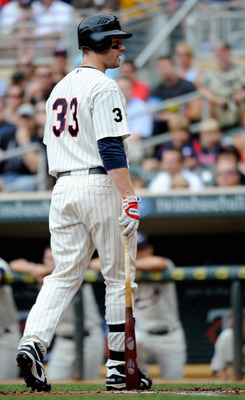 Hannah Foslien/Getty Images
2011 Stats: .227/.285/.333, 19 R, 4 HR, 30 RBI, 0 SB
For our next player to avoid, we turn to the other side of Minnesota's M&M combo.
2011 proved that Morneau is a long way from recovering from his 2010 concussion. He couldn't hit anything, nor did he show any flashes of power.
With a position as deep as first, there's no reason to reach for Morneau.
Second Base: Chase Utley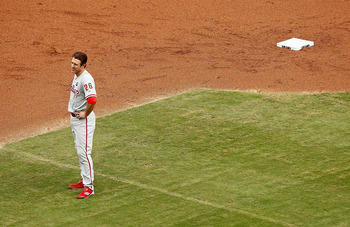 Mike Ehrmann/Getty Images
2011 Stats: .259/.344/.425, 54 R, 11 HR, 44 RBI, 14 SB
For the second season in a row, Chase Utley has struggled. In those two years, he's hit below .280, had an OPS lower than .900 and failed to hit 20 home runs or steal 20 bases.
At 33, Utley isn't getting any younger. With his recent string of injuries and with second base becoming a deeper position, it's time to turn your draft eyes elsewhere.

Shortstop: Derek Jeter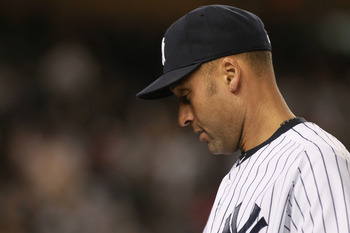 Nick Laham/Getty Images
2011 Stats: .297/.355/.388, 84 R, 6 HR, 61 RBI, 16 SB
Many saw Jeter's 2011 as an improvement. It's hard not to see it that way after his abysmal 2010.
But let's look at the facts. He hit for little power, posted an OPS under .800 and had less than 20 steals. His average is the product of a .327 second-half average.
That kind of surge can't be counted on for 2012.
Third Base: Kevin Youkilis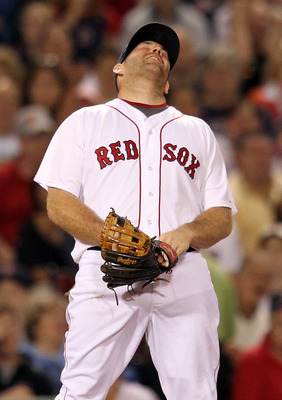 Jim Rogash/Getty Images
2011 Stats: .258/.373/.459, 68 R, 17 HR, 80 RBI, 3 SB
Youkilis used to be a prime fantasy player—when he was a first baseman.
2011 proved that Youk can't handle the hot corner. His body has enough problems without adding the strain of a more physically demanding position.
As long as he stays at third, he can't be counted on for long-term durability and productivity.

Outfield: Ryan Braun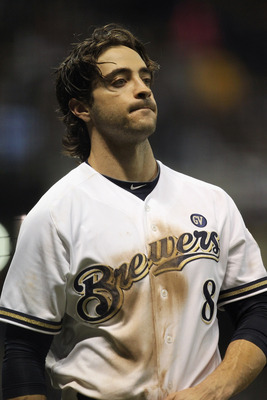 Jonathan Daniel/Getty Images
2011 Stats: .332/.397/.597, 109 R, 33 HR, 111 RBI, 33 SB
I know; I know. I'm crazy.
Braun is going to be a solid contributor in 2012, but as much so as in 2011? Is he still a first-rounder? Even with the steroid issue dropped, there's still a 275-pound, Prince Fielder-sized hole in that lineup.
In his career, when Braun hasn't hit third in the lineup (and had Fielder's protection), he's hit only .235 with a .648 OPS.
Who knows what 2012 will bring?
Outfield: Nelson Cruz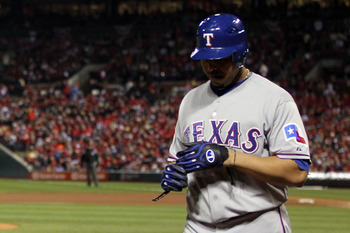 Jamie Squire/Getty Images
2011 Stats: .263/.312/.509, 64 R, 29 HR, 87 RBI, 9 SB
Nelson Cruz has some crazy power, but he's just too injury-prone. He's never started more than 130 games in a season. Do you really want to draft someone that unreliable?
With all those injuries, we've seen Cruz run less and his average spiral.
That makes him just a two-category hitter with nothing to get excited about.
Outfield: B.J. Upton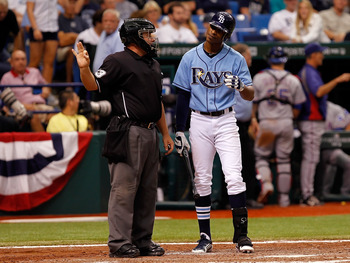 J. Meric/Getty Images
2011 Stats: .243/.331/.429, 82 R, 23 HR, 81 RBI, 36 SB
I've never been a huge B.J. Upton fan. Maybe that's because I've drafted him one-too-many times and have been disappointed with each occurrence.
2011 did bring Upton a bit of power, but who knows how long that will last?
With Desmond Jennings looking to take over the top of the order, how much will Upton be able to run?
Starting Pitcher: Yu Darvish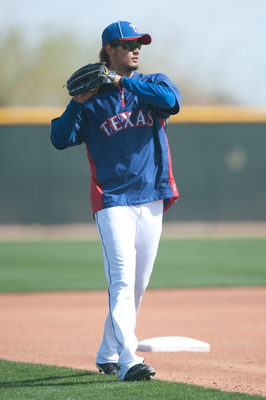 Rob Tringali/Getty Images
2011 Stats: N/A
Another super-hyped player from Japan with no MLB experience.
You don't have to be Daisuke Matsuzaka to find the obvious risks here.
Starting Pitcher: Ubaldo Jimenez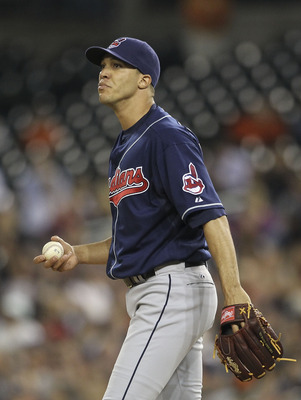 Leon Halip/Getty Images
2011 Stats: 10-13, 4.68 ERA, 188.1 IP, 180 SO, 1.402 WHIP
After a long-awaited breakout in 2010, Jimenez was a huge disappointment in 2011. He was as wild as ever and had no penchant for inning eating.
The numbers only got worse after moving to the hitter-friendly American League.
All signs say avoid come draft day.
Starting Pitcher: Francisco Liriano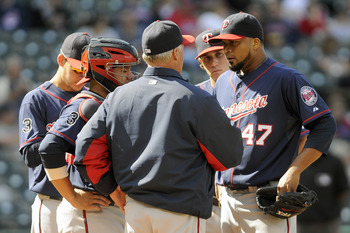 Jason Miller/Getty Images
2011 Stats: 9-10, 5.09 ERA, 134.1 IP, 112 SO, 1.489 WHIP
Another wild arm.
Fantasy owners have been pining for a Francisco Liriano breakout; they were granted one in 2010.
Like so many others on this list, 2011 only brought disappointment. With such a wild arm and injury history, it's tough to make a case for Liriano in 2012.
Starting Pitcher: Jonathan Sanchez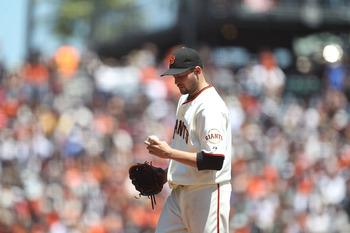 Jed Jacobsohn/Getty Images
2011 Stats: 4-7, 4.26 ERA, 101.1 IP, 102 SO, 1.441 WHIP
Jonathan Sanchez is another wild arm. He is also one of the more overrated pitchers in baseball.
He dealt with a lot of issues in 2011, and there's no reason to expect different in 2012. With a move to the AL (away from a pitcher-friendly AT&T Park), Sanchez is a risky buy on draft day.
Starting Pitcher: Ryan Vogelsong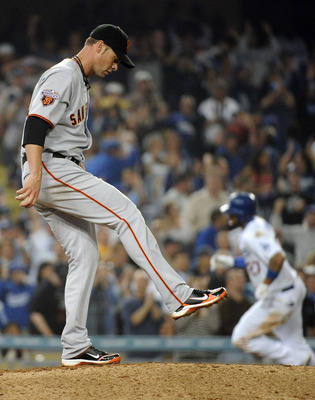 Harry How/Getty Images
2011 Stats: 13-7, 2.71 ERA, 179.2 IP, 139 SO, 1.252 WHIP
Vogelsong had a miracle season in 2011, but I doubt that will continue into 2012.
It's hard to look past the disparities in the home/away splits (2.15 ERA vs. 3.57 ERA) and first-/second-half splits (2.17 ERA vs. 3.26 ERA).
Combine those signs with what the sabermetrics say, and you've got a fantasy disaster for 2012.
Relief Pitcher: Joe Nathan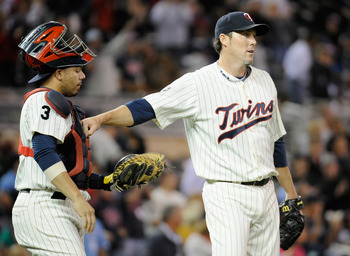 Hannah Foslien/Getty Images
2011 Stats: 4.84 ERA, 14 SV, 44.2 IP, 43 SO, 1.164 WHIP
2011 saw a struggling Joe Nathan attempt a return from Tommy John surgery. "Attempt" is the keyword there.
Now he's moving from the Twins to the Rangers, which makes Arlington his knew pitching home. Texas plays in a hitter-friendly ballpark, and they compete against a division infused with new troves of offensive talent.
At 37, things can only move downhill for Nathan.
Keep Reading